A well-organized cabinet not only makes your house look neat but also lets you find things on time. Cube storages are a brilliant way to organize and store your belongings with optimal space-utilization. These cubes can also be used as display shelves, shoe racks, and individual storage units. Unlike typical furniture, the cube organizers are lightweight and can be folded into small packages when not in use, making them convenient and portable.
In this post, we have collated a list of the best cube storage organizers to keep your stuff well-sorted.
13 Best Cube Storage Organizers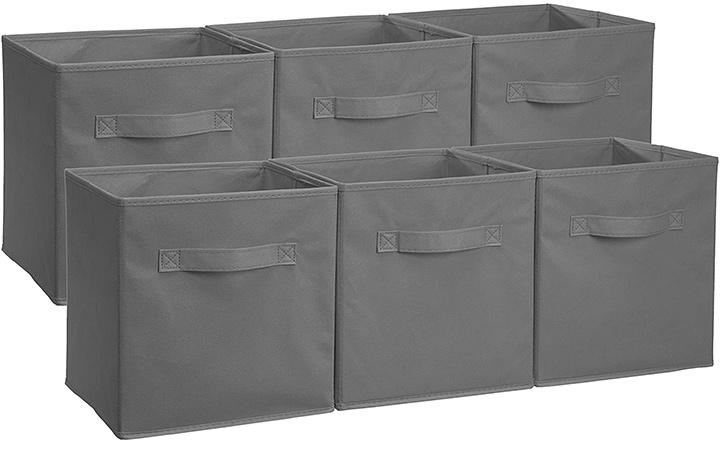 The fabric storage cubes from AmazonBasics are highly popular, owing to their lightweight and collapsible nature. They are portable and made of high-quality fabric, suitable to store your favorite clothes and linens. The storage cubes are open-top bins that come in a pack of six. Each cube measures 11×10.5×10.5in, is available in various colors, and has a sewn-in handle to use as drawers on shelves.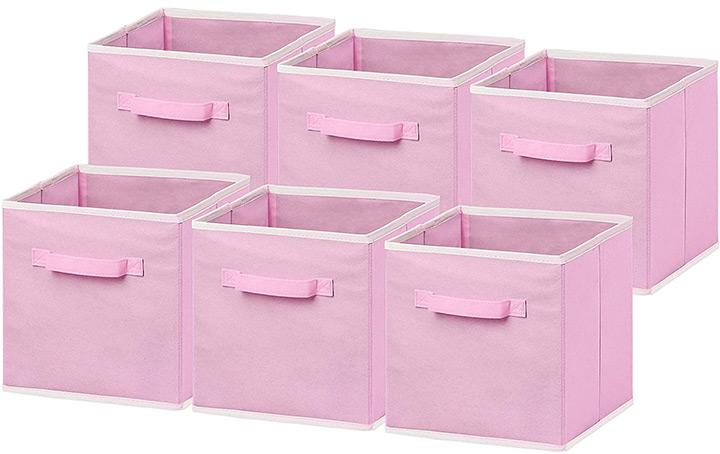 Simple Houseware offers fabric cube storage bins in various colors to complement your room's aesthetics and décor. You can fit these cubes neatly in your wardrobe or shelves and organize the storage space. The cubes' handles facilitate easy access and portability, and their collapsible feature makes them occupy less space when not used. The lightweight cubes are made of durable fabric and don't compromise on quality. They come in a pack of six, and each one measures 11×10.75×10.75in to fit snugly in standard shelves.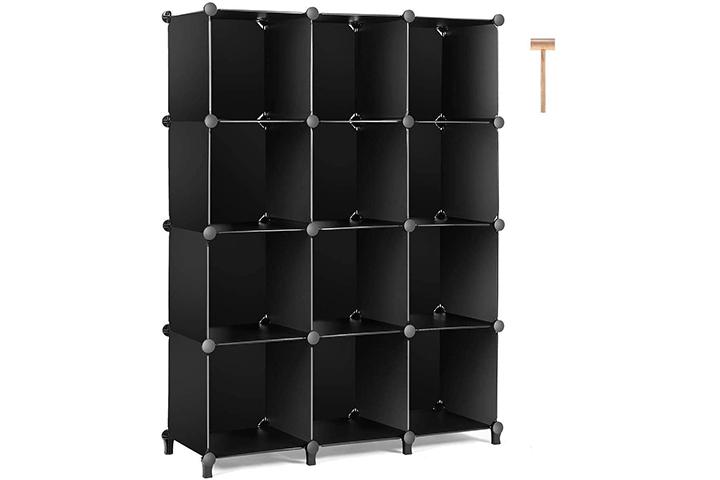 The closet organizer from TomCare comes with twelve linkable cubes made of high-quality PP plastic with ABS connectors to provide durability. The modular design lets you assemble the cubes the way you prefer, standing straight or spread horizontally from top, bottom, or sideways. It is designed in different colors with shiny panel surfaces for a premium look and feel. Each cube has a dimension of 12x12x12in and can be used individually too.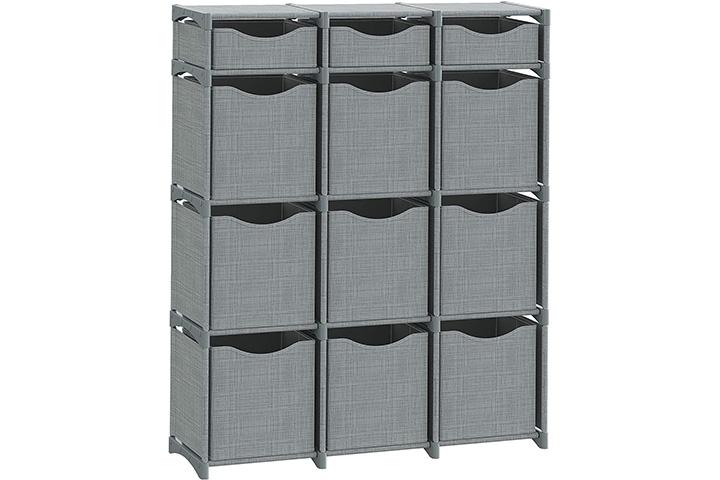 Neaterize offers a complete closet organization solution with this twelve-cube storage unit. The set has nine big and three small cubes. The do-it-yourself set-up lets you assemble the cubes the way you prefer or even use them separately without linking. It has steel bar inserts to support the joints, making it a durable and steady standing closet. When fully assembled, it transforms into chic furniture that adds an aesthetic touch to your chambers.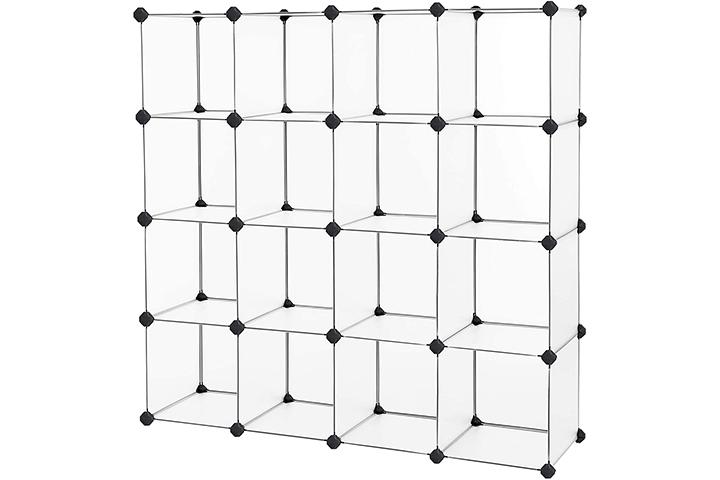 The Songmics closet organizer unit has 16 DIY units to add elegance to your space. The translucent white panels add a fashionable touch, making them excellent display shelves. The cubes are designed with minimalism in mind to blend in with the decor of the room beautifully. Each cube measures 11.8×11.8×11.8in and can be assembled effortlessly.
The panels are made of PP plastic sheets with metal framing for stable storage and can hold a weight of up to 10lbs per cube. These are waterproof and easy to clean. If your space lacks wardrobes or cupboards, this set can be a perfect match for you.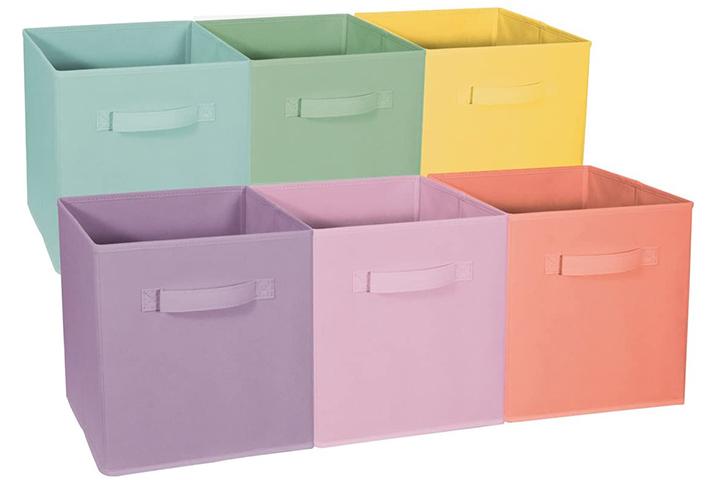 The multi-colored storage bins from Sorbus can be the right pick when you want a color-coded organization for your belongings. Each cube measures 11x11x11in in dimension and is made of lightweight fabric with a sturdy cardboard base. The collapsible cubes have sewn handles for easy gripping and handling and are suitable for storing kids' toys, clothing, linens, office supplies, and other household stuff. It is easy to stack them together, either when using them or not.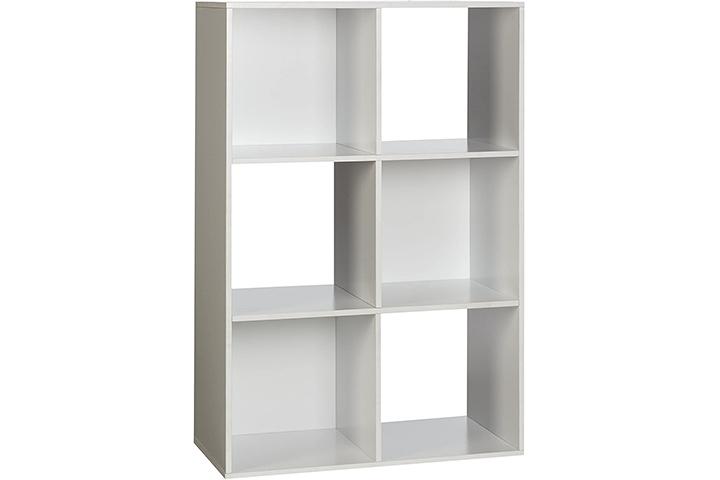 Display your toys, CD collections, books, and other decorative items in style with the six-cube organizer from OneSpace. The cubes are made of laminates and have a polished white finish that complements the décor of any room. It doesn't require any tools, nails, or adhesives for assembly. The durable shelves can handle up to 40lbs in total when fully assembled and designed so that the fabric bins fit snugly into them.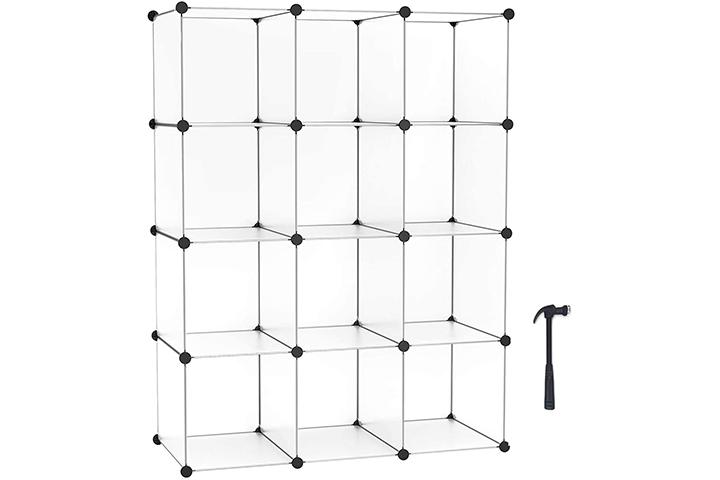 The Homidec Storage Shelf has a hassle-free assembly process, thanks to the sliding components that get attached smoothly. You can try different ways to assemble the cubes to your liking. The connectors of this set with a multi-lock design are flexible and don't slide out accidentally. This plastic cube storage organizer comes with polyethylene sheets and metal connectors for excellent structural stability. It s all-black polished look would add a contemporary aesthetic touch to your living space.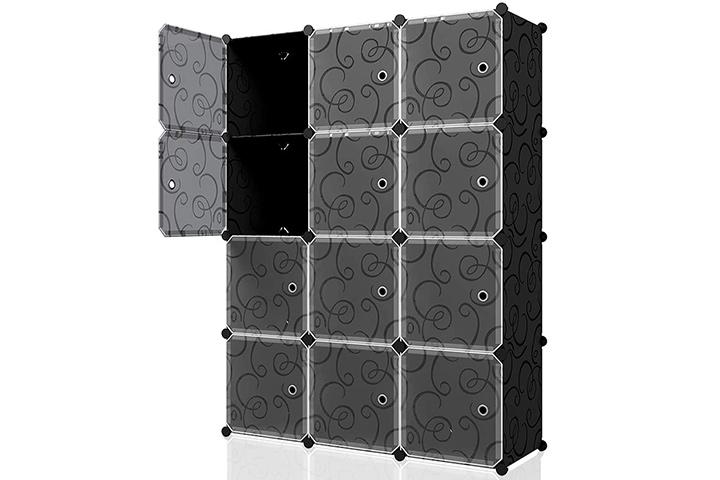 The premium-looking Kousi cube organizer can be a perfect addition to complement contemporary décor. Use the 12 attachable storage cubes as display shelves or storage organizers, stacking them together or as separate units.
The cube sheets are textured plastic with design layouts on the sides, with each base supported by a steel net panel for utmost strength and stability. This cube storage with doors keeps your belongings dust-free. It has a floral-themed decoration pattern across the entire surface, making the organizer look appealing.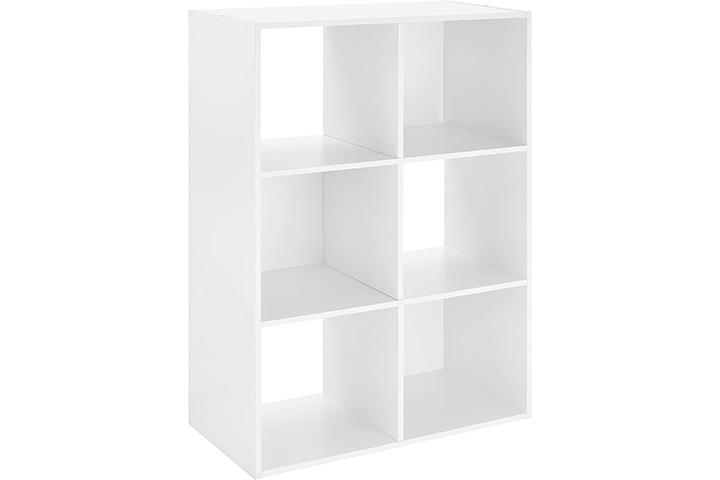 Whitmore is known for producing quality home organization products that are easy to assemble and use. Its six-cube organizer features clean laminated white sheets, easily assembled with a hammer and a screwdriver.
The organizer has back panels for a closed-back look and added stability. You also get accessories to wall mount the storage as per your preference. The stackable design can be conveniently used as a perfect shelf for displaying decorative items or a shoe rack based on your requirements.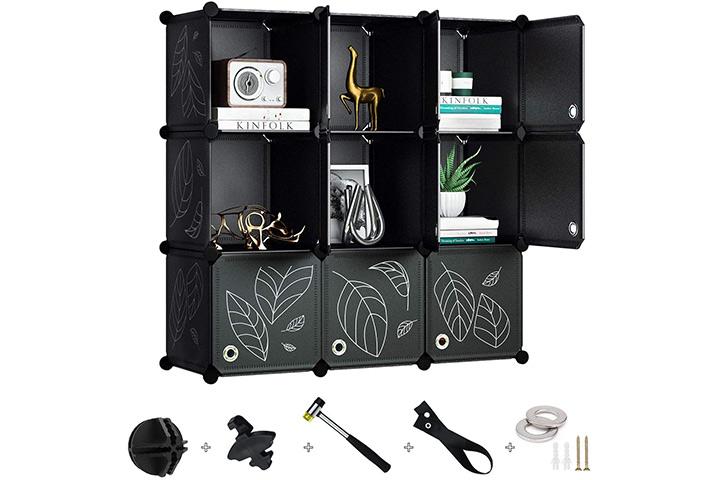 The Greenstell cube organizer combines utility and style with nine cube storage cubes, suitable for sorting and storing your favorite items conveniently. The sheets and other components like connectors and hooks are made of high-quality and durable plastic.
The all-plastic build ensures no rusting and easy cleaning. The package includes a rubber mallet appropriate for the plastic components. The cubes have artistic elements with leaf murals on a black surface, making the organizer a great addition to your home décor.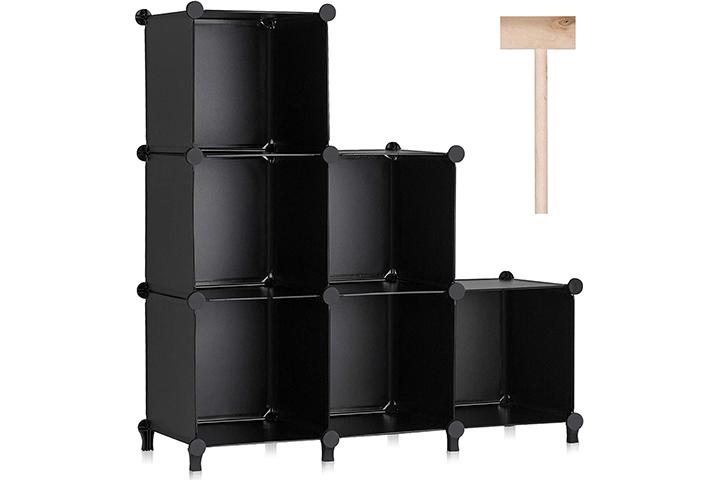 Customize the modular cubes the way you like with these storage units made of eco-friendly PP plastic sheets with ABS connectors. You can use them all together or as separate cubes. The whole unit is easy to assemble and includes a wooden hammer to avoid warping components. Each cube measures 11.8×11.8×11.8in providing spacious stable storage to handle up to 15lb weight. This easy-to-clean and maintain organizer is an excellent solution for storing books, toys, clothes, linens, and decorative items.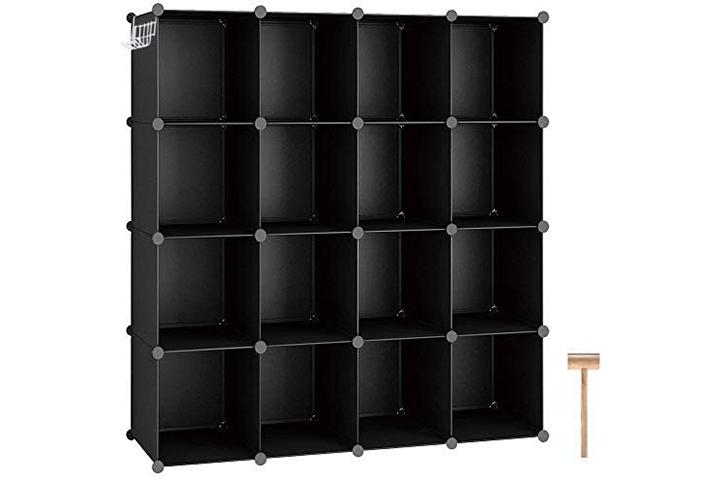 If you are looking for storage with more number cubes, get the 16-pack storage from C&A Home. With all the added space, you wouldn't have to scramble to store your belongings haphazardly. The storage cube shelves are made of durable PP material, ABS links, and rust-free metal frames.
Each cube can withstand more than 10lb weight. The DIY packets include all the necessary components, including a wooden mallet for damage-free assembly. You can customize the cubes by stacking them in any shape that suits your space.
How To Choose The Right Cube Storage Organizer?
When purchasing a cube organizer, consider the following parameters.
Size: Cube organizers come in various sizes with three to 16 and more cubes in a set. Pay attention to the dimensions when finding the right choice for your space. If space is less or you want to use the cubes as drawers inside a particular cabinet, picking cubes in the right size is of utmost importance.
Build material: Cube organizers are made of plastic or cloth. The plastic ones provide good stability and usually have more carrying capacity. Additionally, a plastic surface makes cleaning convenient. The fabric made cubes are lightweight, and their foldability makes them portable and easy to store.
Assembly: Most cube organizers require DIY-style assembling, and so well-fitting components are a must-have to set up the structure. Look for products designed with small details like hinges, connectors, screws, and overall ergonomics.
Cube organizers are multi-functional household products providing innovative storage solutions. Their versatility is reflected through their portability and functionality. We have tried our best in acquainting you with the suitable choices available in the market. Compare them to choose one that best meets your needs.