Although cycling helps you unwind and stay fit, prolonged holding of the handlebar can cause numbness and pain in your wrists and palms. So, here's our list of the best cycling gloves for hand numbness to help you choose the right one. Sometimes cycling can be quite tiring, especially on rough terrains, if you have to hold the cycle bar tightly for a long time. It may compress the median, ulnar, and radial nerves, leading to numbness and a tingling sensation. Even riding on bumpy roads can cause numbness in your hands due to the continuous vibration.
Numbness can cause you to lose control of the bike, proving very dangerous. These special gloves have pads around the palms to help reduce friction and vibration, providing you with a flexible and comfortable grip. They are available in various sizes and designs for a secure fit to provide optimal safety. So, go through our list of products to choose the right pair of gloves for yourself.
11 Best Cycling Gloves For Hand Numbness
The Luxobike cycling gloves come in six different colors and small, medium, and large sizes. These gloves are padded to help minimize the numbness and reduce the vibration when you ride on uneven terrain for long hours. Made of lightweight Lycra, the gloves are flexible and support a full range of motion. They come with fine inner linings that are quick to dry.
The body of the gloves is double stitched to prevent breakage and maintain form. The gloves are also machine-washable and are supported by an elastic band and a Velcro strap to prevent slippage and provide a custom fit.
Pros
Smart finger loops to quickly take off
Soft, breathable fabric
Ample room for thumb rotation and movement
Durable microsuede for durability and safety
Four-zone shock-absorbing pads
Ideal finger length for maximum dexterity
Cons
Material may not be breathable
Quality may not be up to the mark
Featuring 5MM SBR shock-absorbing pads, these could be one of the best cycling gloves that help prevent numbness. The non-slip silicone surface material provides relief from pain, fatigue, and shock absorption effect. Each glove is made of high-elastic Lycra and knitted mesh that is breathable and comfortable to wear. It also contains breathable holes in the palm area to help the evaporation of the sweat.
The thumb has highly absorbent terry cloth on the outside to wipe off the seat. These gloves are unisex, machine-washable, and ideal for cycling, hiking, camping, etc.
Pros
5mm shockproof pads
Breathable fabric with mesh covering
Anti-slip coating
Elastic band on the wrist with a Velcro strap
Towel cloth on the thumb
Cons
Padding may not be in the right place
Foam and not gel padding
Made of 100% nylon, these gloves are suitable for both men and women for cycling, riding a mountain bike, BMX, exercise, etc. The surface of the cycling gloves is breathable to keep your hands cool while riding in warmer climates, and the palms have a gel padding that helps prevent numbness by absorbing the vibration. The absorbent microfiber thumb helps wipe away the sweat easily.
The palm of the gloves is covered with reinforced synthetic leather that is supple and provides additional comfort. These gloves are machine-washable and come in three different colors and four different sizes.
Pros
Breathable
Full gel padding to reduce numbness
Complete coverage of the hand
Microfiber thumb towel
Adjustable straps
Touchscreen friendly
Cons
Quality may not be up to the mark
Does not have pull tabs
The Huwaih cycling gloves are made of elastic Lycra spandex, and the palms are padded with 3mm SBR pads that are thick to provide high resilience for better shock absorption. Parts of the palm also contain an anti-slip gel with mesh covering to give you superior hold and protection.
The gloves' back is made of durable, waterproof fiber fabric and a breathable elastic knitted mesh fabric. Each glove also contains a thumb towel made of 95% cotton and a sticky buckle at the wrist for a customized fit. There are five colors to choose from. 
Pros
Durable and waterproof fabric
High-resilient SBR and anti-slip gel padding
Pull tabs for quick removal
Breathable mesh fabric at the back of the hand
Cons
Foam padding might slip
For some, the padding might be too thin
These gloves are said to contain palm pads made of non-slip silicone sponge that can absorb shock and reduce numbness. The palm pads also have mesh covering to give extra grip. The Suxman Mountain Bike gloves can also be used for cycling, gym workouts, motorcycle riding, etc.
The gloves' outer portion is made of breathable fabric that keeps your palms cool and flexible to allow comfortable hand movements. The wrists of these gloves have an elastic band with a Velcro strap. The gloves are suitable for both men and women and come in four different colors.
Pros
Made of elastic suede and breathable spandex
Padded palms to reduce numbness
Velcro wrist band for a customized fit
Pull tabs on the middle finger and ring finger
Terry cloth thumb towel
Cons
For some, the pads may be too thin
Stitches might rip off quickly
The Nicewin cycling gloves are made of elastic suede on the palms and breathable spandex at the back. This ensures comfortable wear and also prevents numbness while riding. The half-finger design and the breathable pores help in equal distribution of the heat while riding for long hours.
The palms come with enhanced palm pads made of high-elastic SBR material that absorbs shock and reduces the intensity of the vibrations. These gloves are designed to suit both men and women and are suitable for road cycling, motorcycle riding, hiking, and gym workouts. You can choose from seven different colors and four different sizes.
Pros 
Comfortable and breathable fabric
Palm pads with non-slip coating
Pull tabs for easy removal
Terry cloth thumb towel
Reflective strips for safety
Cons 
Sizing may not be accurate
Padding could be thin for some
The MAJCF cycling gloves are made of soft Japanese high-tech elastic fabric that fits your hands comfortably. The three real liquid gels and two thick pads in the gloves protect your hands from becoming numb while riding a bike, as they absorb and reduce the vibrations.
The thumb of these gloves is made of sweat-absorbent terry cloth to wipe off the sweat easily. The tiny holes along the palm allow the sweat to escape and keep the hands cool.
Pros
Soft, durable, and breathable fabric
Reflective strips for safety
Pull-off hooks on the middle and ring fingers
Cons
With four pads in different areas around the palm, the ROVOS gloves could be one of the best gloves for reducing numbness during cycling. These four pads give an optimal cushioning and anti-slip effect. The printed silica increases friction and enhances slip resistance. The lower half of the glove near the wrist has breathable mesh to help the sweat evaporate and keep the hands dry.
These gloves are ideal for cycling, biking, motorcycle riding, etc., and come in five different colors.
Pros
Four pads to prevent numbness while cycling
Reflective stripes for safety
Breathable mesh fabric
Double stitching for durability
Pull tabs for easy removal
Soft, absorbent thumb towel
Cons
Padding may not be enough
Quality may not be up to the mark for some
If your children like cycling, camping, hiking, and other outdoor sports, these gloves are a must-have to prevent the numbing of fingers. The palms of these gloves are made of premium non-slip spandex and microfiber that are durable and soft, and the palm pads help reduce numbness and vibrations.
The back of the gloves is made of breathable, quick-drying fabric and a stylish wolf totem. These gloves are ergonomically designed to give comfortable hand movements. You can choose from the three different colors available.
Pros
Soft, comfortable, and durable
Thick palms to reduce numbness
Adjustable wrist with Velcro strap
Ergonomically designed
Cons
Quality may not be up to the mark
The Achiou cycling gloves contain a non-slip damping pad that reduces the friction between your palms and the handlebars to prevent your hands from getting numb. The glove body is made of mesh cloth and Lycra that is elastic, breathable, and waterproof. The palm also contains small holes for air circulation.
If you like to go mountain biking or cycle racing, these could be one of the best gloves for preventing hand numbness. There are three colors to choose from.
Pros
Gel cushions for reducing numbness
Anti-slip and shockproof design
Breathable fabric
Reflective lines for safety
Terry cloth thumb towel
Adjustable wrist band with a Velcro strap
Pull tabs on the fingers and the wrist 
Cons
Velcro strap may not be durable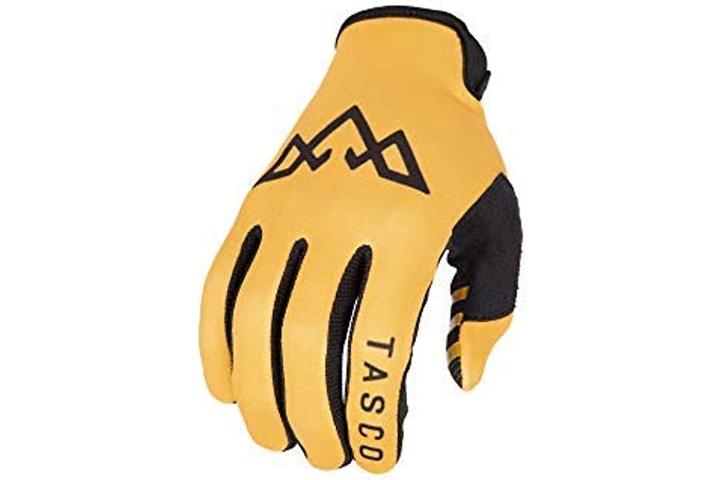 Despite a minimalistic design, the Tasco MTB Ridgeline Cycling Gloves come with vented fourchettes for maximum air circulation. It has a velcro-free slip and a pull-on, hook-and-loop closure to ensure that it stays firm on your hands, and to make sure you do not miss out on a trailside photo, the gloves feature conductive threads on the right and index finger. These gloves are apt for people who are ambidextrous.
Pros
Lightweight design
Wicks moisture
Well-constructed
Minimalist design
Cons
How To Choose The Right Gloves For Hand Numbness?
Hand numbness can be pretty uncomfortable while riding a bike, and gloves are a good way to help prevent this. Here are a few points to consider before purchasing cycling gloves for hand numbness.
Padding: Padding prevents the hands from going numb. So, check the quality and type of padding on the gloves. Pads are usually made of sponge or gel. High-quality padding can withstand vibration and heavy use.
Material: As these gloves are used mostly outdoors, look for materials like Lycra or microfibers that are breathable, durable, and soft. Also, choose gloves with double seams and stitching.
Grip: You need to have a good grip while holding the handlebars, so gloves with a good grip are a must. Gloves with leather or synthetic anti-slip cover for the palm offer a secure grip.
Additional features: Look for other features like towel thumb, breathable holes, adjustable wristbands, and pull tabs. These will make it easy and comfortable to wear and take off these gloves. 
Why Trust MomJunction?
We have compiled a list of the best cycling gloves after considering the padding, material, grip, and other important factors. These gloves can prevent hand numbness and tingle while riding a bicycle on rough surfaces for a long duration. To make this article more informative, we have also enlisted the pros and cons of each recommended product and provided a handy buying guide.
Recommended Articles: