Whether you're making potato wedges, buffalo chicken wings, crispy Jalapeno poppers, or pumpkin donuts at home for your guests, a deep fryer can make the task easier.
A deep fryer is a perfect kitchen appliance that cooks delicious fried food and comes in handy whenever you plan a get-together with friends and family. The fryer can change the flavor of your food and makes it crispier and tastier. Some fryers also let you fry two different foods at a single time.
In this post, we will be talking about a fantastic range of professional deep fryers. Take a look at the 17 best deep fryers you can buy online and pick one that best suits your requirements.

Top Products From Our List
17 Best Deep Fryers
If you love fried food but cannot stand the pungent smell that comes with it, then you're surely going to love this deep fryer. Designed to reduce 74% of the odor, the T-fal deep fryer comes with a unique active filtration technique. This deep fryer is cleverly designed with a basket and a closed lid that lets you fry without oil splatters and potential burns.
The deep fryer also protects your cooktop from oil splashes, keeping the kitchen clean from the mess. A control panel allows you to regulate the temperature of the oil.
Pros
Comes with a large anti-fog viewing window that lets you watch the food as you cook
Has an adjustable timer for multi-tasking
Dishwasher-safe, easy to clean
Stainless steel makes it robust
East to disassemble
Cons
May not heat oil over 300° temperature
Lower basket may leak after frequent usage
Designed with a non-stick finish, the Presto bucket-shaped deep fryer is made of aluminum material. With 1,500W power, the fryer can heat up to 370° F within 15 minutes. It has a capacity of six cups or three pounds and can accommodate up to six servings in a single batch. The product has a one-year warranty.
Pros
Has an anti-skid rubber foot
Comes with snap-on storage lid
Has a magnetic safety rod for non-splatter cooking
Built to achieve the North American Electricals Standards
Non-stick finish makes it easy to clean
Easy to store
Stores oil for repeat usage
Cons
Temperature controls may not work efficiently
Outer portion of the fryer can heat up faster, which may lead to burns
Secura offers a three-basket deep fryer with two mid-sized baskets that allow you to cook two different snacks simultaneously and one large basket to cook larger items in a single go. The 1,700W fryer pre-heats and cooks your food quicker than most deep fryers. It comes with a 4.0-liter removable tank that can help you clean quickly.
Pros
Comes with an extra set of odor filters
Has an adjustable heat control
Comes with a see-thru window to observe the food as it fries
Has an automatic time adjustment setting
Baskets are designed ergonomically with a clasp
Cons
May have troubleshooting problems after some time
Temperature settings may not work efficiently after few months
Designed with rotisserie function, the deep fryer consumes less oil than other fryers. You can cook anything in the fryer, from onion rings to donuts to chicken wings to French fries. Apart from frying, it also enables you to steam your meal, including dumplings, rice balls, and vegetables. The fryer comes with a 120-minute timer and adjustable temperature control system.
Pros
Comes with a lid
Designed with large stainless mesh basket
Made of good-quality stainless steel
Cons
Temperature indicator and actual temperature may not sync efficiently
Basket may be a little flimsy
Hamilton's deep fryer is engineered with cool-touch sides that keep you protected from accidental burns. The deep fryer has adjustable temperate with ready light, and the red light notifies you when your food is cooked. The deep fryer ensures faster and crispier cooking.
Pros
Has a two-liter oil capacity that cooks up to two cups of finger chips
Comes with a viewing window
Prevents oil splatters
Has a removable lid that allows easy clean-up
Cons
Food may stick to the basket
Oil may leak
Oyster deep fryer is equipped with 1.5-liters of capacity and powered with 900 Watts. The adjustable temperature control system allows you to regulate frying temperatures to cook a variety of foods easily. The fry basket will enable you to easily lower, lift, and drain the food.
Pros
Comes with a hinged lid with an integrated filter that helps reduce oil splash
Has a magnetic cord for safe frying
Has a large viewing window to monitor the progress of cooking
Comes with a stainless steel pot with non-stick coating
Cons
May develop cracks after frequent use
Size may be smaller than expected
Dash electric fryer uses air crisp technology to fry food. The fryer helps to reduce 70-80 percent of fat while retaining the food's flavor, thus making it easier for you to stay fit. It is designed to prevent the foul odor of fried snacks in the kitchen. With the three-quart capacity fryer, you can cook large portions of food, making it ideal for parties and family gatherings.
Pros
Makes cooking easier and quicker
Has auto-shutoff and cook-touch functions that prevent accidental burns
One-year manufacturer warranty
Cons
Daily usage may slow down the efficiency
The dual-basket deep fryer lets you fry two different snacks simultaneously. With a capacity of four quarts, the Elite electric deep fryer is the best choice for weekend home parties. The lid is dishwasher-safe, and the fryer comes with cool-touch handles that prevent potential burns.
Pros
Material is enamel
Has a removable filter compartment
Comes with a timer
Comes with ready indicator lights
Ergonomically designed with side handles
Cons
May heat up quickly and burn the food
May smell foul
Olym comes with two different capacities – 6-liters and 12-liters. The deep fryer has two different segments to cook two different food items at different temperature settings. You can cook donuts at high temperatures while French fries at a relatively lesser temperature at the same time. The temperature controls are easy to regulate with an easy-to-operate knob. The fryer's lid prevents oil splitters.
Pros
Durable as it is made with good-quality stainless steel
Tank can be detached for clean-up
Comes with thermostats for temperature settings
Basket is designed ergonomically with two hooks
Cons
Paint may peel off after a few uses
May be difficult to move the tanks when they are full of oil
The family-size deep fryer has a capacity of 4.5-liters of oil or 2.6Lbs of food. The fryer includes three baskets – two smaller and one large basket. Four preset functions enable you to fry various foods using the fryer's manual settings for customized results.
Pros
Contains a large viewing window
Integrated odor filter to eliminate any smell
Comes with a breakaway cord for safety
Can be dismantled
Made of heavy-duty stainless steel
Cons
Might take time to heat up
Control panel may not work properly
If you're a health freak but loves to binge on fried food, DeLonghi fryer is meant for you. The fryer consumes less oil to cook and also eliminates the odor of fried food. The deep fryer features an outer cool-touch handle that saves you from burns or mishaps. The digital removable timer and an indicator will alert you when your food is cooked.
Pros
Includes detachable magnetic cord
Easy to clean
Interior is non-stick
Thermostat is adjustable
Cons
Might create a foam that covers the countertop with grease
Maintaining the temperature could be difficult
Designed with an adjustable timer, the fryer can cook food from 265°F – 375°F. Powered with 1,800 Watts heating elements, the fryer works amazingly well with all kinds of food, including French fries, onion rings, and fritters. The parts are completely detachable, making it easy to clean.
Pros
Comes with adjustable temperature control
Makes delicious snacks for a family of four
Safe to use as it features cool-touch with stainless steel material
Features a breakaway cord
Cons
With an oil container of 3.2-quart capacity, the deep fryer enables you to cook 12 cups of food sufficient for a family of four to six. The fryer comes with an automatic timer and temperature control, which you can set according to your need. The transparent lid lets you view while the food is being cooked.
Pros
Features cool-touch handles
Both fry basket and pain are easy to wash
Long-lasting product as it is made up of heavy-duty stainless steel
Coated with enamel for non-stick
Cons
Plastic knob may not be of good quality
Screen numbers may come-off after few washes
The dual deep fryer has two basins with two different power plugs for different temperatures. Powered with 3,400 Watts, the fryer can heat the oil up to 374°F. The auto-shutoff system ensures safety when the unit is overheated.
Pros
Size and capacity make it perfect for professional usage
Easy to use and clean
Cooks batches of food quickly
Cons
May not work after some time
May not be of good quality
Ikich offers not just any usual fryer but an air fryer oven, which is designed to keep you healthy without compromising the flavor of food. The fryer is easy to use with a control panel for each mode. The fryer auto shuts off when you pull out the basket or when the oven overheats, protecting your food from burning. You can contact the dealer within two years from the point of purchase for any quality issues.
Pros
Removes 85% of excess fats from your food
Completely safe to wash in a dishwasher
Ease of use as it comes with seven preset buttons
Multi-purpose as it broils, air fry, roast, and bake any type of food item
Cons
The sleek deep fryer is suitable for a modern kitchen. With 1,200 Watts of power, the fryer gives you high performance and allows you to prepare your meal quickly. The mesh basket of the fryer immerses into the oil, allowing your food to get properly cooked. The fryer can easily deep-fry your food with 2-liters of oil at a single time.
Pros
Features an activated carbon filter to reduce the odor
Comes with a viewing window to monitor the process of the food
Basket is designed ergonomically with a hanging hook
Heat-proof sides to prevent accidental damage
Has a professional oil temperature control
Cons
Cord may get popped off easily
May not be easy to clean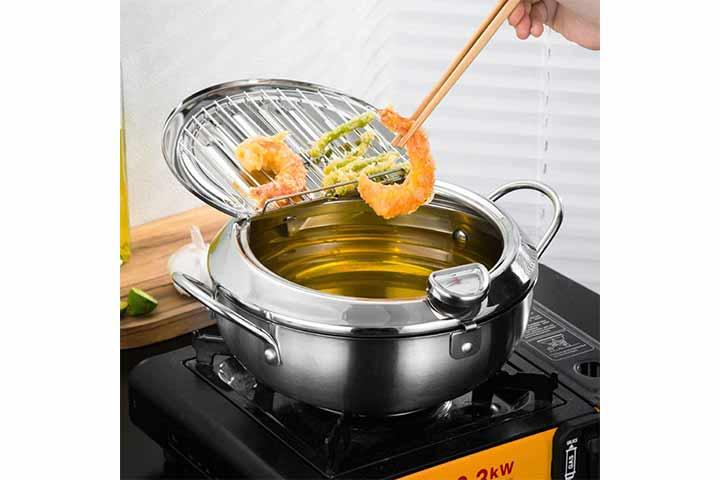 Made of stainless steel, the fryer features good insulation performance to make your food crispier and tastier. The complete unit is easy to clean as all the parts are detachable, along with the wire rack that drains out the excess oil into the fryer. The fryer pot is compatible and can be used with a stove induction cooktop.
Pros
Features Japanese-style sturdy handles
Safe to use
Has a cold touch handle
Food doesn't stick to the fryer
Cons
May not be high quality
May be smaller than it looks
How To Choose The Right Deep Fryer?
A deep fryer is not a must in all kitchens, but if you need one, look for a good fryer that lasts at least ten years. You must keep the following factors in mind when shopping for a deep fryer.
Size: You need to consider your daily usage, the size of the family, and your kitchen's size to buy the right-sized deep fryer. A compact deep fryer can be suitable for a small family with two or three members, while larger families need bigger ones.
Adjustable temperature setting: This feature allows you to cook a variety of food at different temperatures. A deep fryer with adjustable temperature settings can be a good buy.
Oil filter: If you don't like the greasy odor from a deep fryer, this feature can help. A deep fryer with oil filters will remove any foul odor during cooking.
Ease of cleaning: You must choose the fryer that can either be cleaned in a dishwasher or disassembled.
Go ahead and give your cooking skills an upscale with an easy-to-use deep fryer. A deep fryer improves the texture and taste of your fried food and lets you make several delicacies, even for a large party, right at home. Go through our list of the best deep fryers and make an informed choice while remembering the factors mentioned above for a good buy.
Recommended Articles: 
The following two tabs change content below.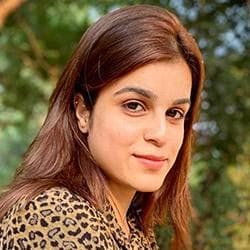 Sakshi John
Sakshi did her graduation in Journalism from the Madras Christian College, Chennai, before starting her career as a freelance writer. She is into blog writing and for MomJunction, she covers various topics, including products to buy for your kitchen, furniture, and other home requirements. Previously, she interned as a content writer in a cyber security firm. As a content writer, Sakshi...
more