Whether you work at the office all day, indulge in adventure activities, or work out intensely in a gym, you would need a deodorant to control your body odor. Deodorants help eliminate the funky and weird smell that emanates when sweat mixes with bacteria, while antiperspirants control sweat. The market is replete with different types of deodorants, including spray deodorants, roll-ons, deodorants for sensitive skin, and lots more for women.
In this MomJunction post, we bring you a list of 20 best deodorants for women. Scroll through their details, and choose the one that suits your requirements.
20 Best Deodorants For Women
It is a paraben-, phthalates-, and aluminum-free deodorant, which is safe and effective. It is formulated with simple natural ingredients such as shea butter and coconut oil. The tapioca starch and baking soda keep you dry by neutralizing the odor. The deodorant offers 16-hour protection and is available in seven scents, including coconut and vanilla, lavender and rose, eucalyptus and mint, and citrus and herbal musk.
Infused with the goodness of seaweed extract, natural mineral salt, aloe vera gel, coconut oil, and essential oils, Bali Secrets Natural Deodorant claims to keep you fresh and protected for an entire day. It comes in an easy-to-use roll-on form and leaves no stains on your clothes. The deodorant for women contains no parabens and phthalates and is suitable for sensitive skin too. You can pick one scent from seven choices, including sandalwood, summer love, delicate rose, and wildwood.
This deodorant by Super Natural Goods is made using natural and organic ingredients such as avocado butter, castor bean oil, eucalyptus, honey, and bergamot. It is aluminum-free, safe, and gives you all-day protection. The pleasant fragrance of lavender and eucalyptus offers a subtle and fresh scent all day. It is cruelty-free, and one bottle can last for three months, even when used daily. The deodorant comes in a BPA-free recyclable container.
This deodorant by Green Tidings is made with natural ingredients such as shea butter, organic coconut oil, and tapioca starch.  It does not include paraben or aluminum and is extremely gentle on the skin. Besides, it is gluten- and cruelty-free and has a long shelf life. Apply this non-toxic deodorant once a day and feel pleasant and odor-free all day. You can pick any from different scents such as lavender, floral spice, orange vanilla, jasmine rose, and vetiver citrus.
This is a vegan and cruelty-free deodorant that absorbs wetness and neutralizes odor using baking soda. It is non-sticky, non-greasy, and free of artificial fragrance, phthalates, parabens, and aluminum salts. The natural deodorant is formulated with jojoba seed oil, coconut oil, shea butter, and vitamin E to make you feel fresh all day. You may pick from either the fragrance-free deodorant or the one enriched with rose and vanilla.
This Coconut Deo by Kopari is an aluminum-free deodorant that glides smoothly on your skin and fights odor. The deodorant is formulated with a blend of sage oil, coconut oil, and coconut water to soothe your underarm. It is a non-toxic formula and has antibacterial, microbial, and soothing properties. It is not sticky and does not leave any stains on your clothes. Besides, it is dermatologist-tested, hypoallergenic, and suitable for sensitive skin.
Original Invisible Solid Deodorant by Secret is an antiperspirant cum deodorant that offers 24-hour protection and keeps you fresh. The deodorant contains a pH-balanced formula that works well with the natural chemistry of your body. You can choose from seven different scents, namely clean lavender, powder fresh, shower fresh, spring breeze, citrus blossom, tropical orchid, and unscented.
Hypoallergenic, doctor-developed, and baking soda- and aluminum-free, this deodorant is formulated to be used on the underarms and private parts. It provides 72-hour protection, which is longer than most deodorants from other brands. It comes in five different scents, namely lavender sage, jasmine rose, juniper berry, silver spruce, and unscented. Lume deodorant is available in both stick and tube forms, and you may pick one that is convenient for you.
Enriched with lavender and argan oil, this  aluminum-free deodorant by Love Beauty and Planet keeps you fresh and smelling good all day. It offers 24-hour odor protection and long-lasting fragrance. The plant-based deodorant is free of alcohol and parabens,.and comes packaged in a recyclable canister. The brand offers two other scents—coconut oil and ylang-ylang, and murumuru butter and rose.
This antiperspirant deodorant stick by Tom's of Maine is a clinical strength deodorant that is formulated using minerals and plants. It is cruelty-free and contains no artificial preservatives, fragrances, flavors, or colors. It offers 24-hour protection and keeps you fresh and dry all day. The deodorant is available in different scents, including coconut lavender, fresh meadow, and natural powder and comes in packs of two, three, and six.
Degree UltraClear Antiperspirant Deodorant Black + White for women is free of alcohol and provides 48-hour protection against odor and wetness. It provides a floral fragrance of lily, rose, and other soft fruits. Wearing this invisible solid deodorant all day would not leave any yellow stains or white marks on light- or dark-colored clothes. The fragrance is airy and is suitable for sensitive skin.
This is a natural deodorant that is free of aluminum, baking soda, phthalates, and parabens. It is specially formulated for sensitive skin as it does not contain synthetic fragrances, alcohol, or baking soda. The deodorant is made with six effective natural ingredients. It is vegan and cruelty-free. The brand offers ten fragrances, including citrus and vetiver, coconut and lime, cedar and vanilla, cardamom and ginger, and lavender and lemon. Pick any and feel fresh all day.
Suave Clinical Protection is a dermatologist-tested antiperspirant deodorant for women that provides long-lasting protection and does not irritate the skin. The deodorant offers sweat protection for up to 24 hours and has a tropical coconut scent. The patented PROsolid formula glides on smoothly and doesn't stain your clothes. It is available in two varieties—powder fresh and coconut kiss. You may pick one or a value pack of four.
Oars + Alps Natural Deodorant contains botanicals to mask your odor and nourish the skin. It is formulated with natural ingredients that absorb sweat and offers long-lasting protection. The deodorant is free of aluminum, alcohol, and talc and doesn't leave any stains on the clothes. Pick any from the three scents, including California coast scent, fresh ocean scent, and eucalyptus spearmint.
This invisible solid deodorant for women offers 48-hour protection from wetness and odor. It is made with sweat-activated technology that locks odor and then releases pleasant fragrance. The deodorant provides a smooth application, and the pleasant aroma of luxe lavender keeps you fresh and relaxing all day.
This antiperspirant cum deodorant gives you 4X and 48-hour protection from stress sweat (causes more odor and bacteria). The deodorant is recommended by a doctor and keeps you fresh all day. The formulation is designed to get activated during nights, and it also has odor-neutralizing molecules that help in fighting stinky sweat. And the deodorant has been pH balanced to work well on the fluctuating body chemistry.
This deodorant offers 48-hour protection from odor and wetness and leaves no white residue on skin and clothes. The deodorant is infused with the goodness of hydrogenated castor oil and corn starch. The pleasant scent keeps you fresh all day, giving you maximum confidence wherever you go. It should be applied only to the underarms. You can wear any dark-colored dress without worrying about it turning white or patchy.
Enriched with bergamot citrus and white florals, this deodorant helps you stay fresh  all day. The conditioning silk technology glides smoothly on the skin. The deodorant contains no aluminum and, therefore, leaves no color or residue on the clothes.  It helps fight bacteria and offers all-day protection from odor. It also doesn't include any harmful chemicals and is completely safe on your skin. It comes in a value pack of three bottles.
This invisible solid antiperspirant and deodorant by Sure is unscented and offers 48-hour protection from odor and wetness. It doesn't have any strong fragrance but keeps you fresh all day. The brand offers you a value pack that contains six bottles. Apply it once and feel confident all day.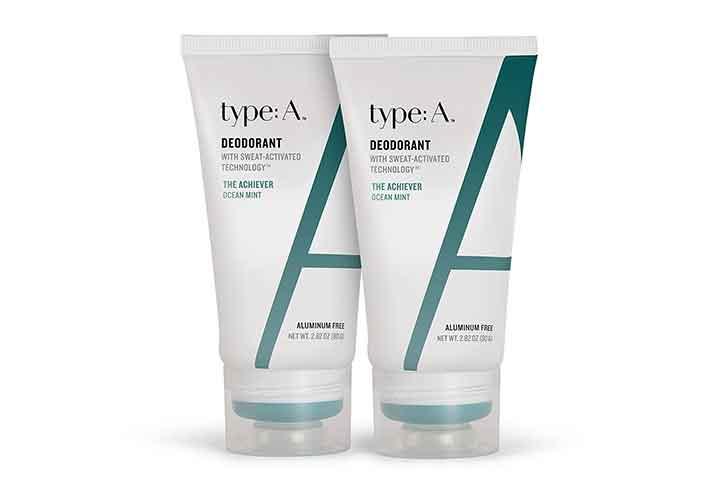 This deodorant for women by type: A is an aluminum-free, non-toxic, and lightweight cream. It is powered by sweat-activated technology and enriched with natural ingredients. It is available in six scents, including modern spice, white floral, and ocean mint. The cream glides smoothly on your skin, and the ultra-sheer formula makes sure there are no stains on the clothes. It is non-irritating and also cruelty-free.
How To Choose The Right Deodorant? 
Here are a few tips that you can keep in mind when picking the most suitable deodorant for yourself.
Type: Sprays, creams, and gels are the three common types of deodorants available for women. Creams are ideal for sensitive skin, gels are light and clear, and sprays are usually the go-to option for many. Pick any that suits your requirements.
Scents: If you like light fragrance, you may choose florals. For a zesty zing, there are fruity scents such as citrus. You may also choose spicy and musky scents. Pick the one that suits your personality.
Lifestyle: Do you workout intensely? Are you an adventure freak? Or do you spend all your day at the office? If your answer to all of these is yes, pick a deodorant that can control your odor for 24 to 48 hours. And if you sweat a lot and want to block the sweat and odor, then you may choose a deodorant that is also an antiperspirant.
Frequently Asked Questions
1. Should I choose a deodorant or an antiperspirant? 
The decision should be based on your requirements. If you want to control sweat, then an antiperspirant would be ideal. To control smell or odor, pick a deodorant. And to fight both, you may pick a combo.
2. Can deodorants be used on clothes?
If you want to prevent odor, then you should use deodorant on your underarms. You may use it on the clothes too, but that would only give you the scent and would not control your body odor. Besides, some deodorants, especially those that contain aluminum, may leave stains on your clothes.
3. How often should you switch deodorants?
You may switch deodorants once every six months because our lifestyle changes frequently. The food we eat, hormonal changes, seasons, aging, and sweat output are some factors that we need to consider when choosing the right deodorants.
Keep your requirements in mind, scroll through the product details again, and make sure to read the labels when buying the deodorant. We hope this list helps you find the right deodorant for yourself. Which of these deodorants do you think would suit your requirements? Let us know in the comments section below.