On an average, the working class is believed to spend about half their lives in their offices which mostly involve a desk or table. For most of us, the time spent at work comes down to about 8 to 8.5 hours everyday. Most of these working institutions have a particular desk assigned to someone to set a feeling of comfort. When so much time of a day is spent on a desk, isn't it ideal to make it feel like home? Desk accessories serve this purpose. It transforms an ordinary workstation into space you can call your own. Best desk accessories add elements of your personality to your workplace, right from the kind of stationery you like to the different aesthetics of the space, your workstation can be customized to your liking in order to beautify it.
While the idea of a decorated, personalized workspace puts a smile on your face, here is a list of 17 amazing desk accessories that you can buy to add a bit of yourself to your desk.

Top Products From Our List
17 Best Desk Accessories
For those of you who struggle with a mess for a desk, the Deco Brothers Desk Supplies Organizer Caddy is especially for you. It helps you organize pens, staplers, paperclips, and other supplies that you need and use daily. The desk accessory that makes your everyday life systematic and convenient, it is compartmentalized into five different sections to accommodate stationery, big or small and has two small notched supply draws.
Perfect to store your files, folders, and stationery, the Simple Houseware Mesh Desk Organizer makes your life at work easy and your desk methodized. It comes with a stylish drawer that is compartmentalized into three sections. One of the best desk accessories that have an upright section and has five different units that are best suited to store your files and folders. It organizes your desk and reduces the mess.
Most of you will agree that a desk seems incomplete with a notepad or memo to scribble important notes into. The Rollbahn Pocket Memo is one of the most essential desk accessories you need to ensure you pay attention, note down important agendas and remember key information. The timeless, one of a kind design of the spiral notebook is splash-proof and comes with a firm elastic closure and a thick cover to ease your writing experience.
Another desk accessory that adds an element of oomph to your workstation, the Qualy Desk Bunny Scissors is just what you need to quirk up your desk. Once it hops onto your desk, there is no hassle of sorting out a mess. Its ears are where the scissors are secretly hidden. These scissors are easily accessible and the carrots held by the bunny will help you keep all the paper clips intact because of its magnetic ability.
All you tech-savvy folks out there looking for a one-stop solution to charge your electronic gadgets, this desk accessory is designed especially for you. It holds your laptop, tablet, phone, and music devices in place. It comes with an inbuilt storage rack for different devices and can be used all at once to charge your electronic companions.
With compact design and ample storage space, the multi-purpose Sorbus 3-tier Shelf Organizer is perfect for your house, table, desk, or office space. It is made with environmentally-friendly bamboo and is designed to store tiny items as well as files and folders. One of the best desk accessories for ample storage and a three-tier compartmental design, this mini desk is perfect to fit in small spaces.
A stylish gaming pad that beautifies your desk, this mouse pad is made of silicone and keeps your wrists feeling comfortable. You'd love to have this mouse pad on your desk if you're a Harry Potter fan. It is made from premium quality rubber and silicone that prevents slip and enhances grip. It is about 36×12 inches and qualifies as one of the best desk accessories for your workstation or home station. It is a great gift idea for your family or friends who are Potterheads.
All you Potterheads, your letter from Hogwarts might not have arrived but your very own Harry Potter themed pencil cup is just a click away. It is sculpted to perfection and leaves you feeling the nostalgia and magic. Channel that inner wizard and get your hands on one of the best Harry Potter desk accessories to hold in your pens and pencils, or maybe even your wands!
A stylish and sleek design to bring an aesthetically appealing look to your desk or table, the 5-Piece Sorbus Desk Organizer is going to be the glam element of your desk. The set includes a cup holder, letter sorter, letter tray, sticky note holder, and file organizer. It comes in charming colors of rose gold or copper and adds an elegant touch to your desk.
Not only does this help you keep track of your daily busy schedule but it also motivates you to have the perfect productive day. The daily planner contains 50 tears off sheets that let you organize your daily routine and also assess your fitness and diet plans. That's not all, it also helps you monitor your water intake making you the perfect model citizen. A must-have as a part of your desk accessories, it's every man's ideal daily tracker.
You're in the middle of an important call and suddenly your phone dies out. The situation sounds too familiar, right? With the Simpeak USB Desk Charger, you never have to face that again. Designed to charge up to four devices at once, this multi-circuit mounts on the grommet hole allowing you to use the space on your desk to its full potential. It is safe and reliable and can be used in other places like any other charger.
It's coffee time but you're stuck in the middle of finishing a report with a deadline closing in on you. Instead of getting grumpy without your dose of caffeine, just ring for a coffee. Desk accessories that contribute to an easier and more convenient life, this service call bell is just what you need in the middle of a hectic day. Push the button to make it ring the classic bell sound for the office boy to take a hint.
One of the coolest desk accessories you can have, the Senders Floating Globe works on a high-end technology that allows the globe to float and rotate midair. This decorative desk accessory comes with an LED light that makes it look spiffy when the lights are out. It operates on a magnetic system that is electronically controlled and is a delightful gifting accessory.
A sticky note collection that allows you to record and organize everyday activities without having to worry about forgetting something important. A collection of sticky notes that lets you record to-do lists, phone numbers, grocery lists, and more. The set of notepads come with a hardcover case that makes it an ideal gift for someone or yourself! One of the perfect desk accessories that help you plan your day, it comes with long and short notepads, sticky pads, and marker pads.
Those summer days when the heat gets the best of you, a small desk fan is just what you need to combat it. The OPolar 4 Inch USB fan provides a soft breeze to keep you calm, cool, and relaxed. It is designed to be compact and favorable for desks and tables for your home, office, study or even your game room. The charger is compatible with devices with a USB port and the direction of the wind can be adjusted to suit your angle.
A box of tissues for all your needs, the Umbra Casa Tissue Box Cover is shaped like a house and dispenses tissues one by one for a wholesome pulling experience. One of the most basic desk accessories, the tissue dispenser allows easy retrieval of tissues and it can be cleaned without hassle. It can be added to your desk, table, bathroom or bedroom.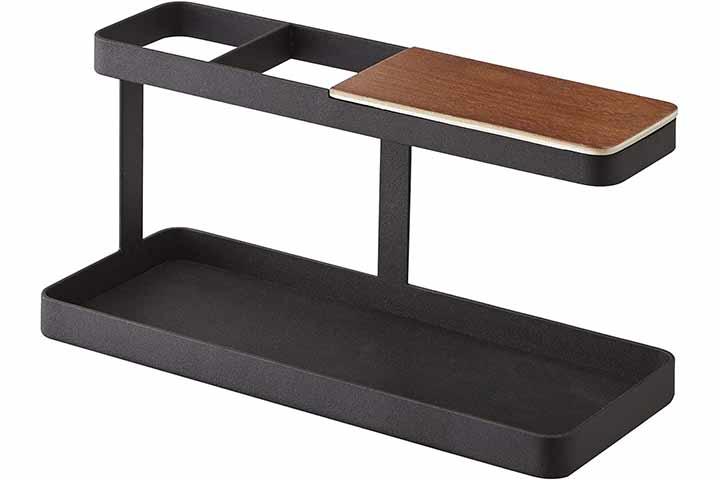 Designed with creativity and consideration for your daily needs, this home desk organizer is one of the best desk accessories for your keys, watch, glasses, phone, jewelry, etc. Its design is pristine and perfect for your home or office. It additionally has two compartments and a small tray to store tiny items. It helps maintain simplicity, practicality, and storage space.
How To Choose The Right Desk Accessories?
A desk that allows you a boost of productivity requires a clutter-free, organized, and convenient setting. While choosing desk accessories, the thing to keep in mind is your personalized requirement. If you're someone who uses papers, files and other traditional forms of stationery, a pen holder, file and folder organizer, etc is what you need. However, if you are someone who works on your electronic gadgets, it will benefit you to choose desk accessories that have charging options or electrically compliant accessories.
Conclusion
Whether you follow a traditional way or work or one that requires a modern touch, the kind of desk accessory you choose will increase your productivity levels and keep you feeling motivated. It is vital to snazz up your workstation to suit your personalized taste. What do you think of our list? Comment below and let us know which desk accessory you are excited to purchase.
Recommended Articles: