Most of us spend the majority of our time working. And those with a desk job spend most of their time within their workstations. But when a workstation looks bland, work starts to feel boring too. So, why not let your workstation reflect your personality and make it esthetically pleasing? For this, you do not require lots of decorative items. An artistic desk calendar can do the trick.
We know that your digital devices do a very good job of showing you the date, but a desk calendar is like an eye-candy standing in front of you and reminding you of your monthly plans or your 'to-dos' for the day. The market is flooded with various kinds of desk calendars, but our focus is on those that are eye-catching and functional. Here are our picks for some of the best desk calendars for you.
15 Best Desk Calendars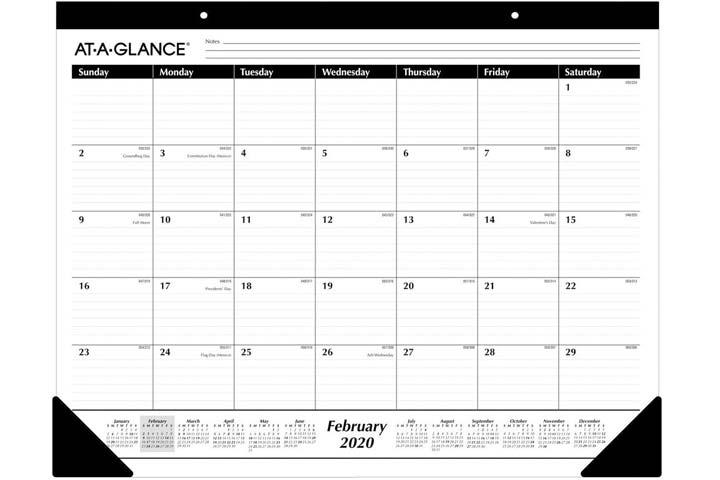 Does your workstation follow a black and white minimalistic theme? If yes, this simple desk pad might suit your space. It covers all the months, days, and weeks of 2021, with each page giving you a monthly overview. Additionally, it also displays Julian dates. The calendar gives you ample space and lines to make notes against each date. It is made of premium-quality paper that is resistant to ink bleeds and comes with corner protectors, so your pet peeve of folded corners is also addressed.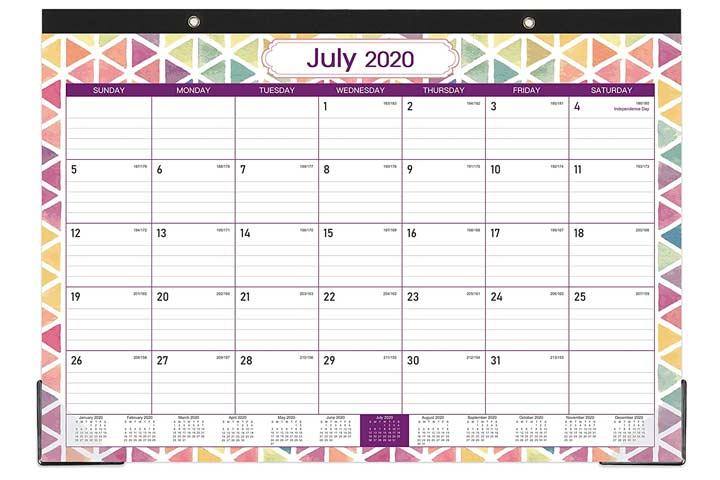 Here is a desk cum wall calendar that allows you to plan for a year and a half. Every page comes bordered with a unique colorful design, while the center is taken up by ruled daily blocks. Apart from the day and date, the daily block also mentions federal holidays. Its corner protectors ensure that the pages stay in place. Every page comes with a perforated line and two hanging holes, so tearing the page and hanging it becomes easy.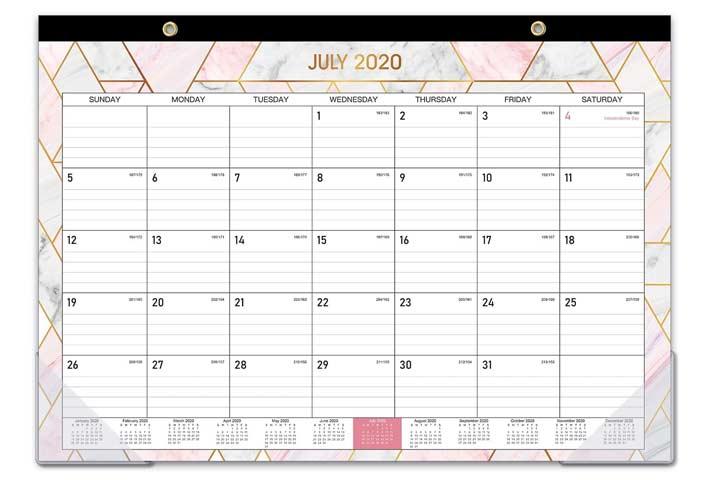 With marble design covering the borders, this desk calendar offers simplistic color designs to each monthly page. The perforated line at the top allows you to tear any page you want. Its transparent corner protectors ensure the pages stay put when you are trying to look at them. It comes with thick acid-free papers, so you can use any pen to make notes without worrying about ink bleeds. The major holidays are marked, and the Federal holidays highlighted.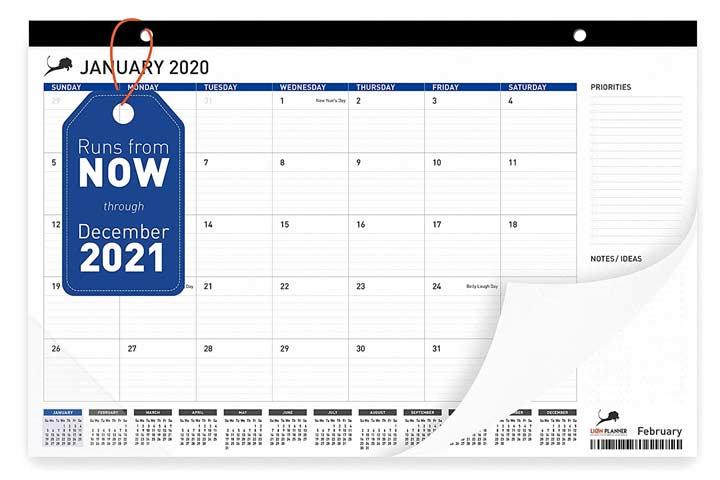 For a more professional look, here is a clear, non-fancy desk calendar. It makes a great reference calendar as it offers spacious blocks to write events and meetings you need to remember. Its most unique feature is that it is made of recycled paper that is thick and resistant to ink bleeds. It comes with a hard backboard so you can conveniently make detailed notes. To the right, there is a panel for listing priorities and jotting down other notes and ideas.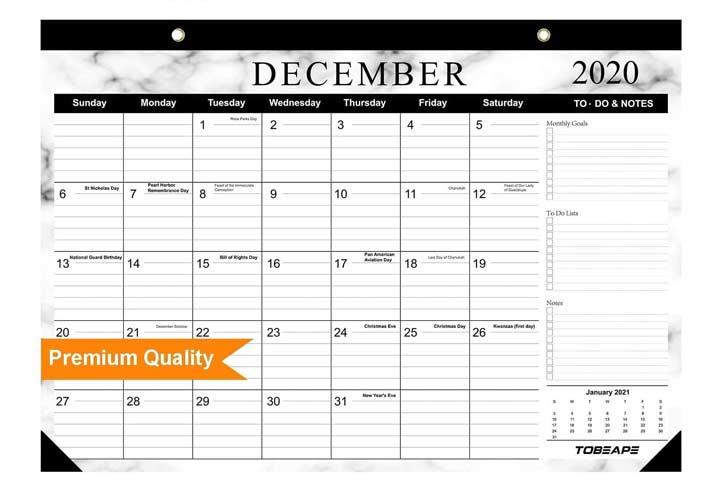 Looking for a large wall calendar that doubles up as a desk calendar? Here it is. This huge calendar comes with punched holes at the top for hanging on the wall. Its 100 GSM paper is thick enough for you to write with any pen without worrying about the ink bleeding, and the removable perforated pages come with secure corner protectors. The lined boxes give you enough space to jot down little reminders on the calendar. It has all major holidays marked on it, and you can keep track of all the important dates.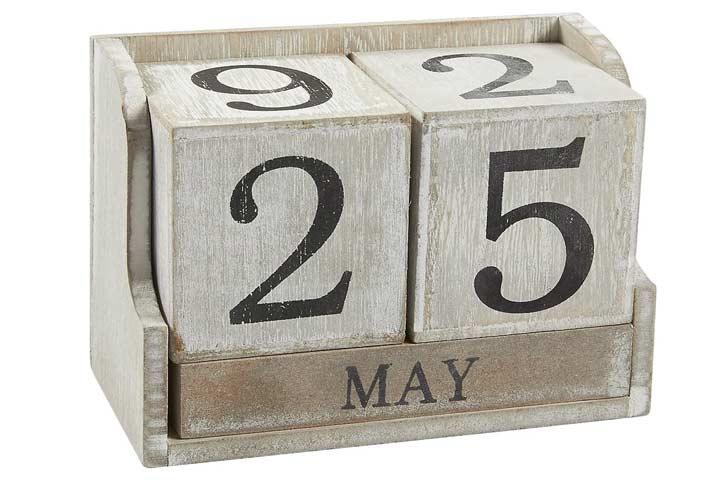 A calendar like no other on this list, this wooden block desk calendar not only tells you the date, but also adds beauty to your workspace. It comes with two square-shaped wooden cubes with numbers printed on them and three long wooden cubes with names of the months printed on them. These cubes have to be changed each day and placed in its wooden holder. Its compact frame does not occupy too much space and can easily be accommodated on any desk.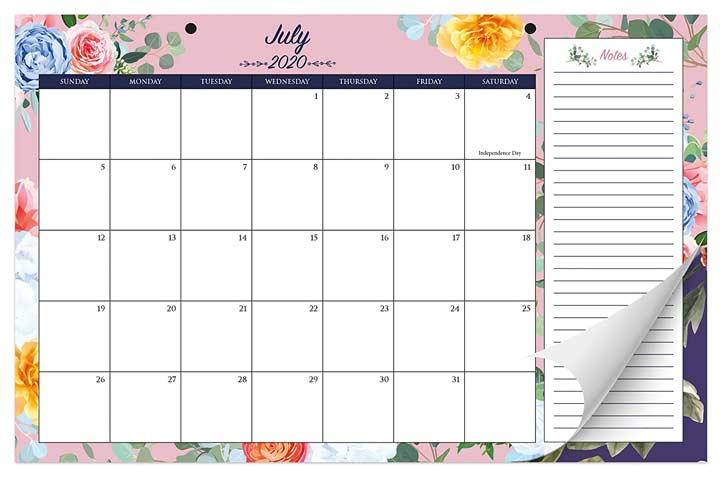 If your friend or relative loves to keep records of their daily activities or set routines, then you might want to gift them this pretty floral desk calendar. This 18-month calendar is made of high-quality thick paper and can be placed on the desk or the wall. You can fill in the spacious blank blocks with any design or sticker of your choice. The notes section on the side will make you want to list more events every day.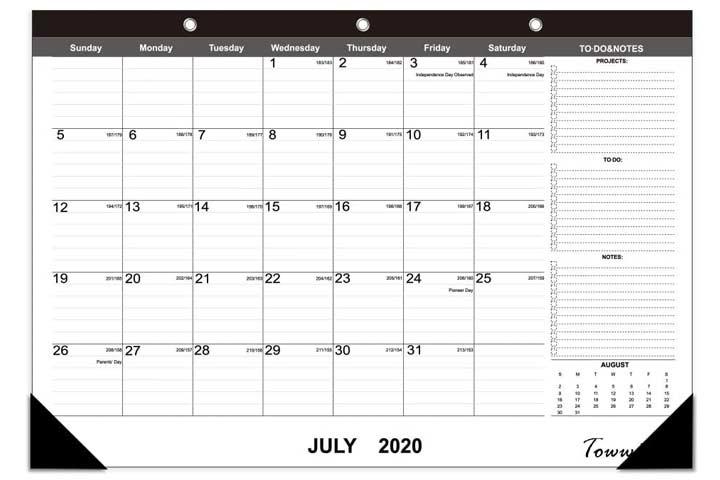 This desk pad calendar follows a no-fuss, basic black and white design. Its lined boxes make writing neat and easy. It comes with three punched holes that make it convenient to hang on a wall. Its side-panel is reserved for marking projects, to-dos, and notes. All major holidays are mentioned in the blocks so that you do not forget any important dates.

Why settle for a single design when this calendar offers a different design on each page? Every page in this calendar has the twelve months mentioned below for quick reference and black corner protectors to keep the pages in place. It helps you keep track of your schedule through its spacious blocks that you can fill in with artsy stickers and drawings. The weekend blocks are shaded, and all the important holidays are written in red.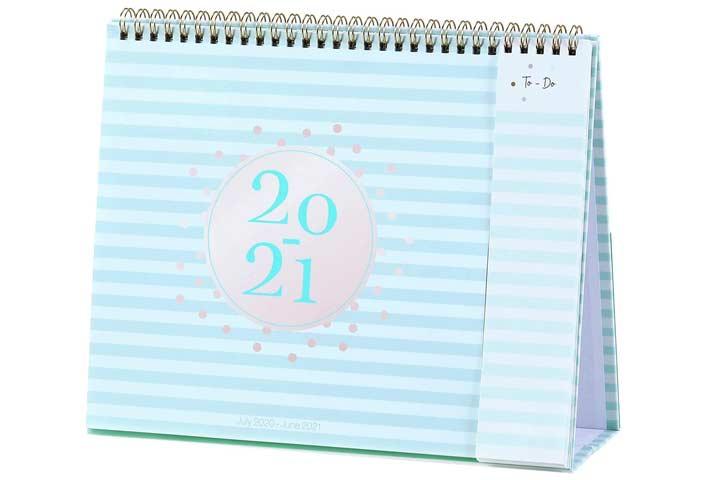 Your work desk will never look dull and incomplete once you place this desk calendar on it. With a separate space for your to-do list, this calendar comes in a pastel blue shade that gives it a cool look. On the back of every month, you will find a to-do page to help you stay more organized. The pages are acid-free, so they will last long, in case you need them for future reference. Besides, each page comes with two mini calendars, displaying the preceding and succeeding months.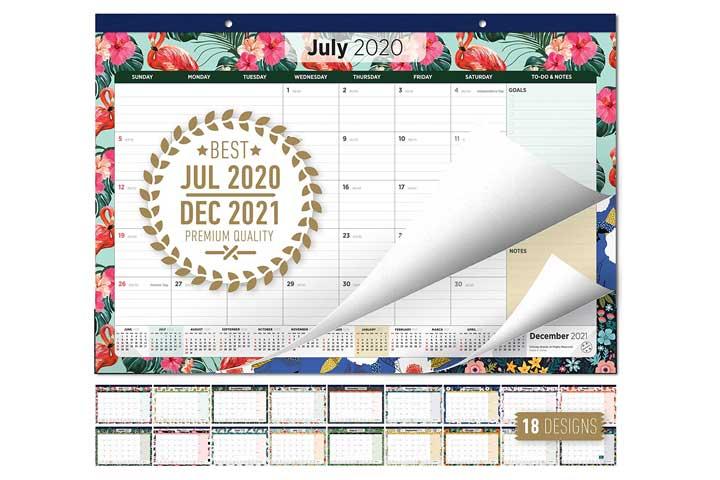 If you want to better your time management skills, then this calendar might just help you. This calendar runs from July 2020 till December 2021. It is made of premium-quality Korean paper held together by a double-layered paper grip for a clean finish. Its side panel allocates space for you to list your goals and extra notes. The calendar also comes with transparent side protectors and two punched holes for hanging on the wall.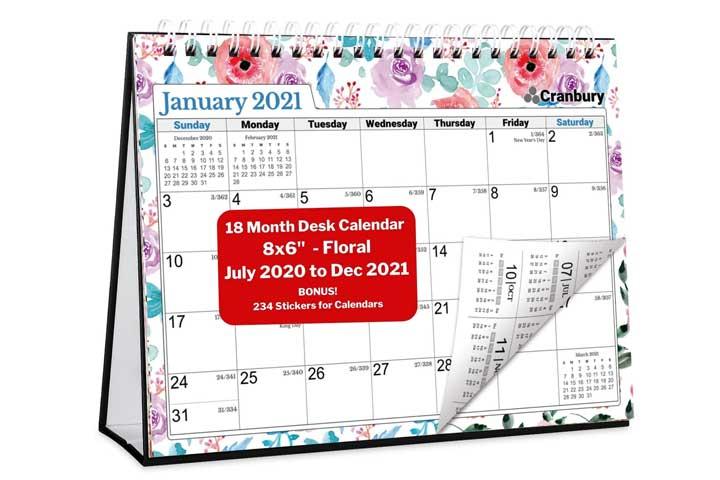 If you do not fancy large calendars and are looking for the traditional, flip-page small desk calendar, then consider this. Available in four different prints, this desk calendar comes with dates printed on both sides of a page. The last section is allotted for the reference page and notes. Additionally, it also comes with some cool stickers that you could use to indicate certain events, meetings, appointments, and deadlines. Each page comes with a reference block containing the previous and following months.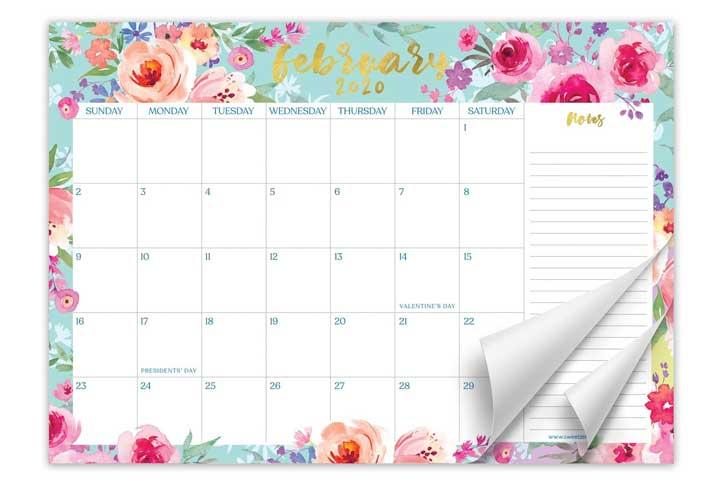 If you like the classic floral print on birthday cards and dresses, you might want to have a look at this desk calendar. The watercolor flowers painted on this calendar gives it a fresh and vibrant look. The names of the months are printed with golden foil to make them stand out. It comes with a side panel for you to squeeze in extra reminders or highlight important events. This pretty calendar can enliven any working space.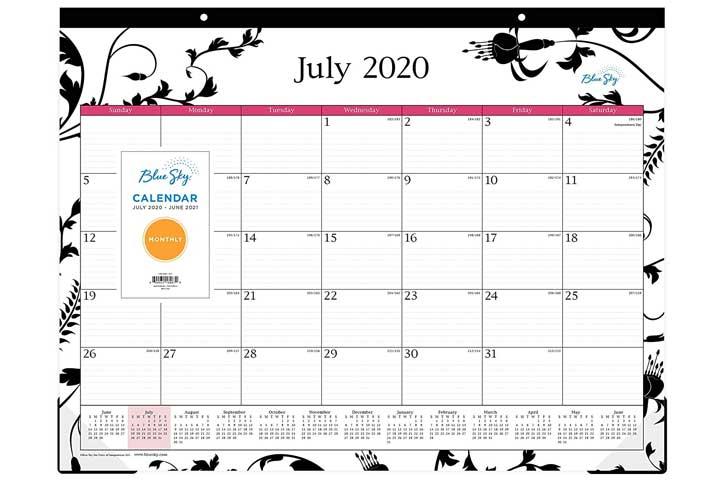 Time management just got a lot easier with this beautiful desk calendar. Decorated with black floral art, this calendar offers a lot of space for you to write down your important appointments on a daily basis. And once you are done for the month, you can easily tear off the page and discard it. Its high-quality white paper with black trim tape binding gives it a very classy look, and the protective corners make it durable.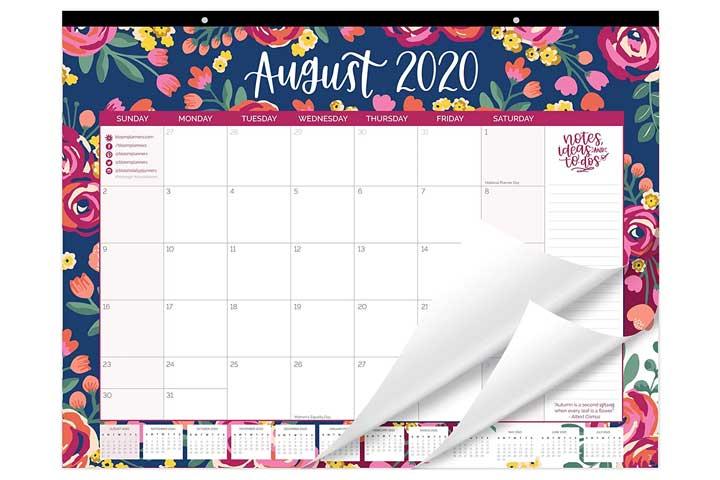 For lovers of flowers, here is a desk calendar containing floral design on every page. It comes with empty date blocks, so you can draw or paste your favorite stickers to mark important days. Weekends and holidays come shaded on this calendar for all those who like to make the best use of days off from work. It also comes with an additional blank page that can be used as a vision board for you to write your goals and motivational quotes.
How To Select A Desk Calendar?
The main criteria for selecting a desk calendar is to know what exactly you want it for. If you wish to use the calendar for rigorous scheduling purposes, then you might want a large calendar with ruled boxes to carefully organize your day-to-day activities.
If your calendar is meant for marking important events, reminding you of important dates, or keeping a tab on your regular activities, then you might want to invest in a more fancy calendar with empty blocks that can be decorated with stickers.
Once you have decided on the purpose that your calendar will serve, you can look into details like paper quality, size, design, and other features according to your liking, preference, and budget.
A desk calendar is a great organizational tool that helps you plan and manage your time so you can work or study more effectively. If you are artistically inclined, then you can design a desk calendar of your own. But if you do not have the time or don't wish to design one, then go through this comprehensive list of our best picks for desk calendars and choose one.