Smooth out the knots and tangles with our list of the best detangler sprays and flaunt soft, silky hair. If you like to keep your hair open, you might face painful knots after a long day of wind and pollution. Although conditioners help detangle your hair to a certain extent, the result may not be long-lasting. A detangler spray helps you comb through the difficult knots and tangles without difficulty. They help make the hair smooth and silky to reduce the friction between damaged hair strands.
As tangles can make your hair look messy, you can use a detangler spray to get a neat, polished look. These sprays are more effective on curly, long, or thick hair. So, read on to find the right detangler spray suitable for your hair type.
15 Best Detangler Sprays


If you love natural and vegan products, this detangler spray is one such. This acts as a leave-in conditioner to detangle and keep your hair in place without flying away. It is suitable for all hair types and works on wet and dry hair. You can use this detangler spray at any time to detangle your hair and make it look smooth and shiny. It is enriched with plant-based ingredients, such as argan oil, shea butter, jojoba protein, and quinoa extracts to nourish and smoothen your hair.
Pros
No harmful chemicals
Safe for parents and babies
Not tested on animals
Lightweight and hydrating spray
Control cowlicks
Biodegradable formula
Cons
Some may find the fragrance strong and unpleasant
Sun Bum detangler spray not only frees you from messy hair knots but also conditions and protects your hair from damage. It controls split ends, dull, frizzy hair and can shield the hair from UV rays, leaving it smooth and shiny all day. The spray works for color-treated hair by slowing the color fading process. This leave-in hair spray is enriched with banana pulp, coconut oil, banana peel, banana leaf, quinoa protein extract, sunflower seed oil, etc., to nourish and enhance your hair.
Pros
Vegan product
Paraben- and dye-free
Cruelty-free
Suitable for all hair types
Lightweight formula
Great for beach use
Cons
May leave a strong fragrance
Pantene Conditioning hair mist is a leave-in spray that helps control damage and leaves your hair smooth and shiny. It works on all hair types and can be used on wet and dry hair. The Pro-V formula is enriched with antioxidants to reduce protein loss, thereby protecting your hair from breakage and dryness. When sprayed onto your hair, this gentle formulation can detangle the knotted strands and restores smoothness and shine to your hair.
Pros
Mild fragrance
Lightweight formula
Helps with easy styling
Non-greasy
Leaves no residue
Cons
Not recommended for extreme tangles
The Mizani 25 miracle milk detangler spray works for all hair types and textures. It detangles your hair and enhances the curls when used on wet or damp hair. This leave-in conditioner will hydrate, moisturize and prevent frizzy hair. It also protects your hair from heat damage and dryness. The blend of fennel seed oil and coconut oil helps nourish and restore healthy hair.
Pros
Lightweight formulation
Leaves your hair soft and shiny
Protects color-treated hair
Good for keratin-treated hair
Enhances curls
Cons
Strong fragrance
Might not work on dry hair
The Daily Dose leave-in conditioner has no harmful chemicals and is safe for your hair and skin. It has no parabens, phthalates, SLE's, sulfates, mineral oils, etc., that are harsh and strips the hair moisture. This has a creamy texture and sprays fine mist onto your hair. It is formulated for all hair types and textures and can instantly detangle your hair with a few sprays on wet hair. This hair spray helps prevent breakage, eliminate frizz, protect color-treated hair, add moisture and shine. It also makes your hair silky smooth, and manageable.
Pros
Safe for kids
Not tested on animals
Non-greasy and lightweight
Vegan product
Easy to use
Cons
Garnier Fructis Pure Clean detangler is a refreshing formula to keep your hair smooth, shine, and tangle-free. This spray allows you to air-dry your hair while keeping it frizz-free and silky. It suits normal hair types. The ingredients are derived from active fruit protein and the product has no animal-derived products or byproducts. The product is enriched with aloe extract, citrus protein, vitamins B3, B6, E, etc., to nourish your hair. For better results, use this detangler spray with Pure Clean shampoo and conditioner.
Pros
Vegan product
Cruelty-free
Paraben-free and silicone-free
Lightweight detangler spray
Eco-friendly
Cons
Not suitable for all hair types
Not recommended for dry hair
The detangler spray from Socozy is designed to detangle your little one's hair and saves them from tears. Its gentle formulation with no harsh chemicals is safe for everyday use. Spray it generously onto the wet or dry hair to prevent frizz and keep it smooth and shiny. It contains soy protein, kiwi extract, and keratin that will seep in extra moisture and nourish your baby's hair.
Pros
No parabens, phthalates, and sulfates
No synthetic colors or dyes
Gluten-free
Lightweight formula
Suitable for all hair types
Makes hair soft and shiny
Good to use on damp and dry hair
Cons
Strong fruity fragrance
Poor packaging
Tresemme moisture-rich detangling spray can help smooth your knotty curls and keeps your hair healthy and hydrated. Its vitamin E-infused formula can reduce hair damage and nourishes your hair with regular use. This lightweight detangler spray will instantly add slip to your hair and makes it smooth and manageable.
Pros
Mild fragrance
Can work as a conditioner
Suitable for all hair types
Cons
Totlogic leave-in conditioner is specially designed for kids. It has natural ingredients infused with essential oils, such as jojoba oil, bergamot oil, and antioxidants to nourish and strengthen your kid's hair. This leave-in conditioner helps eliminate frizz, flyaways, and static hair while keeping the hair smooth and tangle-free. Simply spray it on wet or dry hair to make it manageable and fuss-free. It is suitable for all hair types and can be used by kids and women. Its gentle formulation has a mild natural scent and smells great on hair.
Pros
No harmful chemicals
No artificial colors or fragrances
Cruelty-free and vegan
Non-greasy
Suits all hair types
Cons
The 100% vegan product is enriched with plant-based protein to nourish, hydrate, and detangle your hair deeply. This leave-in conditioner protects your hair from harsh UV rays, heat styling, and other environmental irritants. It also works on color-treated hair and helps the color to last longer. Use this leave-in mist on wet and towel-dried hair for better results.
Pros
Protects hair from hard water
Cruelty-free
Sulfate-free
Gluten-free
Weightless formula
Cons
May leave a strong fragrance
Earth vibes detangler spray is an organic leave-in conditioner that helps control frizz, flyaways and prevent split ends. It is infused with essential oils, such as jojoba, argan, and coconut oil to keep your hair healthy and hydrated. Aloe extract and vitamin E make your hair soft, smooth, and shiny. Spray it on towel-dried hair, comb it evenly to remove tangles and knots from your hair. For better results, it is recommended to use this hair detangler spray along with Earth Vibes shampoo and conditioner.
Pros
Ideal for all hair types
Suitable for men, women, and kids
Free from parabens, sulfates, and gluten
Cruelty-free
Made of recyclable packaging
Cons
Might not be effective in controlling dryness
The lightweight detangling spray from R+Co makes your hair manageable. It helps to tame your hair by removing tangles, adds more shine, and leaves your hair hydrated. Spray on towel-dried hair and comb through it whenever you are stepping out. It protects your hair from UV rays and heat styling treatments. The detangler has ginger root extracts and cinnamon bark extracts that help repair hair cuticles and strengthen your hair.
Pros
Free of parabens, sulfates, SLE's, etc
Gluten-free
Cruelty-free
Vegan product
Suitable for men and women
Cons
May not work for extreme tangles
Babo Botanicals has created a safe and gentle detangling spray for babies and kids. This lightweight, hypoallergenic formula is made of plant-based ingredients. It is a daily leave-in conditioner you can use on wet and dry hair. This non-greasy detangling spray instantly detangles messy hair, eliminates frizz, adds shine, and makes your little one's hair smooth and manageable. It has a mild citrus berry scent and contains shea butter, evening primrose oil, coconut oil, etc.
Pros
No harsh chemicals
No synthetic fragrances
Dairy-, soy-, and gluten-free
Cruelty-free
Biodegradable
Recyclable packaging
Cons
Might leave a mild residue
To protect your hair from the harsh UV rays, heat styling, to detangle the messy hair, or to keep it hydrated, soft, and shiny, this detangler can work. This product can work on color-treated hair and chemically treated hair to style your hair as you like. Spray this detangler on the towel-dried hair about four to six times and you are good to run your fingers through the hair.
Pros
Leave-in conditioner
Non-greasy
Leaves no residue
Lightweight formula
Prevents flyaways and cowlicks
Suitable for all hair types
Cons
Some may find the fragrance unpleasant
Can not be used on dry hair
The leave-in detangler mask can nourish and strengthen your hair while detangling and conditioning it. It is made of organically certified oils, including marine algae, avocado, coconut, tamanu, argan, and olive oil that condition, soften, repair, and nourish the hair. These oils will control frizz, add shine and detangle the hair stands. The aloe vera extract, green tea extract, moringa oil, and quinoa repair the damaged hair and help prevent split ends and color fading.
Pros
Eco-friendly packaging made from sugar cane
Vegan product
No harmful chemicals
Cruelty-free
Can be used on wet and dry hair
Suitable for all hair types
Cons
Hard-to-spray bottle design
Does not last longer
Less effective on thick and dry hair
How To Choose The Right Detangler Spray?
Here are some aspects you should consider while buying a detangler spray.
Hair type: Some detangler sprays are specially designed for curly hair and some work for normal and straight hair. Check the suitability of that particular spray with your hair type.
Hair condition: If detangling and taming your hair from knots is all that you need, choose the one that works for tangles. If you want to control dryness, frizz from your hair, go for the sprays that work more like a conditioner. There are detangler sprays that can enhance curls or to use on kid's hair. Choose the detangler spray based on your hair condition.
Ingredients: Check the ingredient list before you make a final call. Some ingredients can cause more damage than good to your hair.. Avoid products made of sulfates, alcohol, phthalates, parabens, etc that can affect your overall health.
Brushing your hair through the tangles and knots is a messy and painful job. Using a detangler spray will make your hair manageable and easy to style. There is one for every hair type and condition in the above list of detangler sprays. We hope this buying guide will help you choose the best product.
Recommended Articles:
The following two tabs change content below.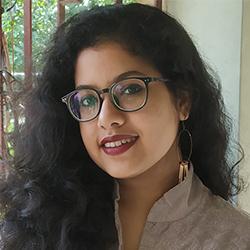 Poulami Nag
Poulami Nag is a writer and associate editor at MomJunction. She did her MA in English from Miranda House, University of Delhi and has qualified UGC-NET. Her journey as a content writer began in 2017 and since then she has garnered diverse interests along the way. Her knowledge of literature and language has given her an eye for detail and...
more