Congrats on being a parent! It's going to be one of the most beautiful phases of your life. And dare we say one of the most challenging as well. While babies are adorable little beings, they also poop a lot. Before you realize, you will be changing diapers round the clock. Holding a baby with a soiled diaper in your arms while you are sleep deprived is tough. But then nobody said it would be easy. That doesn't mean you can't have a solid plan to make your life easier. Having a good diaper caddy by your side ensures that you get the job done with the least amount of stress and without running back and forth to different rooms. In this MomJunction post, we will be looking at the 15 best diaper caddies that are out there in the market today. 
15 Best Diaper Caddies
One of the best diaper caddy designs, the Hiccapop diaper caddy can be easily attached to a crib or changing table. It makes diaper changing convenient by having all the baby essentials within reach. 
Pros
Holds up to 72 diapers
Features 6 shelves and 2 pockets
Stain-resistant
Surface washable
Sturdy design
Cons
May not be ideal for cribs with thick railings
With this diaper candy, you will never have to worry about running out of space to store all the baby essentials. Made with premium quality felt, it is just about the right size to fit perfectly on the changing table.
Pros
Soft fabric
Comes with 2 pacifier clips and bandana drool bibs
Sturdy design
3 years warranty
Wider side pockets
Cons
T separator is not removable
We know finding the best diaper caddy can be tough. Especially if you need one that isn't too big, but enough to meet the storage expectations and has a versatile design. Well, you're in luck as the Parker Baby Co. Diaper Caddy offers just that.
Pros
Collapsible and portable
Can be used as a book or toy organizer
Interior compartments that can be adjusted
8 exterior pockets
Versatile design
Cons
Slightly smaller size
Edges of the caddy maybe little coarse
Skip Hop features one of the best diaper caddy designs with its unique touch-sensitive light technology. It can be easily moved between rooms and has two elastic mesh pockets and exterior ones.
Pros
Movable divider
10-minute auto-off feature
Sturdy construction
Easy-grip handle
Cons
If you want your diaper caddy to be cute and adorable just like your baby, then you may want to check this out. This animal-themed diaper caddy is made of durable polyester and makes storage fun.
Pros
Cardboard inserts provide sturdiness
Multi-functional organizer
Fun design
Ample space for all essentials
Cons
Doesn't feature any exterior pockets
This diaper caddy is a baby essential to meet all the storage needs of your little one. It also comes with a removable T-separator that helps to keep the different sections in place.
Pros
Can be used as an organizer for pet supplies or crafts
Gender-neutral
Includes exterior pockets
Removable T-separator
Cons
May not hold the shape without the T-separator
With the Homey Grips Baby Diaper Caddy, diapering on-the-go will be a lot easier regardless of where you are. Made using durable, material, the diaper caddy can be used to store, organize, and carry all your baby essentials.
Pros
Multiple storages with 2 dividers
Thicker material
Sturdy construction
Gender-neutral color
Cons
Doesn't feature touch-sensitive light
Featuring one of the best diaper caddy designs, this portable diaper caddy fulfills all your diapering needs. Made using 100% polyester, it is available in 3 different colors.
Pros
Sturdy construction
Features a drawer
Protective rubber feet
Portable
Sturdy metal handle
Includes a changing pad
Cons
The caddy may be slightly heavy
Slightly expensive
This diaper caddy organizer from We Care Vida sure deserves a spot for one of the best diaper caddy designs. Made using natural cotton, it has longer handles and a strong divider.
Pros
Longer handles
Eco-friendly
Non-toxic
Can be folded when not in use
8 pockets
Cons
This diaper caddy from Sorbus holds everything you need to keep your changing table organized and clutter-free. The multi-compartment organizer doesn't compromise on style while prioritizing your baby's needs.
Pros
Portable
Removable handle insert
Multi-purpose for any occasion
Foldable
Cons
Features only 2 exterior pockets
Next on our list of the best diaper caddy organizers is the Diaper Storage Caddy from Ubbi. This portable caddy is designed with rubberized feet and handles to make changing diapers a breeze.
Pros
Includes a changing mat
Multi-functional
Easy to clean
Durable
Study design
Cons
A little on the expensive side
This affordable diaper caddy from Lily Miles is a great pick for its gender-neutral style and multi-purpose usage. Made using quality fabric, it features removable organizing dividers as well.
Pros
Portable
Gender-neutral style
Ample space
Structured walls
Removable inserts 
Cons
This diaper organizer can be attached to a crib or changing table and comes with 3 buckle straps. It features several wipes and diaper compartments that are 7 and 8 inches deep.
Pros
Strong structure
Waterproof coated fabric on the back
Really spacious
Unparalleled structure
Features two hanging loops apart from the buckles
Cons
Next on our list of the best diaper caddy organizers is the KiddyCare Diaper Caddy. If you are hoping to add a touch of style to your nursery, it features premium cotton canvas and contemporary design to upgrade the nursery decor.
Pros
Sturdy handles
Removable inner dividers
Versatile use
Ample space
Cons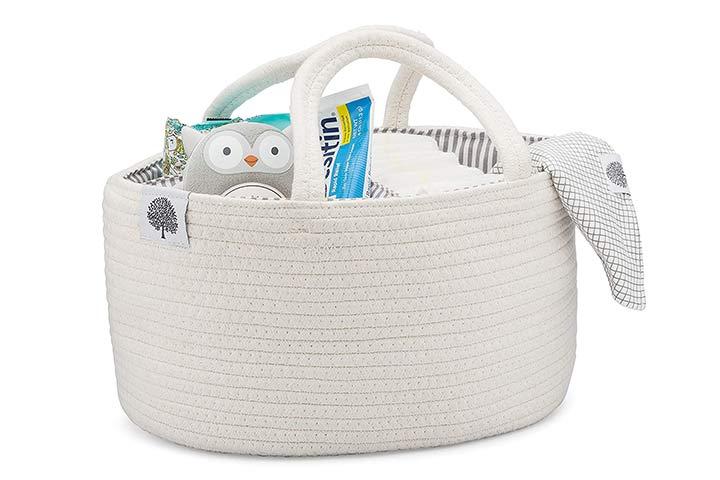 If you are looking for a cute portable diaper caddy, then you're in luck. The Rope Diaper Caddy from Parker Baby Co. is spacious enough to store all the baby stuff and the woven rope design adds a classy touch to it.
Pros
Portable
Functional style
Durable
Neutral design
3 interior pockets
Cons
Slightly small compared to other diaper caddies
Before you head off to start shopping for a diaper caddy, you might want to consider reading till the end of this post to help you make an informed choice.
Types Of Diaper Caddies 
There are three different types of diaper caddies available in the market:
Portable caddy: The most popular among the lot, these caddies can be easily moved from one place/room to another with ease.
Hanging caddy: They mostly come with buckles that can be attached to the crib, changing table or wall. Though they can be technically moved, it is more ideal to be placed in a convenient location. They have more storage space compared to others.
Stationary caddy: As the name suggests, they are suited to stay at a particular location and take up more space than the portable ones.
[ Read : Babyhug Vogue Denim Diaper Bag ]
Benefits Of Using A Diaper Caddy
Having a diaper caddy by your side makes changing diapers that much easier. You have everything within reach so you don't have to run around the house during diaper time. It is easy to access and is portable so you can use it on the go.
Things To Consider When Purchasing A Diaper Caddy 
Here, we have listed down a few factors that you should look into when purchasing a diaper caddy:
Storage space: Storage is key when buying a diaper caddy. It should have ample space to fit in all the baby essentials. So, check for compartments, pockets, or shelves.
Color: It is better to go for a gender-neutral color so that you can use it even for your next child. Plus, a gender-neutral color means you can use it for multiple occasions as well.
Cost: If you don't want to spend too much on it, check out the list for all the affordable options that come with all the features you need in a diaper caddy.
If you are one of those mommies who thrive on organization, then these diaper caddy organizers are a must-have in your house. With our list of the 15 best diaper caddies, you are sure to look forward to diaper changing time with your little one.
Frequently Asked Questions
1. How many diapers on average will fit in these caddies?
The number of diapers that a diaper caddy can hold depends upon the size and storage space it offers. They can fit anywhere from 30 to over 70 diapers in the diaper organizer.
2. What is the best way to clean these caddies?
Each diaper caddy will be made of a different fabric. Hence it is important to read the instruction to find out if it is machine washable, waterproof, or if a damp cloth will do the trick.
Recommended Articles: 
The following two tabs change content below.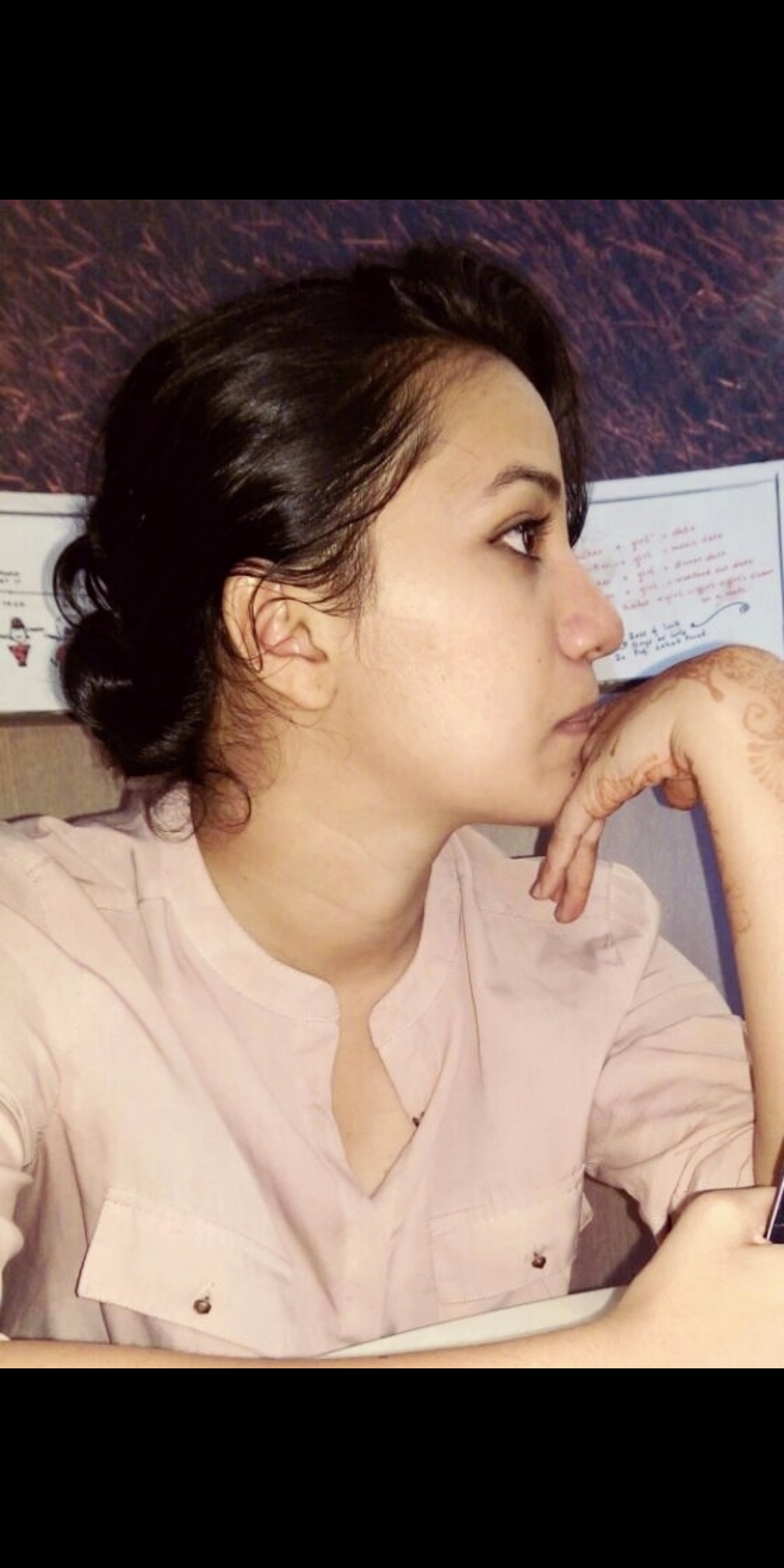 Mitha Shameer
Mitha is passionate about writing on topics related to women and children. She loves to present the brighter side of life to her readers in the form of her articles. She writes on games, stories, arts & craft, celebrations and more for MomJunction. When she isn't glued to online shopping websites, she loves reading books and watching F.R.I.E.N.D.S.