The best diaper rash creams help you deal with your baby's rashes effectively. Diaper rash cause much discomfort and irritation to your baby. Hence, to keep your baby happy in nappies, it's important to take care of their hygiene.
If picking the right diaper rash cream sounds confusing, here is a list of the best ones we have carefully curated for you. These provide good relief against diaper rashes. But before you purchase one, let's understand what causes rashes in the first place. Read on.
15 Best Diaper Rash Creams
The diaper cream is pediatrician recommended and hypoallergenic, which means it is ideal even for babies with sensitive skin.
The active ingredient is petroleum jelly, which helps form a protective barrier against the skin.
Does not contain paraben-based preservatives. Free of dye and added fragrance.
The cream also contains panthenol a derivative of Vitamin B5. The compound helps in healing the skin faster.
Overall, an excellent diaper rash cream with multipurpose usage – can be used for chaps, minor cuts, and skin dryness.
Features:
Made with organic plant materials. Does not contain petroleum.
The cream contains a natural blend of plant-based oils and fats such as cocoa butter, almond oil, and shea butter. These materials help form a protective barrier on the skin.
15% zinc oxide content provides relief from inflamed and sore skin due to diaper rash.
Cruelty-free product; not tested on animals.
Does not have phthalates, parabens, sulfates, and mineral oil. Free of dyes and artificial fragrances.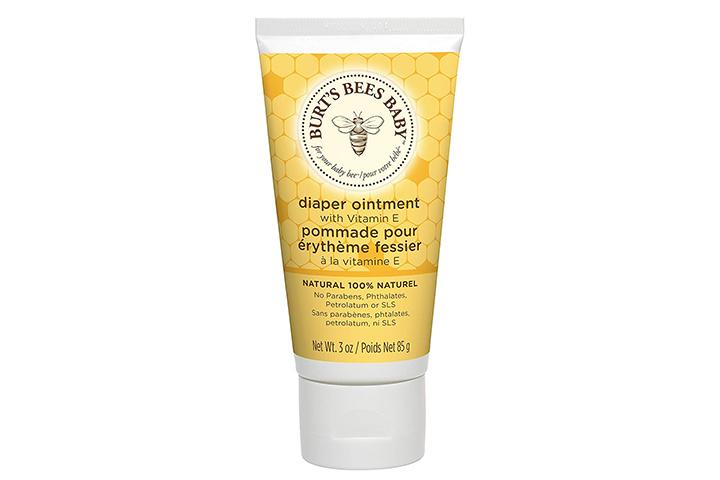 Features:
100% natural formulation. It is made from nut and plant oils, which help heal a diaper rash gently.
40% zinc oxide content protects the skin while also hastening the healing of existing diaper rash.
Protects the skin and reduces chances of any future diaper rashes.
Pediatrician-tested formula. Hypoallergenic and thus ideal for babies with sensitive skin.
Does not contain chemicals like parabens, phthalates, SLS, and free of petrolatum (petroleum jelly).
Features:
The diaper rash cream has a thick texture, which allows forming of a protective layer on the skin.
A mix of petroleum jelly and glycerin helps the skin retain its moisture for a longer duration.
40% zinc oxide content repairs the skin and prevents further formation of diaper rash.
The formula is hypoallergenic. It does not contain chemicals like phthalates and dyes. Free of parabens.
The formula is dermatologist and pediatrician tested. The cream is clinically-proven to protect the baby's skin for 12 hours.
The cream is safe enough to be used on a daily basis.
Features:
The cream is water-based with natural organic plant oils that are mild and gentle on the skin.
Zinc oxide protects against the moisture in the diaper region and minimizes the risk of a rash.
Free of artificial fragrances and dyes. Does not contain mineral oil-based compounds and preservatives.
The formula is tested by dermatologists and is safe for infants with sensitive skin.
Features:
The 40% zinc oxide content in it heals any diaper rash and soothes irritation.
It also contains plant oils and petroleum jelly, which helps provide optimum protection to the skin.
Works immediately on contact with the rash.
Helps prevent wetness from affecting the deeper layers of skin, thus protecting the skin from bacteria and fungi.
Free of preservatives, dyes, parabens, and talc.
Features:
It is made with naturally-derived oils and plant fats. There are no added preservatives.
The formula is specially made for infants with delicate and sensitive skin. It makes the cream ideal for babies with allergy-prone skin.
It contains zinc oxide, which protects the skin from further damage and heals inflammation.
Does not contain raw mineral oils and other petroleum-based products.
Features:
A combination of zinc oxide and petroleum jelly provides both protection and healing properties.
The formula is hypoallergenic, fragrance-free, and does not contain any preservatives.
The ointment is safe enough to be applied on the skin every day, even when the baby has severe diaper rash.
Features:
The highly effective formulation reduces diaper rash in just one diaper change.
It deals with wetness, friction, and enzymes found in stool, all three a leading cause for diaper rash among infants.
Contains a mix of natural materials and diaper rash preventing compounds, which provide extensive protection.
Enriched with aloe vera extract and vitamin E for added nourishment on the baby's skin.
Features:
It is made entirely of plant-derived ingredients. All raw materials used are plant-based and organic.
The formula is hypoallergenic, which means it works great even for infants with sensitive skin.
The natural oils and zinc oxide in the cream form a protective barrier on the skin and prevent the formation of any further diaper rashes.
Does not contain any petroleum or raw mineral oil products.
Free of preservatives, parabens, and added fragrances.
[ Read : Honest Company Diaper Rash Cream Review ]
Features:
Petroleum jelly-based formula prevents irritation and forms a protective layer on the skin.
Contains natural cod liver oil, which is rich in vitamin A and D that provide additional benefits to the baby.
The cream is also effective against chapped, chafed or cracked skin.
The ointment is safe for daily use and can be applied after every diaper change.
Features:
It helps prevent diaper rash while also relieving the baby from the existing diaper rash.
Hypoallergenic formula and with no added fragrance.
Majority of ingredients are of natural origin.
Formulated for the most sensitive of skins. Safe enough to use even on newborns.
Features:
An entirely organic diaper balm made with oils of plants grown organically.
The cream is manufactured as a purely natural remedy for the baby. It does not contain any chemical compounds including petroleum products and zinc.
The oils in the cream work as natural antibacterial and anti-fungal agents. Safe for use with cloth diapers.
Features:
The cream contains organic calendula, which provides relief from existing diaper rash and minimizes the risk of any further rash formation.
The zinc oxide helps in rapid relief from diaper rash. Added vitamin B5 and E help nourish the skin.
A dermatologist-tested formula that is safe for babies with delicate skin.
Hypoallergenic. Free of dyes and mineral oils.
Free of paraben-based preservatives.
[ Read : Cetaphil Baby Diaper Cream Review ]
Features:
The petroleum and lanolin-based formula protects and softens the skin at the same time.
Cream forms a barrier against wetness so that moisture does not enter the deeper layers of the skin.
It helps heal the skin that is damaged due to constant friction.
The formula is hypoallergenic, which means it works well even for the babies with the most sensitive of skins.
For the best results from a diaper rash cream, it is important to observe some best practices.
What Causes Diaper Rash?
Diaper rash is any rash that occurs within the area covered by diapers, which includes the groin, buttocks, and parts of the inner thighs. Since diapers hold the excretions, several causes can contribute to a diaper rash. The following are the common reasons behind diaper rash in babies (1):
Irritation: Stool and urine can combine to form ammonia, which can lead to a diaper rash.
Bacteria: Stool contains a lot of bacteria. Leaving a soiled diaper for long can cause bacteria to invade the upper layers of skin and cause rashes. Staphylococcus is a common bacterium to cause diaper rashes in babies.
Fungi: The moist environment within the diaper can be a perfect place for fungi to multiply. A common fungus to affect diaper area is yeast, also called candida.
Diarrheal rash: Frequent excretion may cause the skin around the anal opening to get irritated and inflamed.
Autoimmune rash: Conditions like psoriasis and eczema can also result in outbreaks in the diaper region. However, the symptoms will be a lot different to diaper rashes caused by infection or irritation.
The diaper rash cream you pick must be based on what is causing the rash.
[ Read : Chicco Nappy Cream Uses ]
How To Choose A Diaper Rash Cream?
Consider the following factors and criteria when picking a diaper rash cream:
Look for zinc oxide: Zinc oxide is a common ingredient of many diaper rash creams. The compound forms a protective layer on the skin and prevents fecal bacteria, ammonia from causing rashes on the skin. If you want a diaper rash cream for long-term protection of your baby's diaper area, then a diaper rash cream with zinc oxide will work great.
Petroleum is good too: Petroleum jelly forms a protective barrier on the skin. Look for words like petrolatum, soft paraffin or just petroleum jelly on the ingredient list of diaper cream to determine if it has the compound in it.
Oils: Many manufacturers use plant oils or fish oils as an alternative to petroleum jelly to moisturize the skin. Plant and animal oils will naturally contain vitamins that further nourish the baby's skin.
Keep reading to find out what's on our list of best diaper rash creams.
[ Read : Curatio B4 Nappi Cream Review ]
Tips For Diaper Rash Cream Usage
Apply cream in a thick layer: Manufacturers and medical experts suggest that you should apply the diaper rash cream in thick layers for optimum protection (2). Clean the baby's bottom, pat dry with a towel, and let it air dry for a while before applying the cream. Diaper cream brushes can also be used to apply the cream on the baby's bottom with minimal mess.
Try no diaper time: Let babies spend time without a diaper on to get their bottoms some air. Going without diapers for a few hours each day helps get rid of moisture, which causes a diaper rash. You can also consider using cloth diapers, which are breathable when compared to disposable diapers.
Consult a doctor for severe diaper rash: If a diaper rash is severe or oozes white/clear liquid, then consult your doctor first. It could be a sign of severe fungal infection for which your baby will need medicated creams instead of a standard diaper rash ointment. Also, if diaper rash continues for more than three days after application of a regular diaper rash cream, then consult a pediatrician.
[ Read : Sebamed Baby Rash Cream Benefits / Uses ]
Diaper rash creams are useful when you have an infant who is still dependent on diapers. For the child's safety, always read the instruction on the packaging of the diaper cream before usage. Time without diapers, good hygiene, and diaper cream are probably all that your baby needs to keep diaper rash away.
How did you manage your baby's diaper rash? Do let us know in the comment section below.

References: