The best drying mat can help you keep your kitchen dry without the hassle of washed utensils dripping water all over the floor and countertop. Despite a dishwasher, you still need to wash several accessories and utensils such as knives and other sharp items, often leading to messy kitchen floors when there is water all over. It is inconvenient and unpleasant to see the mess, making your surroundings accident-prone.
A dish drying mat is an essential kitchen product that can make cleaning easy. These are also available in quick-drying variants, so maintaining them is less hassle. Here is a list of the top drying mats available online so you can select one that best suits your kitchen needs.
16 Best Dish Drying Mats For Your Kitchen
With a chic pattern design and fast-drying properties, this S&T Inc dish drying mat is a great option for your kitchen countertop. The mat absorbs four times its weight of water and works as a cushion for cookware as well. It is reversible, so you can flip it on either side and still have high-quality microfiber and cushioning foam that absorbs the dishwater quickly and keeps your countertops dry. It is washing machine-friendly, and you can fold it and store it in a drawer, closet, or cabinet for later use. For a more detailed review of this product, here's a video.
Pros
Looks stylish
Highly durable
Easy to clean
Can also be placed under mixers and grinders
Available in a variety of colors and sizes
Cons
Size may be rather small
May be a bit thin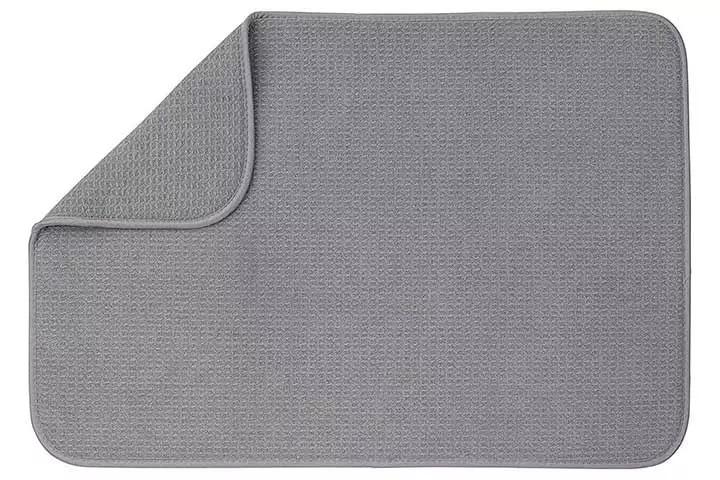 The Bellemain dish drying mat helps you save countertop space near your sink. This mat absorbs about four times its weight in water and has a reversible design. With a contemporary design and a laminated foam core, this product easily fits a full sink of dishes. It is made of gentle microfiber and flexible foam, allowing you to use it as a cushion for your delicate kitchen appliances. It protects your countertop from moisture and prevents scratches.
Pros
Innovative honeycomb structure makes it absorbent and quick-drying
Anti-skid base
Has a loop for easy hanging
Thick mat design
Machine-washable
Cons
Color may be slightly different than expected
May be a tad thin
Hotpop Silicone Dish Drying Mat is water-resistant and heat-resistant up to 480°F. It is designed with raised lines that allow better airflow. The mat is made of non-toxic, food-grade, BPA-free, PVC-free material and is dishwasher-safe. You can easily roll up the mat and store it conveniently. The high-raised edges of the mat keep the countertop clean.
Pros
Non-slip and shock-absorbent bottom
Compatible with marble, wood, quartz, and stone
Versatile–can be used to place cookware, dishware, tools, etc.
Heavy mat is stable
Cons
May not be crease-resistant
May leave water marks on the mat
The Oxo Good Grips Large Silicone Drying Mat allows aeration and ensures that the maximum amount of water drains off. It is super spacious and holds a large number of utensils at a time. Made of flexible food-grade silicone, it is soft and can be easily rolled and hung up in your kitchen to be used later. You can also use it as a trivet to place your serving dish or bowl on the dining table. This mat is heat-resistant and super easy to clean. Learn more about this product in this video.
Pros
Ribbed design for airflow and quick drying
Flexible
Has a non-slip surface
Long-lasting
Cons
Ridges may not be high enough
Collects water but does not absorb
If you still place washed cookware and utensils on towels, it's high time you moved on. Replace the towel with this dish drying mat that has a reversible design and dries easily. Made of super-absorbent microfiber fabric with a central layer of foam, this mat absorbs four times its weight in water. So, dry your cutlery, dishes, glasses, and stemware conveniently on this polyester mat. You can wash it in the washing machine and fold and keep it in a drawer until you need it the next time.
Pros
Cushioned padding protects glassware and delicate items
Convenient to store
Doesn't catch mold
Available in different colors
Cons
Has no loop for hanging
May not be thick enough to prevent the countertop from being wet
Add some jazz to your kitchen countertop with this wild leopard print mat. It keeps your countertop clean and dry and is excellent for air-drying your silverware, dishes, and even fruits and vegetables. This mat is super absorbent and dries off fast as well. It stops the water from dripping through the mat and can be placed under your dish drying rack as well. The mat is made of more than 50% recycled fiber and is easy to clean. Plus, it is slip-resistant and has a waterproof backing.
Pros
Lightweight and durable
Machine-washable
Can be cut with scissors for a custom fit
Fray-resistant edges
BPA- and phthalate-free
Cons
May need air drying after each use
May not be fire-resistant
Made with a polyester mesh on one side, this mat does not allow condensation or fog formation around it, and hence, is great to dry your favorite wine glasses. On the other side is a plush pile microfiber that offers a soft cushion surface for your cookware and delicate china. It has super absorbent properties and multiple folding options. This All-Clad textiles reversible drying mat features 80% polyester and 20% polyamide and comes in eight different colors.
Pros
Ultra-thick material
Machine-washable
Prevents skidding
Can hold a good number of vessels or dishes
Cons
May not be reversible
Has no provision for hanging
Whether you want to protect your countertop from hot cookware fresh off the flame or oven or dry your vessels next to the sink, this mat can do it all. It is durable and made of food-grade silicone. The silicone dish drying mat is designed with long and parallel ridges with spaces between them to drain the water off the mat quickly, which, in turn, keeps your kitchen clean and dry. You can wipe off the excess water from the mat easily and wash it in the machine without any hassle. It comes with six colorful trivets.
Pros
BPA-free
Non-stick surface
Offers compact storage
Temperature-resistant
Doubles as a pot holder
Cons
May require constant cleaning
May not be thick enough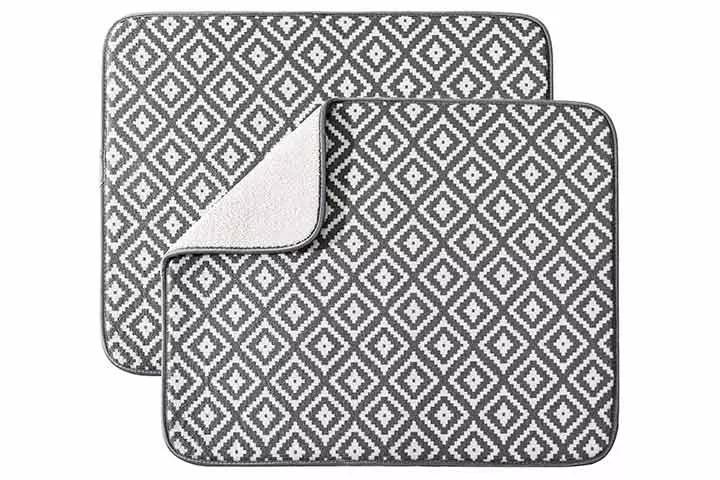 No matter what the color theme of your kitchen is, this is one of the safest mat designs you can opt for. It will add a pop of elegance to whichever countertop corner you place it on. It has an anti-slip backing and is washing machine-friendly. With the capacity to absorb up to four times its weight in water, this Subekyu Microfiber Dish Drying Mat catches dripping water from your washed dishes, bowls, and cutlery when placed under your dish rack to keep your countertop dry. The mat comes in a pack of two and is foldable for convenient storage.
Pros
Available in unique patterns and prints
Hanging loop for air drying
Protects tableware
Can be folded for easy storage
Cons
Size may be a tad small
May not allow enough aeration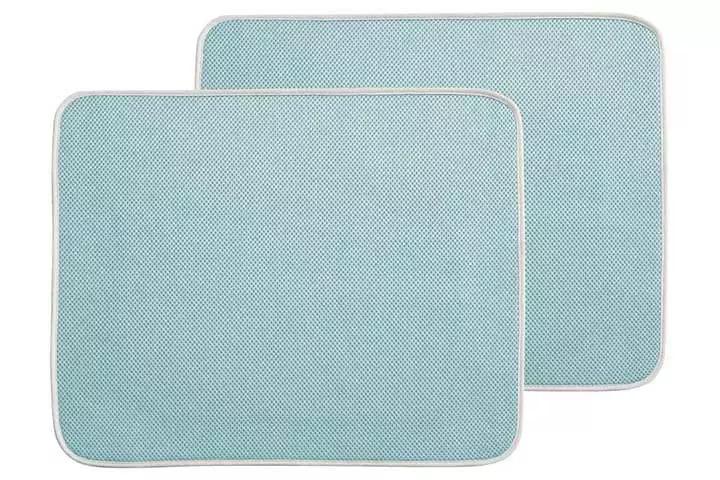 If you are tired of over-the-top patterns and equally bored with traditional designs, this aqua blue mat with an ivory lining on the periphery will please you. It allows for generous airflow, and thus, reduces condensation. It looks modern and is a great addition to your countertop. The mat's cushioned drying surface means you can use it to rest your precious chinaware and expensive wine glasses. It works best when you place it under a dish drainer. It comes in a set of two.
Pros
Dual-sided design
Offers quick drying
Prevents descend
Convenient to clean
Cons
May not be mold-proof
May be slightly thin
This Umbra UDRY is a dish drying rack and a mat all in one. It is modern and is an all-in-one drying solution for your utensils, which makes it a functional addition to your countertop. The super-absorbent mat is made of BPA-free materials and can be folded easily for convenient storage. If you are running out of storage space for your regularly used dishes, glasses, and spoons, you can stack and organize them on this mat. In addition, it is machine-washable for easy cleanup.
Pros
Removable dish rack tray
Rack tray is adjustable
Take up minimal space
Dishwasher-safe tray
Cons
May attract dirt easily
Notches may not be deep to hold big plates
12. Best Microwave- and Oven-friendly Dish Drying Mat: Novu Versatile Mat
Use it as a dish drying mat, a large trivet, a tray for hair styling tools, a fridge liner, or a laptop mat; this mat is multifunctional and is here for all your several needs. This mat is BPA-free and heat-resistant, making it microwave and oven-friendly. Its ridges are 3 times higher than any other dish drying mat in the market. It is made of premium food-grade material and is one of the fastest kitchen drying mats you'll come across. This product is dishwasher-safe and comes with a bonus scrubber.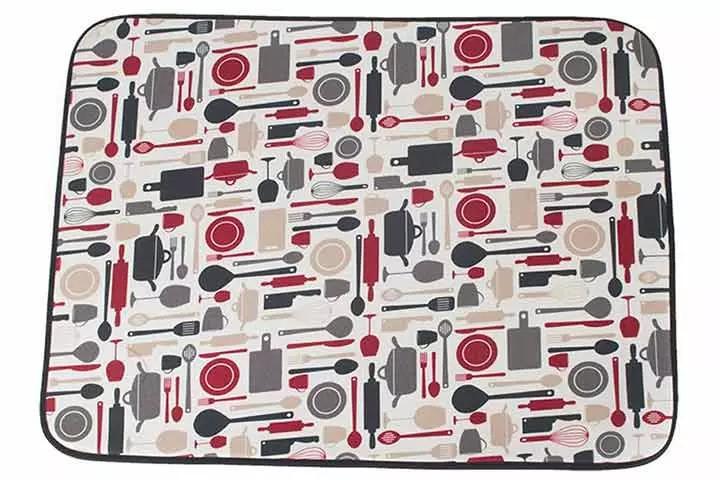 Built with advanced microfiber bound tightly to the foam and stitched along the edges, this LHFLIVE Microfiber Dish Drying Mat proves to be a great step up from your traditional dishwashing rack. It is durable, absorbs four times its weight in water, and is Machine-washable. The reversible design and generous spacing make this mat an attractive buy.
Pros
Foldable for easy storage
Anti-slip backing
Available in different colors and patterns
Cushioned interior foam to protect glassware
Cons
Molds may show up if not dried thoroughly
May attract dirt easily
This SiliQueen Silicone Drying Mat has curved ridges that allow the utensils to dry faster and water to evaporate quickly. It is made of BPA-free and non-toxic food-grade silicone, so you can easily roll it up and store. This product firmly grasps onto the countertop, owing to its slip-resistant backing, so you won't have to worry about your bowls rolling off it. This mat is heat-resistant, so you can also place hot cookware on it, to avoid damage to your countertop.
Pros
Cruelty-, paraben-, and gluten-free
Raised edges with smooth corners
Sturdy and durable
Odorless
Cons
May have low side ridges
May not be available in different colors
Place this versatile and modern Srenta Dish Drying Mat underneath your appliances or hot pans to protect your countertop from damage or use it under your dish drying rack. The multifunctional mat is made of microfiber and holds four times its weight in water with its central layer of foam. The foam core resists odor, and the surface has a lovely pattern. It can be machine-washed and folded easily for compact storage.
Pros
Hanging tab to airdry the mat
Reversible use
Protects the countertop from moisture
Can also be used under hot pots, blenders, or mixers
Cons
May be less suitable for high-volume usage
May not retain its original shape after a few washes
This Homefficient Silicone Dish Drying Mat comes in a bundle set that includes almost everything you'll need to keep your dishes dry and your countertop clean. It is made of FDA-approved food-grade silicone and rolls up easily for compact storage. The mat is easy to clean and can withstand temperatures up to 450°F. The set includes one dish drying mat, one silicone kitchen sink organizer, and two silicone trivets. This mat is smooth but doesn't get slippery and allows for generous airflow.
Pros
Can also be used to dry cast iron pans
Mildew- and mold-resistant
Easy to maintain
Can also withstand hot pots
Cons
May have low side ridges
May leave a mark on the countertop
How To Choose The Right Dish Drying Mat
We take a look at a few features that you must pay attention to, in order to decide which drying mat is perfectly suited to your needs.
Material: They are usually made of either synthetic fiber or silicone. Towels are usually made of synthetic fibers as they are great at instantly soaking up water. However, silicone does a better job when it comes to drying, and they last longer.
Size: From extra-large to smaller versions, you will be able to find a wide range in sizes. Pick one based on how much space you are willing to dedicate to the drying mat on your countertop.
Convenience: Is it easy to wash? Can you fold it and place it in a corner? These are important questions you need to ask before buying the product so that the upkeep of the drying mat doesn't become an inconvenience later.
Versatility: They are multipurpose. Not only will the ideal dish drying mat be great at soaking water, but it is also super-functional as a countertop mat to rest your glasses or spoons.
Why Trust MomJunction?
We have compiled some of the best dish drying mats by considering the factors that make them a good purchase for your kitchen. These dish drying mats have fast-drying abilities. In addition, they are made of microfiber material, known for their quick water absorption capacity. With the help of a brief description of each product and a useful buying guide, you can now easily choose the right dish drying mat for your kitchen.
Recommended Articles :