Who among us has not looked at the sea and marveled over the mystery that it embodies? Ocean life has always been a subject of curiosity for humans since the beginning of time. And that's what drives the underwater divers to make the leap into the ocean and explore a whole new world. Underwater diving comes with a slew of diving equipment that lets you embark on the incredible adventure and diving lights are an integral part of it.
A diving light is what lets you explore the hidden wonders of the ocean and getting the right one is quite important. In this post, we bring our pick of the 11 best diving lights for you to choose from the next time you wish to go for a dive.
11 Best Diving Lights Of This Year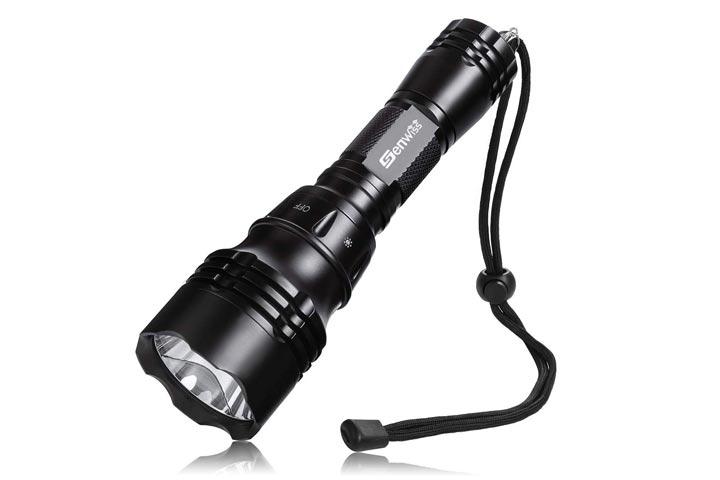 With a maximum output brightness of up to 1000 lumens, Genwiss Underwater Professional Flashlight is perfect for underwater diving. It can be used at a maximum of 80 m underwater. The premium LED light also comes with a lifespan of 50,000 hours of continuous use. This versatile flashlight allows you to select between 5 different modes of brightness with the flick of a switch. Made with high-quality aluminum alloy, this shock-proof and waterproof flashlight has an anti-drop capability of 1.5 m. This IP8-rated, water-resistant diving light is also perfect for other outdoor activities such as fishing, hiking, and caving. It also comes with a Li-ion battery and a USB charger.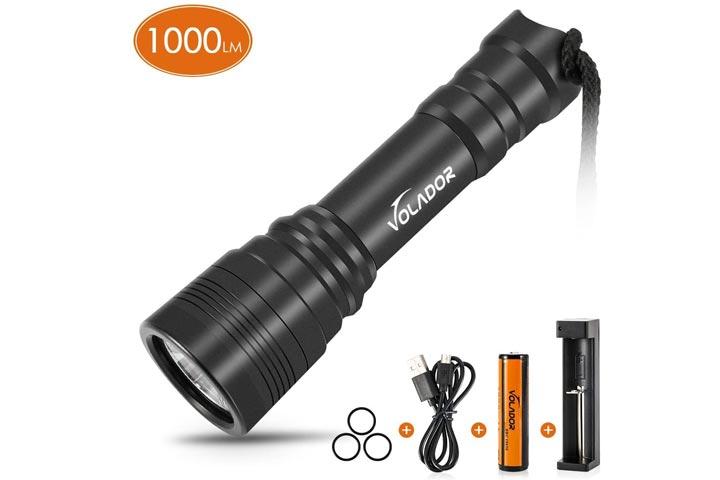 Explore the underwater world with Volador Diving Flashlight. The diving light is crafted using AL-6061-T6 aircraft-grade aluminum that is resistant to seawater corrosion and abrasion. With a lighting distance of 80 m, it can be used up to 150 m underwater. The high-quality XM-L2 LED flashlight has a lifespan of over 50,000 hours and maximum output brightness of 1000 lumens which can be adjusted accordingly. It also has an IP-68 waterproof rating, making it the ideal diving light for your underwater journey.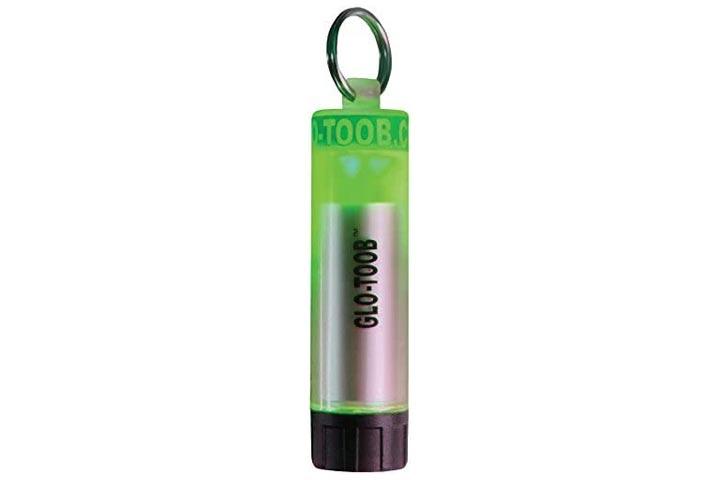 The Glo-Toob AAA emergency diving light comes in a convenient, compact design that allows the diver carry it under water with ease. It comes in 3 adjustable light modes—100% power, 25% power, and flash mode. Its battery life ranges from 4 hours to up to 15 hours, depending on the light mode you choose. Powered by AAA batteries, the underwater diving light is waterproof up to 60 m under water. The emergency diving light is available in multiple shades to choose from.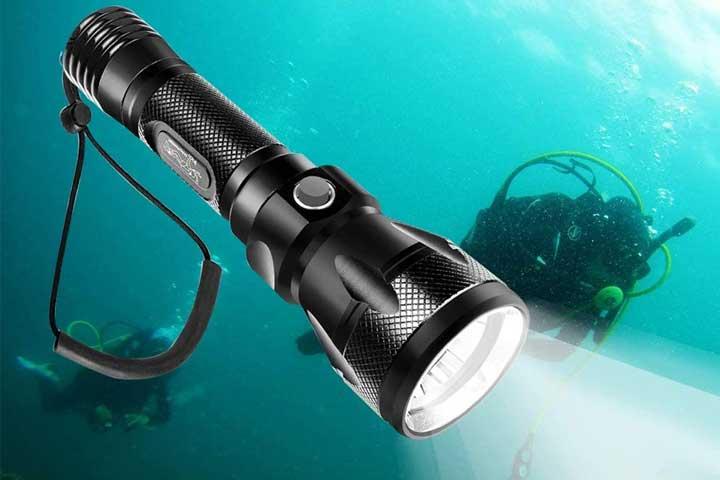 Built for professional underwater diving, this Turn Raise Scuba Diving Light is next on our list of best diving lights. Designed using aircraft-grade aluminum alloy, it comes with anti-shock and corrosion-resistance features that are crucial while diving deep into the ocean. This diving light also has a special sealing design with an IP-68 waterproof level and can be used up to 100 m under water. It comes with a maximum output brightness of 1200 lumens. This can be adjusted accordingly into high, medium, and strobe mode depending on your preference.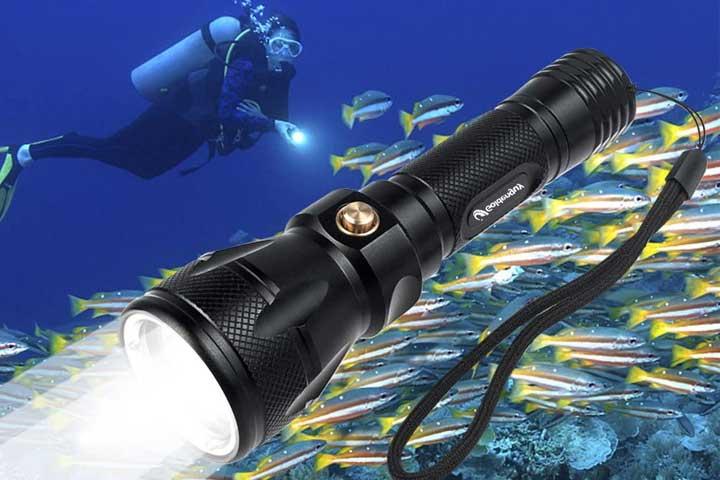 Goldenguy Flash Light diving light has an irradiation capability of 80-100 m under deep water. It also comes with 3 adjustable brightness settings, with a maximum brightness of 1200 lumens. Moreover, this handheld flashlight stays waterproof up to 100 m under water making it ideal for your deep dive into the sea. Goldenguy is an LED flashlight that does not require any batteries. It comes in a compact size that is convenient to hold while diving.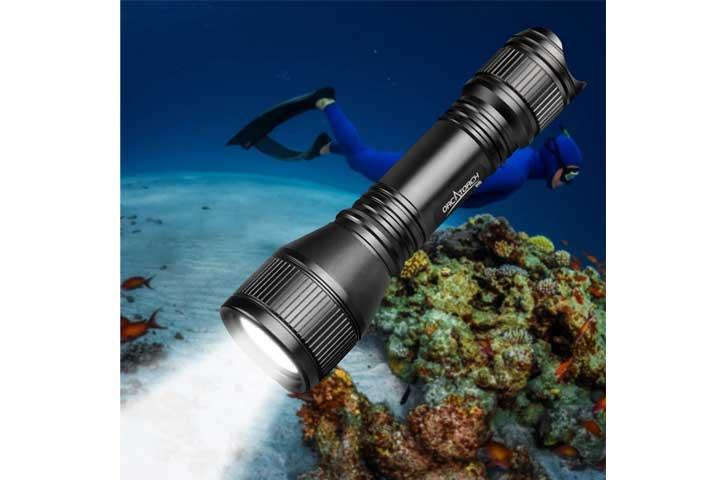 Orcatorch is one of the best diving lights available as it comes with numerous functionalities. It can be easily connected to wrist straps and a lanyard that comes with the light, making diving a hassle-free experience. The torch comes with a maximum brightness output of 1000 lumens and a depth rate of 150 m. It also contains a magnetic tail-switch that allows you to control the brightness between high, low, and strobe modes easily. Orcatorch is specially crafted with aircraft-grade, high-strength aluminum and toughened glass that can withstand deep water pressure.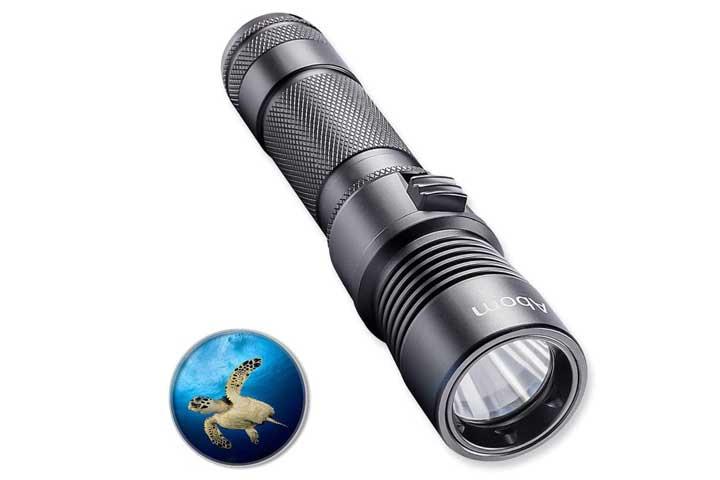 Abom diving flashlight comes with a rechargeable 18650 battery, USB charger, wrist strap, and other flashlight accessories. It also has IPX8 ratings that make it usable in any kind of weather. The diving light can be effortlessly operated for up to 60 m underwater. It uses an upgraded xm-12 LED that allows for powerful illumination and brightness while also conserving energy. Its all-aluminum unibody is seawater corrosion-resistant and comes with a toughened safety glass lens.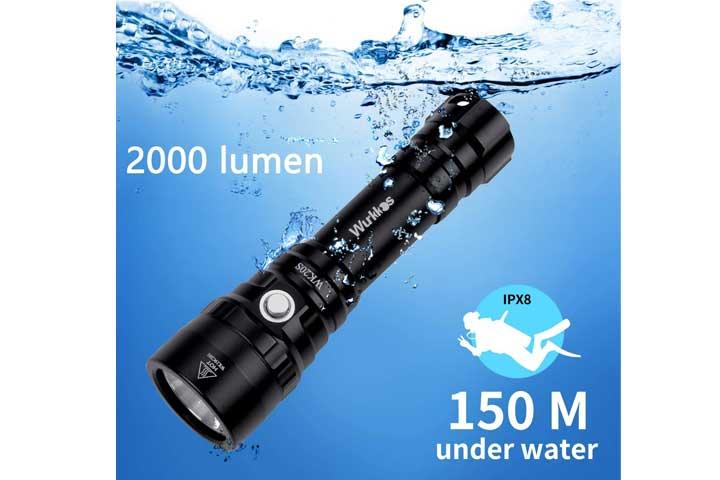 Inbuilt with high-quality CREE XHP35 HD LED, this Wurkkos Diving Flashlight has a lifespan of over 50,000 hours. The diving light displays a maximum brightness of 2000 lumens. However, the brightness can be controlled with options for 60, 350, and 1000 lumens as well. Its special sealing switch design and IPX-8 waterproof rating allow you to carry the diving light to a depth of 150 m under water. Wurkkos Diving Flashlight is crafted using aircraft-grade aluminum alloy that is waterproof and shock-resistant. It can also withstand underwater pressure while diving.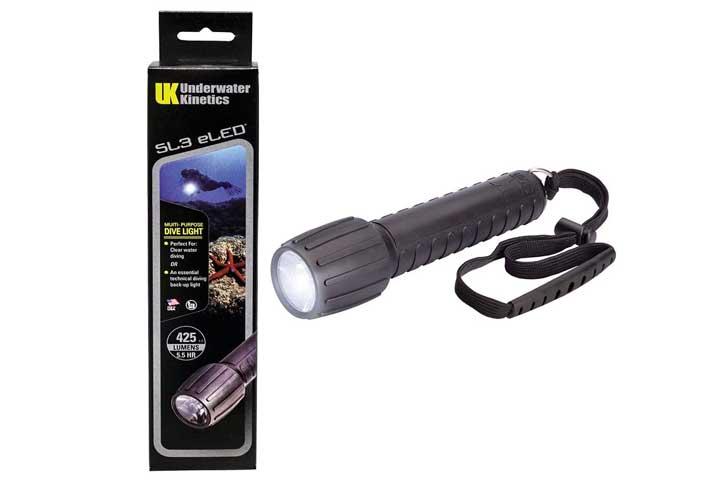 Next up on our list of the best diving lights is Underwater Kinetics' SL3 eLED diving light. Powered by disposable alkaline batteries, it makes for the perfect secondary light while diving underwater. The flashlight comes with a brightness of 425 lumens that can stay for up to 5.5 hours. It produces a beam ratio of 67% at the center and 33% peripheral lighting that enables you to revel in the marvelous aquatic world. The flashlight is built using ABS and polycarbonate which makes it resistant to corrosion.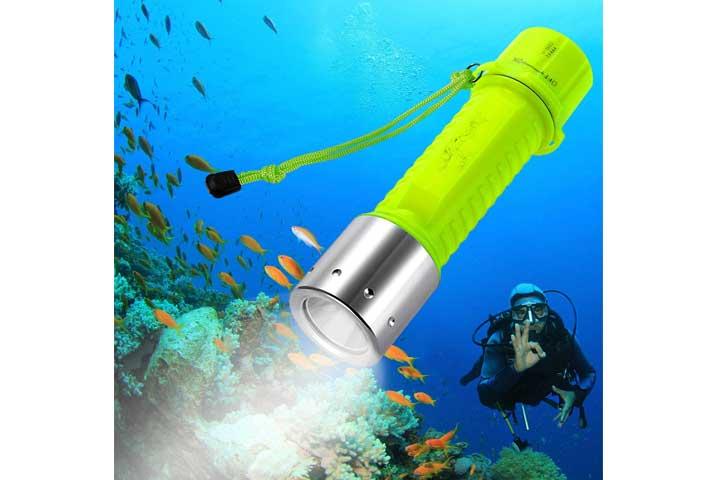 This diving flashlight by BlueFire is equipped with CREE XM-L2 LED which is perfect for producing a super bright beam of light under water. It comes with 3 adjustable brightness settings that can be set to your preference. It has an aluminum alloy head and fluorescence ABS body. The flashlight has IPX-8 waterproof rating which allows it to function perfectly at up to 24 m under water. It requires a rechargeable 18650 Li-ion battery or three AAA batteries and comes with a hand strap and lanyard for your convenience.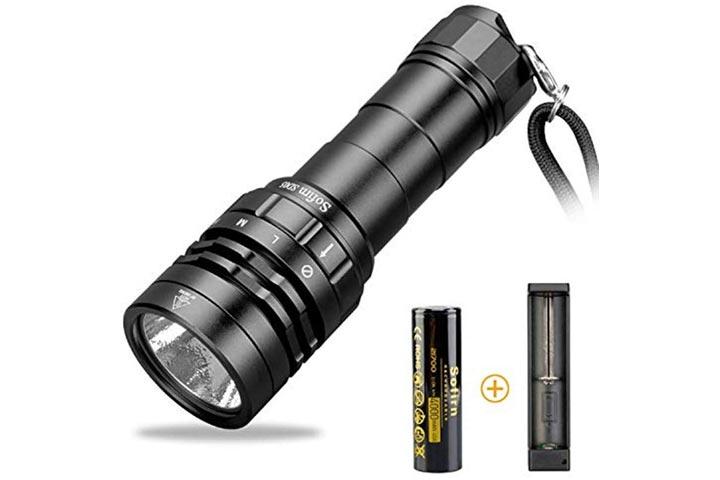 This magnetic switch diving flashlight is lightweight and comes with CREE XHP50.2 LED that is apt for underwater exploration. Sofirn SD05 diving light gives out a maximum output of 2550 lumens. It has 3 brightness options that could be selected depending on the visibility you require. It also has a sealed magnetic switch ring that could be easily turned on or off. Sofirn SD05 is waterproof and can be used up to a depth of 100 m under the ocean. Moreover, the aircraft-grade aluminum alloy body with a hard ionized finish makes the flashlight corrosion-resistant.
Now that you are familiar with these 11 best diving lights, we will guide you in choosing the right one for you.
What Are The Advantages Of A Good Dive Light?
Underwater exploration is not much fun if you cannot see what surrounds you! Hence, a good diving light is crucial to completely enjoy the underwater experience.
How To Choose The Right Diving Light
While choosing a diving light, it is important to assess its functionalities beforehand. Make sure to get a diving light that is corrosion-free so that your equipment lasts long. If you are planning on diving deep into the ocean then you may want to look for one that emits a bright beam. Also, it is always wise to choose a diving light that has considerable lifespan.
Frequently Asked Questions
How should I care for my diving light?
It is important to take care of your diving light so that it stays for long. The lifespan of a diving light usually depends on how well it is kept after the diving session.
Make sure to always clean the diving light in freshwater after every diving session. You might also want to soak it in warm water to remove all the salt deposits. Also, keep in mind that you don't need any cleaning agent for your diving lights; water will do.
Do not leave your diving light in the sun as it might damage the O-rings.
Remove the O-rings whenever you open the diving light to replace the batteries. Check for any possible damage and wipe off the excess grease.
Remove the batteries from your diving light if you do not plan to use it anytime soon as batteries tend to leak over time if left unused. It is always better to go for high-quality batteries as the chances of them leaking is less compared to other lower quality ones.
How many lumens do I need for a dive light?
A 1000 lumens diving light is all you need if you are going for a recreational dive, in visible warm water.
Deepwater diving could be one of the most memorable adventures of your life if you are equipped with the perfect tools. Getting your hands on a good diving light might seem like a tedious task if you don't know what you need. We hope that our list of the 11 best diving lights helps you find the one that you were looking for.
Recommended Articles: