If you love going on frequent camping trips with your partner, consider a double sleeping bag rather than packing two separate ones. A double sleeping bag will keep you cozy and warm outdoors while maximizing your comfort level. It is designed to let you snuggle up with your partner and enjoy a night under the stars, after a hectic day of outdoor activities.
Here, we have listed the best double sleeping bags you may consider buying for your next hiking or camping trip as a couple.

Top Products From Our List
Best Double Sleeping Bags
Weighing around three pounds, the Sleepingo double sleeping bag is designed keeping the comfort of a backpacker in mind. It can be used as a large-sized queen bag or a two-person sleeping bag so you may use it for your solo camping or when going with your partner. The 210 thread count makes it sturdy and durable and provides good insulation for extra comfort. It also provides the needed warmth by preventing heat loss in cold climates.
Features 
Comes with a lifetime warranty
Supersoft inner lining blend of Tetron and cotton
Polyester fabric outer shell is waterproof
Can be unzipped to form two single sleeping bags
Can be used in temperatures as low as 32°F
Dimensions are 87x59in
Does not tear or warp
Convenient to carry
Hook-and-loop strap prevents the zip from opening
Includes two travel pillows
This Mammoth queen-sized bag is one that you might prefer when camping with family or friends. It is larger than a standard queen-sized bed and has a soft lining and shoulder and zipper draft tubes to retain the warmth within the bag. The anti-snag zippers on either side of the bag make it easier to slide into the bag without disturbing your partner. It can keep both of you snug and cozy even on the coldest nights.
Features 
Durable taffeta shell
Soft brushed cotton flannel lining with moisture-wicking property
Wider and longer than most others, measuring 94x62in
Hollow fiberfill gives warmth
Unzips on either side and bottom for easy access
Compression sack for stuffing your sleeping bag
Heavy-duty straps
Hang loops for long-term storage
Double-layer construction
Mummy-style hood with drawstring
Non-allergenic
The stylish flannel sleeping bag is ideal for outdoor camping in winter, fall, and spring. It is made of ultra-soft 3D cotton material that keeps you warm and comfortable throughout the night. It is spacious enough to accommodate two adult campers and comes with two pillows for extra comfort. The bag offers warmth even on the coldest nights, letting you sleep undisturbed until the sun rises.
Features 
Comes with an easy-to-carry compression bag
Machine-washable
210 thread count polyester outer shell
300g/M2 3D cotton filling with a flannel liner
Extra-large size sleeping bag measuring 85x57in
Compression bag with straps
Lightweight and easy to store
Can be used in temperatures as low as 42°F
Constructed with a double loft filling and core-spun polyester, this KingCamp camping bag is ideal for all the three seasons. The S-shaped quilt design keeps the filling secure and makes it a durable sleeping bag, and its envelope design offers more leg space. The inner pocket, drawstring hood with collar, and zippers with a wind baffle make it convenient to use.
Features 
190T (thread count) polyester, and 100% polyester lining
Hook-and-loop strap prevents the zipper from opening
Can be used as a quilt when fully open
Easily compressible and rollable
Lightweight and durable
Compression straps reduce the packed size of the bag
Can keep the sleeper warm at even 26°F
Two straps at the bottom make cleaning convenient
Suitable for two people, this is a three-in-one adult sleeping bag that can be used as a double for two or separated into two single bags. The ZipPlow mechanism prevents snags and is comfortable when you sleep on it. It provides warmth in temperatures up to 45°F and gives extra coziness by covering your head in a warm and built-in sheet.
Features 
Coletherm hollow polyester insulation type
Comes in a convenient sack
Easy to roll and store
Ideal for people of height up to 6'4"
Machine-washable and easy to clean
Quick cord system and roll control design
Weighs 9.5lb
Packed dimensions are 18x17x15in
If you are a frequent camper, you could choose the Teton sports tracker double sleeping bag ideal for three-season trips. The mummy design provides warmth to the body, and the wide foot space allows you to stretch and move your legs after a tiring day. This is best suited for short weekend getaways and trips, and not for long or arduous treks owing to its weight.
Features 
Breathable double-brushed poly liner
Diamond ripstop outer shell
Contours to the body shape and gives comfort
Does not allow cold air in
Mummy hoods cover the head and face and provide warmth
Full-length zipper draft tubes and curved foot boxes offer warmth and comfort
Anti-snag and self-repairing zippers
Microfiber insulation offers space and compressibility
Three integrated hang loops
Heavy-duty straps to compress the bag
Kelty Tru.Comfort doublewide bag is wider than a standard double sleeping bag. The oversized hood keeps the head warm and allows you to use regular-sized pillows. It is an insulated double sleeping pad with two built-in blankets, meaning you don't have to carry an extra blanket. If you feel too warm, unzip the top half for air. Weighing over 9½lb, it is ideal for camping trips, but not backpacking.
Features 
Two-way zippers to place the feet outside
Gives plenty of space, larger than a queen-size bed
Accommodates people up to a height of 6'6"
Durable
Ultra-soft and quick-drying
75D poly taffeta outer shell and liner
Includes stuff sack
Packs down to less than 10lb
Coziness and warmth are what you need the most when you are in bed. This SereneLife backpacking sleeping bag gives you that comfort in every season. Be it rain, snow, or wind, you can happily go on the next trip with this bag. It features a waterproof outer shell that protects you from rainfall and dew, letting you sleep undisturbed.
Features
Outer shell made of 210 thread count polyester fabric
Soft pongee liner and 0.66lb/㎡ hollow cotton filling
Compact enough to fit in a compression sack and easy to carry
Can be separated into two individual sleeping bags
Waterproof outer liner withstands harsh weather conditions
Anti-snag zipper that opens on either side
Easy-to-clean and machine-washable cover
Quick and easy to fold
Includes two large travel pillows
The Famous Juggle sleeping bag is ultralight and offers protection in temperatures ranging between 30°F and 68°F. It wraps you in comfort and gives you the needed space for two. You can also split it into two individual sleeping bags. The built-in pillows add extra comfort while sleeping. It can be used for backpacking trips, climbing, and camping.
Features 
Durable ripstop outer cover
Skin-friendly flannel lining
Waterproof and anti-tear material
Rolls up easily for storage
Two inflatable pillows are included
Weighs 6.8lb
Ideal for home use
The 20-degree Sierra Designs bag is suitable for two seasons. It is filled with water-resistant down insulation that is warm and soft. Lightweight, at about 4lb, and with a capacity of 8oz, the bag is easy to carry. The unique and innovative design makes it look like a shoe tongue when open. Both stomach- and side-sleepers find this double sleeping bag friendly.
Features 
700FP PFC-Free Dridown outer shell insulation material
20d polyester ripstop fabric
20d polyester taffeta fabric
Measures 13x16in
Ideal for sleeping conditions down to 20°F
Zipperless design adds more comfort
Insulated hand/ arm pockets seal out draft tubes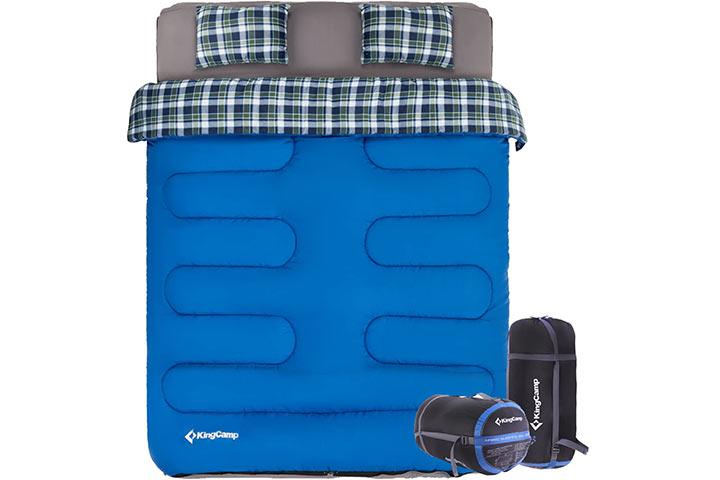 This is ideal for both indoor and outdoor sleeping and is easy to set up anywhere you go. The lightweight bag easily rolls up into a compact carrying bag. You will not feel the cold or harsh wind when inside. It is super warm and comfortable and offers temperature resistance up to 24.8°F.
Features 
190T polyester outer fabric
Soft flannel lining and high density rebound hollow cotton filler
Velcro strap prevents the zip from sliding
Hangover loops at the bottom to conveniently hang the bag
Convenient carry bag
Weighs 3.5lb
Accommodates people of height up to 6.2ft
Suitable for every season
How To Choose The Right Double Sleeping Bag? 
Here are a few factors to consider when buying a double sleeping bag.
Size: Although these bags are meant for two persons, it is better to get the idea of actual dimensions based on your build. Consider how comfortable you would be in a snug-fit sleeper bag. You should also keep in mind the space it occupies as luggage when you go camping.
Comfort: Read the reviews to understand how comfortable they can be. You would be sharing the bed with another person, so check the material, size, features, etc., to determine if you will be comfortable in it.
Durability: The double sleeping bag should be rugged and durable, making your investment worthwhile.
Waterproof: Consider those with waterproofing both inside and outside, especially if you intend to use it outdoors when camping or trekking.
Weight: Check if the weight of the camping bag is manageable to carry. Most double sleeping bags weight between 5lb and 9lb. Make sure to get a lightweight one.
Design: This is a personal preference. Most bags are rectangular, a few are mummy-styled and tapered at the bottom, and some are wide to give you extra foot space.
Double sleeping bags are relaxing and can be a good addition to your camping gear. There are many models available at varying price ranges. Use our buying guide to try and find the right bag. After all, a good night's sleep cannot be compromised when you're traveling or on an adventure trip.
Recommended Articles: