A perfect pair of false eyelashes can add that extra drama to your eyes, whether you're heading to a party, a wedding, or an important work event. As they are placed very close to your eyes you need to buy a good-quality product. However, good quality doesn't necessarily mean that they are expensive.
You need not spend big bucks to own false eyelashes, as some affordable, good-quality fake eyelashes may be available at your local drugstore. Here, MomJunction gives you a list of the best drugstore false eyelashes.
13 Best Drugstore False Eyelashes

If you are looking to buy false eyelashes in large quantities, then do check this product out. These false eyelashes come in 15 pairs of three packs. They are 18mm long and are handmade to give you that natural-looking, dramatic eyelashes. High-quality synthetic fibers are used to make these lashes soft, flexible, and lightweight.

Luscious and thicker than others, these 3D false eyelashes are among the best drugstore lashes you could get. They are handmade with high-quality material to make them soft and long-lasting. These have the right amount of thickness to give you the 'dramatic eyes look.' These eyelashes come in packs of three pairs and are of the natural length. They can be trimmed and adjusted to fit your eyes perfectly.

Known to suit people who wear contact lenses, these false eyelashes are made of quality natural hair to give you that authentic look. This also makes them lightweight. The lashes come with a silicone tool for easy application. These false eyelashes are cruelty-free, reusable, and come in two counts (two pairs of eyelashes) as well as five counts (five pairs of eyelashes) boxes.

Handmade from high-quality fiber, these come in three different styles of false eyelashes that are suitable for various looks. The lashes blend perfectly with your natural eyelashes, are said to be non-irritant, and can be used up to 15 times. This pack consists of three pairs of eyelashes along with an eyelash tweezer for easy application. As they come in different thicknesses and lengths, you can customize them according to the shape of your eyes.

The Korean imported synthetic fibers that are used to make these fake eyelashes enable them to easily blend with your natural eyelashes and give you an authentic look. For those with hooded eyes, these could be the best drugstore eyelashes, as they are 14mm in length at the center. They come in a pack of four pairs without any glue and are said to be safe for your skin. The lash band is soft and flexible, which makes them easy to apply and a good pick for beginners.

Alice's wispy false eyelashes are designed to give you voluminous and natural-looking eyelashes. Available in varying lengths, the lashes blend well your natural lashes to give you that thick eyelashes look. There is an invisible band that connects all the hairs to the strip, which makes them lightweight and easy to blend. These come in a pack of ten pairs with an eyelash tweezer for easy application.

Eylure offers false eyelashes that are lightweight with wispy layers to give you a voluminous look. Offered as single pairs, these lashes come in different variants, such as Bronze Beauty, Fiercely Fabulous, and Golden Goddess, to name a few. The adhesive is included with the lashes. However, precaution is needed as it contains latex, which may cause redness or itching if you're allergic to it. If you are looking for a full and fluffy lash look, then you may give these a try.

Multilayered with curled tips, these could be the best drugstore lashes for hooded eyes.
This brand of dramatic false eyelashes could give the needed lush and volume to your eyelashes. They are made of the best quality synthetic fiber and give your lashes a soft and natural look. Said to be cruelty-free, these lashes can be reused up to 15 times if maintained properly. These false eyelashes come in a pack of ten pairs and are 20mm in length.

Planning a bold and over-the-top look? Then, these 6D eyelashes might help you in achieving it. These false eyelashes range from 10mm to 25mm in length, with nine clusters of faux mink. These are made with a high-quality fiber that blends well with your natural eyelashes to give you that bold and edgy look. The eyelashes are soft that they can be curled to adjust to your eye shape, and probably could be one of the best drugstore eyelashes for hooded eyes.

Lanflower false eyelashes come in packs of five pairs and are said to be natural and realistic looking. They are also lightweight, soft, and reusable, and are easy to apply and remove. These falsies are cute and long, and if you are looking for a dramatic look, these could probably be just what you need. So, next time when you are at a drugstore, do try these affordable false eyelashes.

With these unique magnetic eyelashes, you can say goodbye to the messy glue and tedious process of sticking the false eyelashes onto your eyelids. The Vassoul fake eyelashes come with a magnet, which helps them to stay in place. All you need to do is place one eyelash on the top of the eyelid and then pop the second one just below the top eyelash; you will hear a 'click' sound when both the magnets stick to each other. These are made with premium synthetic fibers, which could give you a natural look and are also washable and reusable.

Claimed to be made with Siberian Mink's fur, the false eyelashes by Lasgoos are shiny and soft in appearance. These are handmade and are said to be cruelty-free and non-irritant to the eyes. The pack consists of five pairs of false eyelashes and said to be best to use while creating a party or a wedding look. These are also easy to apply, feel comfortable, and are reusable too.

Vassoul offers a kit of three pairs of magnetic eyelashes, an eyelash tweezer, and a magnetic eyeliner. To put on these lashes, you need to first apply the eyeliner, wait until it is half dry and then pop on the eyelashes on top of the liner. This kit also has three different lash styles that you can use for different occasions. The lashes are said to come with five magnets which can be cut into four, three, or two magnets as per your need.
How To Choose The Right Drugstore False Eyelashes?
If you are a beginner looking to buy your first pair of false eyelashes or have tried out a few falsies but are not satisfied, then read on. Here, we give you a list of things to consider while picking up a pair of false eyelashes.
Personal preference: First, understand what kind of look you want with false eyelashes – subtle look, natural look or dramatic eye or over-the-top look. Once you decide on this, narrowing down the available options would be easy.
Shape of your eye: The shape of your eye also influences the type of false lashes you would want to buy.
If you have almond eyes, then most lash styles look great on your eyes. Go for any style but look for eyelashes that are evenly distributed.
Stay away from heavy and voluminous lashes if you have round eyes. Choose curly lashes instead, to lift and enhance the shape of your eyes.
If the length between your eyes is less than the width of your eyes, then you have a closed set of eyes. You might opt for individual lashes to enhance the corner of your eyes and leave the inner corners free.
Choosing lashes for hooded eyes could be tricky, as the wrong lashes could make the eyes look small. Choose eyelashes that are longer at the center and tapered at the ends in this case.
If the outer corners of your eyes are pointing higher than the inner corner, then you have upturned eyes, so go for a half lash on the outer corner.
Material: The material of the lashes also makes a difference.
Faux mink: These types of lashes would give you a natural look at a lower cost. Also, these do not lose their curling effect upon getting wet. Plus, they're cruelty-free too.
Synthetic fibers: Go for these types of lashes if you want a bold and over the top look. These are also relatively cost-effective. The best part is once you put these lashes, you need not use mascara or any other touch-ups.
Cost: Although drugstores have many affordable options, do not fall for the price tag. Choose the one that ticks all the checkboxes and also fits within your budget!
So, next time when you are at the drugstore, check out some of these false eyelashes and pick one that best fits your eyes. Take your time to research and understand each type of eyelashes; only then will you be able to get to those eyelashes that are perfect for you.
Recommended Articles: 
The following two tabs change content below.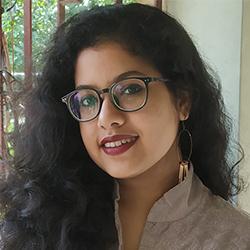 Poulami Nag
Poulami Nag is a writer and associate editor at MomJunction. She did her MA in English from Miranda House, University of Delhi and has qualified UGC-NET. Her journey as a content writer began in 2017 and since then she has garnered diverse interests along the way. Her knowledge of literature and language has given her an eye for detail and...
more