The best dungeon crawler board games are enjoyable to play and promote creativity and problem-solving skills in children. Dungeon Crawler is a game in which players work in sync and move across a dungeon while fighting monsters, searching for treasures, and solving complex puzzles on the way.
This board game entails battles and war strategies, thus making it extremely popular among board game players. If you and your child love strategic board games, buying a Dungeon Crawler board game can add more fun to your family game nights. Keep scrolling as we have listed some of the best ones for you to pick from.
13 Best Dungeon Crawler Board Games
Gear up with your fellow heroes to go on a quest in the towers and dungeons of Castle Ravenloft. The game can be played by one to five players at a time, where each player needs to select one hero and play together to face the adventures within the castle. It takes close to 60 minutes to complete this board game, which includes 40 plastic heroes and monsters, 13 sheets of interlocking dungeon tiles, 200 encounter and treasure cards, a 20-sided die, a rule book, and a scenario book. Check out this video to know more about this product.
If you and your friends are into quests, adventures, and fantasy worlds, then you will like this Dungeon Crawler board game. This game can be played by up to five players, and is filled with challenging quests and interesting scenarios. It can also be combined with other D&D adventure system play boards. Recommended for children of ages 12 and above, this board game contains 42 heroes and monsters, 13 sheets of Dungeon tiles, 200 encounter and treasure cards, scenarios, and a rule book.
With fighting monsters and clearing out Goblins, this board game is said to get interesting level after level. Each player needs to select a hero and try to stay alive till the last level with enough treasure. It can be played by up to eight players, with easy-to-learn and understand rules, making it easier for kids to start their Dungeon and Dragons saga.
If you are looking for a quick Dungeon crawler board game that is easy to set up and has the same adventure and excitement like the other games, then go for this One Deck Dungeon by Asmadi Games. One deck of cards is suitable to play between two players. The players can progress in the game by using the cards in four different ways. You and your friend need to play together and find your way out of the dungeon while battling the dragon and other obstacles on the way. The players may take around 30-45 minutes to complete the quest.
The aim of this board game is to survive two trips into the dungeon or be the player who has lost only once. It can be played between two or four players and in a series of seven rounds, with each round having two phases. It is said to be a clever game that requires some bluffing, memory, and risk assessment. Each game contains 13 monster cards, four player-aid cards, eight success cards, four adventure tiles, and 24 equipment tiles.
Like other D&D games, this board game is also said to have a Dungeon full of monsters, traps, and mysteries, which you and your friends need to cross by helping each other. It is designed for a single player or a cooperative group of two to five players. This game includes new environment cards and new bane/boon cards to make the game more exciting. This board game can also be combined with other D&D adventure system games.
Designed for two to five players, this D&D game has multiple scenarios, including mysterious quests. It comes in a standard edition that has 42-single colored miniatures and a premium edition with 42 pre-painted miniatures. The playing time goes up to 60 minutes, where you or your friends play a heroic adventurer with spells, magic weapons, and special abilities to explore the jungle of Chult and the Tomb of the Nine Gods.
This game is an extension of One Deck Dungeon that contains various new aspects such as new heroes, new dungeons, new perils, and new mechanisms. This can also be combined with the original game to form a hybrid, as the heroes are compatible both with the original version and this one. It offers a playtime of 30 minutes and is designed for one to two players.
The adventure begins when you and your group approach the entrance of a dungeon. The game is based on pushing one's luck and showing courage to outwit your opponents. It is for two to three players and can last up to 30 minutes. This game is recommended for children aged ten years and above.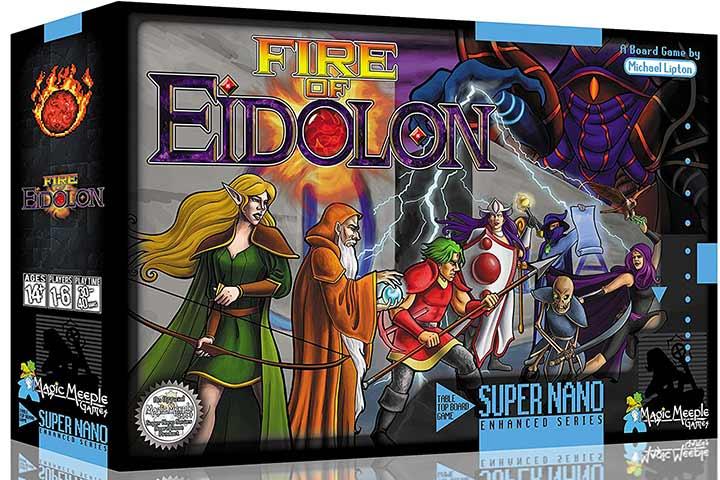 This dungeon crawler board game is all about bringing the Fire of Eidolon back from the Dungeons. You and your group of friends need to challenge horrors, fight monsters. This game works on a dice-less action-point system that is fast and easy to learn. It is said to be inspired by the era of 16-bit role-playing adventure video games of the 1990s.
Dungeons & Dragons Monster Madness comes with six 28-card decks, 6 hit point tokens, and a box to hold the decks. Each new character introduced in this game has unique mighty powers. It is recommended for children of 8 years and above. It has simple 5 to 6 play rules. It is a multiplayer game.
Just like other dungeon crawler board games, this game also requires each player to take one role and work together to cross the dungeon. However, only one will make it out with the most treasure and win the game. You can design new campaigns each time and have a whole different experience every time. It also has other fun elements, such as triggering traps and fighting monsters.
This is said to be an exciting dungeon crawler board game, where each player has to select their own character, equipment, and abilities. Then all the players play together to solve the mysteries, fight monsters, and achieve the goal of their quests. It also comes with an iOS/ Android app that helps in streamlining the setup. One to two players can play at a time with one game.
Why Trust MomJunction?
Priti Bose is an experienced product writer who is interested in toys and gifts. Utilizing her product analysis and review skills, she has scoured numerous trusted sources to bring you this list of the best dungeon crawler board games. She added games of varying strategic concepts to keep you engaged and entertained. For your convenience, she has included a brief explanation of each to help you make an informed choice.
Recommended Articles: