Dutch ovens are sturdy and complement various cooking methods. You can use it to bake bread, prepare one-dish-meals, or simply to boil water. They are ideal for kitchen-stove cooking and can function just as well on the harsh open flames of campfire cooking. When you buy a cast iron oven, specifically for a campfire, you need to take care of a few things.
Look for a seasoned cast iron Dutch oven that is durable and can withstand all sorts of weather conditions. Aluminum or steel dutch ovens are also popular among campers because they are lightweight and convenient. They get the work done, and that too on a budget. Take a look at our list of the 11 best Dutch ovens for camping to find a Dutch oven that will help make your camping trips an enjoyable one.
11 Best Dutch Ovens For Camping In 2020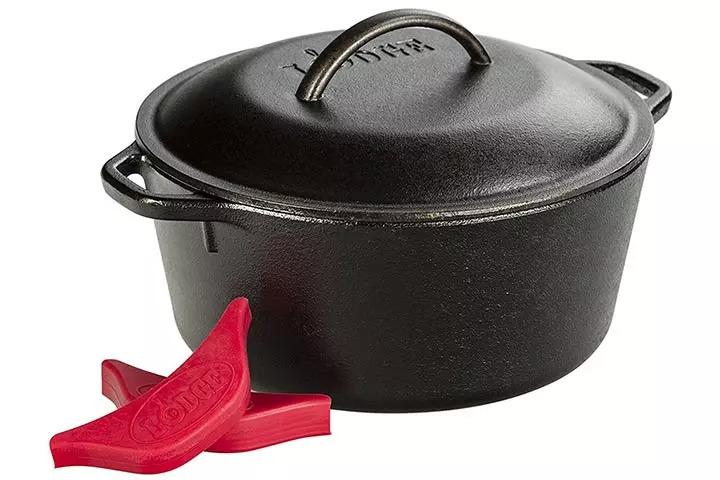 Lodge Cast Iron Dutch Oven is an outdoor cooking kitchenware. The biggest advantage of this dutch oven is its height. Its depth of 5 inches makes this oven suitable for roasting chicken, baking bread, and preparing stews — all in one pot. It boasts of heat distribution capabilities from the sidewalls and the base, thus ensuring uniform cooking. The cast-iron oven can withstand tremendous heat and is ideal for searing meat. It comes with heat-resistant silicone handle holders that prevent scalding while lifting the pot.
Pros
Seasoned with oil
Deep dish
5-quart capacity
Dishwasher-safe
Cons
Prone to rusting if not seasoned properly after washing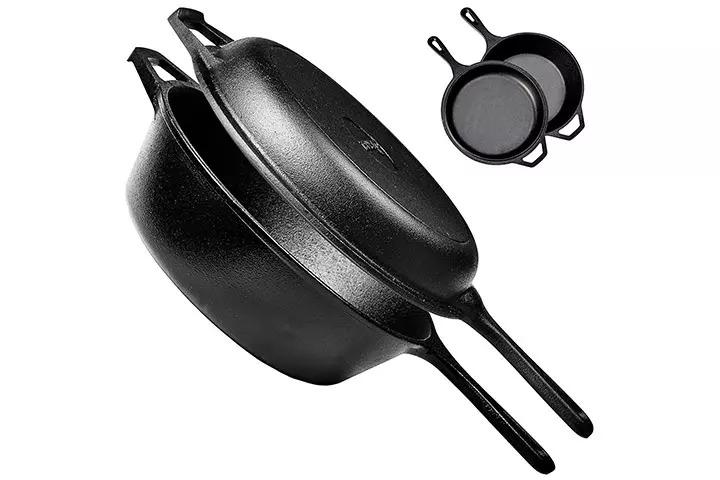 Cuisinel Pre-seasoned 2-in-1 Multi-cooker plays a dual role. It is a cast iron pot that works as a Dutch oven and a frying pan. Along with cooking convenience, its superior craftsmanship ensures longevity, and the fine seasoning causes the pot to get better with time. It has a high heat resistance of over 480°F and can withstand the open campfire flame for a prolonged period.
Pros
Can be used like a Dutch oven or a frying pan
Ideal for bread making
Induction cooker compatible
Comes with a cast-iron lid
Cons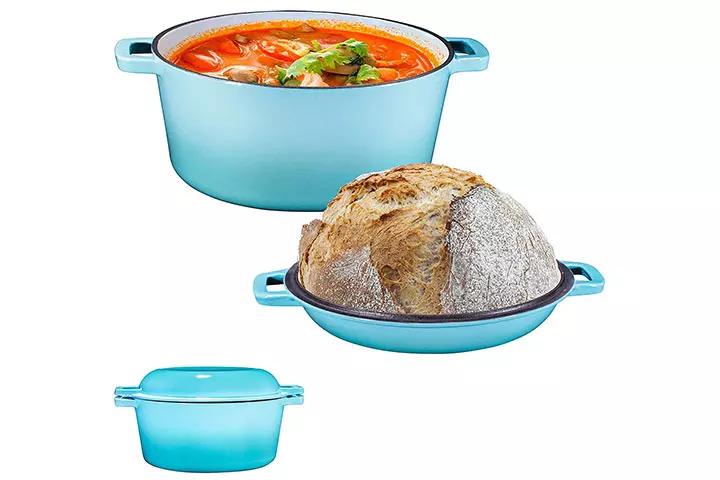 Bruntmor Enameled Dutch Oven comes with an attractive and durable outer shell that is ideal for indoor and campfire cooking. It has a white enamel finish that allows you to wipe the stains off to clean the pot. While the bottom of this 5-quart dish acts as a conventional heavy-duty Dutch iron, the lid also doubles as a skillet. It is sturdy, durable, and complete with handles on the base that make transporting and handling easy.
Pros
Available in vibrant colors
Even heat distribution
Ideal for small camping trips
Can be used as a serving dish
Cons
Needs thorough scrubbing before the first use.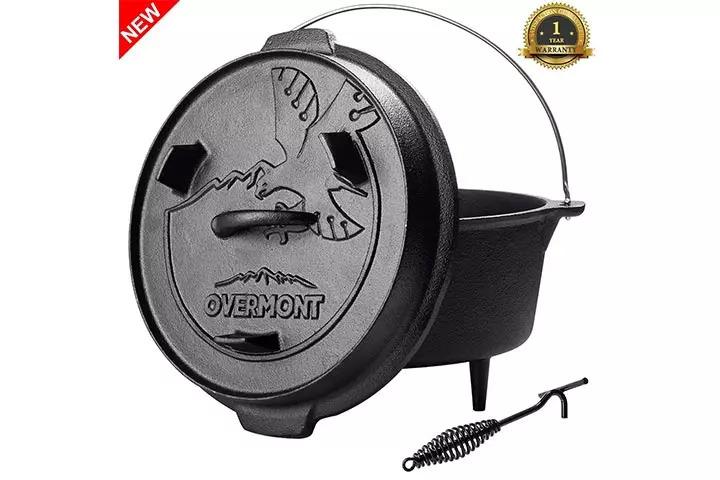 Overmont Camp Dutch Oven is a heavy-duty pot that comes in 2 size variants — 6 quarts and 8 quarts. It has a durable handle that allows you to prepare meals over an open fire. This Dutch oven comes with a flanged lid that can hold burning coals or be used for griddling when flipped over. It is also ideal for campfire cooking. The Dutch oven's 3 raised legs allow sufficient air passage enabling timber or charcoal to burn continuously. Besides camping, you can also use it at home with uncompromised efficiency. The Dutch oven provides good insulation and uniform heat distribution capabilities, making it an energy-saving and environment-friendly cookware.
Pros
Not coated in toxic chemicals
Non-stick surface
Comes in different sizes
Stable handles
Cons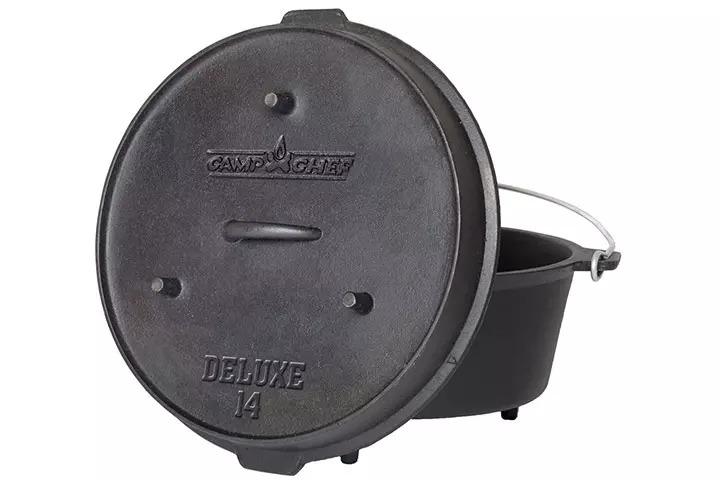 Be it a slow-roasted chicken or a braised lamb stew; cast iron Dutch ovens help prepare wholesome meals. Camp Chef Deluxe 14 Dutch Oven takes this experience a notch higher with a multi-usage lid. While you use the base as a conventional Dutch oven, you can use the top as a skillet to prepare smaller meals, or scramble a few eggs for your early morning camp breakfast. The Dutch oven is large and can comfortably cook for a family of 5.
Pros
Pre-seasoned Dutch oven
Comes with a lid lifter
Includes Dutch oven starter booklet with seasoning tips
The lid can be used as a skillet.
Cons
May contain carcinogenic substances.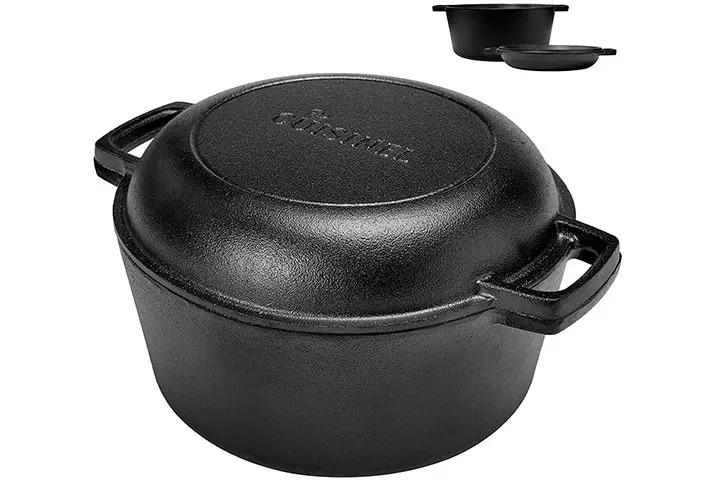 Discover the joys of cooking in the wilderness with Cuisinel Pre-Seasoned Cast Iron Skillet and Double Dutch Oven. Whether you are a kitchen novice or a camp chef, this dutch oven with a non-stick surface makes cooking easy and convenient. The Dutch oven comes with a 5-quart pan and a 10-inch skillet. When you set out on your next camping trip, use the Cuisinel Dutch oven to sear, fry, bake, grill, or saute a delicious meal.
Pros
Durable
Dual-handles
Pre-seasoned
2-in-1 multi-cooker
Cons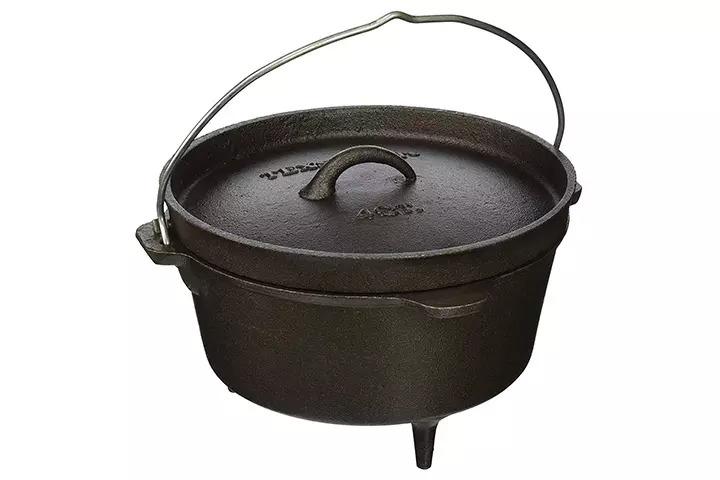 Leave your Texsport Dutch oven over a burning fireplace as you go on camping adventures. This Dutch oven not only withstands high temperatures but also cooks a great meal over charcoal. It has a rugged appearance, and the heat distribution and retention is ideal for slow and even cooking. The lid fits snugly onto the oven base and keeps food moist and warm for long periods.
Pros
Resistant to chipping and warping
Even heat distribution and retention
Raised legs support airflow for campfire cooking
Wire handles allow easy lifting of the pot.
Cons
It may feel heavy for a camping trip for 2 people.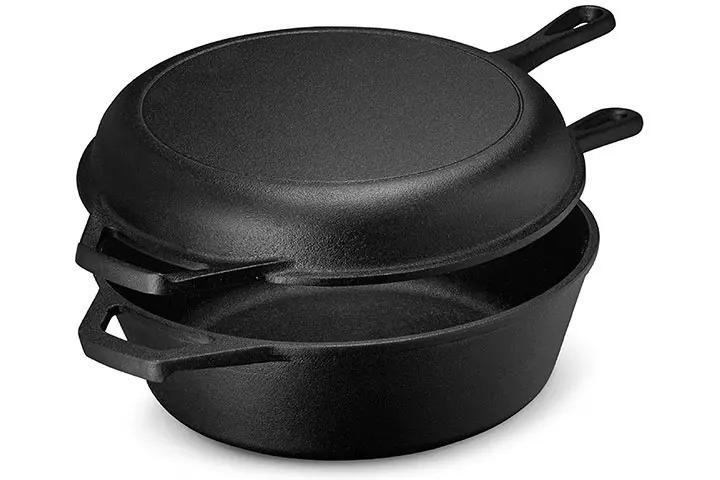 Legend Cast Iron Dutch Oven serves as multi-purpose cookware. While the Dutch oven is ideal for outdoor cooking, the top acts as a 3.2-quart skillet for frying or grilling a steak. You can also make use of it in your kitchen as an oven-safe baking pan, stovetop pizza pan, pizza stone, or burner plate. The quality of the Dutch oven improves with every use and gets better as you continue cooking.
Pros
Skillets contain long integrated handles
Proved long term performance
Comes with foundation seasoning
Shallow 1.5-inch lids
Cons
Cloth and paper towels may cling on to the pots as the surfaces may not be smooth.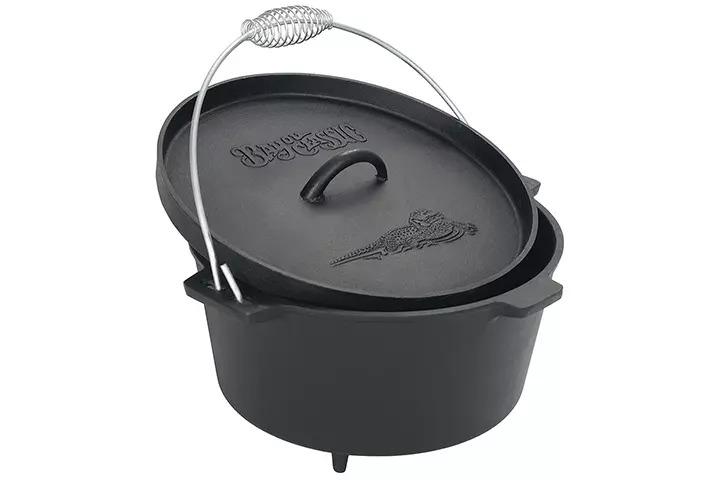 Complement your camping experience with Bayou Classic Cast Iron Cookware. It is a huge Dutch oven with an 8.5-quart capacity that can accommodate a hearty meal for at least 4 adults. You can also use it to bake bread or boil water over charcoal. This Dutch oven comes with 3 stands, allowing you to place it over burning timbers while offering enough space for air to pass. It is pre-seasoned and will prevent the Dutch oven from rusting quickly.
Pros
Comes with fixed legs
Deep enough to fit a whole chicken
Pre-seasoned with food-grade vegetable oil
Can be used for baking
Cons
The wire handles may pose a problem when hanging it from a tripod.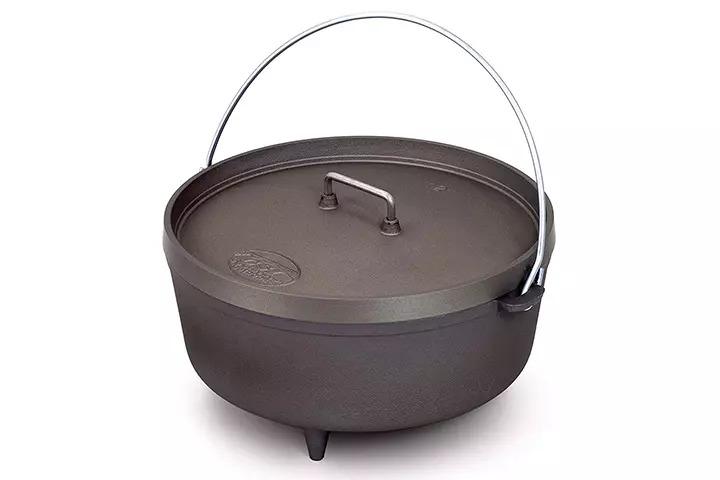 Let's explore this gourmet style campfire cooking, shall we? This aluminum Dutch oven introduces you to a brand new experience of backcountry culinary options. From making scrambled eggs to cooking a beef stew, the GSI Outdoors Hard Anodized Dutch Oven makes it all possible, and that too at a campsite. The Dutch oven is highly conductive and is made from durable metal that won't rust. This rustic pot provides additional beauty to your cooking station. It is easy to clean, and its non-porous anodized surface prevents food from sticking.
Pros
Non-porous anodized surface prevents the food from sticking
Can be used directly above open flames
Suitable for glass stovetops
Made from durable aluminum
Cons
Some may find the handle too rigid.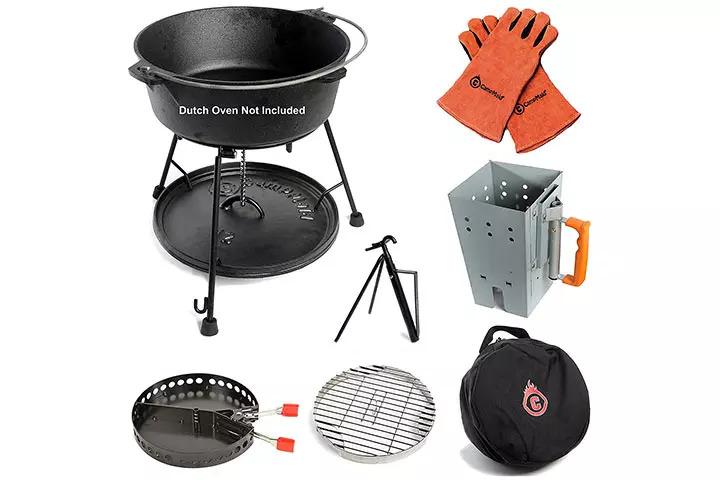 Save some space for a complete barbeque set during your next camping trip. CampMaid is an innovative multi-purpose cooking kit that makes camping a fine-dining experience. You can use this Dutch oven set as a griddle, smoker, steamer, pizza oven, and a frying pan. Along with the Dutch oven, you will find 6 to 8 other kitchenware in this set. However, as versatile as it may seem, carrying an entire kit might not be ideal for long-duration hike or treks.
Pros
Comes with a carry bag
Pre-seasoned Dutch oven
Tripod stand
Multi-purpose apparatus
The set comprises 6 to 8 kitchen kits.
Cons
It may not be suitable for long treks.
Dutch ovens are versatile cookwares. You can use it on the stovetop, or take it with you on your camping trip. Better insight on these absolute workhorses will help you select a Dutch oven that suits your needs.
What are the advantages of cooking with a Dutch oven while camping?
Cooking in Dutch ovens while camping has many benefits such as:
They have extreme heat tolerance capability.
Slow cooking helps flavors penetrate deeper.
Dutch ovens are versatile and are ideal for various cooking styles.
The lid can be used as a skillet.
How To Choose The Best Dutch Oven For Camping?
While buying a Dutch oven for camping, consider the following factors:
Size
It is advisable to choose a Dutch oven that you can use at home as well. It should fit in your oven and shouldn't be too heavy for your stovetop. A 5 to 7-quart camping Dutch oven that can serve 6 to 8 people is considered ideal.
Weight
The preferable weight of a Dutch oven is 13 to 15 lbs. Although heavy, these pots allow you to manage your food easily compared to other bulkier Dutch ovens.
Handles
Handles add leverage to your Dutch oven. So, opt for a Dutch camping oven with handles that are large enough to secure a comfortable grip even with your oven mitts on. It further helps if you can fit all your fingers through the loop of the handle.
Interior Color
Try to get your hands on an enameled cast-iron Dutch oven with a light color if you need to monitor the browning of food. However, light interiors leave more visible stains and stir marks than a Dutch oven with a darker surface.
How To Use A Dutch Oven?
Using a Dutch oven for the first time can be intimidating, but you can cook any dish with efficiency with this simple guide:
Step 1 : Fill your Dutch oven with food.
Step 2 : Place hot coals underneath the pot, and also cover the lead with burning coals.
Step 3 : Let the food cook while your pot continues to cook your meal from both the top and the bottom ends.
If you're using the Dutch oven for the first time, wash it with soapy water before cooking in it. Later, you can use the Dutch oven as any regular pot.
Frequently Asked Questions
What meals can we cook in a Dutch oven?
Good Dutch ovens are versatile and can be used on the stovetop or as an oven. You can braise meat, prepare soups, stews, sauces, roast a chicken, or even bake bread.
Do I need any other tools and accessories for my Dutch oven?
You can purchase a few other accessories like a lid lifter, lid stand, gloves, long tongs, and a shovel if you are cooking outdoors. You can also get Dutch oven liners, a wire brush, a tripod, a chimney starter, and a scraper.
How to season a new outdoor Dutch oven?
Seasoning your Dutch oven helps keep the rust away and creates a non-stick surface that helps clean the pot with ease. Here's how you can attain perfect seasoning:
Step 1: Heat your grill or oven to 350°F.
Step 2: Wash the Dutch oven with soap and warm water. Scrap away the metal coating using steel wool or a scouring pad.
Step 3: Air dry the oven and place it in the grill for some time to heat it. Once it is heated, remove the kitchenware from the grill. Be sure to use an oven mitt.
Step 4: Once cooled, rub the interior and exterior with vegetable shortening, canola oil, or flax oil. Do not use butter or flavored shortening. Ensure all pockmarks, holes, and dimples on the metal surface are covered.
Step 5: Take a paper towel or cotton rag to wipe off the oil.
Step 6: Heat the dutch oven by placing it upside down in the grill or kitchen oven.
Step 7: Bake it for about an hour. It is advisable to open windows and temporarily disconnect your smoke alarm while baking the Dutch oven.
Step 8: Let it cool inside the oven for another 30 minutes after you finish heating.
Step 9: Next, using an oven mitt, remove the Dutch oven, and place it on the kitchen counter. Let it cool until it is ready to be touched with oven mitts.
Step 10: Repeat steps 4 through 9 until you get a desirable color and sheen. You may need to run the cycle 3 to 6 times.
What size Dutch oven should I buy?
Dutch ovens come in various sizes. In general, a 5.5 to a 6-quart pot is ideal for a family of 4.
How to clean a Dutch oven?
Cleaning your Dutch oven the right way is crucial. You don't want to scratch or damage the inside enamel. Be sure to use only the following ingredients to clean your Dutch oven.
Baking soda
Dish soap
Abrasive sponge
Here's how you can clean the kitchenware:
Step 1: Fill your Dutch oven with water to cover the stained bits and bring it to a boil.
Step 2: Add a few spoonfuls of baking soda. As the mixture boils away, use a wooden spoon or spatula to scrape any blackened bots.
Step 3: Once the pot is clean, pour the water out and give it a final polish using an abrasive sponge.
Step 4: If you still notice burns, repeat steps 1 to 3.
Alternatively, you can also make a paste of dish soap and baking soda. Spread it onto your cast iron Dutch oven and leave it overnight. Using a wooden spoon and few drops of water, scrape the remaining scorched bits, then rinse the pot. You can give it a final polish using an abrasive sponge and dish soap.
Dutch ovens are absolute workhorses. They withstand tremendous heat and are known for preparing the best meals. Moreover, they are versatile and are suitable for both indoor and outdoor cooking. However, its versatility and size variants may have you contemplate the ideal cookware for you. Our list of the 11 best Dutch ovens will most definitely help you decide your next buy. As efficient as these pots are for camp cooking, they perform equally well in a conventional kitchen setting.