The best electric breast pumps come with a host of features and allow breastfeeding moms to express their milk and store it conveniently for later use. You can choose from various types of breast pumps to make breastfeeding your baby easier.
This post includes a list of the best ones that let you feed your precious breastmilk to your baby at your convenience, even when you are outside our home. So, check out the list to pick the right one.


15 Best Electric Breast Pumps
If you're looking for something efficient, this advanced double pump offers a faster rate of pumping than most pumps, making it perfect for moms who pump several times a day. It has a two-stage pumping mechanism that helps you stimulate the letdown of milk and express it into the container. It is a great option for busy mothers as it ships with a cooler bag containing four bottles to store and carry the milk. Learn how to use the breast pump from this video.
Pros
Built into a tote bag for working mothers to easily carry it around
Provides full control of the suction pressure using the rotary knob
Portable and user-friendly
Equipped with a portable battery pack
Adjustable speed and vacuum with one touch
Cons
Some moms might not find the cooler space sufficient
This three-in-one double electric pump set comes with a pump, a storing bottle, and feeding nipple for bottle feeding. It includes a breast suction cup that contains specialized contours to mimic the baby's sucking. The pump motor starts in the stimulation mode and switches to the expression mode after you have a milk letdown, making it seamless and rather intuitive. This review video helps you know more about the product.
Pros
Fewer parts make it easy to disassemble and clean the pump
Allows you to choose from three expression settings
Comes with a travel bag for easy and discreet mobility
Breast pump parts are dishwasher safe
All parts that come in contact with breast milk are BPA-free
Cons
Suction strength on level 3 might not be strong enough
Suction cups might leak slightly when used with silicone pads
Here's a double-suction, hospital-grade breast pump that uses a closed pumping system, wherein the breast milk does not get into the tube and components of the pump motor. It works on direct power using an AC adapter. You may check out more about this product from this video.
Pros
Has built-in nightlight
Backflow protection
Makes the expressing process comfortable
Can also be used as a single electric breast pump
Parts that come in contact with breast milk do not contain BPA and DEHP
Cons
Quality of the accessories could have been better
Suction might be slightly uncomfortable in the wrong setting
Ameda's single-user double electric pump is designed to be compact, portable, and skin-safe for new mommies. The pump motor only weighs a pound (453 grams), making it easy to carry around in your purse when headed to work or anywhere else. It comes with a patented diaphragm-based protection system that keeps contaminants out, thus preventing contamination of milk. The system also prevents the backflow of milk into the pumping tube.
Pros
Eight adjustable suction pressures to choose from
Also offers a choice of four pumping speeds
Lets you pump both breasts simultaneously
Individually adjustable cycle and suction controls
Cons
Valves on each pump might be slightly delicate
Pump might be a little noisy
Features:
Single breast pump with an easy-to-use digital motor control unit that allows you to customize the pumping process.
All parts that come in contact with the breast milk are made with medical-grade plastic and free from BPA.
A massage function helps stimulate milk letdown. Once there is milk letdown, you can switch to the expression mode.
The collection bottle and tube design prevent the backflow of milk into the pump motor.
The digital display provides all the important information in an easy-to-understand format, which makes controlling the unit easier.
A highly configurable double pump, this device allows you to control the pumping style and level of suction. The motor unit contains a digital display and buttons to easily control different components of the pumping process. A diaphragm cap and cover on top of the pumping bottle help keep the tubes clean by preventing backflow of milk, so you don't have to worry about any cleaning hassles.
Pros
Choose from three pumping styles and eight suction modes
Unit works well both with batteries or direct power from mains
Versatile, convenient, and super-hygienic
BPA- and BPS-free parts make it safe for mom and baby
Cons
Might be slightly noisy
Lacks a stand to hold bottles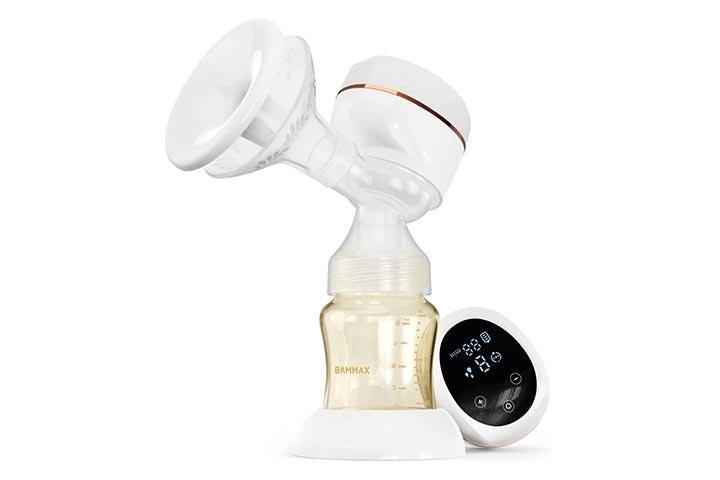 Equipped with five massage modes and nine suction levels, this electric pump is ideal for effortless pumping. It features a built-in memory chip that remembers your last-used settings, along with an anti-backflow system that prevents accidental contamination and keeps the milk fresh and hygienic. The pump works on an easily rechargeable 1400mAh battery that functions seamlessly for up to 140 minutes after each charge.
Pros
Chic design and easy for pumping anywhere, anytime
Heat-resistant, drop-proof, and compact
Soft flange is made of food-grade silicone and is free of BPA
LED screen makes operation effortless
Quiet motor does not disturb the baby
Cons
Silicone filter might not be easy to attach or remove
Does not come with milk bags for storage
When in need of something compact and efficient, this double-pumping device will serve you just right. It operates on a closed pumping system that prevents the milk from flowing through the tube and into the motor, making it much less of a headache to clean. You can use this with an AC adapter or with batteries, which makes it ideal for discreet, on-the-go nursing.
Pros
Allows you to control the speed of milk expression and suction level
Double suction makes pumping quick and comfortable
Comes with three suction cup sizes to provide the best fit for the areola region
Motor base contains two slots to hold the bottles
Cons
Flanges might be slightly difficult to figure out
Suction might not be as strong on battery life
Features:
Double electric pump with a super quiet and compact motor that makes it easy to carry.
Easy to clean parts. All components that come in contact with breast milk are free of BPA.
The closed system pumping prevents the flow of milk to the pump motor. Pumps functions with a direct connection to the mains.
Ships with two milk bottles that have a slow-flow nipple.
There are nine levels of suction adjustment, which means you can customize the pump function to your comfort.
Features:
Portable double pump. Integrated battery can be charged through the USB port. Conveniently charge with a power bank or even a computer.
A silicone pad with petal pattern allows for active stimulation of the breast nipple thus improving the flow of the milk.
Anti-backflow mechanism prevents milk contamination.
It is made from food-grade silicone. It does not contain BPA.
Super quiet motor operation while pumping, which allows you to pump without disturbing the baby or those around you.
Features:
Electric double pumps that can be controlled independently, which means you can set different rates of milk flow from each breast.
Food-grade silicone cushion/pad makes repeated milk expression comfortable.
Made from materials that are FDA-approved and free of BPA.
The backlit LCD allows you to see the status of pumping and also makes it convenient to pump during night time.
Simple, straightforward, and efficient, this single electric breast pump is designed with a flat motor unit that is easy to carry around. The pump ships with a microwave sterilizer box, which allows you to sterilize the components by placing them in water and heating it inside the microwave oven.
Pros
Designed to mimic baby's natural feeding action
Dual power input from direct mains or batteries
Suction cup is made of soft, skin-friendly silicone
Makes milk expression extra comfortable
Cons
Some might find the plastic tubes slightly short
May not be noiseless
If you are looking for a smart, sophisticated, and rechargeable companion to make on-the-go pumping a breeze, this might be the right one for you. The double pump features a central motor console boasting the ability to connect to smartphones, and the pump unit transmits data through Bluetooth to a smartphone app. It follows a simple process that begins with milk collection followed by the stimulation phase and then goes into the expression mode after milk letdown.
Pros
Helps you track and monitor your usage
Quiet pump function and compact design for easy portability
Maximizes milk expression when double pumping
Super-intuitive and user-friendly controls
Cons
Parts might be slightly difficult to replace
May not be easy to clean
This hospital-grade, double breast pump is designed to emulate the natural breastfeeding experience as precisely as possible. It features easy button-operated controls to help you change the vacuum and rate of milk expression, while the closed system pumping keeps the components free of milk. The powerful inbuilt rechargeable battery means no hassle of replacement and no need for constant connection to the mains while in use.
Pros
Night light allows discreet pumping at night
Portable and lightweight to carry around
Tube remains clean and hygienic even after use
Comes with two flange sizes (24mm and 28mm)
Cons
Lower settings may not be powerful enough
Quality of the tubing connectors could have been better
Simplify your postpartum months by bringing home this practical and efficient double breast pump. It comes with a digital display and control unit that boasts a touchscreen LCD panel, which allows you to monitor and navigate the various functions of the pump with ease. The pump motor unit is entirely wireless with an inbuilt rechargeable battery. You can charge the battery using a USB cable anywhere you go.
Pros
Motor unit can double as emergency power bank for other devices
Contains a large-capacity battery
Makes very low noise on function
Suction pads are made of food-grade silicone and completely BPA-free
Cons
Bottle and flange setup might be slightly heavy
Level settings do not reset after every session
When Can You Use The Breast Pump?
Breast pumps are devices that let you express milk without the need of direct breast compression with hands. You can get manual breast pumps or electric breast pumps. Electric breast pumps are by far the most convenient since they automate the process of expressing milk when connected to a power outlet. You can consider breast pumps if you plan:
Returning to work: The best and safest food for a baby is breast milk, and a working mom can continue to provide it with the help of a breast pump.
Storing milk for a later feed: You can express milk with a breast pump and save it for later use. Breast pumps come hand when your baby is unwell and has trouble latching to the breast at a given point.
Relieve engorgement: Pumping milk out can provide relief from breast engorgement, especially when you are unable to breastfeed for some reason. Relief from engorgement further helps prevent other complications such as mastitis (infection of milk ducts).
Convenience: An electric breast pump is a convenient choice when it comes to expressing milk from the breast. Electric pumps do not require any physical effort to express milk, unlike their manual counterparts.
Once you know why you need a breast pump, you must be aware of how to pick the best one.
[ Read : Farlin Manual and Electric Breast Pump Benefits ]
How To Choose An Electric Breast Pump?
You need to keep the following points in mind when picking an electric breast pump:
Single or double pump: A single electric pump only has one pumping cup, which means you can express milk only from one breast at a time. Single electric breast pumps are portable and lightweight when compared to double electric breast pumps. Also, single breast pumps can be ideal when you pump occasionally or only need to pump to ease engorgement on one breast.
Double electric pumps have two pumping cups, which allow you to pump from both the breasts simultaneously. It considerably improves the rate of milk expression and thus saves a lot of time. Double electric pumps cost more than single pumps.
Single-user or multi-user: Single-user pumps are designed for use for one person and may last only one lactation phase. Multi-user pumps are more robust and can last longer. A multi-user pump has better build materials, and thus are also called hospital-grade pumps. The high usability of multi-user pumps comes at a steep price though, and it may cost twice or even thrice the cost of a single-user breast pump.
Insurance coverage: If you intend to cover the pump cost through insurance, then check with your insurance provider to know which breast pumps they pay for.
Do note that your usage style and frequency of pumping determines your need. Personal preference and the preference of your partner can also play a role. Therefore, make a choice accordingly. Next, we take a look at the best ones.
[ Read : DIYA Portable and Rechargeable Double Electric Breast Pump Instructions ]
Tips For Electric Breast Pumps Usage
Here are some tips for optimum electric breast pump usage:
Sanitize parts before first use: Most pump manufacturers recommend boiling the suction cup and bottle parts for about ten minutes before the first use. Some manufacturers may provide a storage box for disinfection in the microwave oven. Check your pump's user manual for the recommended disinfection guidelines.
Clean and dry after every use: Rinse the parts of the pump that come in contact with breast milk first with cold water. Soak them in warm soapy water for a few minutes, and then use a dishwashing cloth/sponge to clean. Leave the parts for air drying. Make sure the parts are entirely dry before next use. Manufacturers may recommend different cleaning methods so always refer the user manual.
Inspect regularly: Parts of the pumps can be subject to wear and tear. Inspect your pump periodically for any signs of damage. Suction cups, tubes, and valves are subjected to friction due to movement. These components should be checked more often.
Single-user or multi-user: Some pumps are intended for a single user only despite being hospital grade. Usage of single-user pumps by multiple users can void the warranty. Once you reach the end of your usage, then check if the pump can be passed on to someone else. Multiple user pumps can be given away to a friend or family member who is need of an electric breast pump.
Why Trust MomJunction?
Vibha Navarathna is passionate about researching baby and nursing products, and she ensures that the products she recommends are trustworthy and safe for infants. She has compiled this list of the best electric breast pumps in the market that can offer you maximum comfort while breastfeeding. Further, she has conducted extensive research on these products by going through numerous user reviews and product listings. This post also includes a buying guide explaining the features of each product.
Recommended Articles