You could use the large vacuum cleaners to clean your house, but it's cumbersome and inconvenient, and conventional brooms typically do not collect every single bit of trash. There is, however, another option—an electric broom.
Electric brooms are upright vacuum cleaners that come with a long handle. They are a hybrid of light vacuum cleaners and traditional brooms and use a mix of suction and brushes to clean your floors effortlessly. Keep scrolling as we bring you a list of the best electric brooms to keep your house clean and tidy.

Top Products From Our List
9 Best Electric Brooms

The Eureka RapidClean Pro vacuum cleaner is cordless and uses the newest motor technology for easy and quick cleaning of multiple floor types. It offers a fade-free runtime of 40 minutes, and the fingertip controls make it easy to control the suction power. The vacuum can be safely propped up on furniture and countertops, thanks to the specially built easy-rest feature. In addition, the dust container is repositioned ahead of the vacuum, so you can lay it flat to sweep beneath beds with ease.

Pros
Lightweight
Available in various colors
LED lighting
Swivel steering for easy maneuverability
Cons
Handle may not be convenient for a few

The Onepwr vacuum cleaner by Hoover provides cordless convenience for cleaning every nook and corner of your house. The antimicrobial, removable brush roll prevents odors and ensures a smooth transition from soft to hard surfaces. In addition, it cleans pet hair and dirt on different kinds of surfaces, and its powerful vortex suction cleans dust effortlessly.

Pros
Lightweight
Multi-surface deep cleaning
Compact design
Large dust cup design
Easy maneuverability
Cons
Battery may not last long

Dyson V11 Torque drive cordless vacuum cleaner has dual suction power and is cordless to make cleaning easy. And to help you deep clean every nook and corner, it intelligently optimizes suction and offers a long run time. The vacuum cleaner also has durable battery power and a battery-saving trigger, and the real-time data on the LCD panel gives you control over your cleaning. Furthermore, the electric broom's Dynamic Load Sensor system automatically changes the motor speed between carpets and hard floors.

Pros
Deep cleans difficult areas too
Offers three cleaning modes
Convenient docking station
High torque cleaning head
Cons
Warranty may not be valid
The Dirt Devil upright vacuum cleaner is wireless and can be easily maneuvered around furniture. Its Spin3Pro brush roll is designed to effortlessly clean and remove pet hair from carpets and hard floors. The electric broom features a 16v lithium battery that provides long runtime and charges three times faster than a regular one. Moreover, it comes with a dirt cup that reduces trips to the dump and an odor-trapping carbon filter that reduces pet odors.
Pros
Extra-large dust cup
Batteries included
Easy to assemble
Good suction power
Lightweight and steerable
Cons
Brush bristles may not be very strong

The PrettyCare cordless stick vacuum cleaner with 20000pa Hurricane suction comes close to a typical canister vacuum. It has a 30-minute runtime and ensures thorough one-time cleaning of a 1900 sq ft space. The electric broom also has two configurable modes that adapt to varied scenarios and allow the battery to be fully utilized. It employs a stainless steel Hepa filter with tiny pores, and the service life of this system is double that of a standard filtration system.

Pros
Ergonomic handle
Flexible turbine brush
Lightweight and maneuverable
Large dust cup
Convenient to store
Washable
Cons
Suction power may not be enough for a few

The Vabroom cordless two-in-one sweeper helps you clean every nook and corner of your room effortlessly. It sweeps dust, dirt, and debris from the floor in a line and makes them vanish instantaneously. You need to tilt and press the suction nozzle on the floor to activate the vacuum. This electric broom has flagged bristles to let you pick up even the tiniest particles. The suction can be turned on and off via a specifically designed pressure-activated nozzle.

Pros
Good suction power
Powerful 20,000 RPM motor
Lightweight
Ergonomic handle
Easy to use
Large dust cup
Cons

Dibea Vacuum Cleaner comes with Japanese brushless motors that provide 24Kpa suction power and two suction levels. It offers about 35 minutes of runtime and allows you to clean a wide range of surfaces. In addition, the powerful Hepa filtration creates a high-speed airflow that separates dust and particles effortlessly. The cleaner also has a 270-degree rotatable floor brush with LED light and an extra carpet roller bar.

Pros
Designed to clean homes with pet
Washable filter
Detachable battery
Transparent dust container
Ultra-quiet design
Cons
Luckwind stick vacuum cleaner has a strong suction power of 28Kpa and features two-speed options. Its high performance on varied surfaces makes it an optimal cleaning tool, and the cleaner also comes with a detachable large-capacity battery and a fast-charging adapter and offers up to 40 minutes of decent run time. To remove particulates from the air, it creates a high-speed spinning airflow. In addition, the high-density Hepa filters remove up to 99.97% of tiny dust particles.

Pros
Detailed user manual
LED lighting
Easy to use
Easy to maneuver—swivel steering
Washable filters
Wall mount docking
Cons
Might be smaller than you expect

The Canuoya multipurpose cordless vacuum cleaner with a 100,000RPM brushless motor and modular design is an excellent addition to your cleaning supplies. The electric broom is lightweight and features a robust Hepa filter and large dirt cup. Further, it comes with several attachments to let you use the tool both indoors and outdoors.

Pros
One-touch opening
Removable battery
High suction power
Lightweight and low-noise operation
Includes a soft roller and a hard roller
Cons

How To Choose The Right Electric Broom?
Consider the following points when choosing an electric broom.

Cordless or corded: Corded ones are simple to use, but their portability is limited. While selecting a cordless electric broom, one should consider the battery's run time and the time it takes to charge.

Size and design: While most electric sweepers have a ten-inch path-cleaning heads, others may have bigger or smaller heads. So, if you don't find one with a head as huge as a regular vacuum, it's because they aren't designed to clean large spaces.

Manoeuvrability: A sweeper broom with an electric motor can quickly maneuver around corners and small spaces. Its head swivels to effortlessly sweep under and around furniture, eliminating the need to move items out of the path. Small closets, pantries, and other limited spaces can also benefit from electric brooms.

Handle: Even though electric brooms are mostly used to clean up little messes, they should be easy to use and have a good grip. Most handles include comfortable padding to prevent discomfort while sweeping. Some variants also come with a handle that has been ergonomically built.

Frequently Asked Questions

What is the difference between a stick vacuum and an electric broom?
Electric brooms are smaller and lighter than stick vacuums and have less suction force than stick vacuums.

Can an electric broom replace my traditional vacuum?
An electric broom could work on some low-pile carpets but may not work as efficiently as a traditional vacuum cleaner if you have plush carpets and shag rugs.

Can I use an electric broom on upholstery?
Yes, an electric broom can be used on upholstery.
Electric brooms are portable and lightweight and have good suction power and an effective filtration system. Further, they are maneuverable and ideal for daily use. We hope this list of the best electric brooms help you pick the right electric broom with the right features.
Recommended Articles:
The following two tabs change content below.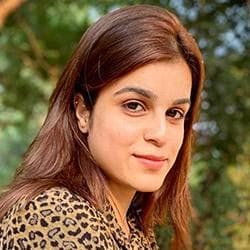 Sakshi John
Sakshi did her graduation in Journalism from the Madras Christian College, Chennai, before starting her career as a freelance writer. She is into blog writing and for MomJunction, she covers various topics, including products to buy for your kitchen, furniture, and other home requirements. Previously, she interned as a content writer in a cyber security firm. As a content writer, Sakshi...
more