Canned foods are safe for consumption and convenient for traveling and camping. But, the improper opening could compromise their safety and create a mess. So, here's our list of the best electric can openers to help you choose the right one. From vegetables and meat to soups and drinks, canned food offers ready-to-eat meals or faster cooking options. But opening them could be a tedious task. Electric can openers help open a can neatly and quickly. These tools contain a motor and a rotating blade connected to a lever. When powered on, the blades rotate with the help of the lever and cut through the tin's lid. As they only rotate around the lid, they do not come in contact with the food.
Suitable for use at home or outdoors, these can openers can come in handy. With various designs available, take a look at our list to learn more.
Types Of Electric Can Openers
Before we explore the best electric can openers, here are the types of electric can openers to help you make an informed decision:
Top-cut models: These models only cut around the circumference without leaving sharp edges. They are safe to use and can help keep your kitchen tidy. Another advantage of these models is that you can use its lid to restore the food due to its structural integrity. However, these models may come in contact with food and may cause cross-contamination.
Side-cut openers: These models cut in the sides, which may leave some sharp edges. If the food is filled to the can's rim, these models may cause food leakage when opened.
Top Products From Our List
11 Best Electric Can Openers
With Hamilton Beach side-cutting electric can opener, you will not have to deal with any mess around your table after opening the cans. The electric can opener has a stylish design that will complement any interior. By opening the can sideways, the lid will not be damaged for future sealing. The blade has a lever that can quickly remove the cover without requiring a firm grip. The blades cut along the side, minimizing the blades' contact with food.
Pros
Keeps the edges smooth
Offers firm hold on cans while opening
Comes with a pair of scissors
Cons
Not an automatic, hands-free, traditional opener
May not be suitable for opening small cans
Even if the size is small, Kitchen Mama electric can opener is an efficient and time-saving tool for opening cans of various sizes. The can opener's blade does not come into contact with the food, thus keeping the food clean and hygienic. The user-friendly design is the main feature of this can opener, allowing even the elderly and people with arthritis to operate the can opener effortlessly and prevent unwanted injuries. It is a battery-operated model and an ideal gift for camping enthusiasts.
Pros
Compact and lightweight
Operates through a single button
Avoids contact with food
Offers clear cut throughout the circumference
Cons
If you are looking for a durable electric can opener, Amazon Basics electric can opener is what you need. Its stainless steel construction gives it the strength to hold and unlock standard-sized cans. The serrated edges on the blade require no sharpening and can easily cut through tin cans. Amazon Basics provides an auto-closing function, which means it will stop on its own after the lid is cut, and its magnetic holder prevents the lid from falling into the can.
Pros
Powerful and sharp blades
Has an auto-lock function
Stylish and lightweight design
Magnetic holder prevents the lid from coming into contact with food
Cons
May not be suitable for small cans
Cord might be a tad short
This black electric can opener has a stylish metal design and includes a knife sharpener, making it an ideal kitchen tool. It is an automatic hands-free model that closes immediately after opening the can, enabling you to focus on other tasks at hand. A magnetic holder keeps the can lid intact and avoids accidental spillage and contact between the blade and the food.
Pros
Has a wide and firm base
Wire can be tucked in for compact storage
Easy to operate
Compatible with cans of all sizes
Cons
Might be difficult to attach the blade to cans
Although this stainless steel electric can opener looks basic, it is a versatile tool that can be used as a bottle opener. It has a broad non-slip base and a firm handle, which facilitates easy operation. The cutter does not come into contact with the food as the magnetic lifter holds the lid firmly when removing it. It has an automatic closing function, and once you open the can, it  automatically closes the can opener, thus encouraging hands-free operation.
Pros
Made of durable and easy maintenance material
Supports hands-free operation
Cord can be retracted for compact storage
Provides smooth cuts, avoiding sharp edges
Cons
May not have a durable motor
Blade may require sharpening after a few uses
This electric can opener is designed to provide maximum efficiency and includes a knife sharpener and a bottle opener. With a simple push of the lever, you can cut cans of various sizes. The lever also includes a magnetic lid holder to prevent it from collapsing into the food immediately after disassembly. Imusa electric can opener operates on 120V. You can place it anywhere near the kitchen plug and enjoy hassle-free can opening.
Pros
Has a sturdy, non-slip base
Provides a continuous cut
Cord can be retracted for storage
Includes a serrated blade that doesn't require much sharpening
Cons
Made of plastic
Requires a voltage converter for usage in countries other than the US
With Cuisinart durable electric can opener, you don't have to worry about opening pet food cans every day because its stainless steel serrated edges can easily penetrate the tin and provide you with precise cutting results. The device has a broad non-slip base and can be firmly fixed on the kitchen countertop when cutting. Besides, its simple one-button lever operation makes this manual opener a suitable choice for most users.
Pros
Has a magnetic lid holder
Lever can be detached for cleaning
Stylish and portable design
Includes a patented Power Cut blade
Cons
Might be heavy
Lever may be flimsy
Whether you need a can opener for your restaurant, house, or camping trips, the small electric can opener from Luckkya is what you need. This commercial electric can opener has a streamlined design, making it portable but highly effective. It runs on two AA batteries and can cut through the lids of various-sized cans. Luckkya electric can opener design provides comfort and is suitable for arthritis patients.
Pros
Ideal camping tool
Blade doesn't come in contact with food
Offers precise and smooth cuts with no sharp edges
Blade easily penetrates the lid of the can
Cons
Might be difficult to clean
If you regularly open cans and bottles, you need the best electric can opener from Brentwood. The model is built to accommodate cans of various sizes. The blades are serrated, sharp, and can penetrate tin lids without difficulty. It also has a slender and sleek design that can match any kitchen interior. When not in use, you can remove the lever for easy cleaning and retract the cord for compact storage.
Pros
Includes a knife sharpener
Has an automatic off function
Lightweight and strong build
Has a broad base for firm attachment
Cons
Cord may be short
Might topple while using large cans
A stable base to hold the can makes Applica's white electric can opener unique. It has an easy-to-operate lever that can be pressed on the top of the can to start a rotary cutting movement. The tool's broad base supports fast movement and one-hand operation. Its small blade doesn't come into contact with the food, thus avoiding any possible contamination of the food. You can use the tool to open bottle caps.
Pros
Blade can be detached for cleaning
Easy to operate and clean
Sturdy lever
Cons
Might not be suitable for opening large cans

Even with its small size, Bangrui's small electric can opener is highly efficient, making it an ideal camping and kitchen companion. It is cordless and requires AA batteries to function. The streamlined elliptical opener style makes it comfortable to hold and suitable for arthritis patients. It is easy to use; press a button to open the can, and it automatically shuts off when the task is completed.
Pros
Cuts the inner side of the lid to avoid sharp edges
Blade does not come in contact with food
Made of durable ABS and alloy steel
Easy to clean and store
Cons
Piercing the blade into the can might be difficult
How To Choose The Right Electric Can Opener
Canned foods have become part and parcel of our diet. Hence, it is crucial to invest in a high-quality can opener that would not only do the job efficiently but also last long. Here are a few features that you must consider while purchasing an electric can opener:
Blade: Stainless steel blades are easy to clean and durable. The serrated blade does not need to be too sharp, which helps to cut smoothly.
Material: Most electric can openers are made of steel or high-quality plastic. Typically, metal can openers are durable and sturdy.
Ease of operation: A few electric models are not automated. For such models, you must turn the can and stop the process manually to avoid spillage. Automated models are usually hands-free and save time. Some models are specifically designed for the elderly and arthritis patients.
Price: Automated models are usually expensive than manually operated electric cans.
Size: Most electric can openers are large, unlike the portable hand models. Therefore, you must decide where to place it on the kitchen countertop. Several compact battery-powered can openers are ideal for fishing and camping trips.
Other features: A few electric can openers are multi-functional. You can use them as knife sharpeners or bottle openers. These models are highly efficient all-in-one tools. A few models have magnetic holders to securely fix the lid during and after cutting.
Although it may not seem much, opening cans is sometimes a challenging and messy job. You may end up hurting your wrist if you twist them incorrectly. Therefore, it is best to purchase a high-quality electric can opener as they are safe to use and prevents accidental injuries. So, which product have you chosen from our list of the best electric can openers?

Recommended Articles:
The following two tabs change content below.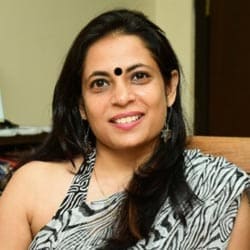 Priti Bose
Priti Bose is a poet, songwriter and blog writer. She did her masters in English, Public Relations and Advertising. Her creative skills and hunger for details make her do in-depth research on the topics she covers. For MomJunction, she writes on product analysis and reviews, especially for kids' products, toys and gifts. Before her association with MomJunction, Priti worked in the...
more