Whether you are craving a crepe or a burrito, you need a skillet to make it. Skillets are versatile cooking pans that are quick and easy to use. You can use them to prepare snacks, soups, and main courses for your lunch and dinner.
A good quality electric skillet has a central structure to cook, an electric coil at the base to heat, and a power regulator to adjust the temperature. It also has a top covered by a glass or stainless steel lid to save energy when cooking.
Electric skillet smakeattr active, serving dishes too. You can cook and serve food in them, and clean easily too. Often, these are dishwasher-safe, while a few of them requireh and wash. But, when it comes to power, all they need is the standard kitchen plug. Most electric skillets are reliable and often portable too.
Keep reading for a list of the best electric skillets and add your favorite one to the cart.

Top Products From Our List
17 Best Electric Skillets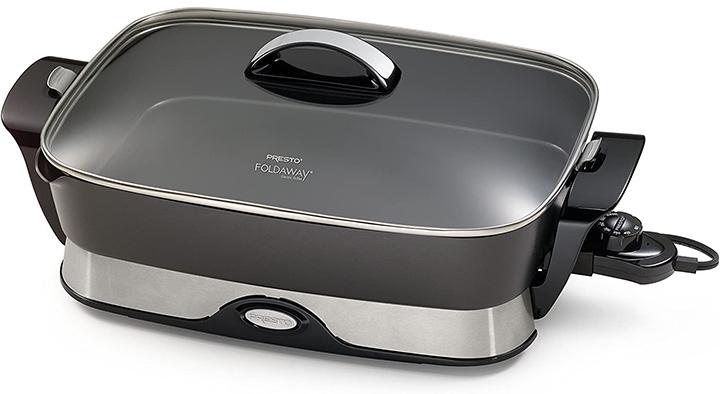 Have you ever seena skillet that can be folded too? The Presto electric skillet can be comfortably folded to save space and store any where. Whether you want to cook in your kitchen or carry cooking equipment to campsites, this skillet can be a good pick. It is made of cast aluminum with a non-stick surface and tempered glass cover.
Pros
Dishwasher-safe
Ideal for cooking and serving
Heat control can be easily removed
Built-in spout for convenient pouring
Stay-cool handles for a comfortable grip
16in to hold enough amount of food
Suitable for baking, frying, steaming, and boiling
Even heat distribution
Compact, does not occupy much cabinet space
Cons
Electric cord of the skillet may get hot at times
Requires handling with care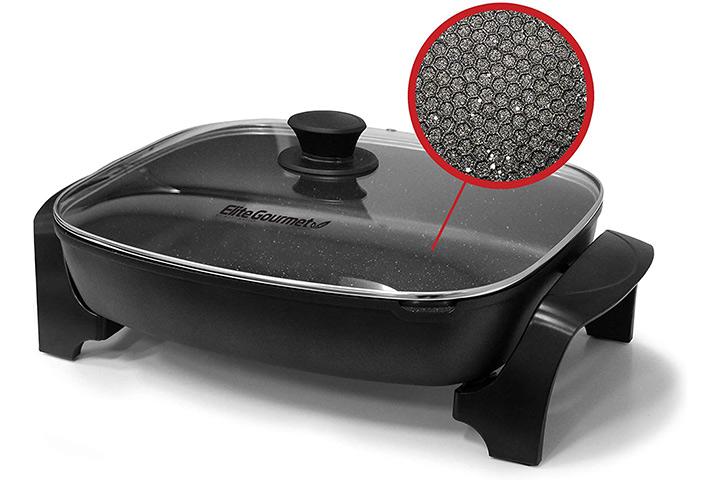 Unlike other conventional non-stick electric skillets, the Elite Gourmet skillet has a raised honeycomb pattern on the base to prevent the coating from getting damaged. This design is also easy to clean and comparatively larger than other products. It has clear tempered glass, a rapid, even heating system, and integrated easy-pour spout as attractive features. The skillet measures 20.5×3.15in, which is enough for a family of six to eight members.
Pros
Made of thick aluminum
Resistant to rust or warps
PFOA-free and dishwasher-safe
Deep dish to amass a higher volume of food
Can manage a high-temperature range of 200 to 400°F
Integrated easy-to-pour spout
Splatter-proof walls
Cool-touch knobs and handles for easy holding
Suitable for stir fry, grill, sear, boil, and simmer
Cons
High temperature of the device requires handling with care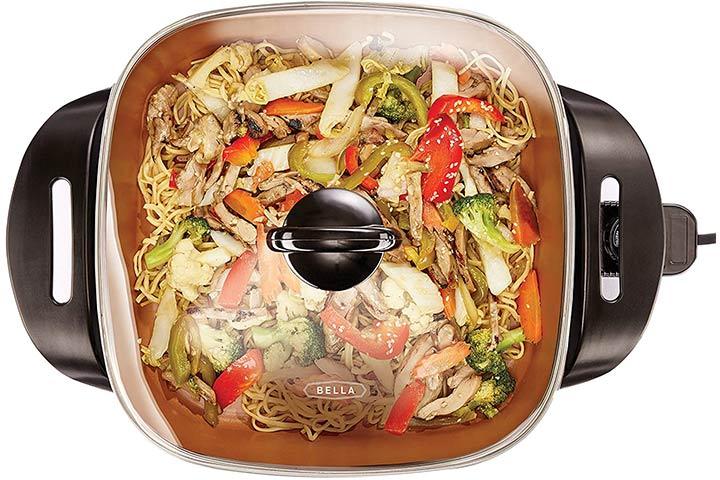 The square-shaped electric skillet from Bella has a unique ceramic non-stick coating to provide strength and scratch resistance. It works ona 1200w heating system to provide even heating across all four sides of the pan. The heat-resistant handles and tempered glass lid make turning on and off easy. It is multi-functional as it can roast, fry, sauté, or steam ingredients for a delicious meal.
Pros
Cooks 30% faster than the other skillets
Dishwasher-safe
Saves cooking time
Copper titanium coating for durability
Easy to wipe and clean
Can be used to prepare a wide range of items, including omelets, risottos, and paellas
Cons
May turn black after some months of use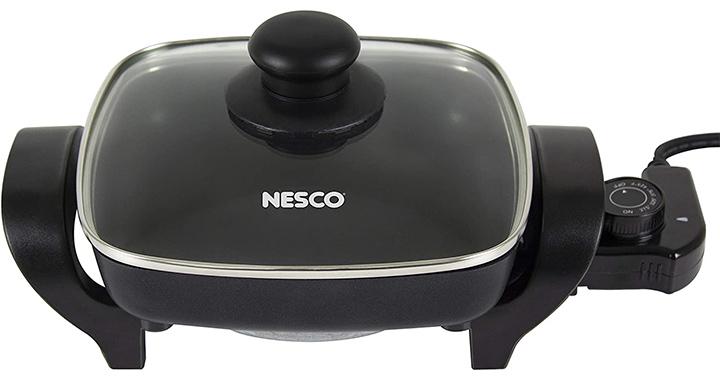 Are you looking for a mini skillet for your nuclear family? Nesco'seight-inch black skillet measures 3.5lb and can prepare an optimal quantity of food for a small family. It has adjustable temperature controls and a non-stick surface for easy operation. The top of the skillet is covered with a sturdy glass. The device is dishwasher-safe and works on800w power,suitable for various cooking modes such as roasting, frying, and steaming.
Pros
Made of aluminum for durability
Easy to clean with a soft paper towel
Stay-cool handles promote easy operation
Deep interiors
Heats up quickly and evenly
Smooth temperature knob
Cons
Maynot be sufficient for a big family
Temperature control may not match the actual heat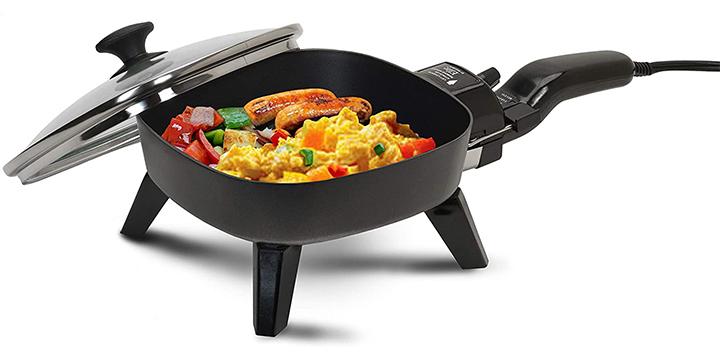 The compact,square-shaped skilled with 32ozcapacity is ideal for cooking small portions of food for breakfast or snacks for a small family. It has adjustable temperature control to increase or decrease the heat as per the need. The lid is made of tempered glass with a cool-touch knob. It has a locking handle for easy cleaning and for preventing burns when handling the skillet.
Pros
Portable,ideal for picnics or camps
Non-stick surface
Suitable to manage small servings
Removable locking handle
Does not occupy much space
Suitable for multiple purposes,such as searing, frying, steaming, and simmering
Cons
Coating may bubble after using for a few months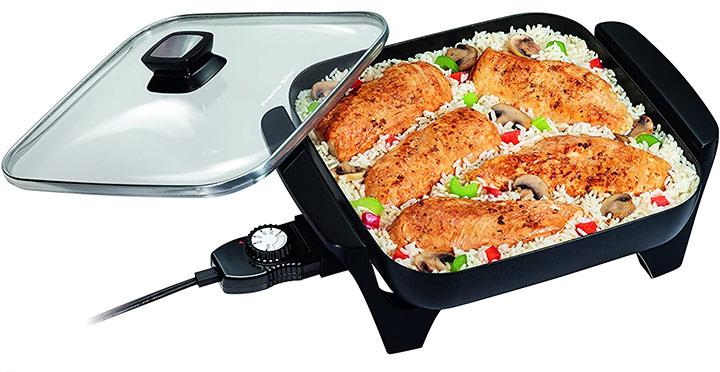 The large skillet with 144sqin area is suitable to stir, cook, steam, and fry food for lunch or dinner.It has adjustable heat knobs to change the temperature as required. The skillet weighs 4.9lb and has 2.5in depth, looks decent with a non-stick bottom, and has tough glass on the top. It is safe and reliable to use and has cool-to-touch handles for convenience. You can control the skillet's temperature from 200°to 400°F based on your requirements.
Pros
Even temperature at the bottom
Idealfor preparing bacon, pancakes, and grilled cheese sandwiches
Super stable to cook
Dishwasher-safe
Easy to use and maintain
Cons
Doesn't havetimer action on the temperature dial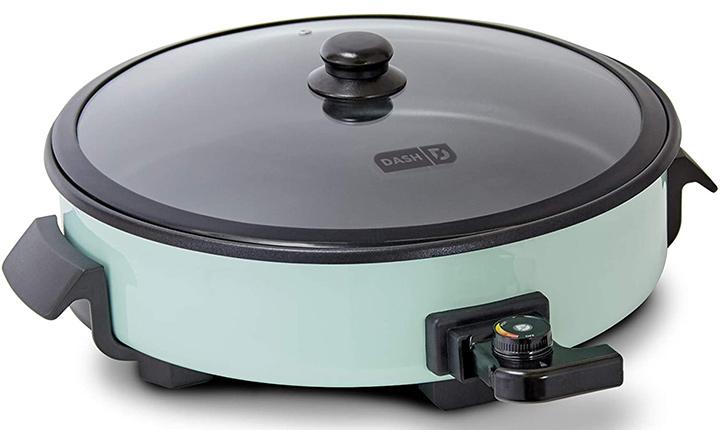 The Dash skillet is unique and round,ideal for cooking pizza, cookies, cakes, and more. It has a rapid heating system and a good space to make a large amount of food. The skillet's rapid heating system with a 14-inch non-stick surface can accommodate up to 20 cups for cooking and serving.
It can bean ideal option for six members in a gathering. You can cook your meals at a temperature up to 450°Fto save time and effort. It has cool-touch handles that are comfortable to hold. The skillet is available in different colors and comes with a recipe book.
Pros
25in deep
Cooks quicker than an average oven
Protective tempered glass lid
Works on powerful 1440w
Includes removable cords
Ideal for searing, sautéing, baking, boiling, braising, pan-frying, scrambling, and stir-frying
Keeps the food warm for a long time
Silicone seal to hold the moisture
Cons
Knob may not work smoothly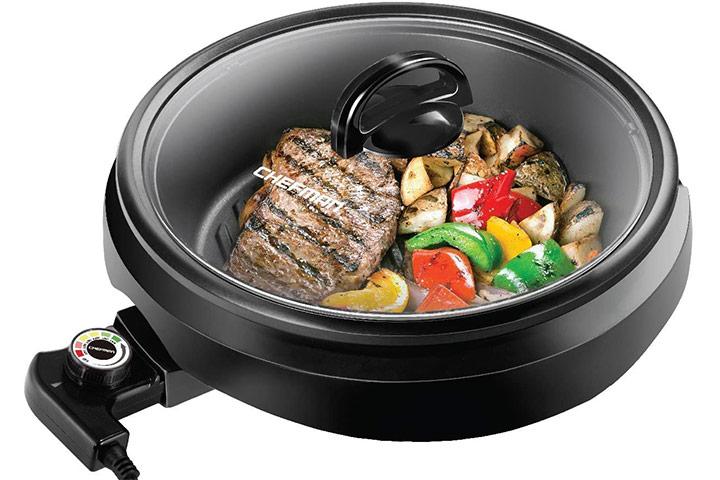 The 10-inchgrill with a three-quarter depth makes an excellent combination for three-in-one operations that includes slow cooking, steaming, and simmering. The skillet can be used for cooking and serving as it has an attractive design. It is made of aluminum for lightweight and sturdiness.You can adjust the temperature from 200 to 450°F based on your cooking requirements. With its easy-to-remove lid and raised grill surface,you can enjoy smooth cooking and cleaning experience.
Pros
Non-stick cooking base
Lightweight, suitable for grilling
Longcord included
Easy to assemble
Handy and convenient
Comes with a recipe booklet, helpful for beginners
Cons
Temperature regulator may not be precise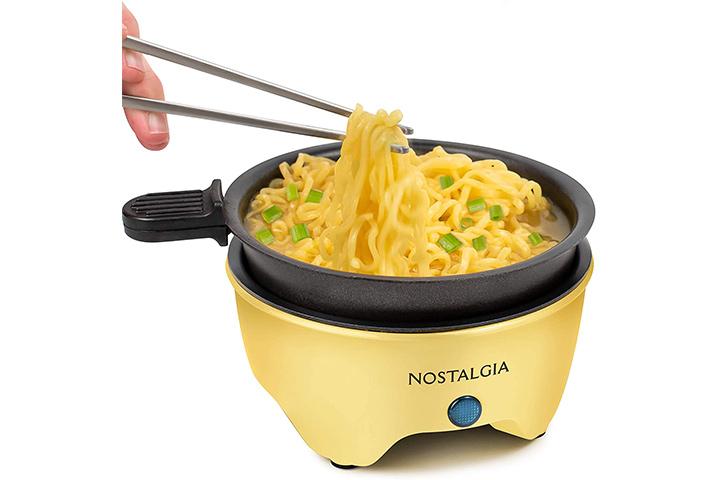 The small personal skillet is portable and light in weight,suiting the needs of different people. You can cook quick meal slike pasta, noodles, soups, omelets, pancakes, and hard-boiled eggs in this. A thoughtful choice for an independent student or employee, the mini skillet serves everyday needs. It has a five-inch wide non-stick cooking surface with easy plugin operations.
Pros
Indicator lights to identify on and off
Dual surface for cooking
Compact and easy to clean
Lightweight, travel-friendly design
Cool-touch handles to prevent burns
Cons
Suitable only for one person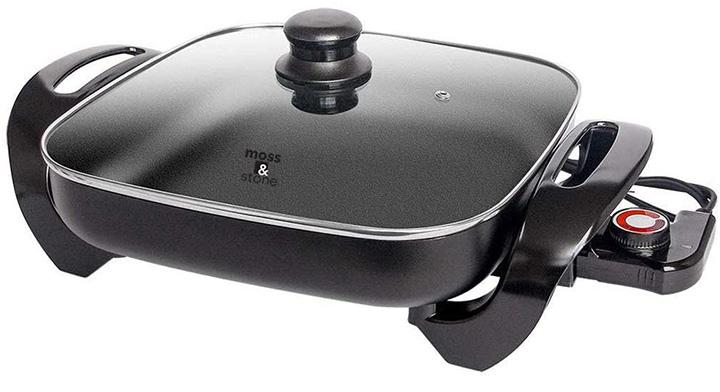 The non-stick electric skillet from Moss and Stone has two layers of scratch-resistant coating.Its 12-inch large surface can hold enough food for three to four people. The versatile kitchen skillet can be used for various functions, including boiling, frying, and steaming. It looks stylish and can be used for both cooking and serving. Withan easy-to-handle design, ergonomic handles, and convenient glass lid, the skillet is a practical vessel for cooking.
Pros
Works on 100w power
Lightweight and modern design
Precise temperature control
Easy to clean with soap water
Provides even heat distribution
Cons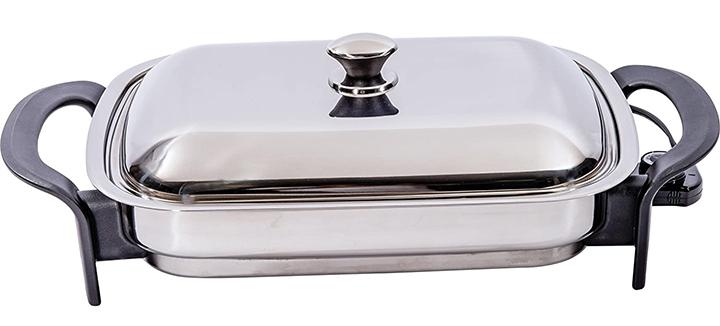 If you're a fan of stainless steel, this 16-inch rectangular skillet from Precise Heat suitsa family of four to six people. It has insulated handles with adjustable temperature control to cook multiple foods at one go. The durable electric skillet can be cleaned easily with a soft paper towel too.
Pros
Shiny and attractive design
Prevents corrosion
Servesas an excellent frying pan
Lightweight and long-lasting
Adjustable temperature knob included
Cons
Cord may not be durable
Doesn't have a glass lid or see-through cover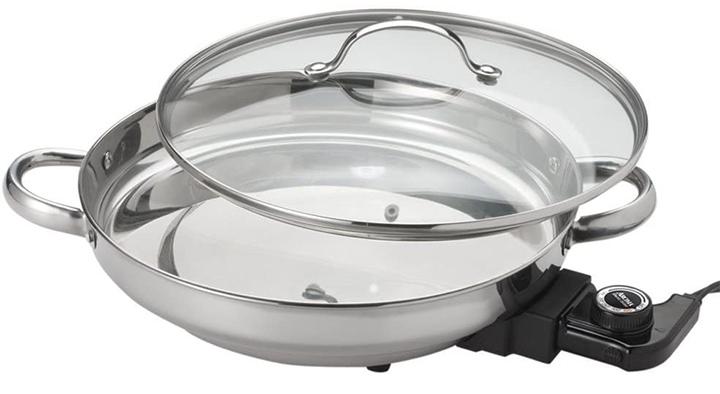 The electric skillet from Aroma Housewares is anattractive combination of steel and glass.It is 11.8in wide and two inches deep, making it ideal for stir fry, boil, steam, and simmer modes. It has temperature controls at the side of the panel to adjust the heat inside. You can change its temperature from 225° to 425°F, as per your requirements. The glass lid on the top allows you to monitor food while it is cooking.
Pros
Lightweight, elegant, and portable design
Functions on 1500w power
Quick and even heat distribution

Keeps the aroma intact

Ideal for cooking and serving
Suitable for four to six family members or friends
Cons
May have scrapping issues after some months of use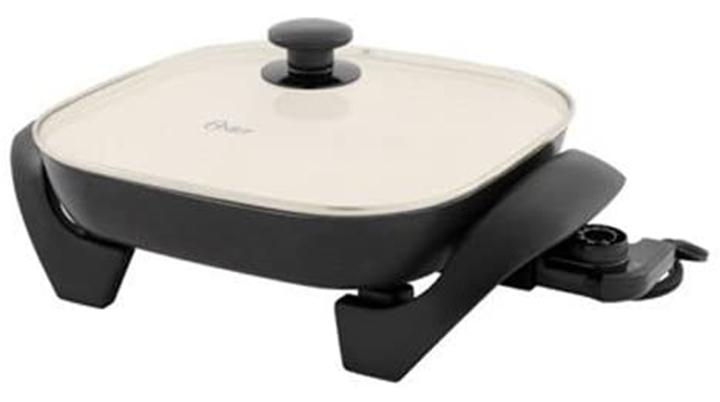 Oster's durable square skillet has two handles for a comfortable grip and a temperature control knob. It measures 12x12in and can be taken on and off for easy cooking and serving. The skillet has a tempered glass on top that lets you see how your meal is being prepared. Whether you want to prepare the main course or a snack, this skillet is suitable for households with three or four people.
Pros
Cool-touch handles
Thick non-stick coating
Pan heats up fast
Cooks food 20% faster
PTFE and PFOA-free
Cons
Not dishwasher-safe
Deep frying may be difficult to manage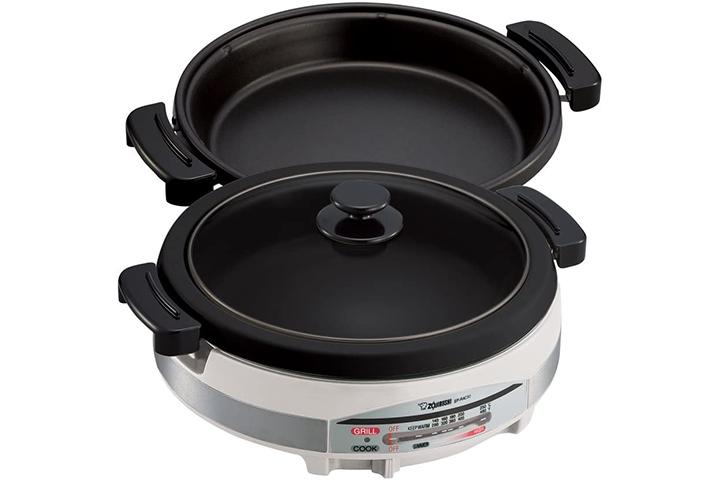 The high-power Zojirushi skillet allows fastcooking, thereby saving loads of time. It works on 1350w and is suitable for anyone who likes to keep things paced-up.The coating of the base has a titanium top and is ideal for both grilling and boiling.Theelectric skillet is known for its stay-cool handles and multi-functionality.
Pros
Deep dish to accommodate soups and lentils
Temperature can be set from 176°F
Ideal for cooking and serving
Recipe book included
Cons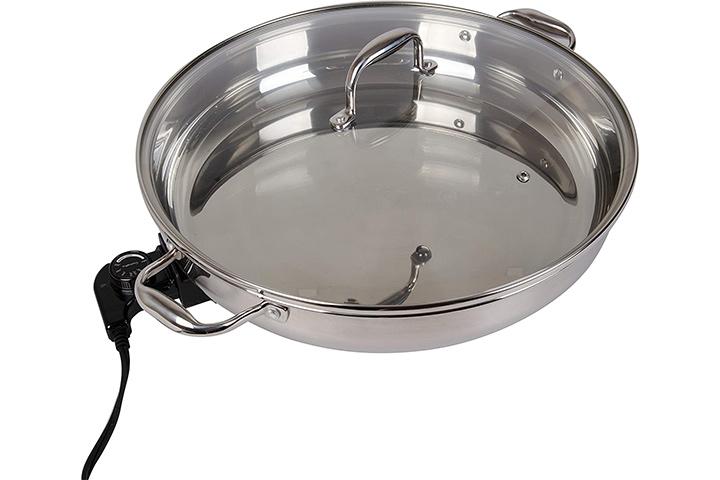 Made of rust-free stainless steel, the round skillet measures 16in in diameter. It has steel handles on the side and transparent glass on the top. The adjustable temperature lets you cook the food as needed – crispy on a high flame and mildly soft on a simmer mode.
Pros
Securely attached handles
Suitable for a family of four
Stainless steel gives the product a shiny look
Provides a healthy surface to cook
Cons
Maynot be ideal for deep fries
Cannot fit in medium-sized shelves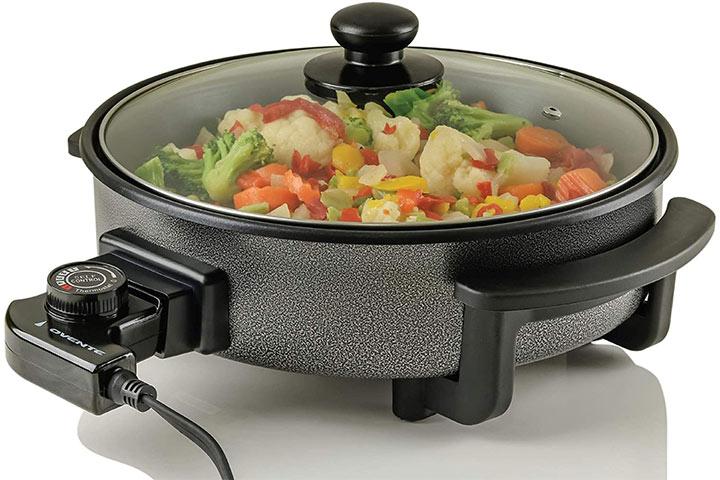 Polish black and round, this easy-to-clean skillet has a rough finish on the outer cover to support heat transfer. It has a long cordand a high-quality aluminum body safe to make various foods such as toast, hamburgers, eggs, bacon, pizzas, and steaks. The regulator for temperature control is smooth to operate. The skillet base does not release any harmful chemicals, so the food is safe to eat.
Pros
Powerful 1400w
Conducts heat
Easy to prepare stir-fry breakfasts
Keeps the aroma of the food intact
Has a secure grip
Faster and better cooking
Temperature can be adjusted from 212° medium-low to 464° high
Cons
Doesn't have a spout for easy pouring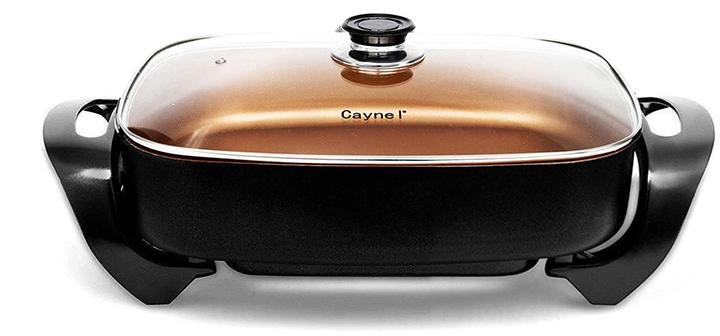 The Caynel's skillet is a deep rectangular dish with tempered glass,measuring12x16x3in, enough for an expansive cooking style. Its non-stick surface releases the food easily and works on 400w. The skillet has a modern look that enables both cooking and serving so that you can take advantage of both.
Pros
Cool-touch handles
Temperature can reach as high as 460°F
Does not require excess oil or butter
Locks the flavors of the meal
Provides even temperature
Cons
Does not work on 220v
Requires hand washing
Things To Consider When Buying An Electric Skillet
Here are a few features to look at when selecting an electric skillet.
Power: The power of the skillet decides the amount of heat it can produce. Therefore, better power implies better heat. Choose a skillet above 1000°F if you need quicker results in cooking.
Size: You can find skillets as small as 8into as large as 16 to 18in. Depending on how large your family is or how frequent your guests come in, you should choose an appropriate size.
Non-stick surface: Having a non-stick base surface is essential. It enables the easy mixing of the food and doesn't leave any marks on it. Also, it makes cleaning easy.
Precise temperature control: Temperature control is an important function of an electric skillet. The even distribution of heat enabled by specific temperature controls promotes evenly cooking food.
Skillets are energy-efficient kitchen equipment. These are versatile and cancook anything, from basic soup to something special as chicken fry. If you consider upgrading your kitchen appliances set, starting with a skillet canbe the right thing. With just a few minutes in the kitchen, you can prepare food that is appealing and satiating.
Recommended Articles: