Natural calamities are unpredictable. You may be camping in the wilderness when a flash flood hits, and you're stuck there until you get help. Or you and your family could be stranded at home after a hurricane or snowstorm strikes, leaving you with no electricity for days. That's why it's crucial to have an emergency blanket with you at all times. Also referred to as a thermal blanket, it is designed to keep your body warm and minimize heat loss. Plus, it can help you survive harsh weather conditions such as wind, storm, or rain.
These blankets are incredibly lightweight yet tough and reusable. From space or mylar blankets to traditional wool blankets, here is a list of the 13 best emergency blankets in the market. Keep one or two of these blankets in your survival kit as they are sure to come handy when things go downhill.
13 Best Emergency Blankets
If you are someone who loves going on adventures such as camping, hiking, and the likes, it's wise to carry an emergency blanket with you. Although thick and durable, this Foil Mylar Rescue Blanket measures 52×84 inches, is super light, and easy to carry. Featuring a Mylar insert, this blanket provides insulation by retaining 90% of the body heat. At the same time, it can also deflect heat from the sun and keep your body temperature stable. It also makes for an excellent sleeping bag, rain poncho, or ground cover. This pack contains 10 Mylar blankets, so there is enough to last you a long time.
Pros
Compact
Waterproof protection
Light reflective silver-coated material
Has a myriad number of uses
Can withstand harshest of weather conditions
Cons
May be difficult to fold back for reuse
Whether you're cozying up by the fireplace at your home or going on ski trips, this blanket is sure to provide warmth and comfort when you need it, even when it is wet. Made of 80% wool and 20% synthetic fibers, this blanket is loom-woven, hemmed on all sides, and will keep you cozy on those extra-windy or cold nights. This military gray blanket measures 64×88 inches, which means it is large enough to cover two people at once, yet is not bulky or a hassle to carry in your backpack.
Pros
Machine-washable
Soft and durable
Hygienic and hypoallergenic
Ideal for indoor and outdoor use
Available in two other colors – olive green and navy blue.
Triple-washed during production to reduce shedding
Cons
May have a strong chemical smell
One of the best survival blankets, this one by Go Time Gear, won't let you down in any emergency situation. Aside from keeping your warm, this sleeping bag is sure to provide excellent protection in extreme weather conditions, thanks to its 26 µm thick polyethylene material that is puncture and tear-resistant. It is compact and lightweight, which means it can be folded up for convenient storage and easy portability. Also used as an emergency bivy sack and a blanket, it comes with a Para-Synch Technology drawstring and a 120 dB whistle. While the drawstring can be used to secure the gear or build a fire, the whistle is loud enough to cut through wind and tress. Plus, this bag is orange colored, which is bright enough to alert rescuers from far away.
Pros
Durable and reusable
Waterproof and windproof
Also available in green color
Features seamed edges for added protection
Includes a nylon sack to store the bag/blanket
It has a reflective interior that helps retain 90% of your body heat
Cons
S.O.L. Survive Outdoors Longer Emergency Blanket is all you need to survive a stormy night when you're stranded in your car. Designed to reflect 90% of the body heat, this blanket will keep you warm even on the coldest nights. Alternatively, you could use this blanket to protect you from the scorching heat by using the silver side outward to reflect the sun's heat away. This blanket is made of vacuum-metalized polyethylene heat sheets, which makes it lightweight and durable.
Pros
Tear-resistant
Waterproof and windproof blanket
Weighs 2.5 ounces and measures 56×84 inches, making it portable
It can also be used as a ground tarp, first aid blanket, and gear cover.
Cons
The silver coating may fade.
A survival blanket such as this one is a must-have for anyone who likes going on long road trips, hiking, or boating. This all-weather blanket features a nylon layer on one side and a reflective aluminum layer on the other, which can keep you warm and deflect heat. It comes with four reinforced grommets that enable you to stake this blanket on the ground or tie it up to use it as an overhead shelter. The best part about this emergency blanket is that since it reflects heat, it can also drastically minimize your infrared heat signature.
Pros
Waterproof
Durable and lightweight
Includes a carry bag
Available in six colors
Resistant to normal wear and tear
Cons
The stitching on the edges may not be strong enough.
This emergency blanket is made from durable mylar, which is known for its excellent insulating properties. Rest assured, it reflects the heat of your body inward and keeps you warm when you're exposed to cold weather. Plus, it is waterproof and silver-coated on both sides. This pack includes 12 blankets, which means there is plenty for you and your family members. It's always essential to carry one or more emergency survival blankets in your car or your backpack while traveling, as you never know when you will need it.
Pros
Weather-proof
Lightweight and compact
Can deflect heat
Use as a first aid blanket to prevent hypothermia
Cons
As both sides are silver, it might be difficult to tell which is the shinier side (reflects heat when turned inwards).
When it comes to keeping you warm and dry no matter the weather, this Escape Bivvy does its job efficiently. It helps prevent heat loss by reflecting 70% of the body heat to you while it's breathable property allows moisture to escape and prevents condensation from forming. Designed for outdoor use, this bivvy measures 84×31 inches and is made of sturdy and durable fabric. It is waterproof and features a drawstring hood and zipper that locks rain, wind, and snow out.
Pros
Ultra-lightweight
Reusable
Puncture and tear-resistant
Has a mummy bag-like shape for comfortability
It can be used as a slipcover in your sleeping bag for added warmth.
Cons
Might not be suitable for tall people
When you decide to create your ultimate survival gear checklist, along with water, food, lighting, and first aid kit, you must include an emergency blanket in the list, too. This blanket by TITAN Survival provides warmth and protection in adverse weather conditions. When wrapped around, it reflects and retains up to 90% of an individual's body heat and prevents post-accident shock and hypothermia. One side of the blanket features a Woodland Shrowd camouflage pattern that works well in the woods, and the other side features reflective silver mylar. This pack includes five blankets that are individually folded, packed, and sealed.
Pros
Windproof and waterproof
Durable and reusable
Compact, lightweight, and easy to carry
Can be used as ground cover, tarp, distress beacons, or rain poncho
Cons
As the name suggests, this emergency blanket will help you survive the wildest of expeditions and harshest of weather conditions. Hailed as one of the world's toughest emergency blankets, it is ultra-durable and incredibly light in weight, making it a perfect companion for mountain climbers, marathon runners, and campers and hikers visiting a wildlife area. This blanket is extra large to provide full-body protection and helps retain up to 90% of body heat. You get four army green blankets in this pack, which come packed in individual nylon stuff sacks. Made of high-quality material, they are ideal for year-round use and are reusable.
Pros
Waterproof
Dual-sided mylar
Light reflective blanket
Measures 5×7 ft when unfolded
Provides all weather protection
Can be included in your bug out bag and car first aid kit
Cons
Might be difficult to fold it back to fit in the sack
In the event of a blizzard, when you're stranded in your car or stuck at home without power, the main concern is to keep yourself warm. This emergency thermal blanket is made from aluminized mylar that has insulation properties. It features silver coating on both sides, with the shiner side being able to reflect and retain 90% of your body heat. Besides, this blanket can also stabilize your body temperature during extreme heat conditions. This pack includes 10 thermal blankets, each of them measuring 52×82 inches.
Pros
Tear-resistant
Waterproof and windproof
Doubles as a shelter or ground cover
Prevents hypothermia and shock
Lightweight and easy to carry
Each blanket comes packed in an individual zip-lock bag
Cons
It might be confusing to figure out the shinier side of the blanket.
Be ready at all times to face life's unexpected events with Dukal Heat-Reflective Survival Wrap. This is one of the best emergency survival blankets as it provides head and full-body protection and efficiently traps body heat to keep you warm on those extremely chilly days. Likewise, when the blanket is wrapped with the shinier side facing the sun, it minimizes sunburns and prevents overheating.
Pros
Made of 100% plastic
Reflects more than 90% body heat
It can be used as an emergency reflector or rescue beacon.
Cons
Every survival or first aid kit should include an emergency blanket. At least you will be at peace knowing that you have something to keep you safe in case you need it. This dual-sided gold and silver ultra-reflective emergency blanket is made of insulating mylar fabric (derived from NASA technology) that reflects heat to your body. Also known as a space blanket, it offers all-weather protection from snow, rain, and sun, while its waterproof feature blocks out moisture completely. It comes in a pack of four.
Pros
Lightweight, durable, and non-toxic
Versatile and reusable
Retains up to 90% body heat
Deflects heat when used as a protection from the sun
The compact design makes it easy to carry in a backpack or pocket
Cons
Might need to be kept away from sharp objects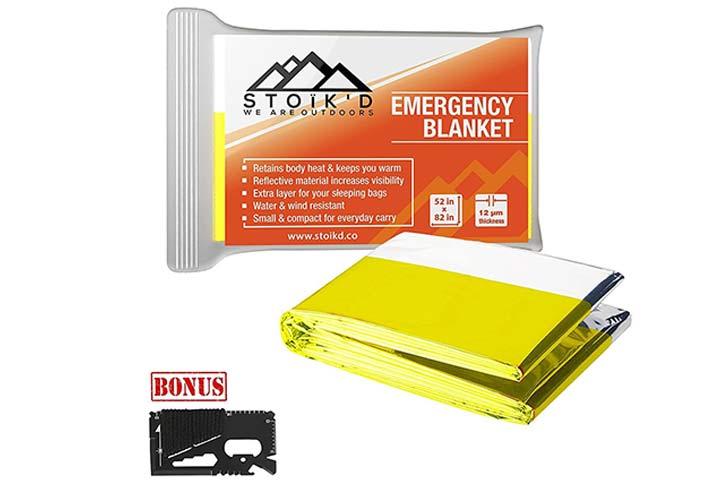 Have you ever wondered what you would do when you are out hiking or camping and get stranded in bad weather for days? Not to worry! With STOÏK'D Emergency Blanket, you will be prepared to survive such unforeseen situations. This pack consists of eight blankets, all of which are made of mylar and feature two sides – gold on one side and silver on the other. While the aluminized silver side helps retain 90% of the body heat, the reflective gold side, when faced outward, deflects heat to prevent overheating and works as a signal for help. These blankets are as small as the size of your palm when folded down, which makes them convenient to carry even in your pocket.
Pros
Lightweight
Water and wind-resistant
Includes an emergency blanket handbook
Comes with a 14-in-1 pocket survival credit card multi-tool
It can be used as an extra layer in your sleeping bag for additional warmth.
Cons
In the next section, we have listed down a few points to help you pick the right emergency blanket.
Benefits Of An Emergency Blanket
Prevents heat loss in your body and keeps you warm.
Keeps you dry.
It provides protection against any weather, be it windy, rainy, cold, or hot.
Mylar blankets can be used as a signaling device to alert rescuers nearby, thanks to its highly reflective feature.
Mylar is a non-porous material. So a large blanket can be used to collect rainwater, which can be used for drinking.
It can be used as a ground cover or temporary shelter.
It is waterproof and can be used to protect your food supplies and gear from rain.
How To Choose The Right Emergency Blanket
Material: Most of the emergency blankets that you find in the market day are made of mylar. These blankets are thin, lightweight, and compact when folded down, making them easy to carry around in your backpack without weighing it down. Mylar blankets are designed to keep your warm and dry in inclement weather conditions. But if you are looking for blankets that offer comfort as well, then you could opt for wool blankets.
Length: Be it mylar or wool blankets, most of them are measured approximately 54×84 inches, which is large enough to cover a person who is 6 ft tall. You will also find sheets that are extra-large for additional protection. So choose a size depending on your needs.
Weight: A single mylar blanket weighs about 2 to 2.5 oz, which means it is exceptionally light in weight. However, a standard military blanket made of 80% wool could weigh more than 5 oz, making it heavier than the mylar ones. So, if you are going camping or hiking, it's best to carry a lightweight blanket. That said, it also comes down to your preference and convenience.
Weather-proof: Emergency blankets are designed to keep you safe and alive in extreme weather conditions. So, a good survival blanket should be waterproof and windproof to block out rain, snow, and wind. This will keep you dry and prevent hypothermia.
Durability: When it comes to survival blankets, durability is one of the main factors you should consider. Although thin and lightweight, they should be durable enough to withstand heavy rains and harsh winds. Make sure the blanket you choose is made of high-quality material and is resistant to puncture and tear. Plus, if it is reusable, it will last for a long time.
By now, you would have realized the importance of an emergency blanket. It is crucial to have one or more with you in your first aid kit, bug out bag, car trunk, home, and whenever you go for a camping trip or a hiking trip. We hope you never have to be in an emergency, but it's good to have a thermal blanket with you at all times as it can come handy in times of need. Here is our roundup of 13 of the best emergency blankets.
Recommended Articles: