The best exercise mat can make your yoga, pilates, and HIIT sessions at home more effective. Workout mats are essential as they cushion your joints, help prevent falls and slips, and protect your floor from impact. These mats are ideal for your high-intensity workouts and firm enough to hold your advanced yoga poses. Plus, these mats are portable and compact so that you can hit your workout session in a small space or while on the go.
Whether you are looking for a mat that provides support during your intense HIIT movements or a mat or gets you through your pilates class, we have the top picks for you. These are suitable for different levels and types of fitness enthusiasts.
Top Products From Our List
11 Best Exercise Mats For All Your Floor Exercises
With double-sided non-slip surfaces, this lightweight and superior-quality foam exercise mat is sure to stick to the floor till you are done with your workout. Made with anti-tear and eco-friendly materials, and measuring up to 68" long and 24" wide, it acts as a great cushion for your spine, hip, knee, and elbow. As an added advantage, it features an anti-slip resistance so that you don't lose your balance while holding postures. The moisture-resistant technology of the mat makes it very easy to wash.
Specifications 
Thickness: 1/4-inch
Material: High-density foam
Portability: Comes with a carrying strap for easy transport and storage.
Are you someone who does some heavy pilates and yoga workouts? This extra large exercise mat from Covacure is sure to satisfy all your workout requirements because this mat is the result of a lot of research on customer feedback. The product has a multi-layer structure for durability and double-sided textured surface to avoid slipping on hard floors. The high-density TPE material gives you 50% more cushioning than any other in the market. This is an easy recommendation as it is soft, lightweight, waterproof, eco-friendly, and toxin-free.
 Specifications 
Thickness: 8mm
Material: SGS-certified PVC-free TPE material
Portability: Includes a carrying Velcro strap
Although this mat is specially built to support all types of yoga, it is proven time and again that it is a great option for pilates and floor exercises as well. The extra-thick, foam-built mat provides added cushioning to support your joints for a pain-free workout. The dual-sided, textured ridges reduce slipping and provide stability. This mat is also free from any kind of toxicity. It comes with an easy-cinch strap which you can just wrap around the mat and carry it anywhere with you. The hook-loop fastener on the strap is extra sticky so that your mat does not unfold while you are traveling with it. 
Specifications 
Thickness: 2/5-inch
Material: NBR Foam and is also 6P-free
Portability: A nylon carry strap is provided
Working out at home without an exercise floor mat could pan out to be a bad idea. With the help of Gorilla Mats, you can turn your home into a gym without needing any expensive equipment. These mats are big enough and have a shock-absorbing padding for all your high-intensity cardio, strength training, and dance routines. The unique circular pattern at the bottom prevents slipping and hurting yourself. They are constructed from premium materials that are eco-friendly and non-toxic to provide toughness and stability. They come with a 100% Microfiber Towel to wipe the moisture away and a carry bag to facilitate storage and transportation of the mat. 
Specifications 
Thickness: 6mm
Material: High-density, non-toxic, and 16P-free foam
Portability: Includes two velcro straps
This one is highly recommended by most yoga lovers due to its durability, high elasticity, and anti-slip functions. On both sides of the mat, they have a special sticky non-slip texture which is more durable and more resistant to tearing and deformation. They are made from premium materials and have a double layer structure that is soft and provides an excellent grip and comfort. They have two size variations — TPE Yoga Mat and Rubber Pro Yoga Mat, for your convenience. They include a carry bag with a strap for easy traveling. If you are wondering how difficult it might be to clean, we assure you it is really easy — spot clean it with cold water and a bit of detergent along with it. It is suggested that you don't expose it to the sun for a long time. 
Specifications 
Thickness: 6mm
Material: Eco-friendly TPE foam
Portability: Includes a carry bag with an elastic band
What is on your schedule? Be it sit-ups, yoga, pilates, stretching, meditation, or anything else, a mat from Gxmmat is surely an ideal match for all your fitness activities. On this high-density micro-foam mat, you can work out with or without shoes and receive the same level of comfort and experience. The mat's thickness provides you protection from any hard impacts during your extreme training sessions. They are very spacious with double-sided non-skid surfaces with grooved and matric-circle grips for superior traction. These heavy-duty mats are also latex-free, phthalate-free, silicone-free, and toxin-free.
Specifications 
Thickness: 7mm
Material: High-density micro-foam
Portability: Includes a carry bag with 3 velcro straps
You don't necessarily need a gym to stay fit, you can do it right from the comfort of your living room or patio. Whether it is for your kid's gymnastics practice or your core workout, this outdoor exercise mat makes every fitness activity safe. The vinyl surface prevents the mat from tearing or stretching, and the foam interior keeps the mat durable for years to come. If you don't like to roll out your mat every time you want to work out, then this tri-fold exercise mat will make things easy for you. It comes with two handles for easy storage. They have 4 other  color variations — Black, Blue, Pink, and Purple. 
Specifications 
Thickness: 1½ inches
Material: Dense EPE foam
Portability: Tri-fold design with handles for easy transportation
It is neither easy nor is suggested to workout on hard or uncomfortable surfaces, so why take all the trouble? Transform almost any hard surface with Retrospec's premier extra-thick yoga mat. It assists you with great support and comfort while you stretch your body for those elongated poses. The non-slip surface helps you retain your posture and balance. The mat also helps in easing all the stress points during the activity with its BPA-free material. Feel the reduced or non-existing soreness in your joints, neck, back, and knees once you start using the Solana Yoga Mat. 
 Specifications 
Thickness: 1-inch
Material: Small cell foam rubber
Portability: Includes a carrying strap
If you are searching for a premium-quality mat and to have the freedom to perform any fitness activity, then this 6-ft length mat is the one for you. This foldable exercise mat provides excellent cushioning during activities like yoga, stretching, pilates, and martial arts. It is a great option for all skill levels; from beginners to advanced, exercising at home is now so much fun! And the surface is extremely easy to clean off the sweat and debris. The mat is lightweight and very transport-friendly so that you can work at the studio, living room, or out on the balcony. This can also be used as a spare bed or as a floor mat. 
Specifications 
Thickness: 2-inches
Material: Foam for padding and nylon canvas for the covers
Portability: Tri-fold design with two nylon handles
Having sore joints from workouts is bad enough already, tearing the exercise mats during the session just takes it up a notch. This superior-quality extra thick exercise mat from TENOL has excellent tear resistance. This is a combination of aesthetics and technology with the help of 3D molding technology "Andud+". The 10,000 dots on the bottom ensures a powerful grip. The extra-thick TPE material not only supports your yoga needs but also other exercises as well. It has twice the density of other mats which in turn provides extended durability. The 3D floating-point design strengthens the anti-slip feature.
Specifications 
Thickness: 10mm
Material: TPE foam
Portability: Tri-fold design with two nylon handles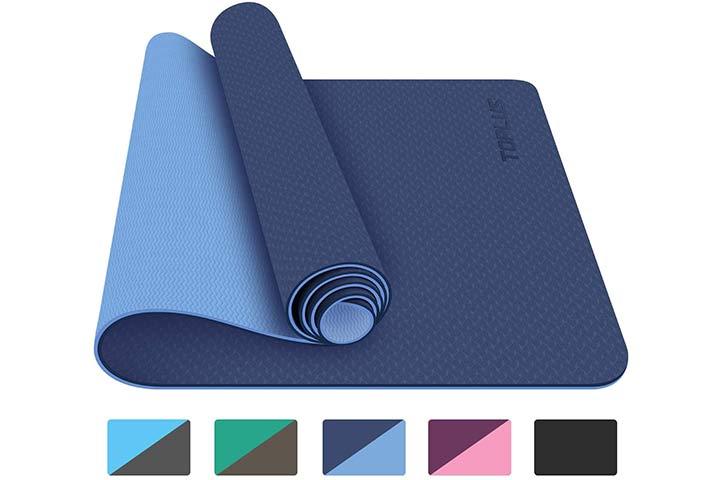 The Yoga mat from Toplus ensures that your knees, hip, and joints have a reduced distressing pressure with sufficient cushioning. The dual-layer supports longevity and the non-slip textures on both sides prevent you from losing balance. This upgraded version of their basic version is made with TPE-friendly materials. The non-slip texture on both sides of the mat offers superb grip and is ideal for being used on the wood floor, tile floor, and cement floor. It weighs about 35-ounce and includes a carrying strap which makes it convenient to carry to the gym.
Specifications 
Thickness: 6mm
Material: TPE-friendly material
Portability: Rollable with a carrying strap
So, that was our list of the top 11 best exercise mats on the web. Although, color and how good the mat looks do matter, they are just contributing factors. Let us point out a few other important features that you need to keep in mind before buying them.
Buying Guide To Choosing The Best Exercise Mat
Although exercise mats are very simple fitness equipment, they are very fundamental too. And, since your body needs the right support during workouts, choosing the right mat matters. So, here are few points to look for in the mats.
Thickness: Comfort is extremely important while you are working out. If you are someone who does high-intensity workouts, then you should be looking at a padded exercise mat that offers adequate thickness to avoid stress on your joints or hips. Without the right amount of thickness, you will feel the floor beneath you while jumping or stretching which could prove to be very uncomfortable and may lead to sore muscles. For instance, if you need mats only for yoga and light exercises, you should be fine with mats with 6mm thickness. For something more intense, tri-foldable mats from Sunny Health & Fitness would be a great option for you.
Size: Mats are available in various sizes and depending on your activity you can choose the right size for you. People who use a single mat for all their training, usually prefer extra-large mats since they provide ample space for activities like yoga, pilates, aerobics, HIIT, and more. If you are someone who is looking to do the same, look for a multi-functional mat that is extra-large in size. Or if you just need it for yoga, you can probably go for a regular size mat. 
Material: The material determines the stickiness, sturdiness, and eco-friendliness of the mat. It is advised to use eco-friendly mats which are PVC-free and non-toxic. A lot of these mats are made either from vinyl or rubber. Vinyl is a great material that lasts for a long time and rubber is ideal for comfort.
Anti-skid Bottom: Mats with an anti-skid bottom are highly recommended since it prevents the mat from slipping on the ground. To ensure your body balance and stability, a mat with an anti-skid feature is a must. 
Portability: Let's be honest, those mats in the gym always stink of sweat and they are worn-out. So, it is ideal to carry your own mat to the gym. So in such situations, mats that can easily be rolled or folded into smaller forms are life-saving. If you are someone who travels to the gym on a bicycle, then rolling mats are a great choice since they are lightweight and take less space. If you are traveling by car, then you should look at a folding exercise mat that provides extra thickness.
Tips To Effectively Use An Exercise Mat
If you are practicing Yoga or something simple you should take your shoes off. The texture on the mat surface provides you enough grip to maintain balance.
Always use the carrying bag or strap to travel with the mats.
You should always keep your mats clean so that they do not emit any bad odors.
Do not expose the mat to direct sunlight for a long time.
Frequently Asked Questions
How can I benefit from an exercise mat?
Using an exercise mat reduces the stress on your joints and other parts during your training session. They also are great impact-absorbers that protect you from any kind of injury without requiring a knee pad.
How often should I clean my mat?
Use a damp cloth for spot cleaning with a little bit of detergent and dry it out. Do not expose the mat to direct sunlight for a long time.
How thick should an exercise mat be?
The thickness of the mat usually depends on your training intensity. For yoga and pilates, you can use 6mm mats and anything beyond that is ideal for high-intensity workouts.
What's the difference between a yoga mat and an exercise mat?
Yoga mats are much thinner than the exercise mats. Exercise mats can absorb a lot of impacts while yoga mats could be prone to tearing for the same level of workout intensity. It is advisable not to use shoes while using yoga mats as opposed to exercise mats.
Is it necessary to do exercise on a mat?
Having an exercise mat is very beneficial for your regular floor-based workouts. They provide you with paddings that support your body and prevent you from having sore muscles.
Can you exercise on a yoga mat?
Yes, you can. A lot of the products on our list are multi-functional to meet your workout prerequisite.
Do you bring your own yoga mat to the gym?
It is a great idea to take your own mats to the gym since the ones at the studio are used by multiple people.
Is it bad to workout on carpet?
Carpets are okay to be used for yoga and pilates, but for your cardio-related training, an exercise mat is mandatory.
What is the better choice — thicker or thinner mats?
Thinner mats provide stability which is great for yoga, but thicker mats provide extra cushioning meant for the harsher workout regimes.
Are the exercise mats hard to clean?
No, the mats are very easy to clean. With a damp cloth and a little detergent, you can keep your mats fresh.
Are the yoga mats latex-free?
Some of the mats on our list are made from materials that are latex-free. Please read the product specifications before finalizing your purchase.
Are the mats good for a hardwood floor or will it slip?
These are some of the best exercise mats for hardwood floors. Most mats have an anti-skid feature that prevents the mats from sliding.
Now that you have seen our top recommendations, which one are you thinking of buying? You need to put your money in a mat that gives you durability and comfort. The above buying guide should help you pick the best ones from our list. Go ahead, pick the one you like and start your journey for a healthier living right from your living room.
Recommended Articles: 
The following two tabs change content below.