You might exfoliate your face as part of your skincare routine. But what if we told you that it is equally important to exfoliate other parts of your body? Our skin sheds dead skin cells regularly. And to remove them, you will need the best exfoliating gloves.
These gloves help scrub the dead skin cells and make your skin look good. Scrubbing your body using an exfoliating glove can help penetrate deep into your skin and help you regain the lost smoothness and glow of your skin.
A failure to exfoliate your skin regularly can result in patches and clogged pores due to the accumulation of dead skin cells. Thus, these gloves can help you shower the same type of love and care you show to your face. Keep scrolling as we list some of the best gloves that are specially crafted to help you exfoliate different parts of your body.
15 Best Exfoliating Gloves Of 2021
Say goodbye to dull skin and say hello to healthy skin with these exfoliating bath gloves. Made of 100% nylon fiber, these gloves are perfect for heavy exfoliation. They effectively flake off dead skin and impurities without having to use too much pressure. Regular usage helps improve blood circulation, combat rashes, and acne, and provide soft and healthy skin. These gloves are incredibly stretchable and fit most hand sizes, while the 5-finger feature ensures to exfoliate even the small parts of your body. This video will help you make an informed decision about your purchase.
Pros
One size fits most
Reversible design
Machine-washable
Suitable for all skin types
Built-in loop for hanging
Available in other variations
Cons
We can't stop raving about the soft, flexible bristles of the scrubbers and the variety of bright colors they come in. Unlike traditional wash clothes that only lather up, these gloves are gentle yet effective at getting rid of dead skin, dirt, and excess oil without injury or irritation. These silicone gloves are recommended for full body, face, and short hair wash. They feature a 3-finger grip design for your fingers and a belt under the grippers that bind the back of your hand to prevent slippage.
Pros
Easy to clean
Dries fast
Acid-resistant
Food grade and BPA-free material
Hygienic and skin-friendly
Features a hang hole design for easy storage
Suitable for all skin types, including sensitive skin
Cons
The tiny nubs might trap dirt and soap residue.
One of the best exfoliating gloves for ingrown hairs, these gloves have a textured surface that works excellently to remove bumpy skin, body acne and ingrown hairs to reveal smooth and supple skin. Besides enhancing your skin texture, they also improve your health as it accelerates blood circulation and eliminates toxins from your body. Made of super stretchy nylon fabric, they can easily fit most hand sizes while the elastic feature at the wrist ensures a snug fit.
Pros
4 pairs of gloves
Machine-washable
Comes in a reusable zip lock bag
Prepares skin for self-tanner
Hanging loop for easy drying and storage
Cons
The seam stitching may not be strong enough.
Why settle for 1 when you can have more number of exfoliating shower gloves at an affordable price. This pack consists of 8 pairs of gloves in different colors to meet your family's daily needs. These gloves provide gentle exfoliation, making them ideal for sensitive skin, delicate areas of your body, and everyday use. Scrub your body regularly using these gloves to soften rough skin, unclog pores, and prevent acne.
Pros
Made of durable nylon
Promotes healthy skin
Extremely flexible
Fits most hand sizes
Elasticized wrist offers an excellent fit
Cons
May be too small for large hands
Why settle for 1 when you can have more number of exfoliating shower gloves at an affordable price. This pack consists of 8 pairs of gloves in different colors to meet your family's daily needs. These gloves provide gentle exfoliation, making them ideal for sensitive skin, delicate areas of your body, and everyday use. Scrub your body regularly using these gloves to soften rough skin, unclog pores, and prevent acne.
Pros
Made of durable nylon
Promotes healthy skin
Extremely flexible
Fits most hand sizes
Elasticized wrist offers an excellent fit
Cons
May be too small for large hands
Do you want to achieve a perfect sunless tan using a self-tanner or at-home self-tanning machine? Then slip-on these gloves during your shower and get ready to exfoliate. It's important to exfoliate your body before the tanning process to achieve a perfect sun-kissed glow. Rubbing these thick nylon gloves in a circular motion helps eliminate dry, flaky skin and minimize tiny bumps, giving you a silky-smooth surface for the weekend tanning! These gloves have a medium roughness to ensure they exfoliate without scratching or irritating your skin. This pack contains 4 pairs of gloves that are sure to last you a long time.
Pros
Machine-washable
Unclogs pores
Reduces cellulite appearance
Suitable for all skin types including oily skin
Stretchable fabric accommodates all hand sizes
Rows of elastic around the wrist for a comfortable fit
Cons
May wear out after a few uses
Want your skin to feel soft and smooth every time you give yourself an exfoliating treatment? Consider using these rough-textured bath gloves to help remove dead skin cells but are gentle enough for sensitive skin. All you have to do is put these gloves on, moisten with water, apply your favorite cleanser, and begin to scrub by applying gentle pressure. When you're done, you have to wash the gloves with water and lay them flat to dry.
Pros
Includes 4 pairs of gloves
Stretchy material
Activates blood circulation
Suitable for everyday use
One size fits most hand sizes
Cons
If you are looking to do some serious exfoliating and deep cleansing, these exfoliating gloves will surely come handy. These gloves are heavy and designed to exfoliate your entire body except for your face. They are strong enough to scrub off dry, dead skin cells, along with all the other debris that remains on your skin's surface, giving you a bright and healthy-looking skin. Plus, they are made of nylon and have excellent elasticity and friction-resistance.
Pros
Elasticized wrist feature
Includes hanger loop
Available in 2 sizes
Boosts blood circulation
Safe to wash in the washing machine
Cons
The sizing may run small.
Take your skincare regime to the next level with the addition of these exfoliating hydro gloves. These gloves sweep away dry and dead skin cells from your body effectively to reveal a refreshed, naturally glowing skin. In addition to that, they detoxify your pores and remove excess oil accumulated on your skin. The best part? You can give yourself a good massage to stimulate blood circulation and release all the stress. Check out this product review video and pick the best-suited one for your needs.
Pros
Made of 100% nylon
Gentle exfoliation
One size fits all
Rejuvenates body and mind
Available in 2 colors – white and natural
Cons
Might be too rough for sensitive skin
In this pack, you get not 1 but 10 pairs of exfoliating bath gloves in colorful shades. You can share them with your family members or keep them all for yourself and use them as replacements. Besides being a great value for money, these gloves work efficiently to slough off dead skin cells without scratching your skin. Made of 100% nylon, they are soft, moderately rough, and produce a rich, cleansing foam.
Pros
Easy to use
Elastic wristband
Double-sided gloves
Fits most hand sizes
Cons
Might be thin and could snag easily
Give your skin a pampering exfoliation experience with the help of these easy-to-use exfoliating gloves. They lift away dead skin and remove dirt and hidden impurities to reveal radiant and younger-looking skin. Each pack contains 4 pieces of gloves in 2 different styles (2 gloves of each type), which are made of Viscose fabric and feature an elastic wristband that ensures a snug fit and prevents the gloves from sliding off. Although both styles of gloves are thin and have a rough surface, they may slightly vary in terms of their texture. Best of all, you don't need to use lotion or soap for the scrubbing; warm water is all you need.
Pros
Durable
Features a small loop
Comes in different colors
Easy to clean
Cons
Color may bleed the first few times.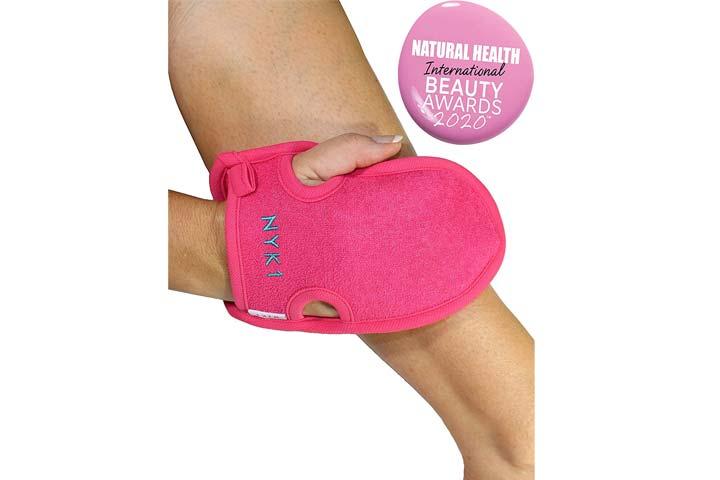 Make your shower-time more spa-like with NYK1 Secrets Exfoliating Glove. This Moroccan spa-quality mitt is rough enough to exfoliate without being harsh or damaging your skin. Made from natural plant fibers, it buffs away the patchy layer of flaky skin while also helping to combat ingrown hairs and minimizing cellulite. The end result is nothing but smooth, healthy, and rejuvenated skin. It also allows moisturizing products to absorb better into the skin.
Pros
One size fits all
Built-in hanging loop
Removes fake tan
Machine-washable
Dries quickly
Can be used on both hands
Available in 2 colors – pink and black
Cons
Want to give your skin that oh-so-soft feeling? Reach for this Exfoliating Hammam Glove by Natural Elephant. Promote healthy skin by using this glove to remove dead skin cells and impurities while also boosting blood circulation. It also works well in unclogging your pores to reduce acne and prevent blackheads and whiteheads. This black glove also works like microdermabrasion that helps improve your skin further by eliminating scars and fine wrinkles. Pro-tip: If you're looking for deeper exfoliation, it is recommended to be done without soap or body wash.
Pros
Durable fabric
Features natural fibers
Can be used on your face
Gently exfoliates
Available in other colors
Features an elastic cuff
Cons
Might be little rough for some
When picking a moisturizing product for your skin, you make sure to go through the ingredients because you only want the best for your skin. Though you choose a product that can improve your skin, it has to penetrate the skin deeper for it to work effectively. And that's why it's essential to exfoliate your body. These exfoliating gloves, made of carbonized bamboo, may look basic, but make no mistake; they have incredible beauty and health benefits. Much like other exfoliating mitts, these gloves work towards lifting away dry dead skin and enhancing cell rejuvenation. However, what makes them stand out from the rest is their ability to detox your mind, body, and soul. Every time you exfoliate, they let off health-giving anions that help your body release positive ions received from the electronic devices we use.
Pros
Durable and eco-friendly
Releases far infrared waves
Promotes circulation
Machine-washable
Breathable and antibacterial fabric
Odor and mildew-resistant
Cons
The cuff part might be a little loose
No at-home pedicure is complete without exfoliation, and these gloves are just what you need to smoothen the rough patches on your feet. They also allow you to scrub your body and face to remove dead flaky skin, debris, and blackheads. In this pack, you get 4 pairs of gloves in assorted colors. They are incredibly stretchable and accommodate most hand sizes.
Pros
Elastic wristband
Double-sided
Rejuvenates skin
Machine and hand-washable
Can also be used for household cleaning
Cons
May not suitable for sensitive skin
There is nothing as good as getting a warm, soothing bath after a long, exhausting week. Fill your bathtub with warm water, add in some included Pink Himalayan salt body scrub, get in the tub, and just relax your muscles and release all the stress. And when it's time to exfoliate, use the exfoliating gloves and scrub, and scrub a little more to clear out all the dirt, toxins, and oil to make your skin soft and radiant. Both the gloves and the body scrub promote collagen production, improve blood circulation, unclog pores, and reduce cellulite. The gloves are made of 70% nylon and 30% bamboo charcoal fiber and are rough enough to properly cleanse the body yet soft enough to use on facial skin. Plus, they are machine-washable and include a loop for easy hanging storage.
Pros
The cuff features an elastic band
Eliminates acne-causing bacteria
Improves skin tone and texture
The body scrub contains 84 trace minerals.
Reduces muscle soreness in neck and shoulders
Cons
When it comes to buying the right exfoliating gloves for everyday use, here are a few points you need to consider.
How To Choose The Best Exfoliating Gloves
Features: The key features of most exfoliating gloves are to remove dead cells and provide deep cleansing. But many gloves can also improve circulation, promote collagen production, and cleanse body and mind. So make sure to pick a piece or a pair that meet your requirements. Besides that, you should also check whether the gloves are made of anti-allergy and durable material.
Size: The sizing may vary from one brand to another, so always go through the sizing chart of the particular brand before you pick a pair. However, some gloves come in one-size-fits-most sizing, which is generally flexible and can accommodate any hand size.
Type: Some gloves are meant to be used during shower or bath-time, while a few others are designed to be used before or after the shower. So pick a product based on your preference.
Texture: Exfoliating gloves are generally available in 3 different textures – soft, moderate, and heavy. All textures work for all skin types, including combination, oily, and normal skin. But if you have sensitive skin, it's best to opt for soft-textured gloves.
Frequently Asked Questions
Are exfoliating gloves good for your skin?
Yes, exfoliating gloves are extremely good for your skin as they can get rid of dead cells accumulated on the surface of your skin, boost blood circulation, and reduce the clogging of pores, among other benefits. Plus, it can also help skincare products absorb into the skin better.
Do exfoliating gloves really work?
Yes, exfoliating gloves work effectively to slough off dead skin cells to give you soft, supple, and glowing skin.
How often should I replace my exfoliating gloves?
It's advisable to replace your exfoliating gloves every 3 to 4 weeks. That said, if your gloves have a foul odor or have discolored, it's best to throw them out and get a new one.
While cleansing and moisturizing your body is important, if you're not exfoliating, you are actually causing your skin to become dry and dull. Regular body exfoliation can improve the skin's appearance, making it look less dry and more smooth and soft. Whether you want to smoothen the rough patches on your feet or your skin is prone to breakouts, exfoliation is the answer. So, that's our top 15 picks of the best exfoliating gloves of 2021. We hope you find something that suits your needs.
Why Trust MomJunction?
Poulami Nag is experienced in reviewing clothing, fashion, skincare, and makeup products. She has put together this list of best exfoliating gloves after intensive research and by considering the requirements of the readers. These gloves were selected based on their durable materials, skin type suitability, maintenance, and efficiency in skin protection. She also included how-to-choose and FAQ sections to help you make an informed decision.
Recommended Articles: