Sometimes, it is natural for you to want to pack your bag and go for a hike in the woods. And for such a trip, you can count on a good external frame backpack to be your best companion. It provides ample storage space while evenly distributing weight so that you can cover miles on foot without any discomfort.
In this article, we list the best external frame backpacks that you can consider buying for your next hiking trip. These backpacks are light, durable, and trendy.
10 Best External Frame Backpacks In 2021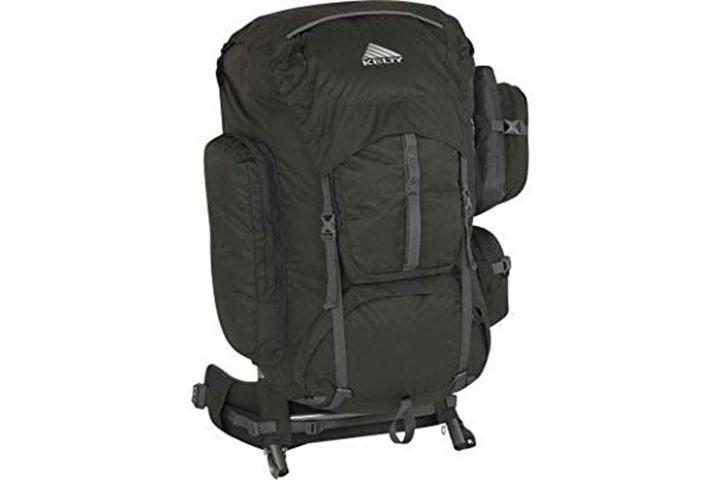 Designed to take on some heavy loads, this Kelty backpack has spacious interiors to easily fit in camping essentials, such as a tent and sleeping bag. The sturdy aluminum frame, with multiple adjustment points and the padded shoulder straps, allows you to carry the bag comfortably. Its USP is the multiple-zippered pockets that enable you to organize necessary items such as bottles, towels, snacks, and all you need for a comfortable outing.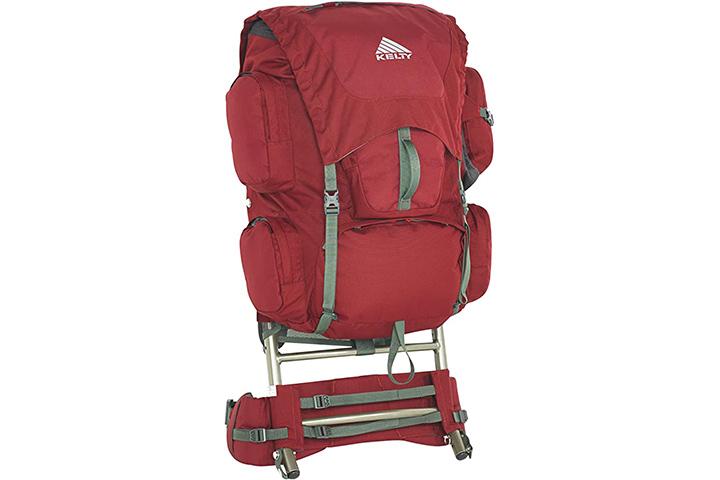 If you have lots to pack and need a big but light backpack, this one's for you. Kelty's trekker backpack offers plenty of space and features a lightweight external frame. Its padded shoulder straps and dual-density foam waist belt allow you to hike for miles without feeling the pressure on your back and shoulders. It comes with a top lid that doubles as a sling pack. Its external straps and multiple attachment points make carrying camping tools, such as rope and helmet, extremely convenient.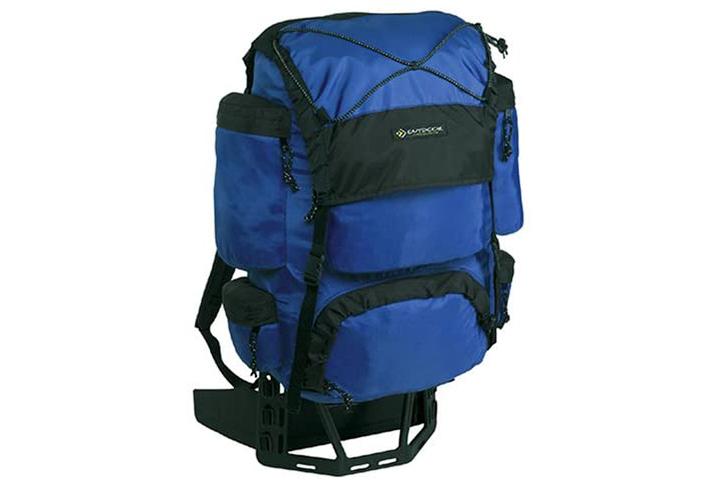 Looking for a smaller backpack suitable for kids? Have a look at this one designed for pre-teens. This entry-level framed backpack is also a good choice for people who are short and comes with a spacious top-loading main compartment. Its shoulder straps are equipped with ample padding so you can easily carry it around. Its hip belt offers extra load support, so the weight is distributed evenly. Additionally, the brand offers a lifetime guarantee on workmanship and materials.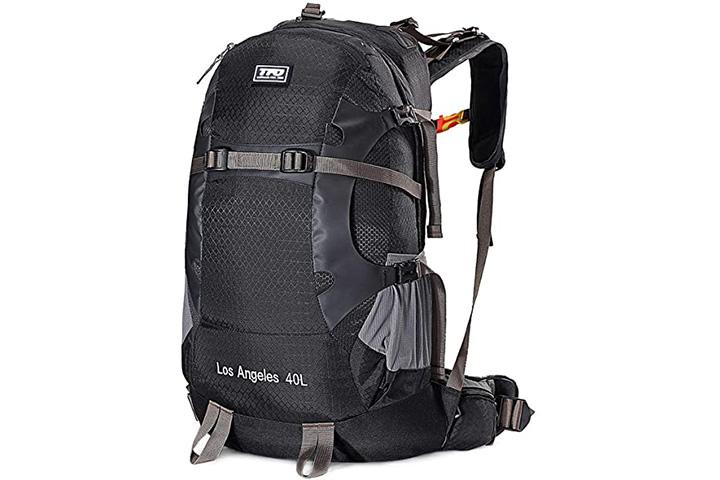 This TFO backpack is a compact yet spacious option for hiking enthusiasts. The backpack frame helps distribute the load evenly, while the soft EVA-pad and wide shoulder straps protect the shoulders from the extra strain. Its tear-resistant and water-resistant design and the hidden YKK zippers ensure additional durability. The brand offers a rain cover, so your backpack remains protected in all seasons. The hidden pockets in the main compartment help store and organize small items.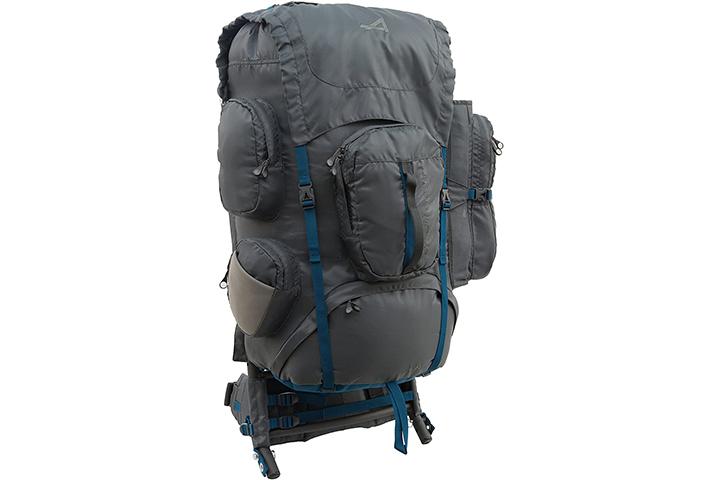 This backpack weighs just 4.94lbs but can still carry a huge load that you might need for your next rendezvous with nature. Its padded waist belt and shoulder straps ensure comfortable wear and travel. Also, the shoulder straps can be adjusted to suit your needs. The telescopic external frame offers multiple adjustment points and comes with lashing points, so you can attach all the gear you wish to carry. Its vented lumbar support keeps you feeling fresh even on a hot summer trek.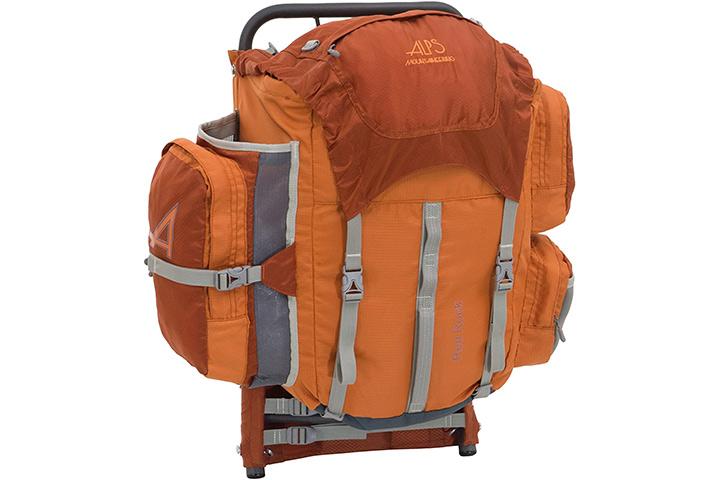 This mountaineering backpack by Alps has been created, keeping in mind the comfort of the adventure-seeking youth. This top-loading bag comes with a hold-open bar that enables easy access to things in your bag. The shoulder straps are adjustable so that you can position it for the most comfortable fit. Its multiple pockets provide handy space for smaller tools and items. Moreover, you do not have to worry about the sweat on your back in the outdoors, as the vented lumbar support takes care of it.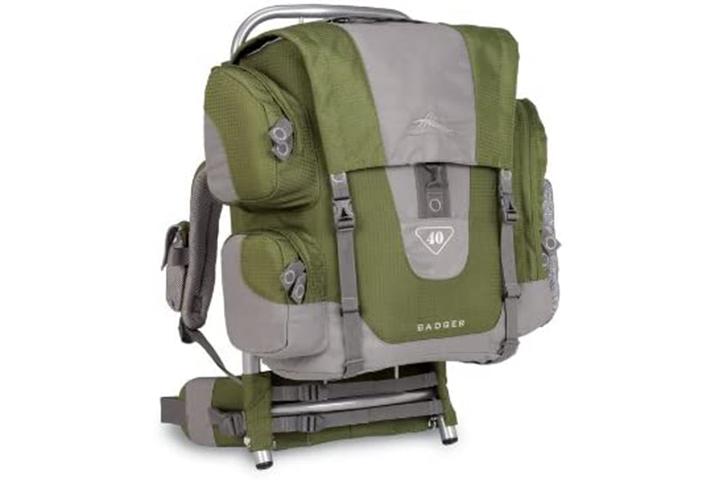 This small and comfy external frame backpack weighs barely four pounds but still offers you a lot of space and features. It comes with a mesh back panel to offer you comfort even under the hot sun. Its multiple pockets enable you to organize your important stuff. Its contoured straps and adjustable waist belt feature moisture-wicking Vapel mesh padding, and the bottom compression is fully adjustable. It also comes with a webbing daisy chain, so you can easily attach all your extra gear.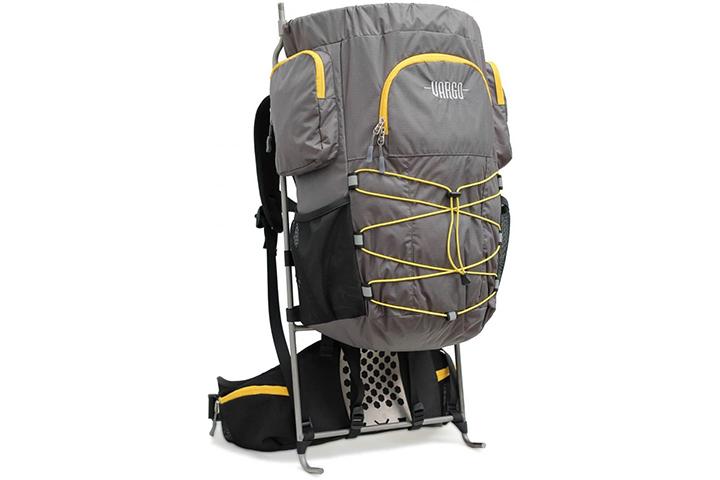 This backpack by Vargo boasts of an ultra-light design and a sturdy external frame that effectively supports the shoulders while distributing the extra load to the hips. This big backpack also comes with a streamlined "Arc" suspension bar to attach your extra gear. The side and front pockets give you space to carry extra stuff. Its ventilated and meshed shoulder harness is fully adjustable, so you can hike and walk without any discomfort.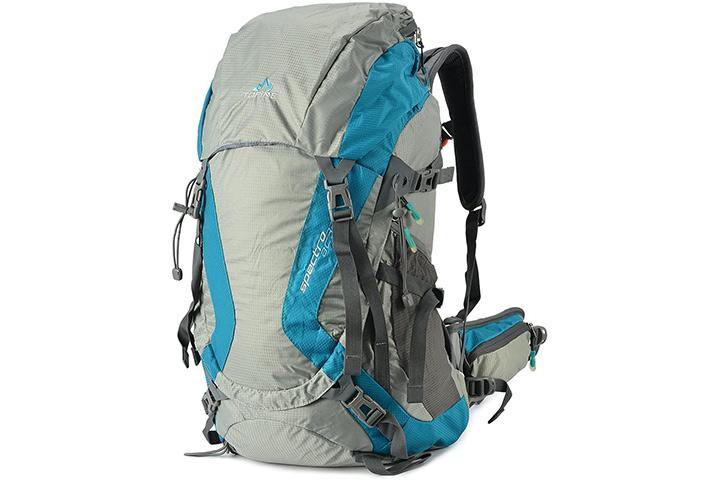 This backpack by Tofine is light and large enough to hold all your essential items. It features a top-load main compartment and an adjustable top lid so that you can use it as per your preference. It is made of tear-resistant and water-resistant nylon. For extra protection, it comes with a rain cover. Its thick shoulder straps enable comfortable wear and movement. It also comes with a lot of pockets so that you can organize your tools easily.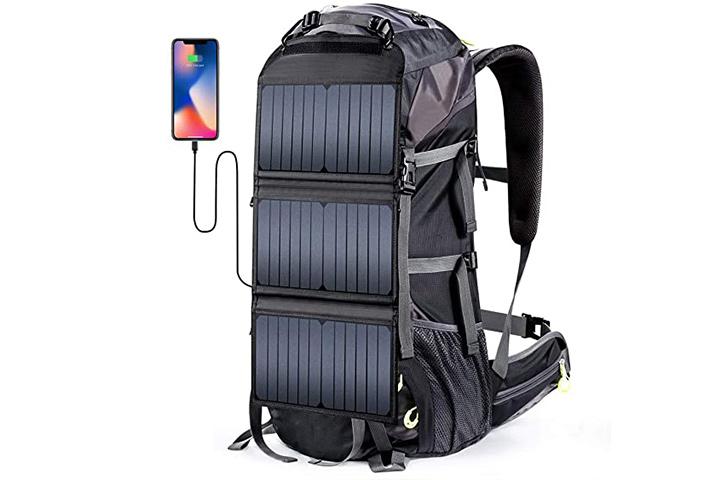 You may want to explore nature but not without your phone or tablet. This backpack enables you to do both. Weighing around 3.6 pounds, it comes with waterproof solar panels and USB ports through which you can charge your devices. It is designed with a weight decomposition system so that the load weight is distributed evenly to your shoulders, hips, and legs. Additionally, the shoulder and chest straps make carrying heavy loads manageable. The back is padded and has a stable frame. It also includes a dedicated storage space for your shoes and side pockets to place your bottles and umbrellas.
How To Pick The Right External Frame Backpacks For Yourself?
Backpack hunting can be a pain if you are not sure of what you are looking for. So, here are some essential features you can look for in a backpack you plan to buy.
Weight: The lighter the backpack, the lesser the additional load on your back. Look for a backpack that offers ample storage space and has a sturdy and durable build, so it can easily carry all your items without being too heavy for you.
Space: Bags that offer large storage space are always a right choice for outdoor hiking. If you like to carry a lot of tools and other items, then look for backpacks that are light and spacious. Also, little pockets and compartments in a backpack enable better organization of items.
Quality: In the outdoors, you never know if you might stumble or bump into hard and sharp objects. It is always safe to opt for a backpack made of good quality material so that it does not rip or tear easily. Also, go for a backpack made of waterproof material to safeguard your belongings from moisture and rain.
Size: The size of your backpack depends mostly on your usage. If you will be outdoors for a long period and with lots of tools, you might want to opt for a bigger backpack. But if your trip is short, you can look for smaller options.
Fitting: Do not pick a huge backpack just because you have lots of stuff to take with you. You have to ensure that the backpack is supportive and well-fitting for you. Backpacks come with waist belts and broad straps to distribute weight evenly. But, if the design is not suited to your body, you might not be able to use these features comfortably.
It is important you consider all of the above factors before purchasing a backpack with an external frame. Whichever backpack you choose, ensure that you have considered all its features. An ideal backpack should properly distribute the load and keep you comfortable when traveling outdoors. Your backpack will accompany you on numerous memorable trips, so pick only the best for yourself.