A facial massager helps improve blood circulation, skin tone, clean pores, and relax muscles that cause stress lines. The vibrations on the skin lead to increased blood circulation, which helps to produce collagen.
Facial massagers use advanced technology to remove dead cells on the face so that your skin stays clean and bright. They can help you save time and costs without having to leave the comfort of your home. The device is designed with different functions, which can effectively exfoliate and rejuvenate the skin.
We listed the 13 best face massager machines in India for you to choose from.
Types Of Face Massagers
Before buying a facial massage machine, it is crucial to understand the different kinds of face massagers available on the market.
Mechanical face massagers: These are handheld massager machines that use batteries for operation. Compared with other types of facial massagers, mechanical face massagers are inexpensive.
Roller face massagers: These handheld roller face massagers usually come with a textured surface used for rolling on the face to improve the face's blood circulation, texture, and tone.
Ultrasonic face massagers: Ultrasonic facial massagers have high speed and advanced technology. Most of them are equipped with rechargeable batteries and generate high-frequency energy, which can rejuvenate the skin. 
13 Best Face Massager Machines In India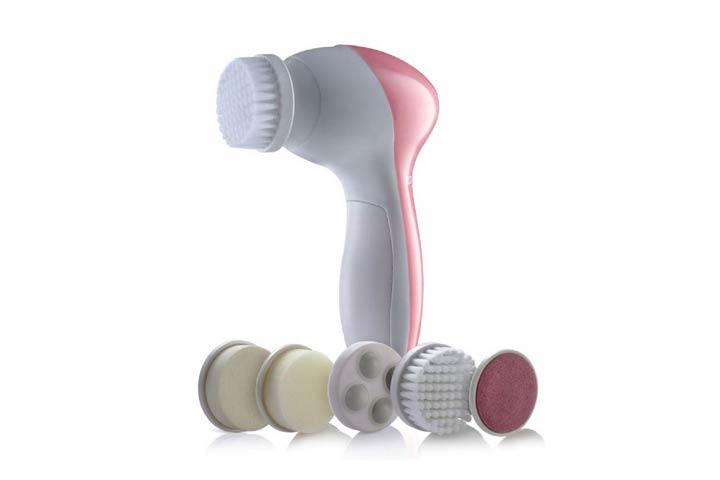 Nova electric facial massager is made of plastic and runs on batteries. The 5-in-1 facial massager gently acts on facial muscles by providing perfect massage therapy. It includes a ball massage head, soft sponge cleaning head, sandpaper massage head, brush cleaning head, and soft massager head.
Pros:
Compact and handy facial machine
Cleans and exfoliates the skin
Has a gentle effect
Makes a complete device
Easy to use
Cons: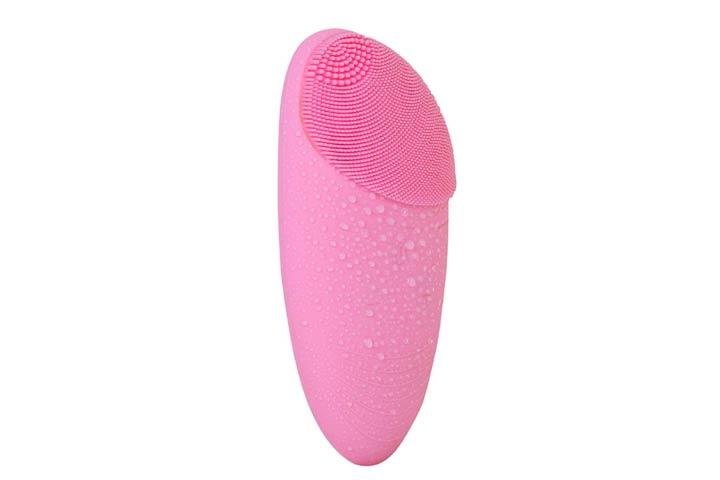 Caresmith's high-frequency sonic massager is specially designed for deep cleansing to eliminate facial cosmetic residue facial, clogged pores, blackheads, dead skin cells, dirt, and oil. It has soft food-grade silicone bristles that can effectively prevent the accumulation of bacteria. This mini-facial massager can provide 7000 vibrations in one minute, which can effectively exercise the facial muscles.
Pros:
Ergonomic design
Promotes circulation of blood
Waterproof design
Portable and compact
Rechargeable massager
Cons:
May get discharged quickly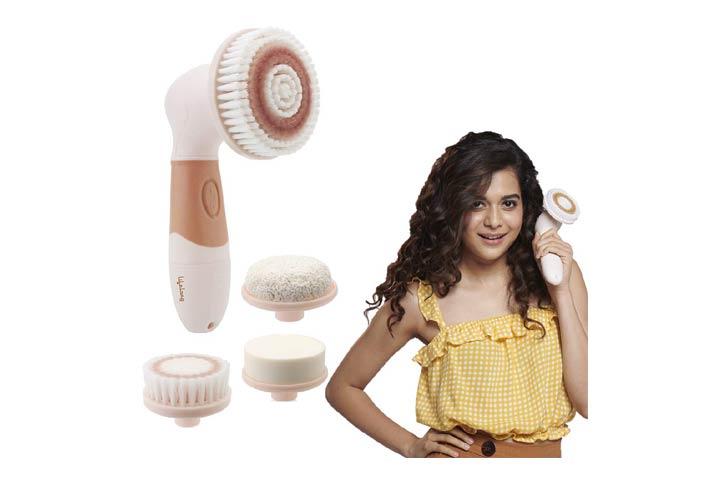 The Lifelong high-frequency sonic massager has four interchangeable heads that can rotate 360 ​​degrees to help relax your facial tissues and muscles, remove impurities, and cleanse the skin. The massager can eliminate facial cosmetic residue, clogged pores, blackheads, dead skin cells, dirt, and oil. You can use the cosmetic sponge, pumice stone, body buffing brush, and facial brush to relax muscles and tissues.
Pros:
Removes impurities from the skin
Can be used on facial as well as body skin
Suitable for all skin types
Cordless design
Comes with an extended handle for better reach
Waterproof
Cons:
The plastic may not be of good quality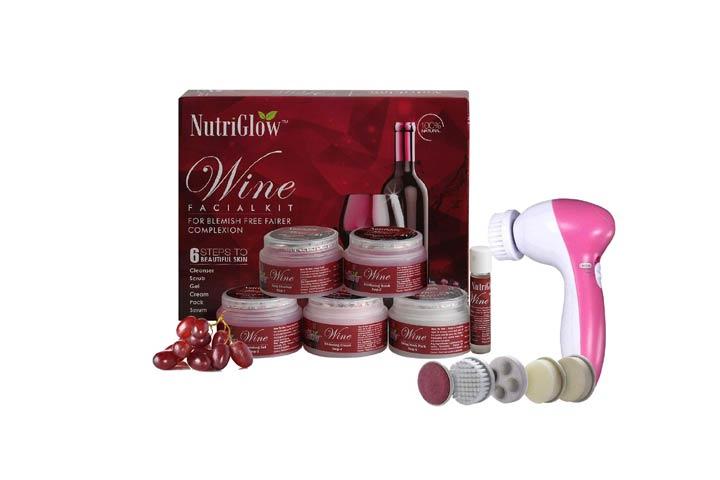 NutriGlow provides a 5-in-1 face massager that works gently on your facial muscles. The elegantly designed massager can offer you a powerful tapping massage therapy giving you smooth and healthy skin. The facial care kit contains exfoliating scrub, deep cleanser, nourishing gel, whitening cream, facial mask, and serum.
Pros:
Has 360-degree revolving design
Comes with two-speed adjustments
Has an ergonomic design
Comes with five different heads
Cons:
The material may not be of good quality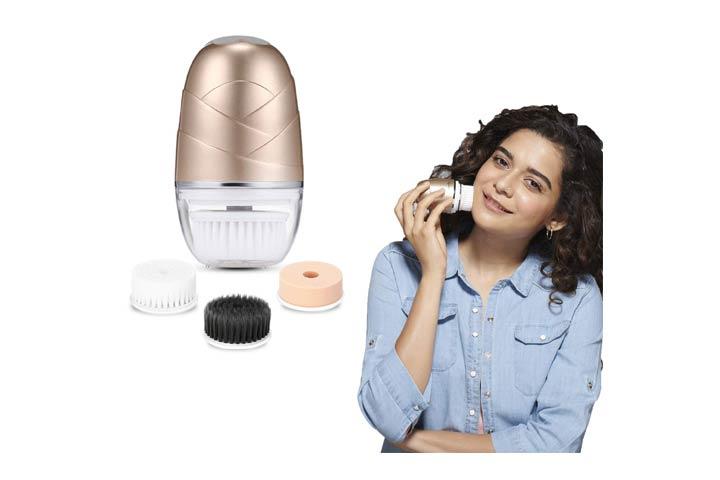 The LifeLong multifunction rechargeable facial massager is equipped with three interchangeable heads that can rotate 360 ​​degrees to help relax, exfoliate, and clean facial skin. The elegantly designed comes with a deep cleaning brush, makeup removal head, and cleaning fiber brush. It can work on batteries and comes with a one-year warranty.
Pros:
Helps in relaxing and exfoliating skin
Compact and portable
Water-resistant
Has ultra-soft bristles
Offers two speed adjustments
Cons:
On and off button may not be smooth

Janravi energy beauty bar uses effective beauty technology to gently exfoliate, improve the skin's appearance and texture, reduce wrinkles, and eliminate eye bags. The T-shaped massager is made of aluminum and brass and comes with a 24K gold surface finish. The vibrating massager can activate the skin, retain moisture, help improve blood circulation, and rejuvenate your skin.
Pros:
Tightens skin
Waterproof design
Handy and compact
Improves skin color
Hydrates skin
Cons:
May not allow controlling microcurrent settings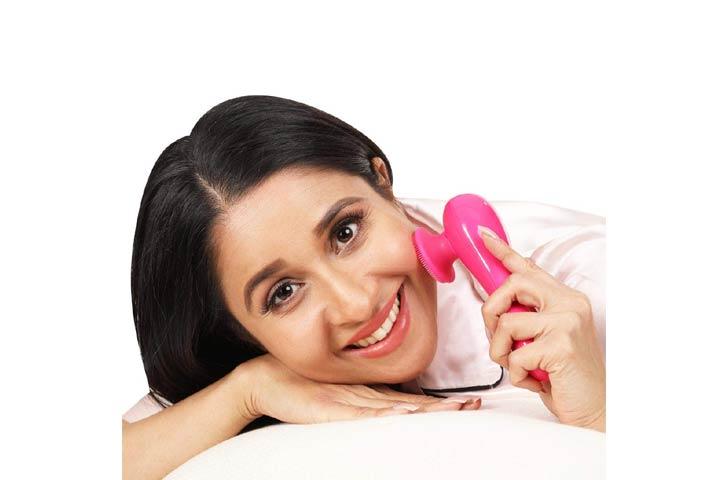 JSB compact pocket electric massager is suitable for women and is equipped with a washable and reusable vibrating silicone brush. You can use this massager with creams and oils twice a day for 15 minutes to deeply cleanse pores, remove acne scars and fight the aging process. The heavy-duty design works on two AA batteries and comes with a one-year nationwide warranty.
Pros:
Can be used with oils and creams
Has washable soft silicone brush
Comes with two-speed vibration
Waterproof design
Moisturizes skin
Cons:
Does not offer rotatory motion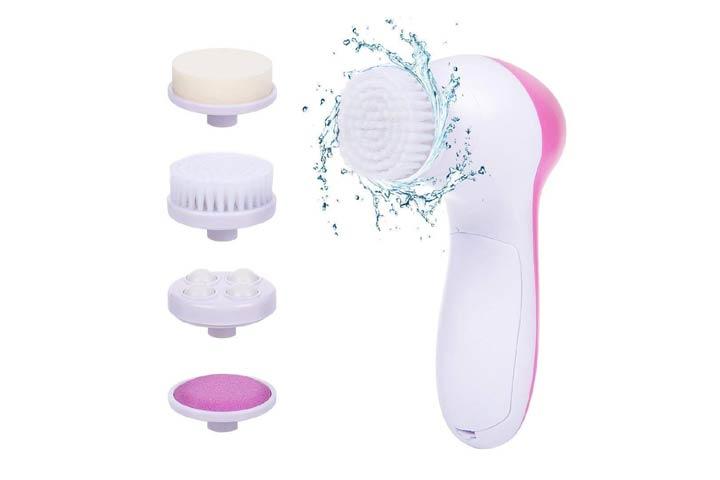 Gahi 5-in-1 compact massager works gently on your muscles to exfoliate dead skin cells, remove hard cells on the elbow or under the foot, eliminate wrinkles, and reduce black spots and acne. The rolling massager is designed to provide you powerful tapping massage therapy and helps improve blood circulation.
Pros:
Easy to use
Keeps the skin hydrated
Portable and lightweight
Comes with five heads
Ergonomic design
Cons:
May have high battery consumption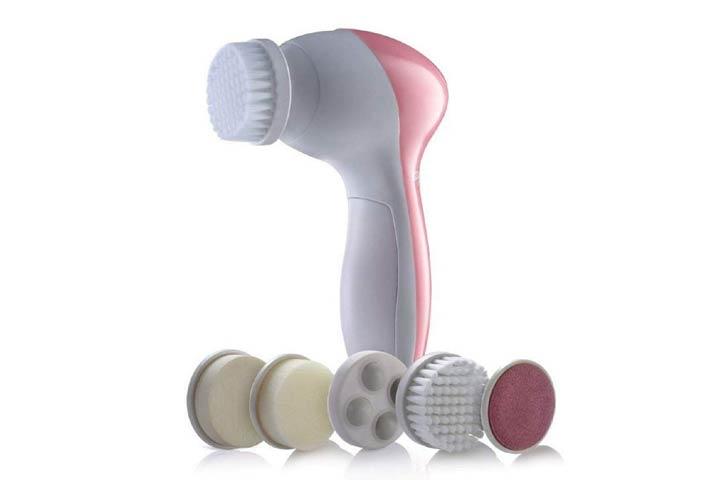 The 5-in-1 electric rolling facial massager includes a latex sponge for eyes, a brush cleansing head, a sandpaper massage head, and a ball massage head, which can fully meet various face cleansing needs. You can use this gadget to exfoliate your skin and rejuvenate your youthful skin effectively.
Pros:
Promotes blood circulation
Massages and relaxes the skin
Hydrates skin
Easy to operate
Can be used for removing dead cells from the elbow
Cons: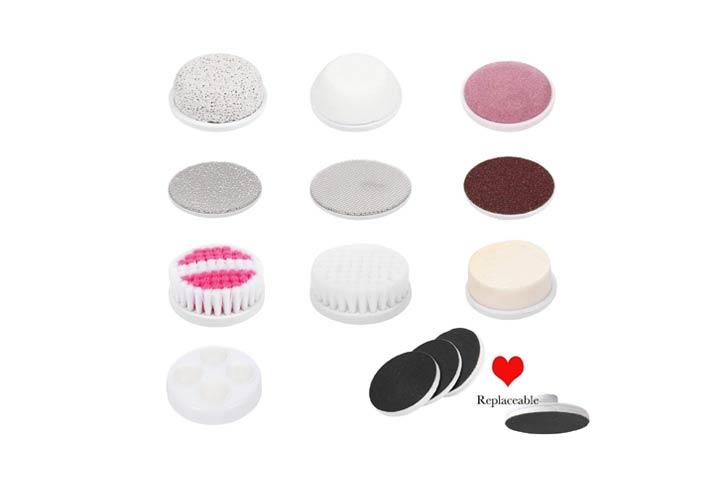 Tyzag offers a complete facial cleaning machine equipped with 11 different heads. You can clean and activate your facial skin with this face massager machine that comes in a storage case. It is powered by two AA batteries and helps in achieving a smooth complexion. You can also use the multifunctional device on the feet.
Pros:
Water-resistant design
Suitable for different skin types
Has two-speed settings
Unisex design
Convenient to operate
Portable
Cons:
May not be soft enough for facial skin

The multifunctional cleansing massager with five different brush heads can meet additional cleaning requirements. The device can exfoliate, remove blackheads, eliminate makeup residue, and keep your skin hydrated and youthful. This is a battery-operated machine that helps improve blood circulation.
Pros:
Comes with two-speed settings
Waterproof design
Offers 360-degree rotation for deep cleaning
Has an ergonomic design
Portable
Cons: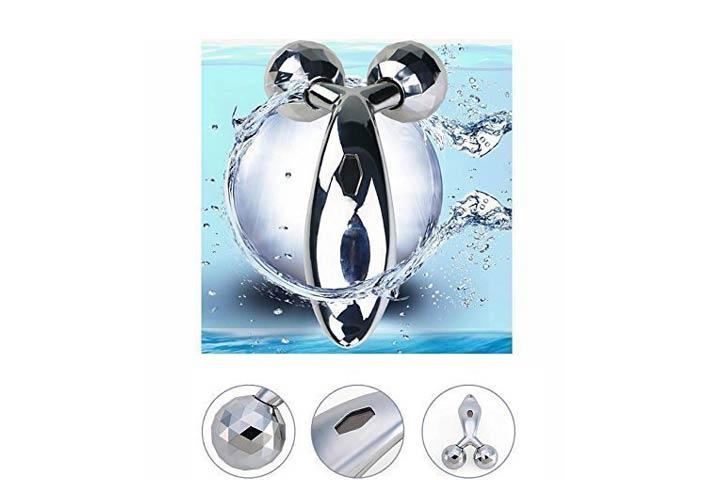 Designed to reduce muscle strain and knots, this is a durable face massager made of high-strength materials. It is suitable for massaging the face, neck, and other parts of the body. Dayons is an easy-to-use massager that can relieve the tension in your muscles.
Pros:
Compact and portable
Promotes metabolism
Stimulates nerve endings
Helpful in promoting blood circulation
Offers good grip
Cons:
May make a plastic sound while scrolling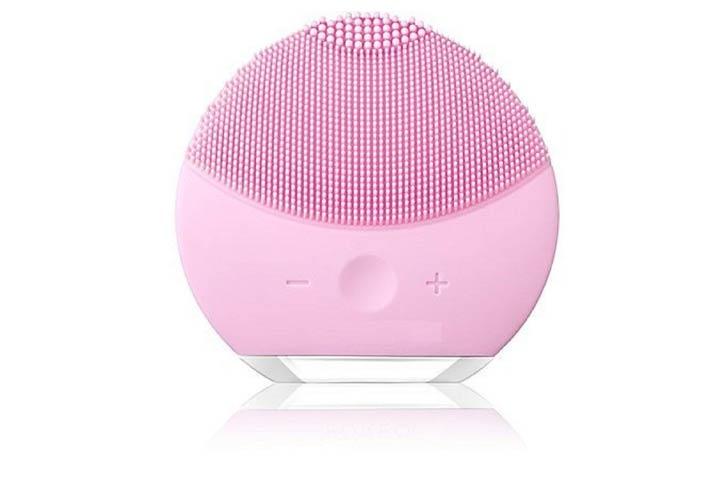 This facial cleansing brush provides 7,500 vibrations in one minute and is designed to protect your skin from clogged pores, dirt, and blackheads. This split-plot designed cleaning machine promotes blood circulation through low-frequency pulse massage. The brush's application increases facial skin's ability to absorb the cream and improve skin radiance.
Pros:
Rechargeable design
Waterproof
Ergonomic design
Made of food-grade silicone
Delays aging
Cons:
May not be an effective cleaner
How To Choose The Best Face Massager Machine?
If you plan to buy a facial massager, the following points should be considered during the purchase.
Portability: Always choose a lightweight and portable design that is easy to hold during the massage.
Ergonomic design: The facial massager must have a good grip to hold it correctly and your hand will not feel tired while using it.
Power option: You can choose from the different power modes, including rechargeable, plugged-in, and battery operated.
Easy to clean: The facial massager must be easy to clean, thereby saving time and energy.
Easy to operate: A good facial massage machine is easy to use and does not involve complicated instructions.
Benefits Of Using A Face Massager
Here are a few reasons why investing in a face massager machine can be worthwhile.
Relieves tension: Tension in your facial skin leads to wrinkles. If you regularly relieve muscle stress, it will relax the skin.
Improves blood circulation: Using a facial massager can improve blood circulation, improving skin tone and appearance.
Delays aging: A face massage machine can stimulate facial muscles by increasing collagen production to achieve glowing skin.
Detoxifies skin: Regular face massage can help remove toxins present in the skin, reducing acne and spots.
Facial massagers make essential beauty products that help clean the skin in the comfort of your home. They protect the facial skin from dirt, dust, and various pollutants that can clog pores and make the skin appear dull and unhealthy. With the different facial massager options shared in this post, you can find a good beauty machine that you can include in your beauty regime.
Recommended Articles: