Face toners are dermatologically-recommended as an essential addition to your everyday cleanse-tone-moisturize skin routine. Based on your skin type, face toners can work wonders for you. The best face toner suits all skin types to balance the pH after cleansing, reduces pores, removes excess grime off the skin, and leaves your skin feeling fresh and rejuvenated.
Each toner works efficiently, largely based on the type of skin it caters to. Moisturizing toners work well for dry skin types and alcohol-based toners offer increased benefits for acne-prone skin. Our list of the best face toners in India will help you in the process of finding the product that is the most suitable for your skin type.
15 Best Face Toners In India
Formulated for oily and normal skin types, the Biotique Bio Cucumber Pore Tightening Toner is a solid investment if you're looking for a face toner to help reduce the risk of skin aging and other harmful effects of the sun. Infused with daruhaldi, dhania, majuphal, and coriander, this toner tightens your pores and leaves your skin feeling refreshed. Natural ingredients including nutgalls, burberry, and peppermint oil are infused to maintain the perfect pH balance and keep your skin healthy. The cucumber face toner provides cooling and purifying skin benefits and helps reduce skin puffiness and tiredness, and also restore your skin's natural freshness.
This natural, alcohol-free astringent, antioxidant skin toner is rich in green tea leaf extracts, ideal for oily, acne-prone, and combination skin. The FDA-approved Plum Green Tea Alcohol-Free Toner is effective in fighting acne and acne marks, by killing acne-causing bacteria. Additionally, this face toner contains glycolic acid, which helps remove dead skin cells from the top layer of oily, acne-prone skin, giving you clear, hydrated, and even-toned skin. Dabbing a small amount of this paraben-free toner will effectively fight all your skin blemishes. This product is not only cruelty-free and has purely vegan ingredients, but also has anti-inflammatory and anti-bacterial properties.
The UrbanBotanics Pure And Natural Rose Water acts as the perfect face toner by removing dirt from your skin while keeping your face hydrated. Made from pure and organic rose flower water, this face toner is an effective cleansing agent as it exfoliates your skin and rejuvenates tired-looking skin. Suitable for all skin types, this product is infused with rose water that has antibacterial properties and numerous powerful antioxidants, making this the best natural toner for your face. Not only does it act as a skin conditioner, but it also unblocks clogged pores, and is a great skin prep for serums and moisturizers. This face toner is definitely your best bet if you are looking for a lightweight and versatile toner that will restore your skin's pH balance and absorb excess oils, without drying your skin!
The Lakme Absolute Pore Fix Toner, as the name suggests, can be used to unclog and tighten your pores and remove excess oils to reveal smooth and clean skin underneath. Not only does it gently clean out your face of any skin impurities, but this alcohol-free toner also does not aggravate your skin or cause any irritations or inflammations. Instead, the product addresses specific skin issues and re-energizes and evens out your skin. With glycerin, lavender extracts, and witch hazel extracts, regularly using this mist at any time of day, helps remove impurities, reduces dryness, and gives you a lasting fresh look.
Formulated to provide significant skin toning benefits, the WOW Lavender And Rose Skin Mist Toner is a must-have product to include in your daily skincare routine. With it's clinically proven bio-actives that include pure lavender and rose hydrosols, witch hazel, green tea, and cucumber extracts, this toner will balance, hydrate, protect, and refresh skin. Free from harmful alcohols, sulfates, parabens, mineral oils, and synthetic fragrances, this product effectively tightens your pores and restores your skin's inner radiance. Also infused with organic virgin coconut oil, avocado oil, and wheat protein, this toner is just the blast of freshness that your skin needs daily.
The Lotus Herbals Rosetone Facial Skin Toner absorbs easily into your skin to revive and moisturize it from within. Everyday routines can make your skin look dull and tired, but with this product, you can rejuvenate and get your skin looking fresh and dewy again! Infused with aloe vera, rose, tulsi leaves, and vetiver, this skin-tightening toner helps remove makeup residue and skin pollutants, while adding a soft, natural glow to your skin. The natural goodness of rose petals controls the secretion of excess oils and balances pH levels, making this face toner suitable for all skin types. Fortified with the antiseptic and purifying qualities of tulsi and vetiver that reduce the appearance of dark spots and blemishes, this toner is ideal for young, fresh, and firm-looking skin.
If you are looking for the best facial toner for acne-prone skin, this is the perfect one for you! The Kaya Clinic Acne Free Purifying Toner is mild, alcohol-free, and is specially formulated to unclog pores without causing irritation for those who have oily, combination, or acne-prone skin. This toner contains botanical extracts of cucumber, witch hazel, and rose that gently exfoliates and soothes pores. Formulated with mandelic acid and niacinamide, the toner minimizes the appearance of pores and treats hyperpigmentation, making this product efficient and a definite must-have in your everyday skincare regime.
The Lotus Herbals Basiltone Cucumber Basil Clarifying And Balancing Toner tightens your pores and prepares your face for moisturization. Best-suited for oily and combination skin, this toner restores the natural pH balance of your skin and keeps you refreshed and hydrated. Infused with cucumber, this toner helps purify your skin and gets rid of dirt present in your pores, making your skin radiant. Neem extracts and basil leaf extracts found in this toner also lighten scars and skin pigmentation, and protect your skin from acne, spots, and blemishes. This balancing face toner also regulates the oil production of your skin and keeps it non-greasy.
The dermatologically-tested MamaEarth Vitamin C Face Toner is alcohol-free and made with natural ingredients to tighten open and enlarged pores. Loaded with enzymes, vitamin A and C, and aloe vera, this product naturally soothes dry and stretched skin. For healthy, smooth, and hydrated skin, this toner does the job by maintaining the pH balance of the skin. It is free of sulfates, parabens, and silicone, and is enriched with the goodness of hydrating cucumber, soothing aloe vera, glycerin, and witch hazel extracts that keep your skin clean and radiant. This vitamin C-infused toner is suitable for sensitive skin and reduces the appearance of fine lines, while keeping your face firm.
The Re' equil Pore Refining Face Toner with clinically proven actives is enriched with 9 botanical extracts, including witch hazel for visibly reduced pores. This alcohol-free facial toner is the onl toner you need for clean and refined skin. Dermatologically-tested and suitable for sensitive, oily, and acne-prone skin, you can use this product to protect your skin from drying out as it gently removes pore-clogging residue that is left behind after cleansing your face. Large, open pores are susceptible to acne and breakouts, but using this product will tighten your pores and reduce these chances.
If you're looking for a clarifying toner that cleanses pores, balances, and restores your skin's optimum pH levels, the Dermafique All Important Skin Toner is a good buy. This toner acts as the vital missing link between cleansing and moisturizing, by preparing the skin for hydration. Suitable for all skin types including dry, oily, and combination skin, this toner is enriched with antioxidants like calendula flower extracts that are known to prevent aging. The alcohol-free and paraben-free toner gently unclogs your pores, ridding them of any dirt and residue, while preparing your skin to soak in all the moisture that it needs.
The best face toner that is lightweight and hydrating is the Good Vibes Rose Glow Toner, which balances the skin's pH level and minimizes the appearance of pores. This alcohol-free toner is formulated with rose water that instantly revitalizes your skin, protects the skin from damage, and diminishes premature signs of aging. Infused with honey extracts, hibiscus extracts, and other natural ingredients, this toner improves the skin's texture and enhances the complexion, while imparting continuous hydration. This refreshing toner is free from sulfate and parabens, and safe to use for all skin types.
The UrbanBotanics Witch Hazel, Basil & Neem Skin Toner is an excellent toner that minimizes pores and enhances the youthful appearance of your skin. With this toner, you can fight fine lines and wrinkles, reduce blackheads and shrink pores, whether you have dry, oily, or combination skin. Made explicitly for blemish-prone skin, the antioxidants purify and tone your skin and make it more even. The toner is free from parabens, toxins, and alcohol, making it a safe option to add to your regular skincare routine. Loaded with witch hazel, basil, neem, aloe vera extracts, and sugarcane extracts, you can load your skin with moisture with this facial toner.
If you are looking for a face toner to help remove hyperpigmentation and dark spots, the Re' equil Vitamin C Face Toner is just for you! With vitamin C as its active ingredient, this toner has anti-aging and anti-pigmentation properties that give you a bright and even skin tone. The dermatologically-tested formula deeply cleanses your pores and suits all skin types while promoting radiant-looking skin. This toner also contains a strong hydrating agent called hyaluronic acid that adds deep moisture to your skin and boosts collagen production for firm, supple, and clean skin.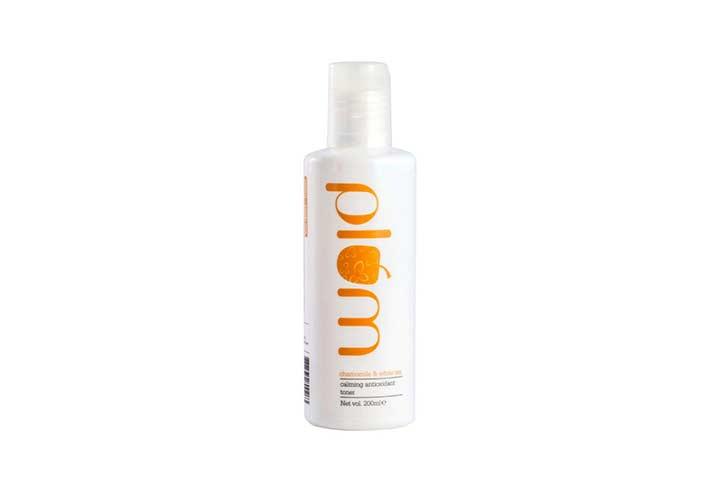 With the right formula for normal and combination skin, the 100% vegan, paraben-free, and phthalate-free Plum Chamomile & White Tea Calming Antioxidant Toner is a gentle alcohol-free toner that can be used every day. With soothing and antiseptic chamomile, rooibos leaf, white tea, green tea, and olive leaf extracts, this toner is rich with antioxidants and nutrients that will calm, revive and protect your skin from the effects of oxidative damages. This facial toner will help you fight dark spots, discoloration, and other skin problems with these antioxidants. Fortified with vitamin B3, it also helps to repair sun damage, hyperpigmentation and maintain an even skin tone.
If you're wondering which toner would work best for you, all you need to do is take a look at the buying guide below that will definitely ease the process and bring you one step closer to getting even and toned skin.
What To Look For While Buying The Best Face Toner In India
Skin toners are primarily water-based skincare products that are used to balance the pH of the skin after cleansing. While most toners are thin and water-based liquids that usually get absorbed quickly and penetrate deeply, some may have serums infused. Toners are a perfect delivering base for other cosmetic products as they often cleanse your skin from within, leaving you with unclogged pores. Using a facial toner regularly has become an essential intermediate step between the cleansing of your face and the application of moisturizer or creams.
Some face toners also help to minimize acne, shrink pores, and balance the natural skin pH levels. Different skin types require different kinds of toners to tackle specific needs. For dry skin, a moisturizing toner would keep your skin hydrated and glowing, while a mattifying lotion can be used to absorb excess oil from the face.
Face toners can either be water-based, water and glycerin-based, or alcohol-based. The correct facial toner will clean the pores thoroughly, remove all accumulated dirt, hydrate your skin, refresh and revive tired skin, and soothe irritated or sensitive skin. It also disinfects the skin and thus protects it from the environment's various potentially dangerous influences.
Types Of Toners For Different Skin Types
Those with oily skin need to choose a facial toner that is gentle and refreshing for the skin. Look for face toners with ingredients that are oil-free. You can also skip face toners that have alcohol in them since they can dry out your skin. Keep in mind to avoid ingredients that have drying agents, mineral oil, and petroleum.
For dehydrated skin, this type of facial toner is the best. Individuals with this skin type can choose facial toners that contain glycolic acid and rosehip seed oil. Other important ingredients include jojoba oil, glycolipids, and other essential oils. Harsh ingredients such as sulfate, alcohol, petrolatum, ethanol, and drying ingredients must be avoided as they tend to dry up your skin faster.
Gentle toners are the best toner for sensitive skin or acne-prone skin. These face toners do not contain alcohol, synthetic fragrance, dyes, or acids. You can completely avoid ingredients like sodium lauryl sulfate and ammonium as they can be irritating to the skin's pH levels. Also, try to avoid tough astringents like menthol, hazel, and alcohol. These astringents are known to be rough on your skin and may irritate your skin or cause outbreaks.
What Are The Benefits Of Using Face Toners?
Toners have numerous advantages, such as skin cleansing, pore size reduction, and the removal of excess oil. It can also be used for skin pH balancing and makeup removal.
What Are The Ingredients To Look Out For In Your Face Toner?
Select products with natural ingredients that have beneficial beauty effects or those that have ingredients such as zinc, vitamin C, glycolic acid, and vitamin E.
When people perform their skincare routine, they usually include cleansers, moisturizers, and sunscreen. But, unfortunately, they often leave the toner, the unsung hero, behind, not realizing it helps one achieve youthful and radiant skin. Toners are essential in every skincare regime as they help prep the skin for moisturizers while hydrating the skin and minimizing the appearance of pores. You can pick from refreshing toners, hydrating toners, and gentle toners, as they help perform different functions and satisfy different needs. However, before choosing the ideal one, ensure you assess your skin type and select a toner that complements or improves it. Besides, consider toners with zinc, vitamin C, glycolic acid, and vitamin E to nourish and hydrate your skin.
The following two tabs change content below.

Poulami Nag
Poulami Nag is a writer and associate editor at MomJunction. She did her MA in English from Miranda House, University of Delhi and has qualified UGC-NET. Her journey as a content writer began in 2017 and since then she has garnered diverse interests along the way. Her knowledge of literature and language has given her an eye for detail and...
more