Introduction
The fat burning cream, also known as slimming cream, absorbs into the skin and begins the fat-burning process. It helps block the formation of cellulite. The cream is applied to specific areas that require the cutting down of fat. In this MomJunction post, we share a list of the best fat burning creams and guide you on using them.
Top 11 Best Fat Burning Creams You May Consider Buying
The cream is helpful in substantially boosting circulation and sweating, which are necessary for burning calories. If you want to maximize the result, then you should follow an exercise schedule soon after its application.
Pros
Boosts muscle activity during exercise.
Offers a good fragrance that will prevent offensive odor during a workout.
Can effectively fight muscle fatigue and other injuries like muscle pull or strain.
Helps in targeting the problem areas to give you the desired outcome.
Cons
The fat burner cream contains ginger lily that helps in stimulating circulation therapy by limiting the rippling effect. Apart from burning fat, the cream promises to give you smooth skin as it includes aloe vera and meadowfoam seed oil. It can promote collagen and elasticity.
Pros
Does not contain any chemicals and contains vitamin E, vitamin A, and vitamin D.
Is designed to aid deep tissue massaging with lavender and apricot for a soothing effect.
Contains citrus fruit tangerine and grapes for a youthful appearance.
Cons
The heat of the cream is short-lived.
The consistency is a little watery.
The slimming cream is an effective fat burner for areas that have accumulated fat. The fat burning cream works by heating up the targeted part of the body, thus making it easier to sweat. It will also help you get rid of cellulite and tighten your skin for a youthful appearance.
Pros
Enhances the burning of fat by speeding up your metabolism.
Eliminates your cellulite and gives you a slimming appearance.
Contains natural ingredients like mango and ginger extract to boost your weight loss.
You may use it for stomach, waistline, thighs, calves, and arms.
Cons
Does not have attractive packaging.
Contains a small quantity.
It is easy to absorb and produces a good effect in slimming waist, legs, and arms. If you have an unattractive belly, the cream will help in firming it. The cream is moisturizing and hydrating.
Pros
Helps in shaping a nice and attractive body.
The natural formula helps in burning fat by accelerating metabolism and the slimming process.
Contains vital oils like peppermint and pine that cures inflammation and reduces aches.
Offers deep muscle relaxation and overall skin toning.
Cons
May cause a burning sensation in some users.
The fat burn cream is ideal for both men and women. The presence of apple, orange, grapefruits, and mango extracts will help in tightening and firming your skin. It stimulates circulation that is essential for burning extra calories.
Pros
Contains powerful botanicals to smooth your skin.
Helps in stimulating your circulation.
Offers anti-aging benefits to users and supports collagen health.
The presence of aloe vera will counterbalance the heat of the cream to give you comfort.
Cons
May cause burning sensation to a few users.
Is a little strong for sensitive skin.
The fat burning body cream gives you a result of your workout session by boosting your sweating. It contains natural ingredients. It contains coconut oil, jojoba seed oil, and coffee seed extract. Apply it just before your workout session, and you will begin getting the sweating.
Pros
Helps boost blood circulation around the stomach, legs, and arms.
Is vegan and paraben-free.
You will also get a hot vita copper sweat belt to enhance thermal temperature and outcome.
Cons
The cream may not give you the required warmth.
The hot treatment of this cream is helpful for shaping your waist, abdomen, and buttocks. It is manufactured from organic natural ingredients. You need to massage it in a circular motion.
Pros
Helps you get a healthy body by enhancing your exercise results.
Opens your skin pores for improved circulation.
Organic natural ingredients can bring down edema.
Produces good fragrance.
Cons
Is a little overpriced.
May cause itchiness
The fat burning body cream offers users a hot serum treatment to get rid of the excess body fat. If you desire a perfectly shaped slim waist, then you can rely on this cream. It will also help prevent the accumulation of fat.
Pros
Helps in reducing the lumps under the skin.
Targets fat cells in your body and cellulite.
Helps in bringing down cellulite and prevents its occurrence.
Cons
You may find it a little sticky.
May some discomfort and itching.
The hot cream specifically targets unwanted fat tissue and helps in disintegrating them. It helps in burning fat from the areas of hips and thighs. You will find the cream easy to absorb. It helps in tightening and moisturizing your skin.
Pros
Helps in burning fat and boosts slimming and metabolism.
Blocks extra moisture and oil from the skin.
Reduces skin wrinkles and gives you a firm body.
Cons
Could not warm up on the skin in some cases.
The skin continued to remain wrinkly and lose.
The belly burner cream promotes weight loss by breaking down and dissolving fat tissue. It has been designed to tackle fat issues in tummy, thighs, and arms. It helps in reducing the appearance of cellulite on the hips, thighs, and abdomen.
Pros
Helps in removing stretch marks and body cellulite.
Is convenient to absorb and helps in firming your abdomen.
Enhances metabolism and the slimming process.
Stimulates blood circulation and dissolves fat.
Cons
You may experience some burning sensation.
Some users may not like the scent of this product.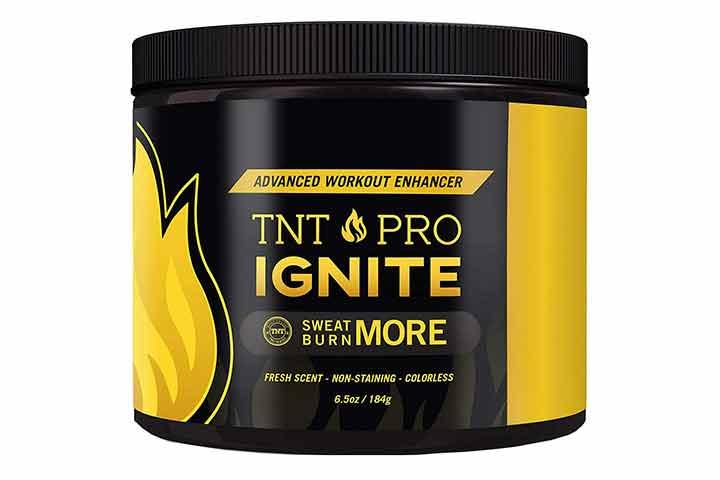 The cream is suitable for both males and females. It helps in opening the skin pores that will give you improved blood circulation. It will target your sweat glands to enhance the perspiration process and dissolve the fat. It will give you relief from the excess body fat and soft skin.
Pros
Helps in accelerating warm-up and recovery time.
May aid in fighting muscle fatigue and other injuries.
Helps you sweat more that will help you burn more calories.
Cons
The scent is floral and strong.
How And When To Use Fat Burning Cream?
It is simple to use fat burning creams. You need to massage these creams enriched with beneficial ingredients on areas where you notice excess fat. Massaging allows your skin to absorb the cream and produce desired results.
The cream dissolves in blood and produces a robust metabolic activity that leads to stepping up of fat loss from targeted areas. You may apply the cream twice a day to reduce the size of fat cells in your body.
How Do Fat Burning Creams Work?
The fat burning creams can target fat cells in your body, bring down skin flaws, and reduce the appearance of cellulite. They are specifically designed to be used on belly, thighs, and hips, where most fat tends to accumulate. The cream also reduces the size of the fat cells.  It gives a signal to your body to use the unwanted fat in the form of fuel.
Do Fat Burning Creams Really Work?
After applying the cream, it is essential that you follow it by initiating your exercise schedule. It will help in maximizing the results. The ingredients available in the creams can target the fat to get it released into the bloodstream. Later, it will be used for producing energy. These creams do not produce quick results as they work progressively. The cream boosts blood flow, bring down the accumulation of water, and significantly discourage cells from retaining fat.
 Is There Any Side Effect Of Using Fat Burning Creams?
According to clinical trials, the creams do not cause any palpable side effects. You may do a patch test on your skin before using it. According to experts, side effects linked with the usage of these creams are mild and should be tolerable.
Safety Tips To Follow
The following are the various safety tips that you must take into consideration while buying these creams.
Choose fat burning creams, which contain clinically-proven ingredients.
You must use the cream as instructed to minimize side effects and boost safety. Ideally, not more than 12 weeks will bring down the danger of any itching, infection, or irritation to the skin.
If you have any heart disease, then you should avoid using the cream.
People with high blood pressure and insomnia should also skip using these creams.
Pregnant women should never use these creams. 
How To Choose The Right Fat Burning Cream?
Keep the following points in mind while shopping for fat burning creams.
You must check the active ingredients. The best fat burning creams should include essential ingredients that have been scientifically proven to bring down the level of fat.
An ideal fat burning cream should offer users effective and sustained results. The side effects of these creams should be tolerable. The cream should be skin-friendly.
The best fat burning cream should be easy to use and offer you a longer shelf life.
The cream should be available at cost-effective prices.
Important Ingredients In Fat Burning Creams
The ingredients available in popular fat burning creams are mostly natural and organic. They do not contain any harmful chemicals. The creams mostly include grapeseed oil, eucalyptus, citrus lemon, aloe vera, guarana seeds, menthol, and grapefruit tackle, among others.
Fat burning creams help shed excess body weight by boosting your blood circulation. Remember, to use them as per the manufacturer's instructions and for the instructed time only.
Do you have something to share about fat burning creams? Let us know in the comment section below.