A firestarter is a useful tool for outdoor enthusiasts to heat water for a hot cup of tea or coffee, or bathing to keep warm outdoors. Firestarters also work as survival tools in tricky situations as they are an effective and valuable resource to spark fire sooner than matches or gas-fueled lighters. If your box of matches or the gaslighter has become unreliable on camps, check out our list of the best firestarters for camping.
Different Types Of Firestarters
Flint and steel are the two most common firestarters and have existed long before matches came into existence. Magnesium firestarters are the third most common firestarters that outdoor enthusiasts carry when they go camping.
How Do Firestarters Work?
To spark a fire from Flint-based firestarters, one edge of the flint must be clean. The flint should have a sharp edge and large enough to hold firmly. You have to strike the flint against a hard object that generates friction. The friction allows tiny steel flakes to flame up in the form of sparks.
Magnesium firestarters are a commercial offshoot of flint and steel firestarters. In this type, magnesium is the major source of heat. Magnesium firestarters use steel or a knife to chip off tiny magnesium flakes that flame up and produce sparks. Magnesium burns faster than steel, thereby igniting flames in no time.
You'll need flammable tender with either flint and steel or a magnesium starter to catch the sparks and ignite the fire. You can use trash paper, cotton bits, or even dried turf for it.
11 Best Firestarters For Camping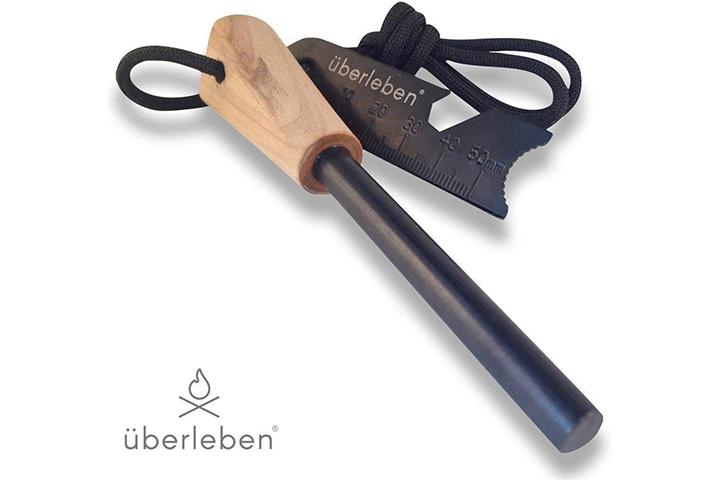 Uberleben is one of the best camping firestarters that is handcrafted, lightweight, durable, and versatile.
Features
Comes with a 550-paracord neck lanyard with a 6-in-1 steel striker.
The tapered wooden handle gives a firm and stable grip.
The multi-tool striker serves as a concave tinder scraper, map scale, and bottle opener.
Measures five inches long
Specifications:
It is available in three variants of different thicknesses.
Trad 5/16 "(8 mm): 12,000 + strikes,
Pro 3/8″ (10 mm): 15,000 + strikes
Fatty 1/2 "(12.5 mm): 20,000 + strikes.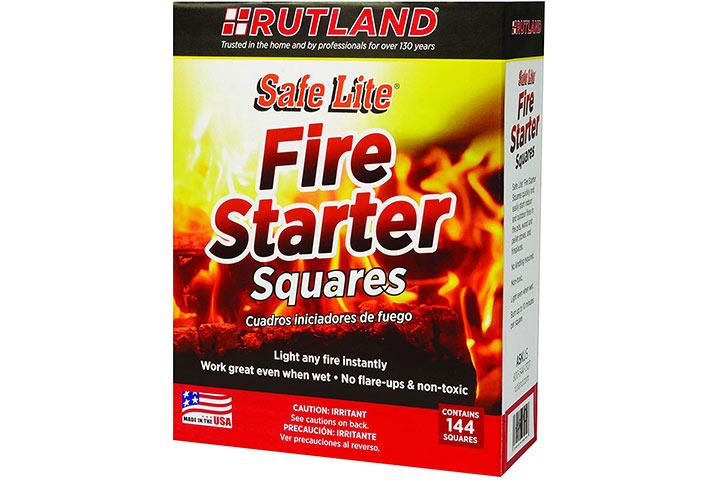 Rutland Safe Lite Firestarter Squares are ideal for camping, hunting, outdoor fires, barbecue, cylinder, and wood ovens and fireplaces. These firestarters do not require lighting and will not interfere with the flavor of the food. They are non-toxic and light up even when wet.
Features
The firestarter maintains high air quality standards.
Made of wax and reusable wood chips.
Doesn't flare up.
Non-toxic and safe for cooking.
Specifications:
Dimensions:3 x 7.13 x 9.13 inches
Weight: 74.4 ounces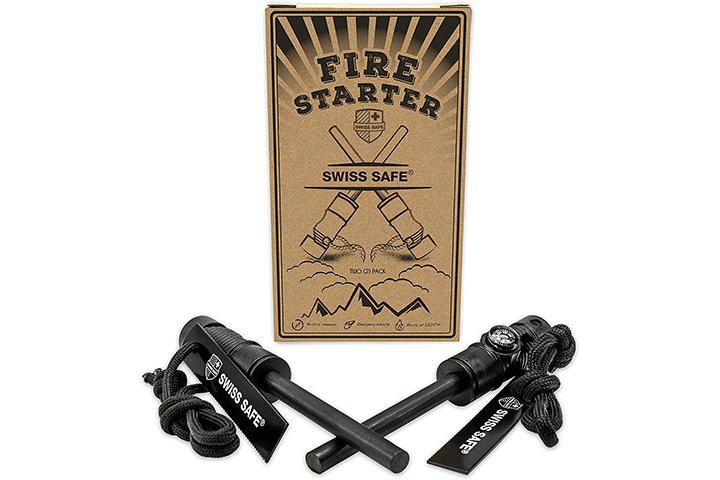 Swiss Safe 5-in-1 camping fire starter kit is suitable for all weather conditions. The magnesium rod ignites flame even in the most unsuitable weather conditions, with strikes over 16k at 5,500°F. The package contains two specially crafted firestarters that are lighter than a matchbox and deliver high performance.
Features
Made from a high-resistance polymer.
Whistle has a double core for high volume production.
The blades' pointed teeth work well for scraping magnesium shavings and sending sparks in just the right direction.
Specifications:
Length: 5in
Weight: 2 ounces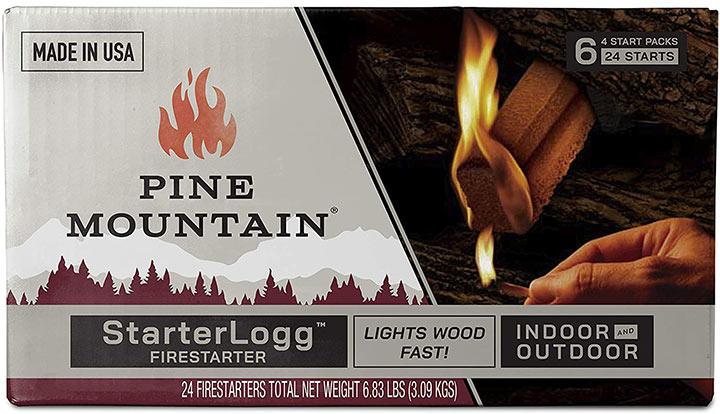 StarterLogg camping firestarter turns on fast. With rolled paper, dry grass, or other coals, you can start a fire in little time without fretting and fussing. The firestarter can be used to light firewood at your camping site, fire pit in your backyard, island bonfire, or the fireplace.
Features
Burns cleaner than cordwood, emitting up to 80% less carbon monoxide and 75% less gaseous pollutants.
Causes no harm to the environment as it is made from renewable resources.
Can start a fire easily, no kindling required.
Specifications:
Dimensions: 5.25 x 4.5 x 1.75 inches
Weight: 109.28 ounces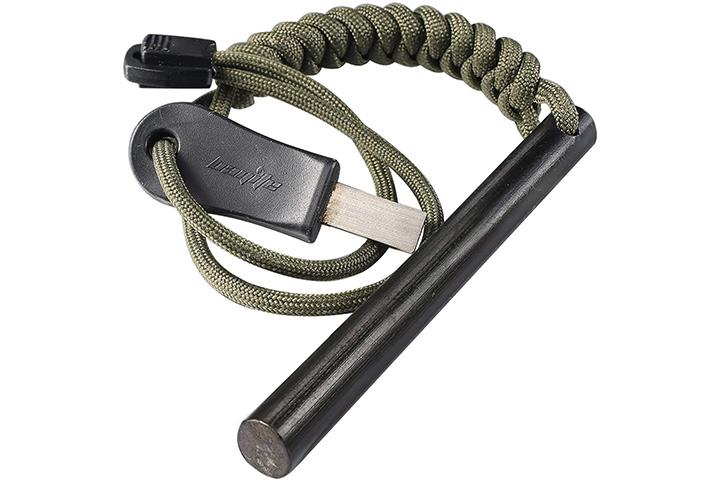 The 9-feet paracord gives a firm grip for shaky hands. The firestarter comes with a Striker-Pro bayite attached to the paracord, which makes igniting a fire easy. Top-quality HSS Steel is used in designing the bayite firestarter, which generates maximum sparks, whether you are left or right-handed.
Features
Crafted from a highly efficient rod of ferrocerium.
Waterproof and weatherproof, it suits all weather conditions and works at every temperature.
At 3,000-degree Celsius, sparks shower to cause a fire at any temperature or any altitude.
Great firestarter for bushcraft, camping, shooting, fishing, and EDC.
Specifications:
Dimensions: 7.2 x 1.97 x 0.55 inches
Weight: 2.4 Ounces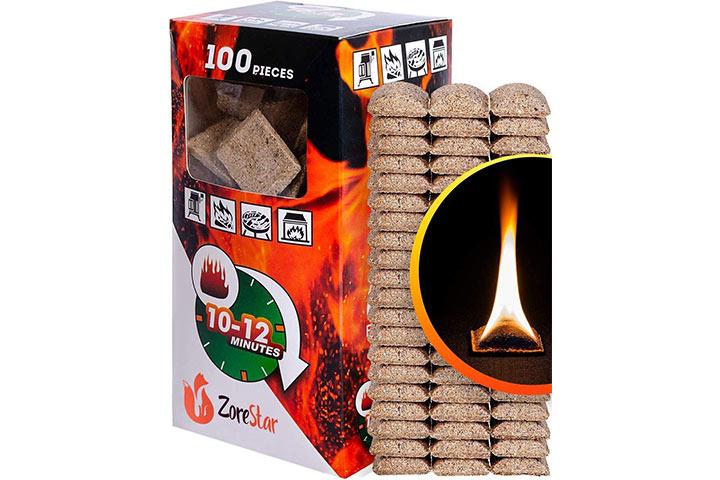 Zorestar Firestarter cubes are 100% waterproof, letting you ignite a fire anywhere and anytime. Use them to light a fire in your chimney, fire pit quickly, or ignite a campfire. The cubes can be used as a charcoal fire starter, wood fire starter, indoor fireplace firestarter, or bonfire lighters.
Features
Made of 100% waxed wood.
Only a couple of wood wax firestarters needed to ignite fire over 50 times.
One pack has 100 firestarter cubes
Single wood fire can last 10-12 mins
Specifications:
Dimensions:8.11 x 4.09 x 4.09 inches
Weight: 30.4 ounces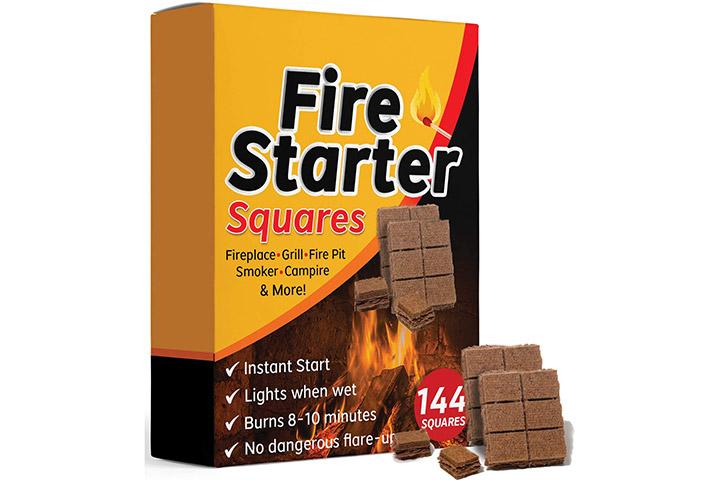 Strike a fire quickly with these easily combustible firestarters from Bangerz Sunz. Ideal for a 'rapid fire,' these fire starter squares are good as camping fire, pit fires, or barbeque charcoal lighters. They are eco-friendly, as they are made from non-toxic reclaimed wood chips and wax and emit up to 80% lower carbon monoxide emissions. They can help you light up a warm fireplace or wood stove comfortably and are a must-have in your emergency backpack.
Features
Produces no flare-ups.
Ideal for safely lighting indoor fires.
Ready to use as you do not need any kindling or paper for ignition.
Squares separate easily to be used multiple times.
Specifications:
Dimensions: 9.2 x 7.2 x 3.1 inches
Weight: 79.84 ounces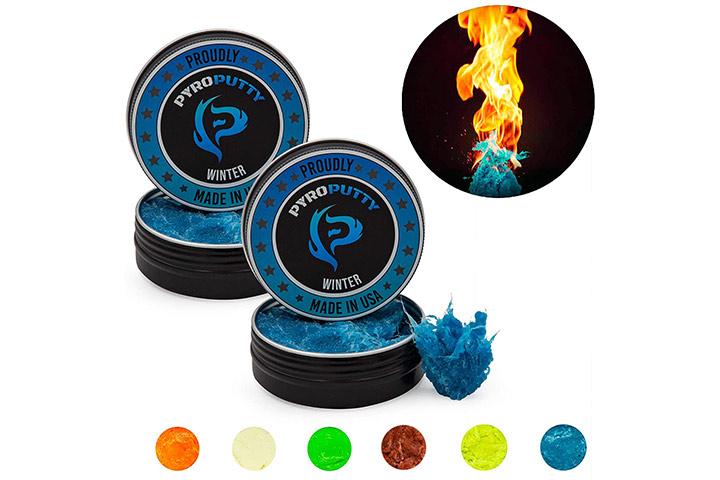 The PYRO Putty Blue Winter Blend is one of the best camping firestarters engineered to burn through sleet, fog, and snow at high altitudes. This firestarter can be an essential addition to every 72-hour package or survival stock. The firestarting blend works in extreme weather conditions and can be perfect for all seasons – you can use it in winter, summer, spring, or fall.
Features
Comes with a malleable, durable, and waterproof putty.
Easily connects to logs, torch, or timber.
Fits in any emergency response kit.
Ideal for use during natural disasters, power loss, or off-grid survival situation.
Specifications:
Dimensions:2.8 x 2.8 x 1.1 inches
Weight: 2.4 Ounces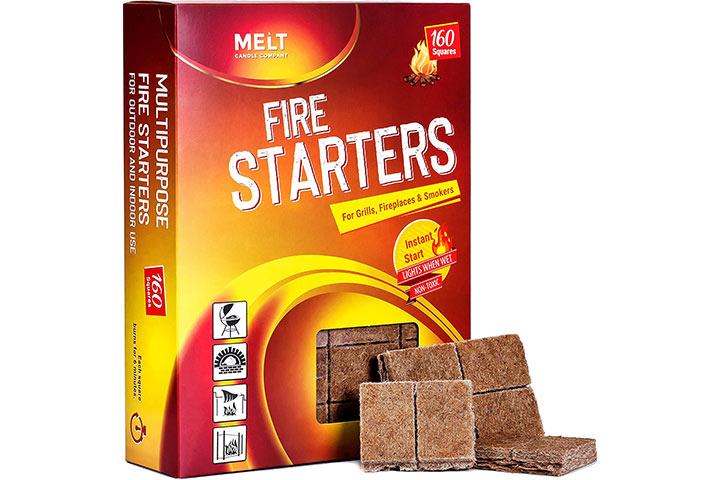 The firestarters from Melt Candle Company are 100% waterproof and can start a fire instantly, safely, and efficiently. They are suitable for everyday use and can be used in any season. You can use them to start a fire in your mortar, fireplace, and pellet stove.
Features
The squares are 100 %waterproof.
Natural firelighters fuel fires quickly under extreme circumstances, even when damp.
Ideal for camping trips, fishing, and hunting.
Excellent to use for grills, barbecues, wood and pellet ovens, and gas stoves.
Specifications:
Dimensions: 9.61 x 7.13 x 2.52 inches
Weight: 41.12 ounces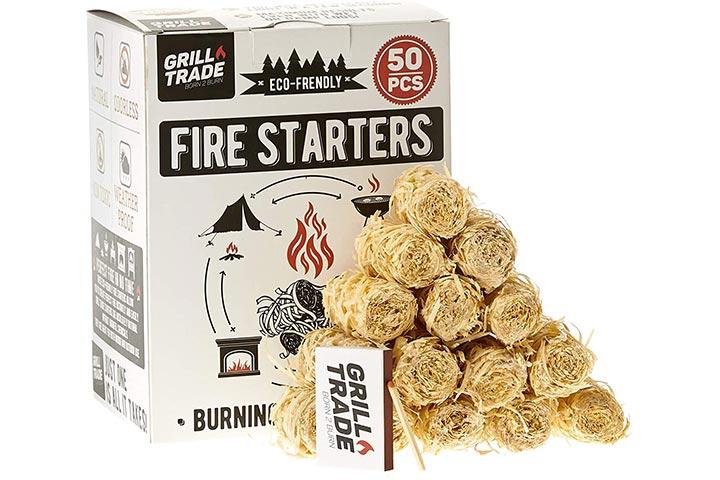 Grill Trade firestarters are made of 100% recycled raw materials, pinewood wool, and eco-wax. The firestarters can be used for a quick campfire with a portable starter. You can use them for camping, lighting your BBQ for lump charcoal, cordwood ignition in your fireplace, bonfire, camp stove, or oven. Unlike most products, these firestarters are made entirely of organic products and are perfect for cooking.
Features
Eliminates the need for harmful liquids, paper, or electric devices.
Odor- and smoke-free starters.
Compact and easy to carry to picnics, camps, and treks.
Make excellent gifts to avid campers and barbecue enthusiasts.
Specifications:
Dimensions: 5.52 x 5.52 x 5.52 inches
Weight: 24.8 ounces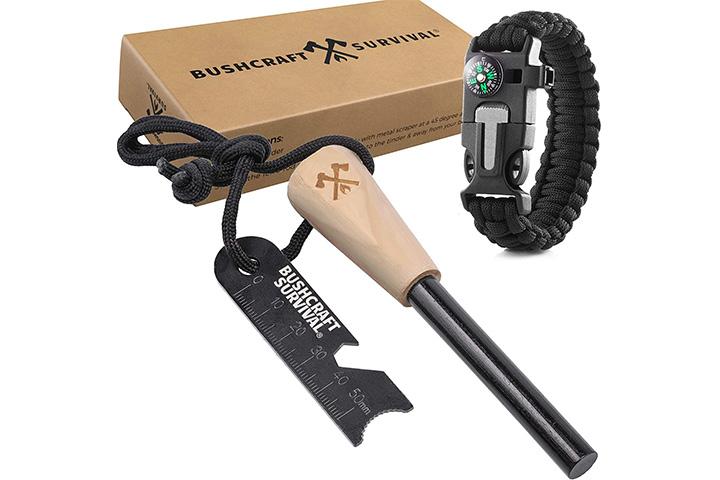 Bushcraft Firestarter Kit comes with a Ferro rod that lets sparks ignite rapidly. The flint rod consists of a high-quality ferrocerium and magnesium mix, guaranteeing over 15,000 strikes under all climatic conditions. The firestarter is hand-made and has the right grip on a cherry wood stick. The multi-tool striker is connected to the paracord lanyard.
Features
The striker is made of reinforced steel with a built-in hex lever.
You can use it as a toothed edge for scratching, ruler, and bottle opener.
The package contains a 10-inch high-strength paracord safety belt, built-in whistle, cutting razor, accurate compass, and mini-Ferro rod.
Specifications:
Dimensions: 6.4 x 3.5 x 1.4 inches
Weight: 2.3 ounces
How To Choose The Best Firestarter For Camping?
If you're camping and wondering what to look for when buying a firestarter, consider these aspects.
Strikes: The number of strikes determines the capacity to ignite a fire. The more an object hits, the more robust it is. Look for firestarters with a good strike rake, so you won't have to spend a lot of time trying to create a spark.
Ignition period: The typical flint and steel may need several strikes because it produces tiny sparks that may not last long. An improved version of the Ferro-rod striker ignites flames faster.
Performance in difficult weather: The performance of a firestarter largely depends on weather conditions. If you try to light a fire with a matchstick when the wind blows, you will not succeed. You need more than matchsticks to ignite a flame in colder weather conditions. Fire pistons and Ferro-rod strikers can be the perfect choice to start a fire when you plan a camping trip.
Weight: Heavy firestarters can become a burden when you are camping. Lightweight firestarters can be carried in bulk and won't add too much to your luggage's weight.
Options are aplenty in the firestarters' marketplace. A basic lighter can be good enough if you want to light a camping stove or a camping fire. If you are looking for a firestarter that lasts long, then buy a fire piston. Ferro rods and magnesium sticks are better options as they are reliable, affordable, and easy to use.