The first thing that comes to our mind when we think of trampolines is "fun". As kids, we were always happy about jumping on this bouncy surface. As for adults, did you know that these rebounders are also a great way to stay fit? If not, give us the pleasure to add some fun to your workouts with the best fitness trampoline to one-up your fitness game. Trampolines help you improve your immune system, bone density, balance, and help you lose body weight faster. A 30-minute session on these is known to burn way more calories than your regular walking sessions.
You are likely to find many cheap knock-offs of fitness trampolines in the market, so we have compiled a list of the 11 best fitness trampolines with a buying guide to make sure that you spend your money on the right one.
11 Best Fitness Trampolines For A Healthier Living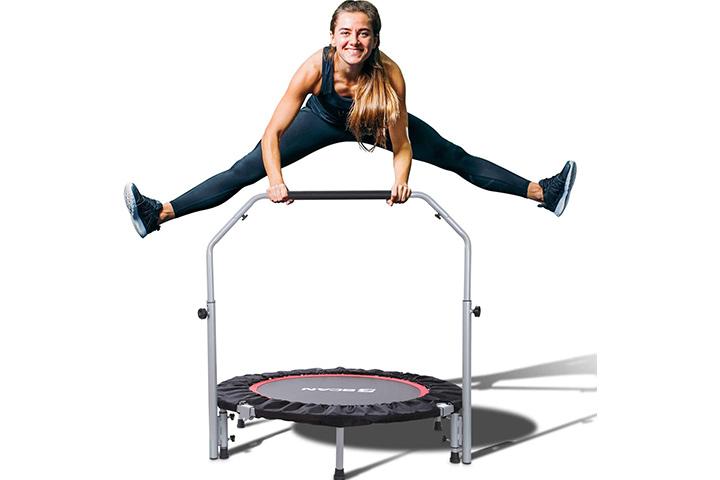 Hate traveling all the way to the gym? This 40-inch foldable exercise equipment is ideal for home workouts. The sturdy Oxford jumping pad is attached to the sides using a closed design steel spring to avoid sharp parts from protruding. They are covered with an anti-skid rubber material to help you retain your balance. They have a 4-level height adjustable foam handle ranging from 32 to 42 inches that can be altered to anyone's height, including your child's. The heavy-duty but clean and straightforward design helps in easy assembling without needing any additional tools.
Pros
It can endure loads up to 330 pounds.
The pad has holes for easy folding.
The foam handle provides a comfortable grip.
They are easy-to-clean due to its waterproof material.
It muffles all the noise from your jumping exercise.
The foldable design lets you reduce it to 1/4 the original size for storing convenience.
Cons
The rubber feet might wear off quickly.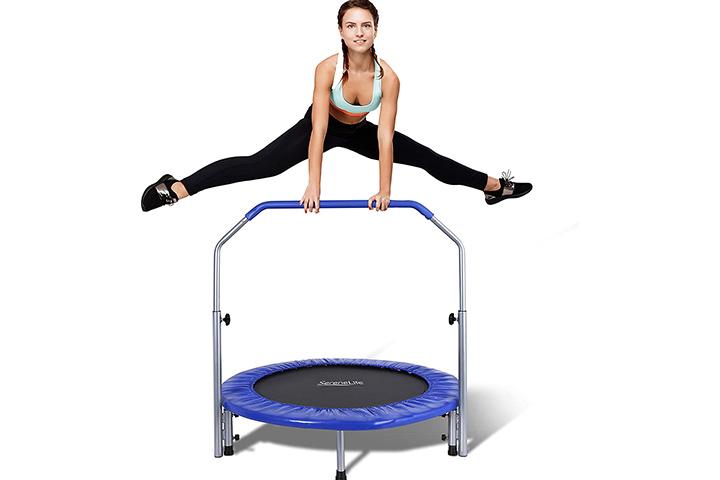 Serenelife presents you with an extremely dependable workout partner — this mini fitness trampoline is made from heavy-duty polypropylene to give you a safe and stress-free bouncing. They have a padded frame cover which avoids any chances of you accidentally stepping in between the steel frame and the pad. You can use the padded handlebar to have better control over the bounce. The steel frame has a rust-proof coating for increased longevity. The pad has a diameter of 33.8-inches which lets you perform a full range of exercises. It is not recommended to wear footwear while jumping on the mat.
Pros
The pad supports a load up to 220 pounds.
The handlebar can be adjusted between 35-46 inches tall.
The pad is connected to the frame using coil springs for high elasticity.
It comes with an instruction manual for easy assembly directions.
The easy folding feature lets you store it even in small places.
It comes with a travel bag for you carry it anywhere.
Cons
The legs might have to be tightened often.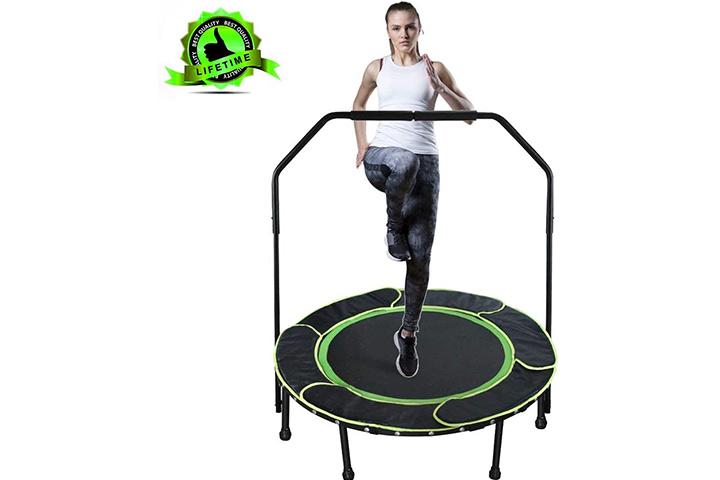 If it is for your kid's fun activities or your fitness schedule, the fitness trampoline from Shizzz could be the perfect option for you. The frames are made of commercial, high-quality steel material for durability and the resistant PP material mat can handle weight up to 330 pounds. With 4 different levels of adjustments on the handlebar, you can rest assured that you will always have the support when you need it. The legs are capped with an anti-skid rubber material to keep the trampoline from moving.
Pros
It includes a padded frame cover
It can be folded twice for easy portability or storage
The steel tubes reduce noise from all the jumping activities
The waterproof material makes for easy maintenance
The handlebar is covered with foam material for a good grip
Cons
The assembling direction might be a little hard to interpret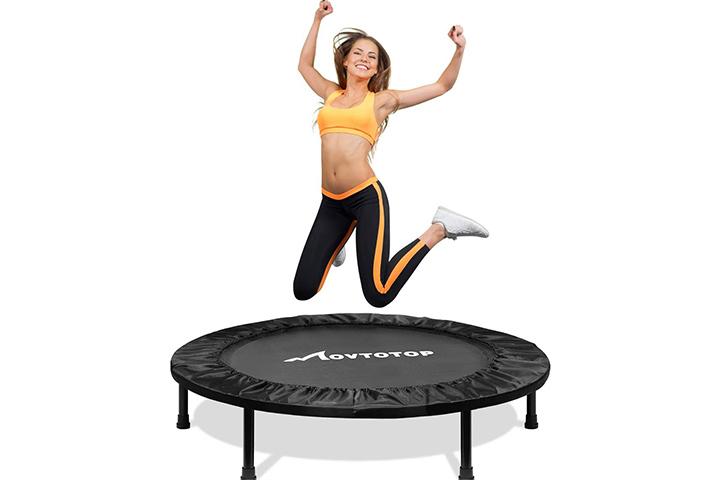 Trampolines from Movotop are built to last a long time. The frame is made from heavy-duty thick steel and the breathable mat is made from high-density Oxford material. It is a highly preferred brand for heavy workouts since it can bear a load of up to 265 pounds (120 kg). 32 super-strong springs offer great elasticity for you to perform all your cardio moves — from jumping jacks to core workouts, this trampoline can handle it all. And it hardly makes any noise, so you can workout without waking up your whole family!
Pros
It comes pre-assembled out of the box.
The legs have a non-slip rubber cap.
The mat is waterproof and wear-resistant.
You can save a lot of storage space by folding it in half or quarter size.
Cons
The stitching on the mat may be loose.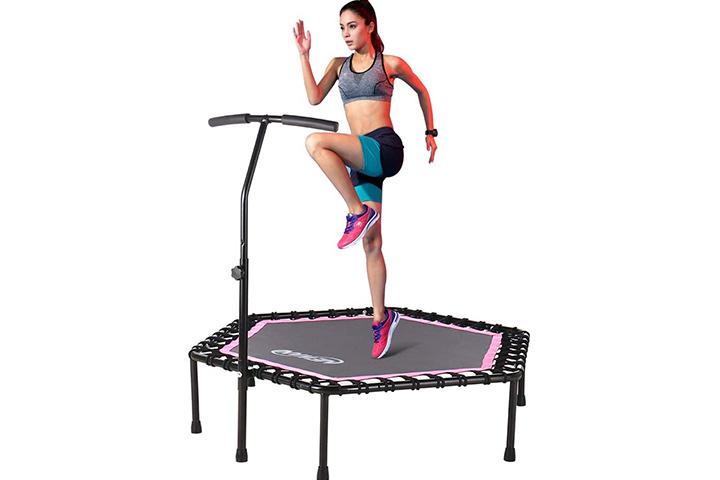 Are you bored of your same old workout regime? Then it is time for you to try trampoline exercise. They are an efficient way to stay fit. Newan offers a professionally-designed trampoline that is ideal for both men and women. They are lightweight, strong, secure, and exceptionally quiet. They use Bungee Ropes for elasticity as metal springs can rust and may tamper with your safety. The 42 thick bungee ropes offer the ultimate safety, thereby making it a kid-friendly equipment too.
Pros
The hexagonal structure provides a larger jumping surface.
It can easily withstand weight up to 330 pounds.
It has an adjustable handlebar.
It has a heightened and thicker mat to resist wear and tear.
Cons
You might have a tough time putting it together.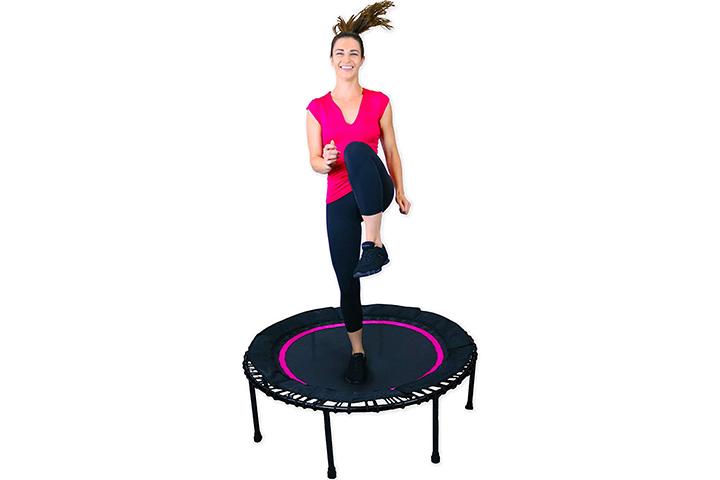 Help your family to stay healthy in a fun way. Be it small leaps from kids or giant rebounds from an adult, this superior-quality trampoline can survive it all. It has an integrated protective mat that is held together by strong bungee cords to restrain from warping. It provides support to your joints and also prevents you from hitting the ground. It features frame bars that avoid loosening of the cords with rubber washers to restrict any kind of movement of the trampoline.
Pros
Includes a free installation tool for easy assembly
They support up to 250 pounds
The mat is UV-resistant
They are very lightweight and portable.
The frames are constructed from sturdy carbon steel components and have screw-in legs.
Cons
The legs might lose sturdiness over time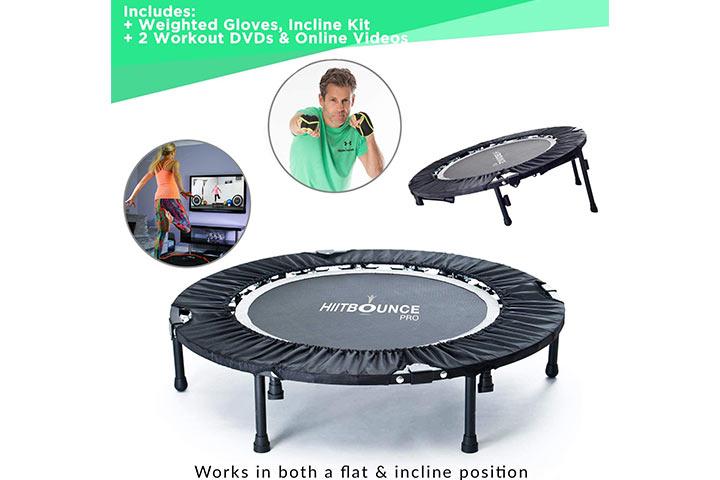 This exceptional range of trampolines from MaXimus Life is built to endure even the toughest workout routine. You can make use of the foldable feature of the mat to give yourself an inclined/angled set-up for more challenging cardio workouts. It is made from high-tension, muscle-shaped springs that yield a soft but strong jumping experience. This rebounder forces your core muscles to work and burn all the stubborn fat. A lot of professional sports athletes prefer to use this as their daily workout equipment. Now you can do it too!
Pros
It can handle weights up to 330 pounds.
It is made from high-grade steel which is ideal for everyday use.
It includes weighted hand gloves to help you tone your arm muscles.
The legs on the frame have wide, non-marking rubber caps.
The mat is vigorous due to its 40-inch diameter coupled with 32 large springs.
It includes 3 HIIT DVD Rebound series to guide you through your initial HIIT sessions.
Cons
The springs might not be durable enough to last a long time.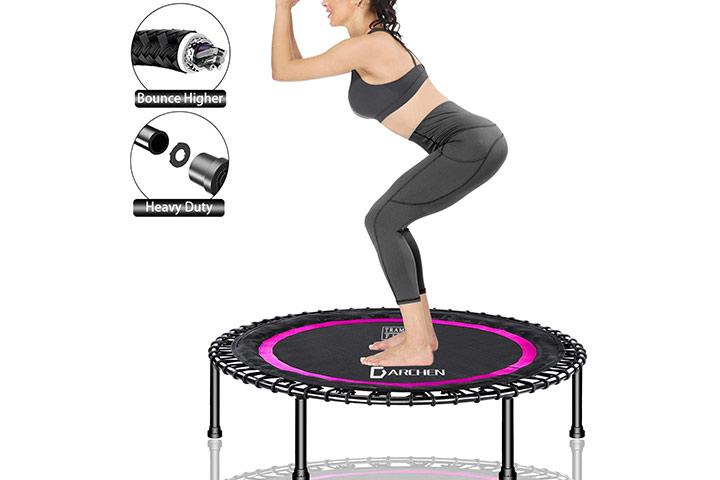 Don't let the pandemic ruin your workout plans. Darchen's Mini Trampoline brings home the gym-quality training right into your living room. It is specifically designed to help you achieve your desired results while also providing the safety you need. The jumping PP-mat is built to last for at least one million jumps. It is supported by 3rd generation bungee cords that lets you jump higher than other mats. And, if you are someone who hates making too much noise, this is a great option for you. It muffles any noise from the workout making it hardly audible to the person in the next room.
Pros
Easy to clean
It has a 32 inch surface area for workouts
Maximum weight pressure recommended is 450 pounds
6 heavy-duty legs for support
Keeps your knees protected with soft rebounding
Cons
Assembling the trampoline might be hard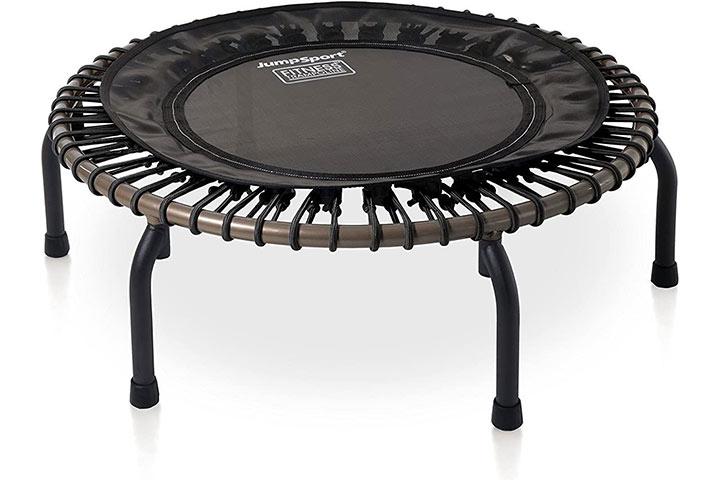 Exercising on a trampoline is one of the best ways to reach your aerobic exercise goal and the experts at JumpSport understand these needs. 350 Pro Fitness Trampoline has a patented easy-to-adjust bounce tension that will match every individual's performance requirements. Your safety is their priority and that is why they have installed no-tip arched steel legs that offer unmatched stability. The 36 premium EnduroLast 4 bungee cords around the mat can last up to 1 million jumps, all while providing low-impact on your joints and a smooth jumping experience.
Pros
It can handle weights up to 300 pounds
The cords also help in toning down the noise for a virtually noiseless practice session.
The mat's extended 4-inch skirt grants a larger jumping surface.
The frame is constructed with a durable 3-coat Charcoal Gold and topped with low-friction finish for a retained consistency.
No hassle of putting it together, it comes fully assembled.
Cons
The bungee cords might have durability issues.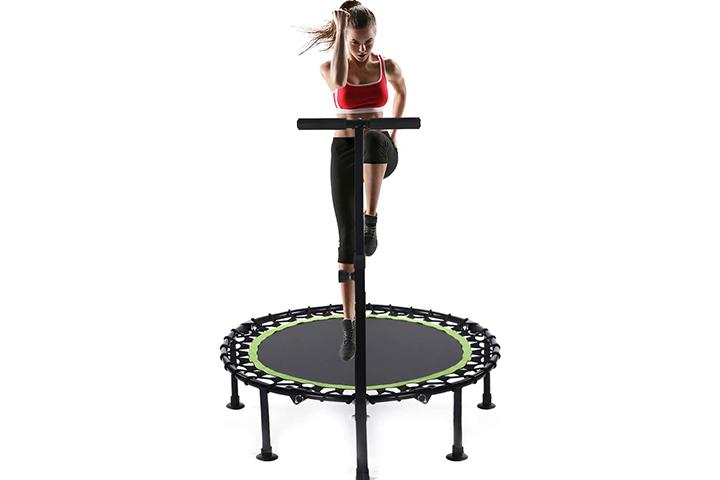 What is that we hear? Do you need a fitness trampoline that is ideal for both indoor and outdoor settings? A rebounder that is great for both kids and adults? We have just the right thing for you! This trampoline, with an anti-abrasion mat, is the perfect jumping surface for your family. The robust bungee cords can easily operate even during the most intense (or your kid's chaotic) activities. The stainless steel frame is very sturdy for your peace of mind. Now you and your family can indulge in an engaging and pleasant jumping exercise.
Pros
Installation tools are included with the product
You can carry it anywhere due to its easy folding feature.
The handrail can be adjusted to anyone's height or preference.
Cons
Not ideal to carry weight above 180 pounds
Exercising on trampolines regularly has a tremendous impact on your immune system. The mat on this latest model from Wamkos is made from heavy-duty polypropylene and thick PVC material. It also comprises high elasticity PP material. It is surrounded by 32 high-elasticity G-force springs that are built to stand the test of time. The rebound system is more durable and flexible compared to others in the market and can support up to 200-220 pounds. And, the frame is made from a heavy-duty steel tube with rubber feet for a superior grip of the floor.
Pros
The folding frame is designed to offer easy assembling and storage.
The rubber feet resist unwanted movements of the trampoline
Weighing only about 17 pounds, you can carry it anywhere you want.
It includes a resistance band for sports and outdoor activities.
Cons
The supporting springs might be prone to breakage.
That was our list of the 11 best jumping fitness trampoline that you can buy right now. But before you do it, check out all the factors that you need to consider before ordering one.
Choosing The Best Trampoline For Fitness
Jump sport is one of the best ways to give yourself a full-body workout. If you are an athlete or fitness enthusiast, you understand that having the right equipment matters a lot. So, if you are missing a trampoline in your home/gym, consider these pointers to make an educated decision:
Jumping Mat: This where all the action happens. So, it is important that you choose a rebounder with a mat that can endure the intensity of all your workouts. A mat with a smooth surface and large enough jumping area will support your joints and will prevent you from tipping over. Some of these mats feature moisture-wicking material that doesn't let sweat to accumulate on the surface.
Springs: These are mainly categorized into two types — metal springs and bungee cords. Metal springs are suitable for people who don't fancy tall bouncing heights but want to have more impact on their bodies. The bungee cords are slightly more expensive than the former, but are more durable, fun and put less pressure on your joints — preferably for kids.
Handlebar: Handlebars on the rebounders offer additional safety measures and help you retain your balance during the entire activity. It is highly recommended to have handlebars if the trampolines are going to be used by kids or by people who are new to jump fitness.
Frame: The frame is what holds everything together. It is of utmost importance that they are robust and made from high-quality materials. Additionally, having an anti-skid rubber cap is necessary if you are looking to restrict the frame from moving.
Maximum Weight Limit: If you need them for your kids, then you can choose a rebounder with a lesser weight limit. If you are planning to use it for intense workouts, choose something that can handle up to 400 pounds.
Portability: Trampolines are usually lightweight. But to make it more convenient, some brands allow you to fold the mats into half or quarter the original size. If you are looking to take the trampoline outdoors, then you should consider this point too.
Frequently Asked Questions
Q. Are mini trampolines safe to use?
A. Although it is quite safe, it also majorly depends on the quality of the trampoline and the way you use it. If you are new to this method, a fitness trampoline with a handlebar is the way to go.
Q. Why is a workout trampoline good for runners?
A. Working out on a trampoline offers better results than running. A 10-minute exercise on trampolines burns more calories than a 30-minute running.
Q. Are mini trampolines okay for outdoor use?
A. Yes, they are pretty ideal for outdoor usage. Trampolines are very portable so that they can be carried anywhere.
Q. What is the difference between a mini trampoline for children and an adult mini trampoline?
A. The major difference between the two is the maximum weight endurance. Trampolines made for children cannot withstand the weight of an adult, the mat will tear right through.
Q. Can you lose belly fat by jumping on a trampoline?
A. Yes, jumping on trampolines is known to burn a lot more calories than regular running, jogging, or swimming sessions. They also provide other health benefits.
Q. Is a trampoline bad for knees?
A. On the contrary, exercising on a trampoline is more beneficial for people with bad knees. It puts less impact on the knees when compared to the impact from running or jogging.
Q. How many minutes a day should you rebound?
A. Exercising 10 minutes on a daily basis is ideal to achieve desired results. If you need faster results, you can extend your workout by doing multiple batches of ten-minute sessions.
Q. Is jumping on a trampoline bad for your back?
A. No, it is highly suggested that people with back pain should exercise on trampolines. Aerobic exercise avoids straining your spine and instead strengthens it.
Q. What size trampoline is best for you?
A. For someone who does a variety of exercises, trampolines with 40-inch dimensions should provide enough jumping surface.
Q. How many times a week should you rebound?
A. You can work out on all 7 days of the week.
Q. How many calories do you burn on a trampoline for 10 minutes?
A. It depends on the intensity of your exercise. On average, you could burn between 50-15 calories for every 10-minute session.
Staying fit is the road to a happier life. All these years, you tried the regular and boring way, it is time to change the pace. So, now that we have told you everything you need to know about fitness trampolines and their benefits, which one have you decided to gift yourself or your family with?
Recommended Articles: