Is there anything more infuriating than having to consume your drinks at a different temperature than you generally prefer? We think not. Hence, flasks are a godsend to keep your favorite beverages as hot or as cold as you like them.
Whether you're hiking with your friends, camping with your family, or spending some time in the park with your kids – your beverages will be kept well protected within the insulated walls of a flask. Trust it to keep your drinks at the temperature of your choice for long periods. With so many flasks to choose from, settling on one can be tricky. But we are here to help you out. Read on to find out our list of the 15 best flasks of 2021, and pick one that's best for you.
15 Best Flasks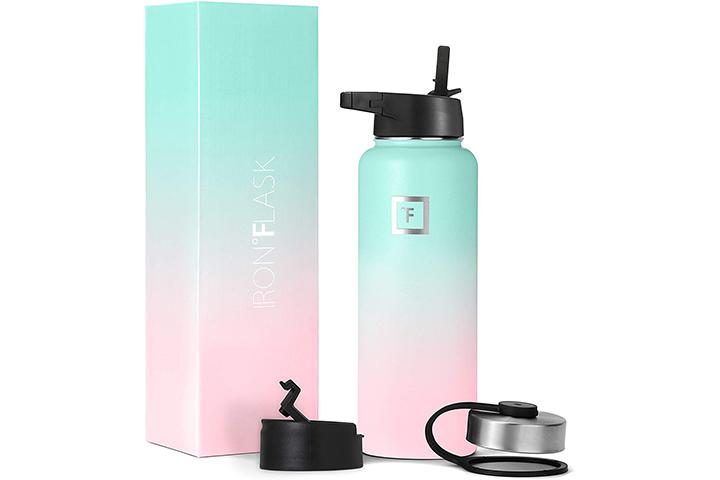 Need a flask that is as tough as you are? If yes, this one's for you. There is no debate that this is one of the best flasks out there, making it your best companion regardless of the activity or the place. As it is available in 6 different sizes and many funky colors, you will be spoilt for choice. Its double-insulated vacuum walls keep beverages cold for up to 16 hours or hot for up to 8 hours. While the smallest size of 14 oz. is ideal for your little toddler, the biggest one of 64 oz. is best suited for all your wild adventures, ensuring you have enough to drink and that too at a temperature you like. Another bonus? It has a lifetime warranty, so you never have to worry about its reliance.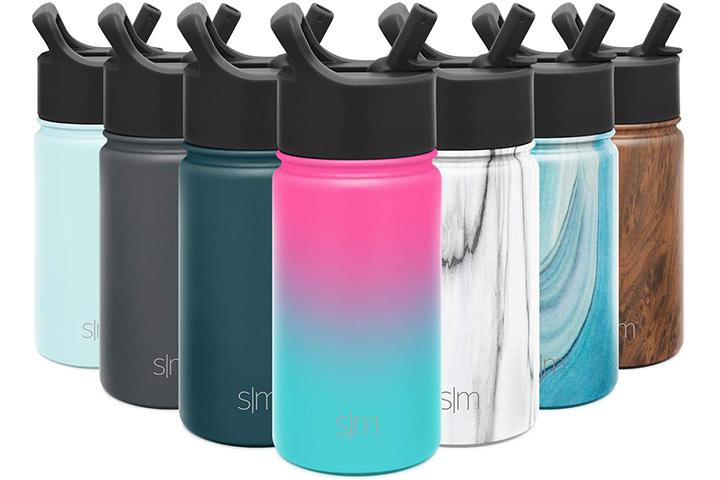 If a modern, sleek design with edgy patterns and colors catch your eye, you should consider these flasks from Simple Modern. With funky colors such as Caribbean blue to Sunshine yellow and stunning patterns that replicate a marble or wood finish, the options are limitless. Sizes range from 14 oz. to 84 oz., ensuring that there is something for everyone and every age. Ideal for cold beverages, these bottles feature double-insulated walls with a leak-proof lid and keep your drinks adequately chilled.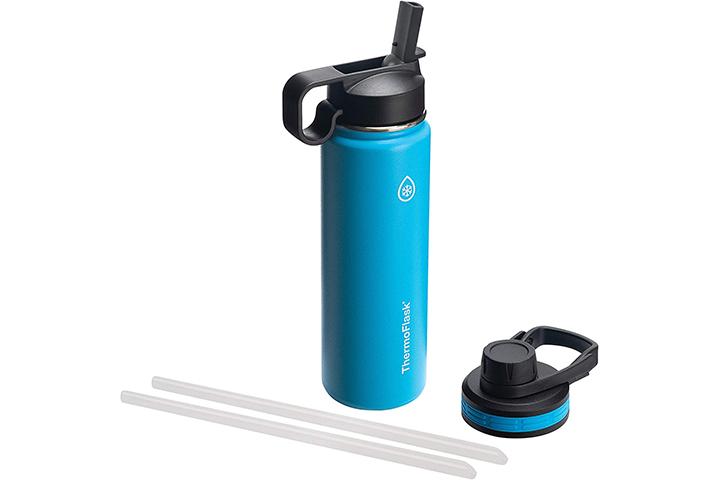 Do you prefer drinking water straight out of the bottle or using a straw? With this stainless steel insulated bottle, you won't have to choose. It features a wide mouth and is equipped with a straw that provides a better flow. An ideal companion for your everyday escapades, this bottle comes in 5 different sizes so you can carry it everywhere. If this wasn't convincing enough, it has double walls with vacuum insulation that will keep your drinks icy cold for up to 24 hours or steaming hot for 12 hours. It is flavor-transfer-proof, and sweat and rust-resistant as well.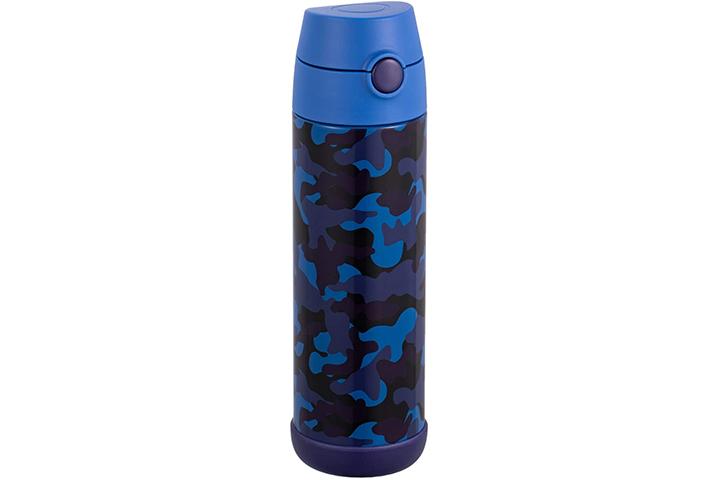 Your little wonders need constant replenishment with all the energy they burn out. With this stainless steel mini flask, you can provide your child with the daily dose of hydration he or she needs. It comes with a push-button to reveal the straw for easier consumption. This kids flask comes in 2 convenient sizes of 12 oz. and 17 oz. There are many colorful prints like Pineapple, Princess, and Monster Trucks to choose from, and we are confident they will delight your child instantly. Easy to carry and lightweight, you can now say hello to your child's new best friend.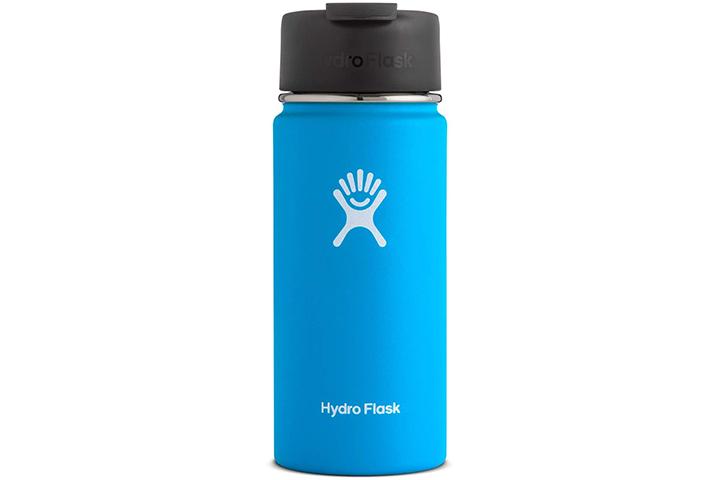 We've got fantastic news for the coffee fiend in you, who cannot go a day without a cup of your favorite brew. Whether you prefer a hot mocha, a steamy double espresso, or you're a fan of iced coffee, this steel flask will keep it hot for 16 hours and refreshingly cold for almost an entire day. It comes in a standard size of 12 oz. that fits under most coffee brewing systems and also has a hydro flip lid and wide mouth straw lid. This durable pro-grade stainless steel flask is both BPA-free and phthalate-free and comes with a lifetime warranty.
If you're frustrated with bottles that sweat and leak, look no further. This sports flask does a great job of keeping your beverages at a temperature you prefer, just the way you like it. It doesn't matter if you've poured hot water in or a chilly cold drink – this flask ensures that it does not leak or sweat, allowing you to carry it any way you want. It is available in 6 sizes and is crafted with double insulated walls.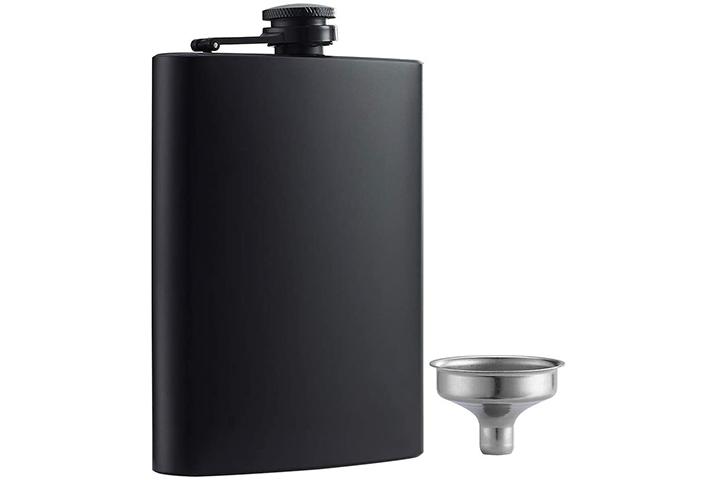 This flask slides into a man's blazer pocket as seamlessly as it slips into a lady's bag. Carry your spirits with pride and poise as you flaunt this stylish liquor flask from YWQ. Made from premium quality stainless steel, it is leak-proof and comes with a 2-year warranty. If you need more convincing, it is non-toxic, anti-corrosion, and rust-resistant.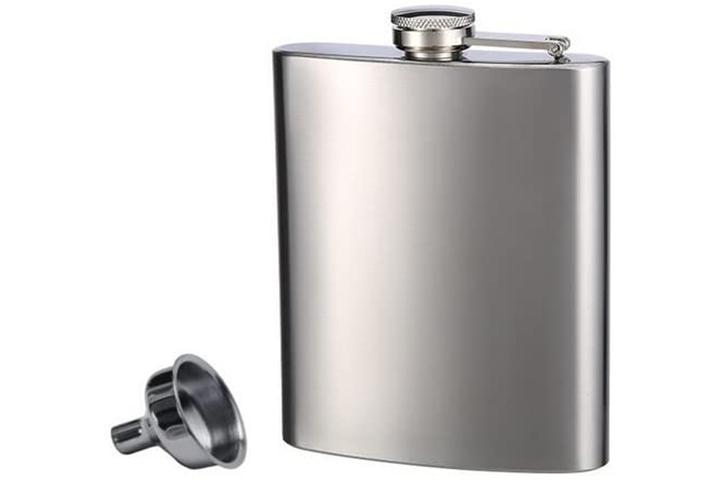 Here to lift your spirits is this elegant, stainless steel flask. A handy device to carry your alcoholic beverages – it can hold 8 oz. and comes with an easy-pour funnel. It makes for a great gift with its stylish, glossy design and has the added advantage of a lifetime warranty. This flask comes with a laser-welded seal and is 100% leak-proof.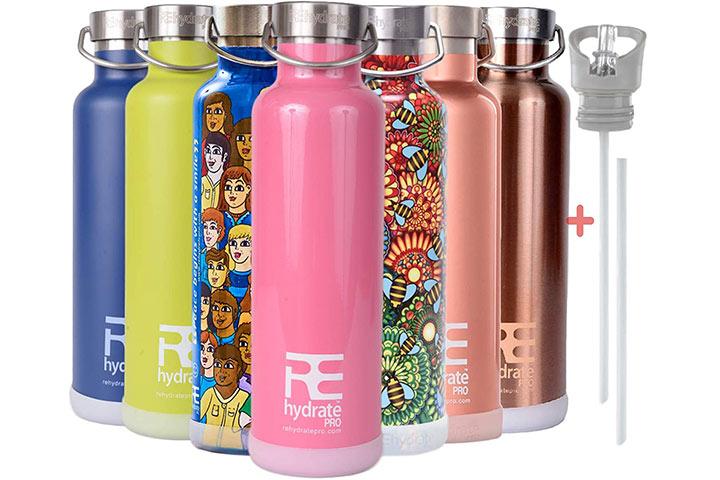 This unique and efficient flask with triple-wall insulation provides you quick and immediate refreshment. It features a copper lining protective layer that helps maintain a constant temperature of any beverage you pour in throughout the day. At a convenient capacity of 24 oz., it comes with a wide mouth and a bumper coaster. Made from premium food-grade stainless steel, it is BPA-free and keeps your beverages cold or hot for almost an entire day!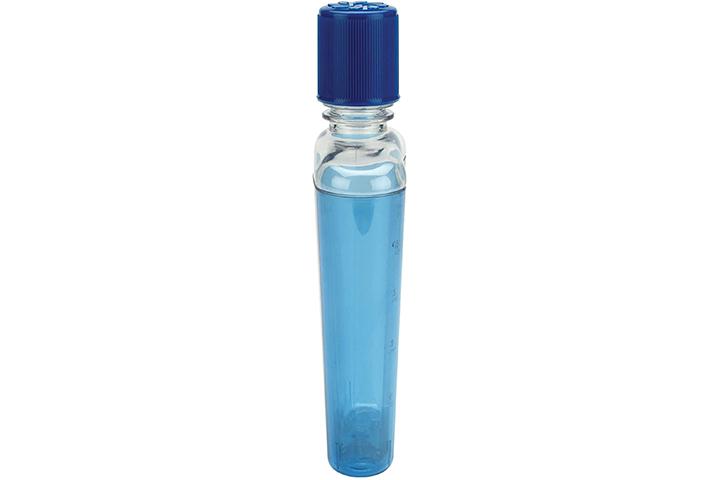 They say big things come in small packages, and this statement holds true with the Nalgene Flask. Don't be fooled by its size as it has all the things you'll ever need in a flask. BPA and BPS-free, it does not contain any chemicals that are usually found in plastic flasks. A superior alternative to plastic, it is durable, resilient, 100% leak-proof, and impact-resistant. This mini flask of 12 oz. is ideal for short distances.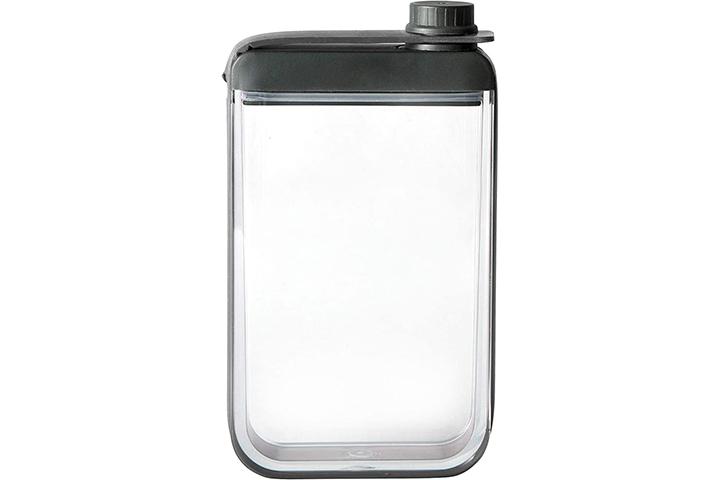 The minimalist in you will jump with glee when you take a look at this sleek, modest design. This mini flask made from non-detectable Tritan plastic can hold liquids up to 7.25 fl oz. FDA-approved, this flask is safe for use and easy to clean. If you're ever in need for a quick drink from a flask that is durable and long-lasting, you know where to find it. It comes with a tethered strap that keeps the lid in place and has a leak-proof seal.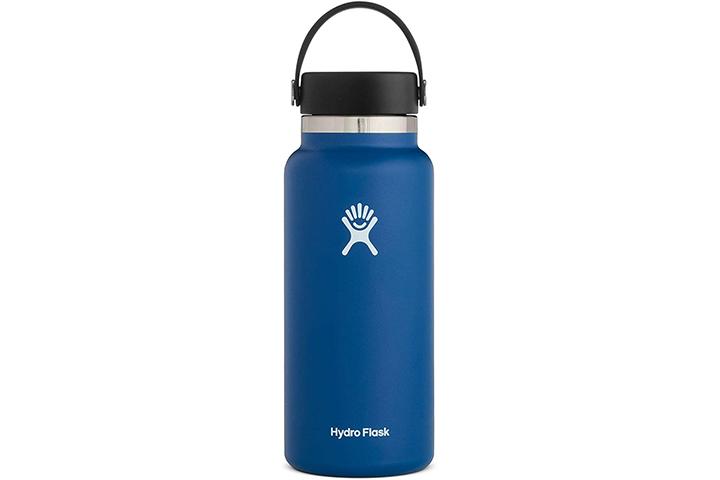 Sip away to glory with this sip-on water bottle flask. With a wide mouth for convenience, it is made from a sustainable metal. It comes in 4 different sizes and 11 colors so you can pick and choose what works best for you. BPA-free, phthalate-free, and made of 18/8 food-grade stainless steel, this flask is safe for you as well as the planet. It also comes with a temperature shield, containing double-wall vacuum insulation to keep your beverages as hot or as cold as you like them.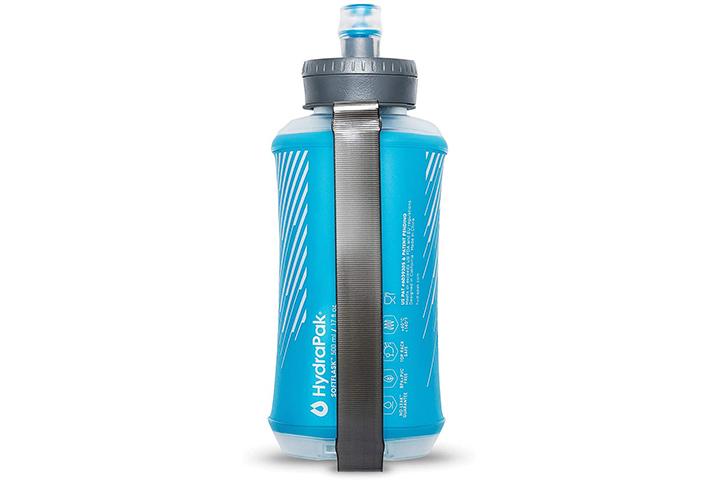 This is a must-have for every sports enthusiast. It comes with a flexible hand strap that can be easily carried in running vests and jogger pockets while going for a short run or a quick hike. This flask is made from a very soft material that allows it to be collapsed easily after using it. BPA and PVC-free, it does not contain any harmful chemicals. Perfect for the outdoors, it comes with a flexible hand strap, leak-proof auto shut-off valve, and a large opening. It is also 100% BPA and PVC-free and features a twist-lock cap.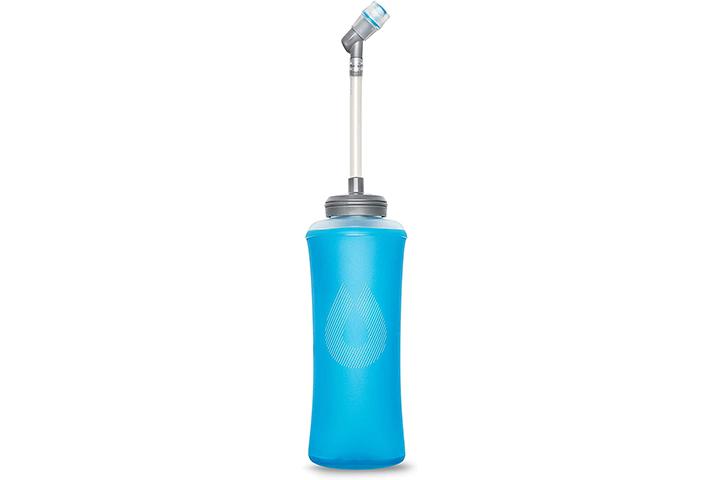 Another impressive flask for all adventure lovers is the UltraFlask from Hydrapak. This designer flask is bounce-free to provide stability and has a flexible outer shoulder to prevent chafing of the shoulders and other parts. Its abrasive-resistant material will make sure that it doesn't break into a scratch or sweat, and it is also 100% BPA and PVC-free. A true friend for all your adventures, it auto-seals after each sip, is made of a soft material that collapses easily and includes 2 caps.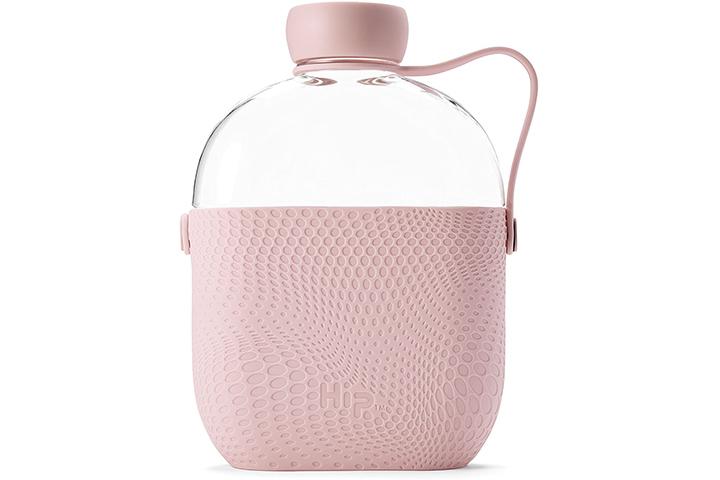 An absolute delight to the eyes, this chic and vibrant flask is an indispensable item of every household. Made from BPA-free Tritan plastic, it is reusable as well as dishwasher top-rack safe. Make a fashion statement wherever you go with stylish silicone covers that provide a comfortable grip. It also comes with a 22 oz. capacity, with a screw-on cap lid and a side strap handle.
Now that you've taken a look at the best flasks of 2021, read on to find out the various things you must consider when buying a flask.
Things To Consider While Buying A Flask
Flasks come in various materials, some affordable and some expensive. While plastic flasks are more reasonably priced, you may want to reconsider as they may not be too sturdy or efficient. Stainless steel flasks are the preferred choice for many as they are easy to clean, more resistant to sweat and flavor transfer, and perform a better job of retaining the temperature of your drinks. Besides this, stainless steel is also more durable than plastic and is also scratch-resistant.
Depending on your needs and preferences and how much you will need to put into your flask, you can make a pick. The smallest size ranges anywhere from 12 to 14 oz. and goes up to 64 to 84 oz. If you enjoy long hikes and vigorous activities that make you continuously reach out for your flask, you should pick a flask that can hold a lot of liquid. On the other hand, if you're someone who needs a lightweight flask and doesn't mind refilling, you may want to think about getting a flask that has a smaller capacity.
Regardless of its capacity, what one looks for in a flask is its ability to retain heat. While an average flask can go up to anywhere between 5-6 hours, a good, dependable flask should last up to 12-24 hours. Hence, one must carefully judge its heat retention capacity before buying a flask. If you are the type of person who is always ready to embark upon a tedious and lengthy adventure, you should opt for one that provides longer heat retention. If it is to carry around the house or a quick trip to the park, you can pick those that offer that.
Something you should definitely keep an eye out for, is the warranty offered. There are some flasks that come with a warranty that will last for a decade, while others even offer lifetime warranties. Make sure you pick one that assures its longevity.
Irrespective of the length of time you are out or the surroundings you are in, a flask does a great job of keeping your beverages hot or cold. This handy and portable device ensures that you never go thirsty while maintaining the temperature of your favourite drinks. And that was our top 15 best flasks of 2021. We hope you found one that fits the bill perfectly and keeps you hydrated at all times.