Do you want to look stylish and stay warm at the same time? If yes, you can try fleece jackets made from materials like polyester synthetic wool. These cozy and lightweight jackets usually have a zipper instead of other fasteners and offer thermal insulation. They are designed to keep you comfortable and don't let you compromise on style. You can wear them for running early in the morning or a relaxed walk at night.
Selecting a fleece jacket may not be that simple because of the wide array of choices available in the market. Here, we unfurl a list of the best fleece jackets for women to choose from.
15 Best Fleece Jackets For Women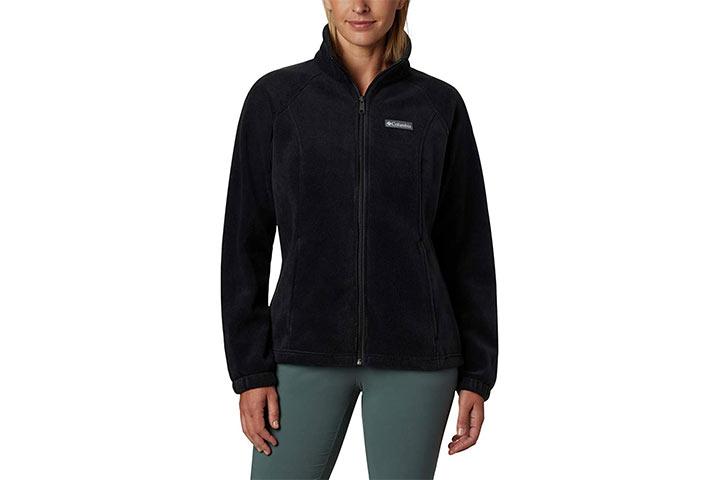 The lightweight fleece jacket is made of 100% polyester MTR filament fleece and has a zipper closure. It is a simple and comfortable coat with two side pockets secured with zippers to carry a mobile phone or keys. With a collared neck, this Columbia fuzzy jacket helps you combat cold in style. It is available in a wide range of colors, including plum, black, red, raspberry, beet, and coral.
Pros
Soft and cozy
Machine-washable
Makes a convenient cold-weather jacket
Has elastic cuffs
Comes with an adjustable hemline for a better fit
Cons
May fade after frequent washes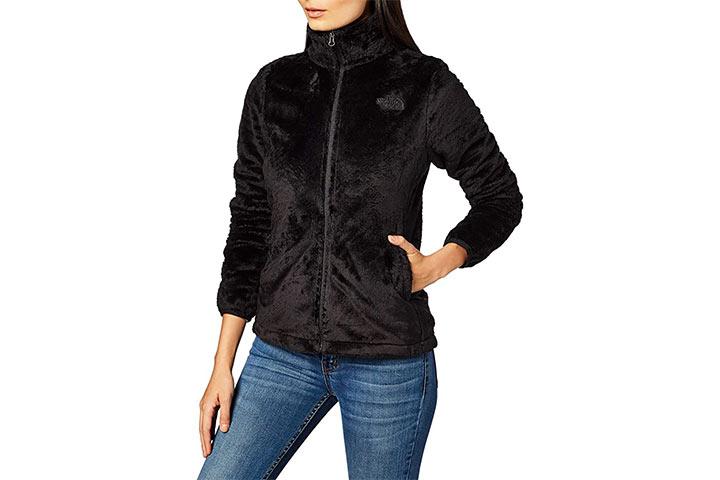 You don't have to worry about the cold with this 100% polyester fleece jacket for women. It is made of Silken raschel fleece that adds a luxurious feel to this standard box fit design. The standing collars reach the chin and keep the cold locked outside, giving you warmth. It is designed to offer comfort and warmth wherever you are.
Pros
Comes with zippered secured hand pockets
Soft and durable
Has a rich look
Standard fit
Cons
Fleece may shed with time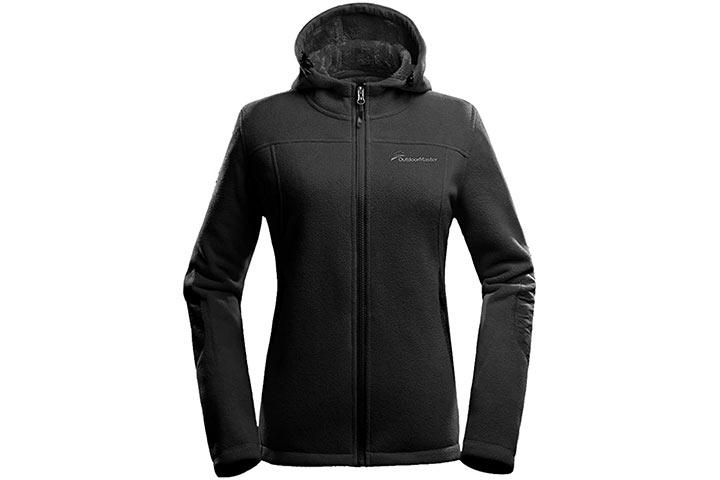 The hooded fleece for women with ultra-soft and warm plush lining is just what you need to stay comfortable. It also comes with a hoodie to make you look stylish. Made of 100% polyester, it also works as a fashionable raincoat that is easy to maintain. The anti-pinch neckline adds to the comfort.
Pros
Stain-repellant design
Waterproof
Comes with internal and external zipped pockets
Has premium YKK zippers
Comes with a tapered waist for a better fit
Cons
Available in only four color choices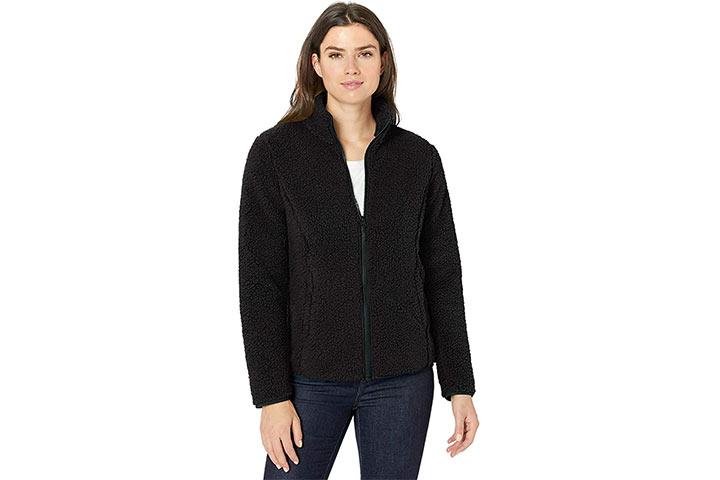 Stay warm on cold days with this fleece-lined women's jacket from Amazon Essentials. This polar fleece design comes with a high collar and full-zip closure. It is made of 100% polyester and is designed to provide you comfort. The generously sized pockets let you carry your stuff conveniently.
Pros
Machine-washable
Comes with elasticized cuffs
Lightweight and comfortable
Comes with side pockets with zippers
True to its size
Cons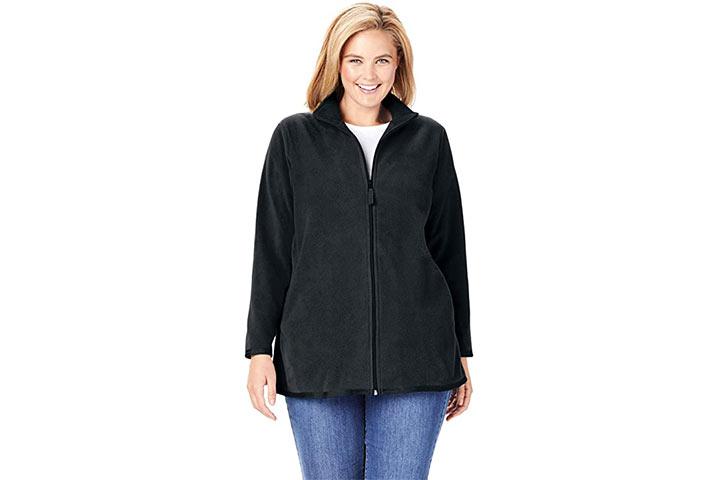 The zip-front fleece jacket for women is designed especially for plus-sized women. It is made of polyester that keeps you comfortable and is 30in in length. The thin fleece jacket can be worn anytime and is available in multiple colors and prints.
Pros
Machine-washable
Perfect for layering
Standing collars offer extra warmth
Side pockets with zippers to carry things
Can be worn in all seasons
Cons
Arm length could be short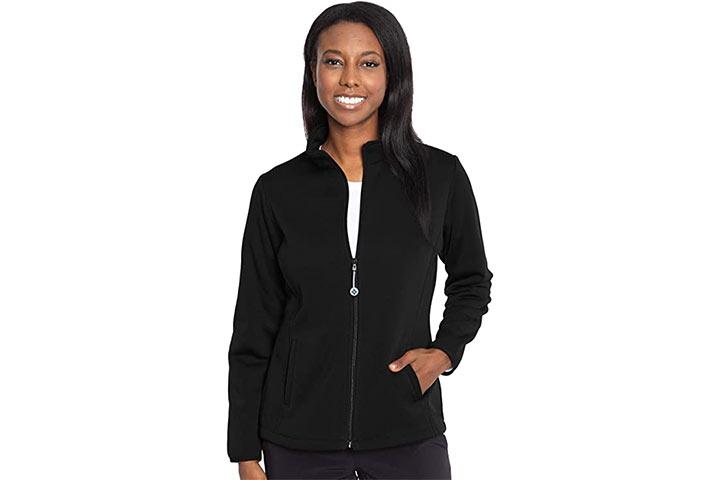 The durable and functional scrub jacket is made of unique performance fleece fabric. It is a smart women's fleece pullover with superior fit and front zip closure. Wear this convenient and versatile jacket any day and feel cozy. This polyester jacket features a unique zipper pull that can also be used as a hair tie.
Pros
Comes with two hidden pockets inside
Includes two front inseam pockets outside
Durable and lightweight
Easy to wash
Makes an all-season wear
Cons
Sleeves may not be of the right size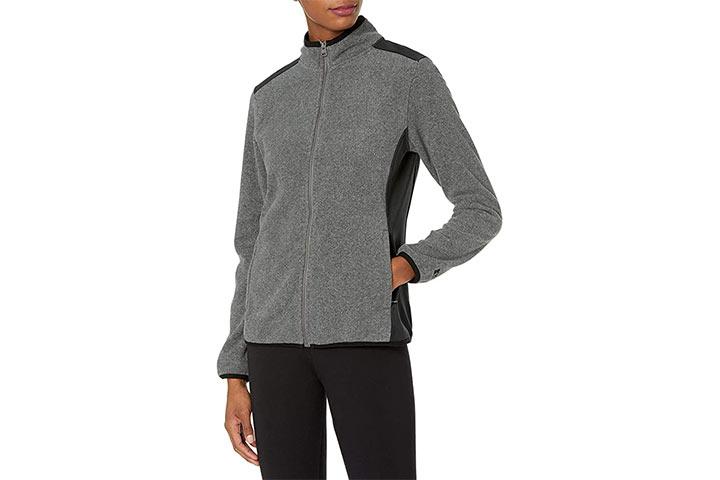 A zipper fleece jacket with stand-up collars is just what you need to stay stylish and cozy. It comes with Therma-Star that keeps you warm. The soft brushed fleece jacket is made of 100% polyester and comes with pockets for storage. Wear it over a t-shirt on mild cold days, or layer it for chilly days to stay comfortable.
Pros
Machine-washable
Comes with zippered hand pockets
Includes with a secure pocket on chest
Comfortable and lightweight
Cons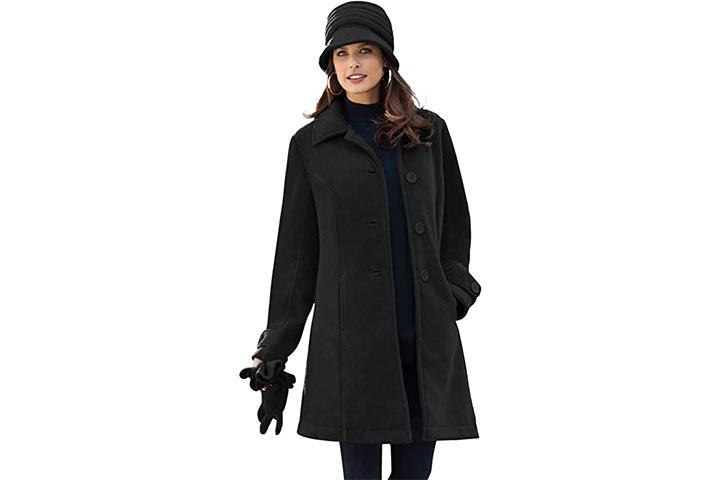 Bring out the best in you with this fashionable long fleece jacket for women from Roamans. It is designed for plus-sized ladies and comes with a swing silhouette and button front. Make your winters comfortable and stylish with this polyester coat that is 36in in length.
Pros
Has princess seam for a feminine fit
Machine-washable
Comes in solids and animal print
Includes on-seam pockets on sides
Fashionable and comfortable
Cons
Fabric may not hold shape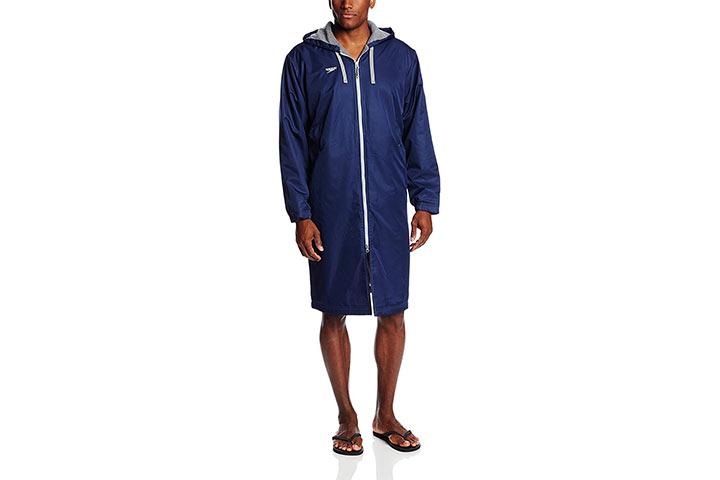 The long, hooded fleece jacket with soft fleece lining makes comfortable wear for women. Keep yourself warm in between swim events or workout sessions on cold days by wearing this unisex adult jacket with a two-way zipper and hood with drawstrings. It is made of 100% polyester and is easy to pack and carry anywhere.
Pros
Water and moisture-resistant outer layer
Lightweight and portable
Long swim design for better coverage
Includes inner pockets with zipper
Cons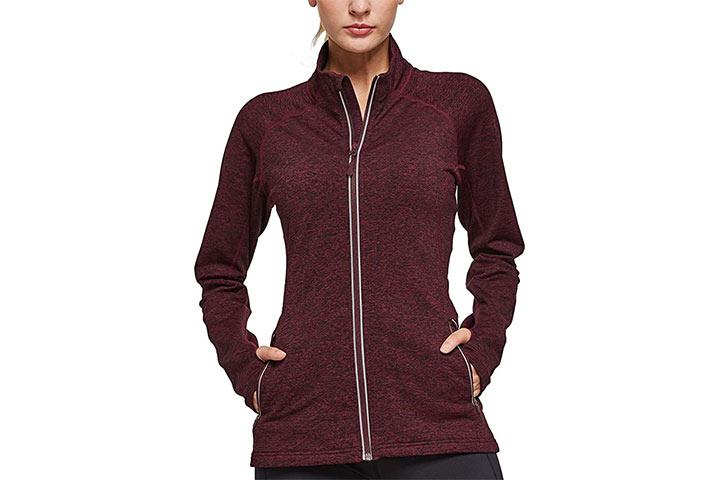 Made of 6% spandex and 94% polyester, this full-zip Baleaf jacket makes an ideal wear for camping, running, skiing, running, and other activities. It is designed for women and is made of four-way stretch fabric that is highly breathable, skin-friendly, and quick to dry. The jacket comes in different color choices and styles to match your personality.
Pros
Provides a warm and soft layer
Includes thumbholes for better hand coverage
Comes with zippered pockets on the sides
Easy to maintain
Machine-washable
Cons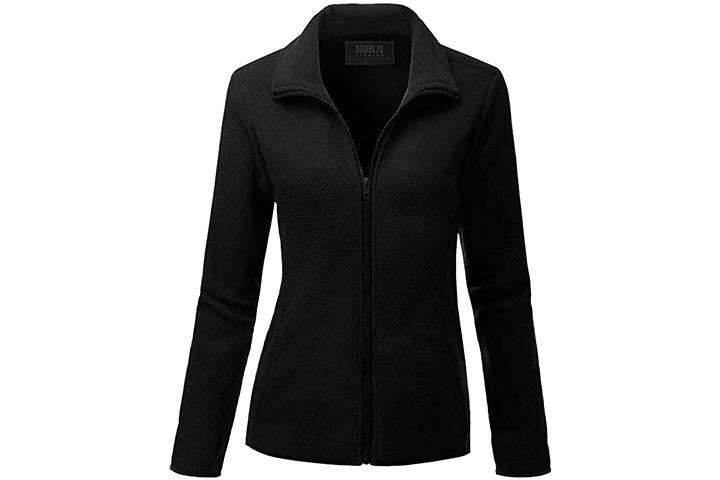 A comfortable and cozy winter fleece jacket made of premium polyester fabric can be a versatile choice for women. It makes a convenient option for jogging, running, and other sports. This long-sleeved jacket makes an essential addition to the closet as you can wear it anytime. It offers decent room and allows easy layering for cold days. It is available in a variety of colors and sizes.
Pros
High collar for better neck protection
Lightweight
Machine-washable
Stylish design
Cons
Stitching may not be durable
May have a poor zipper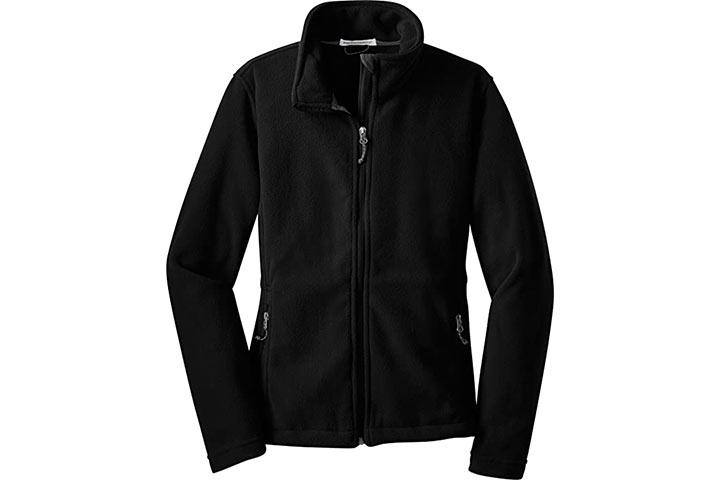 Designed to keep you cozy and warm, this black fleece jacket for women is made of100% polyester. It is soft with a beautifully contoured silhouette for a feminine fit. The coat has a twill-taped neck and reverse coil zip and is available in a wide range of colors.
Pros
Comes with front pockets with zippers
Includes a bungee cord zipper pull
Lightweight and durable
Comes with two pockets on the inside and outside
Cons
Sleeves may have sizing issues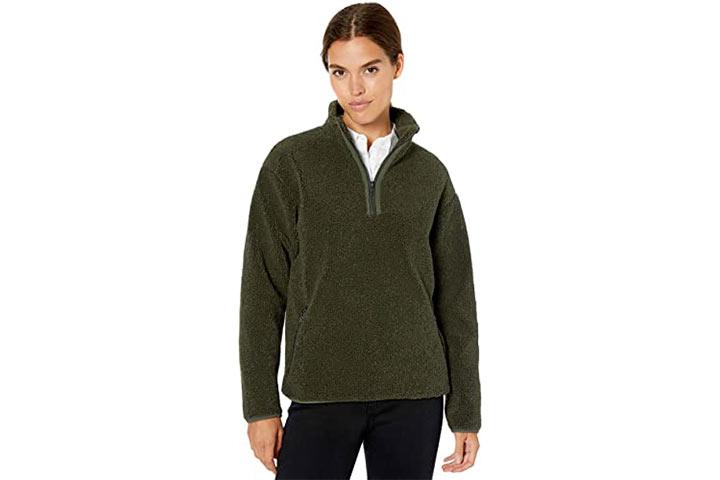 The fleece jacket for women with high collars makes a comfortable base layer to beat winters and has a quarter zip. It is an exceptionally soft jacket that does not add any weight to your winter look. Enjoy wearing this simple yet functional jacket made of 100% polyester and stay warm.
Pros
Machine-washable
Comes with elastic cuffs
Has zipper pockets on the side
Lightweight and cozy
Cons
May pick up a lot of lint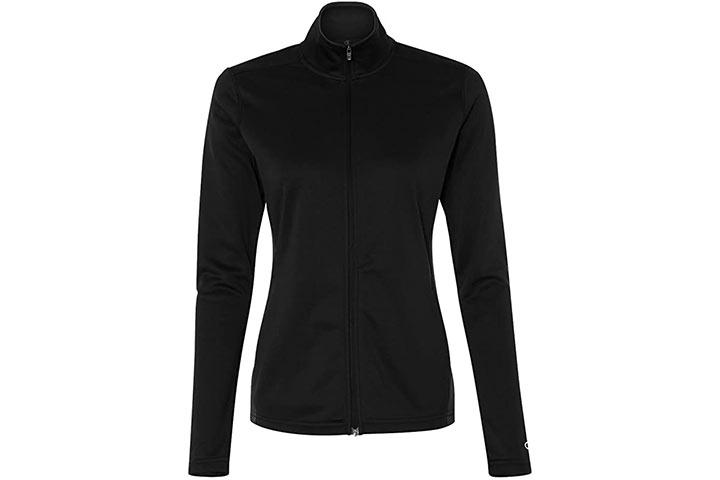 The Champion jacket for women is made of 100% polyester and comes with a front zipper closure and two-ply collar with contrast color lining. It comes in black and grey color choices and provides warmth without burdening you with weight. You can wear it on a casual day or a cold day and feel cozy.
Pros
Comes with side pockets
Offers a great fit
Can be worn across seasons
Warm and durable
Cons
Pockets do not come with a zipper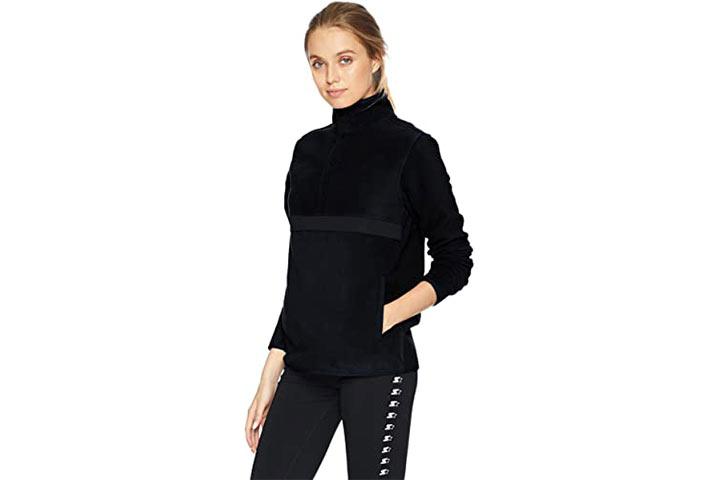 Stay comfortable with this fleece pullover made of 100% polyester. Withstand up collar and snap neck closure, this classy jacket has been designed to offer a good and natural fit. It has been created with the unique Therma-Star fabric that keeps you warm even on the coldest days.
Pros
Comes with a large kangaroo pocket in the center
Machine-washable
Includes hand pockets
Soft and lightweight
Cons
How To Choose The Right Women's Fleece Jacket?
Listed here are a few essential features to consider when buying a fleece jacket.
  Material: Modern-day fleece jackets for women are mostly made of polyester, a synthetic fabric. Sometimes polyester fibers are used with other natural materials to create layers for better warmth. A good fleece jacket must repel moisture but also offer breathability.
  Weight: It is always better to go with jackets that do not add to the weight. Lightweight fleece jackets make comfortable wear and are also versatile.
  Features: You can look for pockets, hoods, and adjustable hems for added convenience. Also, check if the fabric is machine-washable as an add-on feature.
  Fit: A good fleece jacket for women should have a taper around the waist and a flare close to the hips. Princess seams add more feminine touch to the coat. So, look for these features, so you look stylish.
A good fleece jacket makes a wardrobe essential for every woman. It is designed to make winters warmer and adds more comfort when you are camping, hiking, running, or indulging in any adventure. With such extensive choices of fleece jackets varying in styles, colors, patterns, and features, you have plenty of options to choose from. Pick the best fleece jacket for yourself and stay warm and cozy.
Recommended Articles: