When you're with your loved ones or in a lovely family gathering, your sofa may not have enough space to accommodate everyone. So, here's our list of the best floor pillows to make the floor more comfortable. Floor pillows convert the ground into a welcoming, lounge-worthy, homely spot. They provide you with cushioned support to help you relax, giving you optimal comfort for a cozy nap. These pillows can be multifunctional as you can use the compact ones as padding for chairs and benches. You may also use them for meditation or as spinal support during working. These pillows prevent backache, hip pain, and other discomforts, allowing you to sit comfortably for hours.
With multiple benefits and features, you can get these pillows to decorate your living room for your guests. So, read on to learn about the available options and choose one that suits your needs.
Read on to know more!

11 Best Floor Pillows
Peace is where the comfort is, which is why your yoga session deserves this lush meditation pillow! Ultra-cozy with a premium and machine washable velvety cover, this 16-inch wide and 5-inch-thick round floor pillow ensures optimum spine support while sitting. And given it is filled with 100% buckwheat hull, it will not flatten after consistent use. A great addition for those with back pain, the pillow has an ergonomic design to improve posture and relax your mind, all at the same time! And to top it all, it has a mandala lotus flower print and is portable as well, making it all the more yoga-friendly. Try it!
Use it on the floor, for meditation, or as a bench cushion— this luxurious square pillow guarantees utmost comfort only. So, if you are looking for the best square floor pillows to add to your room décor, this one will definitely boost the luxury quotient. This floor pillow has a 100% polyester chenille cover with a tufted design and scalloped edges. And for all those with sensitive skin or nose, this ultra-soft cushion is also hypoallergenic! Need we say more?
How about adding a Bohemian touch to your room? This meditation floor pillow is not only ideal for meditation but for garden parties and to turn any part of your room cozy instantly. Designed with an ultra-soft cotton fabric and filled with PP cotton, it claims to provide optimum support to your back and hip. However, what makes it ideal for small rooms or kid's rooms is that the pillow is lightweight, compact, and will not eat up too much space. Go on, boost your floor's comfort level with this one! If you want to know more about this product, check out this video on YouTube.
Because who doesn't like a good throw pillow on the bed, couch, or on the floor, right? A go-to stress-buster, this one is a great choice if you are looking for pink floor pillows. Designed with a combo of soft spandex and polyester to increase elasticity, the cushion has polyester fiber that is heat-preserving and soft. Besides this, the dye is eco-friendly, has no odor, and the sewed-up design ensures 100% coziness and no discomfort whatsoever! Yep, add this huggable pink cloud to your cozy corner today.
With this square and portable pillow, you will never have to compromise on comfort while meditating or while sitting on the floor. Also, it makes a cozy seat during slumber parties and movie nights too. Designed with 9 tufted positions to prevent deformation, the material is ultra-comfortable, breathable, and skin-friendly as well. Besides this, it guarantees optimal support to your spine whether you use it for yoga, reading, watching tv, or playing games. And to top it all, it can be used as a seat on the bench or chair if you need some extra padding for comfort. Grab it already!
Crashpad goals, anyone! Screaming coziness all over, this jumbo floor pillow is the ultimate crash pad you deserve after a long tiring day. Packed with shredded polyurethane micro-cushion filling, the machine washable cover is 100% polyester and comes with a nylon lining inside, which is moisture-resistant. And to trigger your interest, even more, you can use it as a chair or a hammock too! Want more? It comes with a childproof zipper, and given its optimum comfort level, it's a great option if you are looking for floor pillows with back support. Too snug-able to be missed, we think!
Let this combo of vivid Boho colors and comfort make your home a relaxing retreat for you. Made of eco-friendly, ultra-soft cotton and filled with PP cotton, it claims to be gentle and suitable for sensitive skin. Now, whether you want to use it as a tatami mat, around a Japanese table, or make your movie nights special, these seat pillows will not disappoint. Also, they are portable, lightweight, and travel-friendly, so you can meditate or be in your comfort zone anywhere, anytime. Yep, stay cozy, Boho-style with this cushion!
Here's a floor pillow that'll awaken the environmentalist in you! Yep, get ready to throw facts every time someone compliments the pillow as this one has soft poly-fiber fillings made of 100% recycled plastic bottles. Sounds interesting? There's more. With a corduroy cover to add a sophisticated feel to the cushion, the 100% nylon microfiber material is also water and stain-resistant. And for those who like their floor pillow ultra-snug, this one is generously overstuffed to provide the coziest feeling ever. Besides this, they are portable, durable, and ideal to use on both sides. Go on, feel lazy on this one!
So comfy that your spine will thank you for it! Yep, providing optimal support with its tufted and velvety design, this cushion is filled with ultra-comfy polyester that adjusts to the shape of your hip and provides support to the tailbone and lower-hip effectively. So yes, no more backaches and cramps after using this padded pillow. Also, it is highly versatile and can be used as a bench or chair seat too. And that's not all; the cushion has a leather handle for convenient portability. Go on, add this comfort padding to your abode or workspace today.
Ultra-soft floor pillows, not your thing? You can give this cushion by Eurnix a try. Comfortable enough to provide the right support and snug to your spine, it's ideal for meditation, reading, or using around a Japanese table too. And given its compact size, you can use it for extra padding on the chair, bench, car, or at work. Besides this, the cushion has a tufted design to prevent deformation, has a great rebound effect, and the material is also breathable. Yep, make the best of floor time with this one!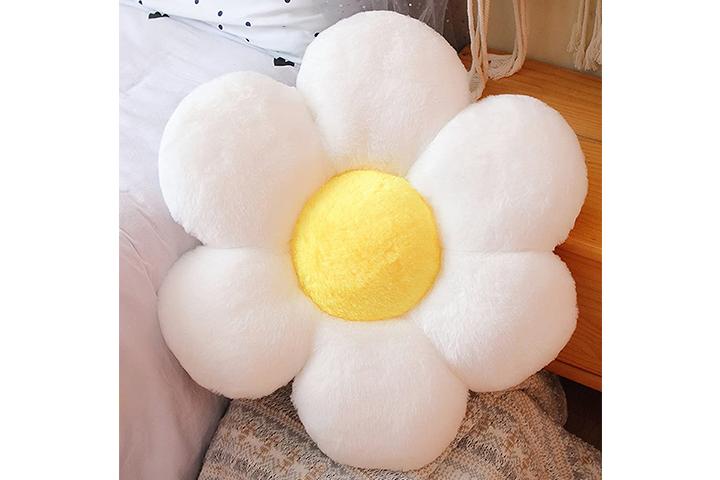 Lannery flower pillow, made of soft, skin-friendly fabric, can be used as a floor pillow for seating or as a throw pillow on the bed or sofa. The adorable sunflower design is available in multiple color combinations and sizes. This flower pillow, with its bright colors and squishy material, can be a great addition to your child's bedroom. It is also easy to clean with a damp cloth or can be washed manually.
Pros
Does not fade
Lightweight material
Strong stitching
Suitable for use as a decorative pillow
Suitable for toddler chairs
Cons
Stuffing may not be stiff enough
May be smaller than you expect
Too cozy to handle, aren't they? There you go, those were the 11 best floor pillows that you must check out this season. Do you still need assistance with choosing the right floor pillow? We've collated some shopping tips for you in our buying guide below.
Buying Guide
Things to consider while choosing the best floor pillows:
Look out for the following features in the product before buying:
Size: Inspect the width and the thickness of the pillow before buying it, so you don't end up with a jumbo size pillow when you are looking for a space-saving one. Also, the thickness determines the softness of the pillow too. So, select the one that suits your comfort needs.
Filling: The filling is what makes the pillow's construction durable and comfortable. Mostly, floor pillows are filled with cotton as they are breathable and suitable for sensitive skin or polyester, as it is durable and heat-preserving. Hence, pick accordingly.
Material: Do you want the pillow to be touchable-soft and cuddly? Inspect the material! Yep, you can either opt for velvet or corduroy covers for a luxuriously soft feel or stick to cotton or polyester fabric to enjoy comfort in simplicity. The choice is yours.
Spine Support: Many overlook this essential feature while buying a floor pillow. The cushion should provide ideal support to the spine, hip, and lower back, or else it's just a cuddle cushion rather than a floor pillow.
Maintenance: Lastly, choose a floor pillow that requires low maintenance or has a machine washable cover for the best experience.
Why Trust MomJunction?
A soft, soothing pillow is a must-have in every living room. So, we have listed some of the best floor pillows while carefully analyzing the benefits and additional features to provide you with adequate spinal support and maximum comfort. In addition, these pillows are ideal for preventing backaches and body pains. We also help you choose the right pillow with the help of our buying guide.
Recommended Articles