Babies around six to nine months will need help and support when sitting on the floor. Therefore, you should be getting the best floor seats for babies to help them sit. A baby floor seat provides the essential support until the child can sit up without falling. It is built with a baby's comfort and safety in mind. However, there are many options to pick from, making your search a little difficult.
We have compiled a list of the top baby floor seats and discussed their benefits and drawbacks. Read on to learn more about the precautions you should take when installing and using a floor seat for your infant.
Safety Tips When Using Baby Floor Seats
Keep in mind these safety tips when you put the baby on a floor seat.
Do not let your baby sleep while sitting on the floor seat. Their neck could bend backward or sideways, and the body posture would not be safe.
Leaving the baby unattended on a floor seat while you do household chores could be a bad idea. Put the baby on the seat, but make sure not to leave them unattended even when they are secured with safety belts.
Place the floor seat in an area where the floor is clean and away from a stove or fireplace.
When placing the baby floor seat on the chair, sit close to the child as there could be a risk of them falling.
13 Best Floor Seats For Babies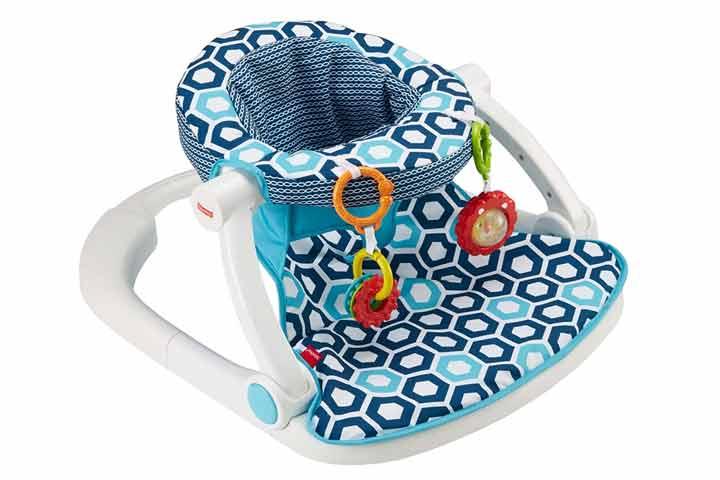 Let your baby sit comfortably on the floor with the help of this convenient baby floor seat. It comes in different designs, including panda paws, blue geo, and frog. You can choose any that looks attractive to you. If you need further convincing, check this YouTuber's review out.
Pros
Comes with a soft and comfy pad
Has two toys attached
Can be folded to save space
Offers support from all sides
Has a sturdy and wide base
Cons
Could restrict movements
Size may not be adjustable
The baby floor seat has a contoured design and is made of durable material. It is suitable for infants and could help keep them safe. The deep seating and wider base offer comfort to the baby. Color options include grey, blue, aqua, pink, and magenta.
Pros
Promotes good posture
Comes with a three-point harness
Lightweight and durable
Can be wiped clean easily
Provides comfort and stability
Cons
Restricts baby's movements
Could be too small for some babies
Your baby can sit up, play, and snack on this baby floor seat with tray. It is available in two colorful designs: crab and lion, and comes with two toys to make the baby's playtime more exciting.
Pros
Supports the baby when in an upright position
Comes with a wide and sturdy base
Seat is foldable, and the pad is removable
Comfortable and convenient
Has a tray for snacking
Tray is dishwasher-safe
Cons
May not be suitable for all babies
Could restrict the baby's movement
The three-in-one product can be used as an infant floor seat, feeding chair, and a booster seat. It comes with an adjustable strap and is available in different colors, including aqua, blue, magenta, and light pink. The baby floor seat has a tray to let your baby snack comfortable when hungry. Check out the review of this product on YouTube to know why it is one of the best out there.
Pros
Has a soft, removable foam
Can be used on chair or floor
Provides back support
Comes with a three-point harness
Has a removable tray
Cons
Comes in one size only
May show signs of wear and tear in just a few months
Let your little one sit straight on this floor seat, which can also be used as a feeding seat or a booster seat. You can either keep it on the ground or attach it to the chair to let your baby sit upright to observe the surroundings, eat a snack, or just play.
Pros
Safe and comfortable
Comes with a soft cushioned seat
Can be washed easily
Available in aqua and gray colors
Provides support to the hips, waist, and legs
Cons
Could be wobbly
Straps may not be sturdy
Your baby can sit comfortably in this premium-quality floor seat with a wide enough tray to keep a bowl and plate for snacking. The little seat is sturdy as well and keeps your baby safe so that you can focus on household chores without worrying.
Pros
Ample opening space for legs
Sturdy and anti-slip base
High back for support
Lightweight and comfortable
Comes with safety belts
Cons
You can stop worrying about your baby's sitting position once you get this baby floor seat, which is ideal for babies aged four months to 2.5 years. It has a snack tray and is sturdy and portable too.
Pros
Made of premium-quality material
Lightweight and travel-friendly
Promotes good posture
Can be kept on the floor or fixed on a chair
Can hold 30lb of weight
Cons
May not be comfortable for all babies
Available in silver lining cloud, bee, and butterfly themes, this baby floor seat is attractive and colorful. It is suitable for children aged 12 months and above. The seat comes with a harness to keep your baby safe while they are sitting.
Pros
Durable and comfortable
Comes with a safety belt
Can be cleaned easily
Durable and portable
Does not skid or slip off
Provides support and promotes stability
Cons
Could be too small for some babies
No room for legs
The multi-functional floor seat is suitable for infants, babies, toddlers, and big kids. It can be easily converted from a floor seat to a high chair as per your child's requirement.
Pros
Easy to assemble
Can be washed easily
Can be fixed on to the chair
Comes with two trays
Available in two colors
Cons
Could be bulky
Fixing the tray may not be easy
Bring home this two-in-one baby seat and give your baby the needed support to sit straight without affecting the posture. It is suitable for babies aged four to 12 months, is comfortable, and has a tray that can be used for playing and snacking. You can convert this floor seat to a regular booster seat whenever required.
Pros
Has an anti-tip base
Provides high back support
Can be cleaned quickly
Has three-point safety belts
Can hold 50lb weight
Comes with removable foam and tray
Cons
Could be too small for some
Whether you want to make your baby sit on the floor or a chair, you can do it with this three-in-one baby floor seat. It keeps your little one secure and keeps their back in an upright position. It can be used for babies aged four months to four years.
Pros
Comfortable and secure
Comes with a padded seat
Seat can be rotated to five positions
Can be cleaned easily
Available in two colors, berry and lime
Cons
Tray may not come off easily
May not fit all babies
The high-back and anti-skid base make this baby floor seat a safe and comfortable option for your child. It is made of premium-quality materials and is free from toxic substances. The seat is available in two colors, berry blue, and watermelon red.
Pros
Lightweight and durable
Ergonomic design for comfort
Extra-wide opening for legs
Comes with a safety harness
Can be kept on the floor or fixed on a chair
Cons
Available only in one size
The stylish little seat is made of polyurethane foam material, which is soft and comfortable. It has a unique 'U' shape that provides extra support and allows your child to sit straight without bending their spine. You can take the baby floor seat wherever you go as it is lightweight and can be carried conveniently.
Pros
Soft, sturdy, and comfortable
Versatile and durable
Has a non-skid base
Available in three colors
Can be cleaned easily
Cons
Available only in one size
Factors To Consider When Choosing The Right Baby Floor Seat
Keep a note of the following features when shopping for the best baby seats for your child.
Comfort: Foam-based and cushioned seats are always better than hard plastic. Your baby will be able to sit straight for longer when they are comfortable in the seat you choose. So do check the seat quality when buying the seat.
Support: The seat should have a high backrest to support the back. It should be designed in such a way that the baby's waist, arms, and legs get the needed support. A well-designed chair will prevent any pain in the waist or hip region and let them move their legs freely.
Versatility: You can choose a two-in-one or three-in-one baby floor seat that can be kept on the floor, on the chair, and on any safe flat surface to make your baby sit comfortably.
Safety: The floor seat you are choosing should have a safety harness that keeps your baby in place. There should be straps to tie the seat to a chair too, for additional support and enhanced safety.
Design: Select a seat or baby chair with a minimalistic design that does not restrict your child and is lightweight to be carried anywhere you go.
[ Read : Babyhug Fun Feast High chair Installation ]
Why Trust MomJunction?
We've prepared a list of the best baby floor seats that will help you give your little one the essential support they need when they are between six and nine months of age. Our review process involves thorough research on every product's features and benefits. The options we have selected here have been endorsed by users across a variety of e-commerce platforms. You will also find a buying guide section to help you make the right choice.
Recommended Articles: