Folding bikes are designed to fold into a handy and compact form for easy transportation and storage. Their collapsible feature makes them convenient commuting companion and a comfortable fit where there are space limitations. They also make good theft-proof bikes that can be kept inside your home.
Whether you are looking for a bike to carry on a train easily or fit in your studio apartment, you can find one in our list of the best folding bikes.
11 Best Folding Bikes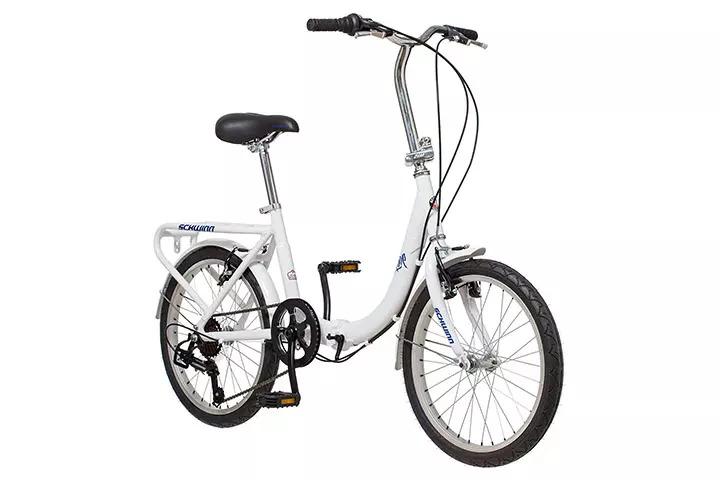 This is one of the best folding bikes that could easily accommodate a six-foot rider. Designed to make camping or RV-ing convenient, it weighs 33lb and has a compact size of 29.5X29.5X19in when folded. With an aluminum wheel size of 20in, it is an easy-to-carry bike on holidays.
Pros
Pant guards on front and rear fenders protect from splashes
Rear rack to store things
Includes a Nylon carry bag
Adjustable seat post
Seven-speeds with shifter offer smooth riding experience on hills
Made of a durable steel frame material
Cons
May feel bulky on folding
May not fit into the carry bag easily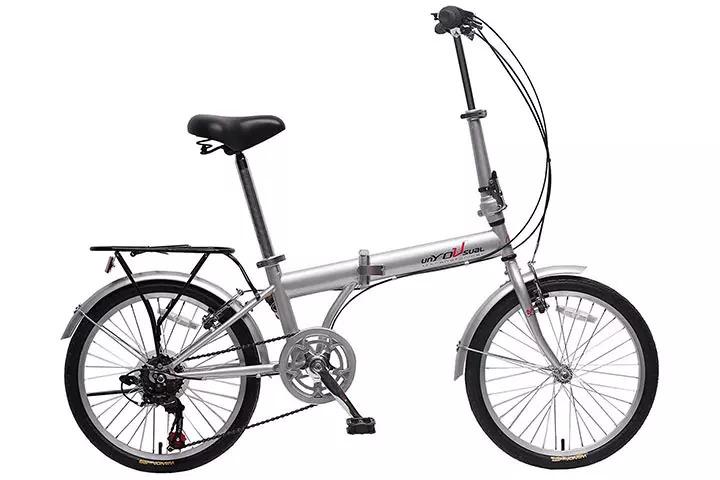 Every day commuting is made easy with this lightweight folding bike from IDS. It is driven by Shimano six-speed shifter and derailleur. Weighing around 32lb, it is an easy-to-carry bike with a compact design to fit comfortably on boats, RVs, and small-space livings. It makes the everyday commute quick and easy.
Pros
Easy to assemble
Removable front handle stem
Can accommodate adults as well as children
Easily foldable
Adjustable seat post and handlebars
Cons
Handlebars may make some noise on turning
Folding mechanism may not be perfect
Handlebars may be wobbly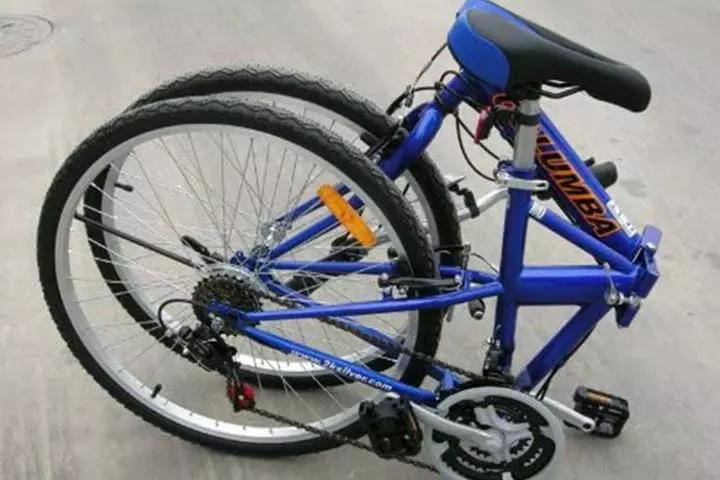 With an intuitive frame-folding function, Columbia folding bike is among the best folding bikes for touring. It can support a maximum weight of up to 200lb. The durable construction can make commuting on the mountain trails or camping grounds fun and easy.
Pros
Quick and easy to fold
Can easily fit into the rear trunk of any compact car
Easily removable handlebars
Foldable pedals
Cons
Assembly could be difficult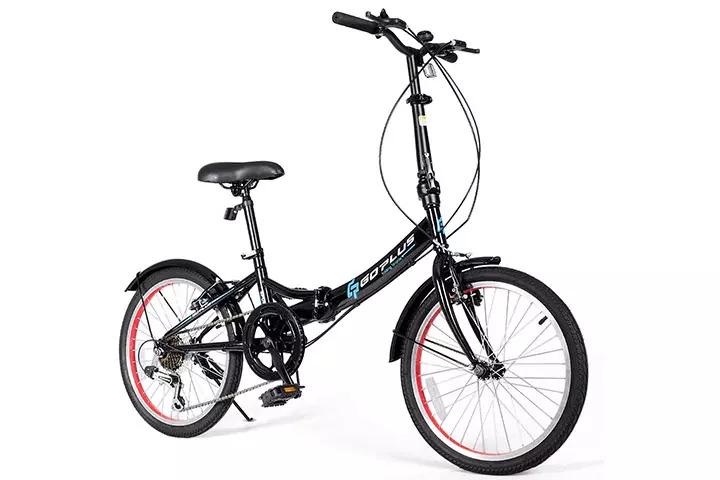 This is a high-quality, lightweight folding bike with a seven-speed shifting handle and rear derailleur to change the speed as needed. It has a sturdy construction equipped with rear and front V brakes and can support a rider's maximum weight up to 178lb. The folded dimensions of this bicycle are 32.5X12.5X24in.
Pros
Adjustable seat and handlebar
Strong and wear-resistant wheels
Anti-skid pedals with BS reflectors
Designed for all kinds of roads and weather conditions
Three-step foldable design
Comes 98% assembled
Cons
Hinges may be of low-quality
Seat may not be comfortable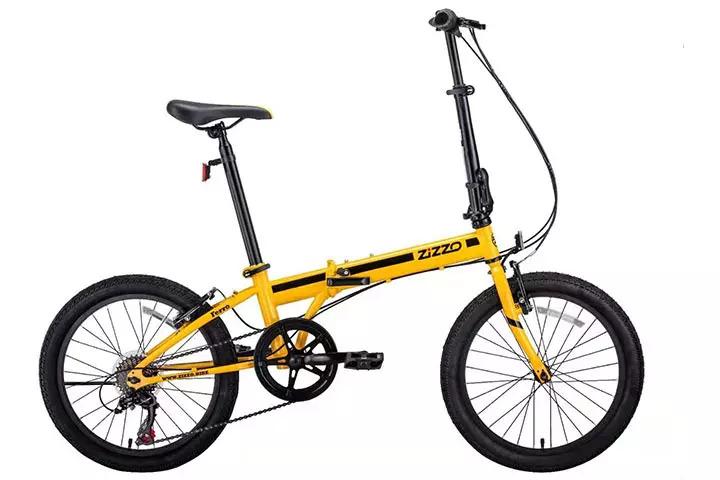 With this foldable bike, you can commute anywhere with ease. Weighing 29lb, it is lightweight and can hold a weight capacity of up to 240lb. It is equipped with a seven-speed Shimano tourney derailleur that offers a smooth ride.
Pros
Adjustable high-tensile steel stem for comfortable riding posture
Front and rear v-brakes for better control
G-Falcon seven-speed grip shifter for easy handling
Accessory attachment points for standard water bottle cage and rack
Cons
Seat may not be comfortable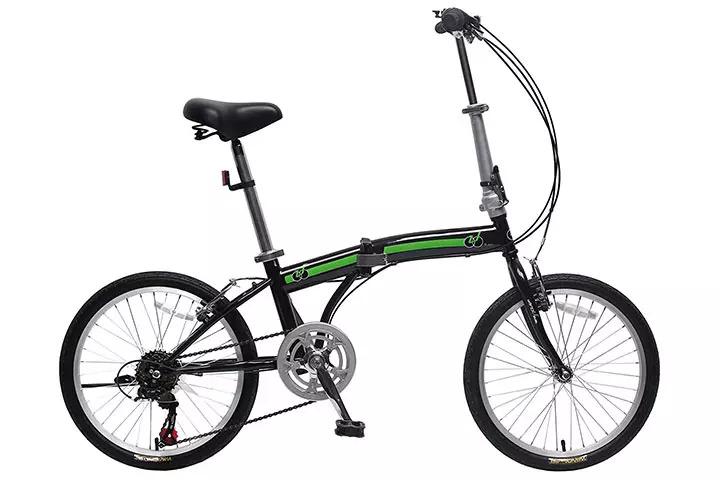 The IDS Unyousual Folding Bike is designed for commuting and exercising. It features an aluminum frame, Shimano six-speed shifter and derailleur, semi-alloy front and rear V-brakes. The smooth-riding Wanda tires measure 20X1.75in.
Pros
Lightweight and portable
User-friendly folding mechanism
Sturdy and offers a good balance
Easy to assemble
Easily removable front handle stem
Cons
May require several attempts to lock the gear
Top speed may not be as fast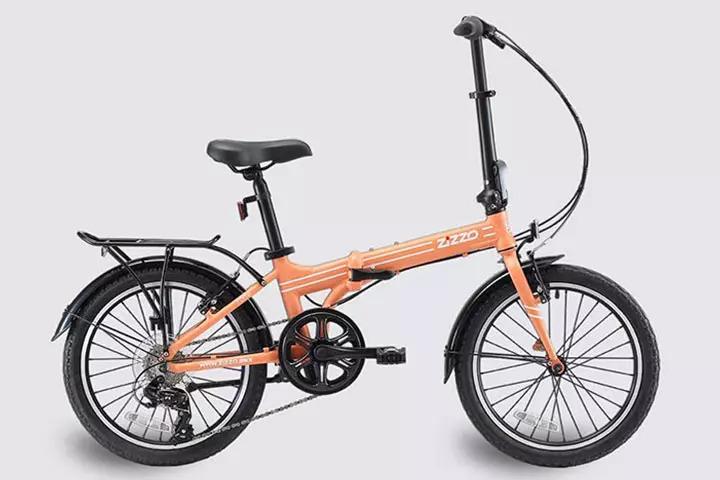 This could be one of the best folding bikes with a maximum weight capacity of up to 300lb. It has double-wall rims and multi-terrain tires. The magnetic catcher keeps the bike folded. It measures 27X31X21.5in when folded and weighs 28lb and could be a suitable folding bike for women and men.
Pros
Comfortably supports both heavy and tall people
Adjustable handlebar stem
Fully assembled bike
Lightweight and easy to carry
Cons
May require additional adjustments at each step while folding
May not be comfortable for long rides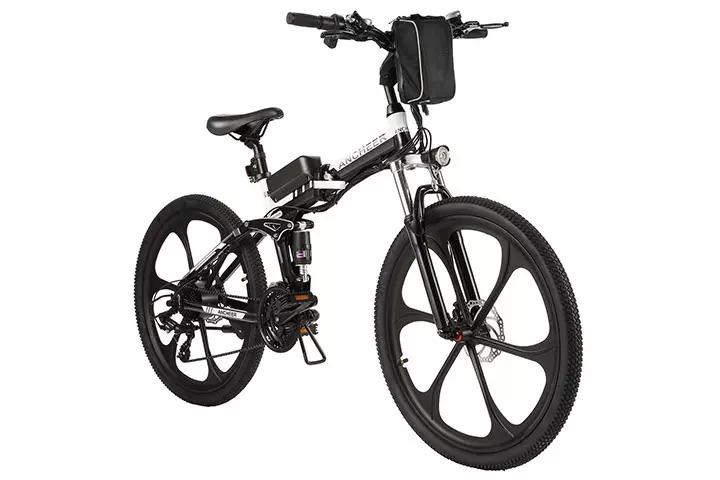 Equipped with three working modes, this electric bike has a relatively greater climbing ability. This is an ultra-lightweight folding bike with 26in magnesium alloy integrated wheels. It works on a 36V 8AH lithium battery and a stable motor of 250W for smooth riding experience.
Pros
Enables easy hill-climbing
Offers electric assistance for subjective needs
Designed for all kinds of terrains
High-quality construction
Comfortable seat
Cons
Velcro on battery bag may eventually rip off
Handlebars are not adjustable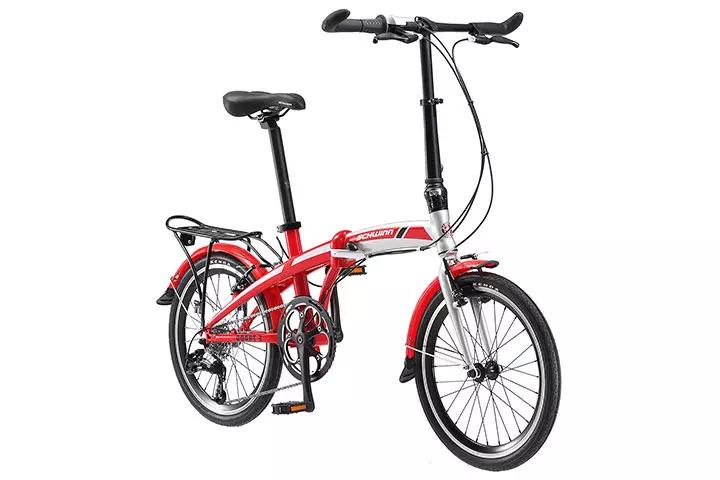 The easy-to-ride, easy-to-fold, and easy-to-store bike is designed to make commuting easy. This seven-speed folding bike is a lightweight construction with 20in alloy wheels. Shimano twist shifters and rear derailleurs add to the convenience of riding.
Pros
Includes a thick Nylon storage bag
Full-wrap fenders and reflective sidewalls offer better visibility
Convenient three-step folding mechanism
Shipped ready for assembly
Cons
May have speed constraints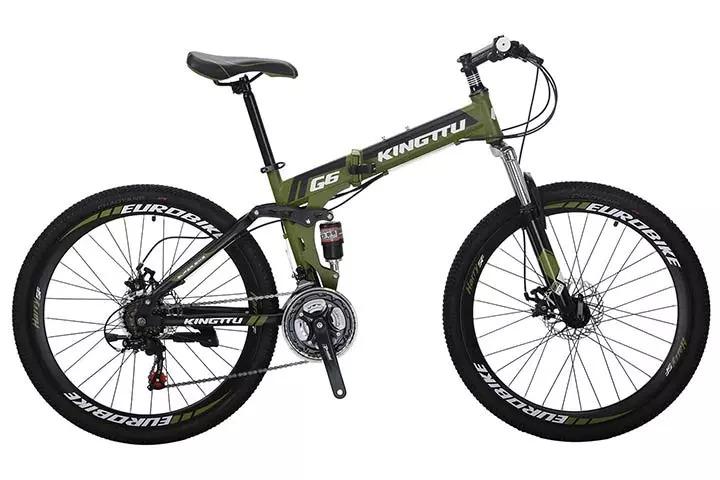 Commuting on this Eurobike is a breeze as it is equipped with easy-to-use Shimano 21 speed shifters. This is an easy-to-fold bike and makes an ideal pick for both women and men. Designed for a maximum weight capacity of 300lb, it could make riding fun for heavy riders.
Pros
Easy to assemble
Convenient to fold
Includes all the tools required for installation
Full suspension offers good control
Durable steel frame and handlebar
Cons
Handlebars are not adjustable
May not be compact when folded
Heavy bike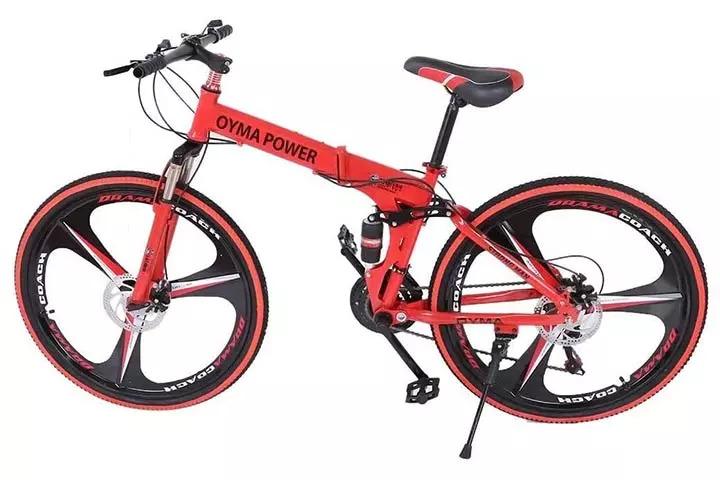 The NJ508 Folding Mountain Bike features mechanical disc brakes and three-spoke magnesium wheels. Measuring 37X34X15in, it has advanced suspension, Shimano derailleur and shifter to ride on any terrain with confidence. It can withstand a maximum weight of up to 220lb and can accommodate riders of height range 5'3" to 6'0".
Pros
Easy-to-ride
Strong and high-quality steel frame construction
Lightweight and durable
Plenty of gear options
Cons
Gears may not shift smoothly
Assembly instructions are not easy to understand
How to Choose the Right Folding Bike?
Here are a few important features to consider when looking for the best folding bike.
Wheel size: The wheel size is significant and plays an important role in determining how comfortable your ride will be on different terrains. It should also suit your height so that you reach the pedals comfortably and not wobble when riding.
Bike frame material: Frames are made of steel or aluminum. While steel is more resilient, aluminum strikes a balance between resilience and weight. Consider a bike that suits your preference.
Weight: Folding bikes are designed to be carried anywhere. Therefore, lightweight bikes are always a better choice as they are easy to carry and ride.
Folding mechanism: Easy and quick folding mechanism adds to the convenience of using a folding bike.
Adjustments: Handlebars and seats provide additional comfort of riding if they are adjustable.
Foldable bikes are versatile and a must-have, especially if your commute involves flights of steps, trains, elevators, etc. They are mostly lightweight constructions that you can take along with you on holiday. Their compact size makes them a convenient fit, even in small spaces. While everyone has different cycling needs, our list and tips could help you buy the best folding bike that suits you.
Recommended Articles: