Food processors are essential kitchen appliances that save your time and effort in the kitchen and enable you to chop, mix, slice, and juice ingredients in a few seconds. Investing in the best food processor can be a wise decision as it makes your cooking experience smooth, enjoyable, and efficient.
To help you make the right choice, we list some of the best food processors in this post. Before you get to the list, check out the types of food processors available.
Types Of Food Processors
There are different types of food processors for varied needs. Figure out what you need, and then decide.
Manual processor or hand-operated processor is the most basic type. It is small, doesn't require electricity, and needs little space in the kitchen. From chopping to slicing and juicing, it can perform various kitchen chores with ease.
Mini food processor is a small-sized processor to help you with the daily chores of chopping and slicing. It works on electricity and is best suited for small families.
Full-sized processors are smart and relatively big appliances. They have a capacity of seven to eight cups and are expensive yet highly durable than the other types.
11 Best Food Processors To Buy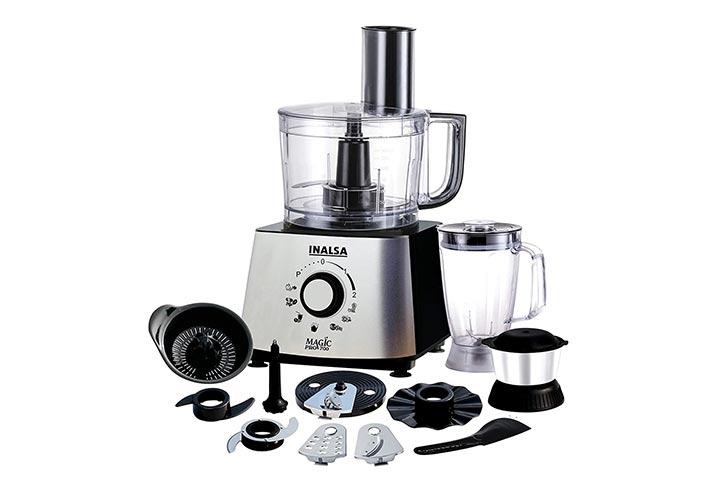 Powered with an 800w motor, the Inalsa food processor can make your processing more efficient. It has more than 50 functions to help you chop, shred, emulsify, knead, and much more. The processor has high-quality, stainless steel jars to give you a power-packed performance. Its main bowl has a 1.4l capacity, ideal for a big family. You get a two-speed setting to choose from.
Pros
Premium quality and long-lasting
BPA-free, break-resistant, and multipurpose jars
Blender and dry grinding jar included
Powerful motor with anti-skid feet
Whisker, spatula, cutter holder, and blade included
Cons
Jars may leak or be prone to cracks
Switch knob may loosen with time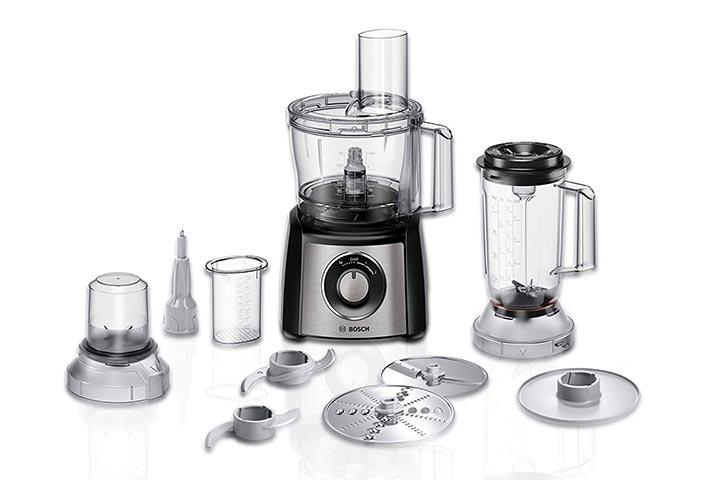 The Bosch processor has dishwasher-safe accessories and works on an 800w motor with 20 to 240v operating voltage. It has various accessories, including a plastic mixing bowl, plastic blender attachment, reversible shredding disc, beating disc, reversible slicing disc, universal knife, universal shredder, accessory carrier, and plastic dough tool. The processor has more than 50 functions to cut, chop, grate, grind, and knead the dough.
Pros
Rubber suction feet to prevent slipping
Easy to clean and use
Cable storage compartment
Multifunctional and durable
Multilevel six knives with three double blades
Cons
Nut chopper may stop working after a few days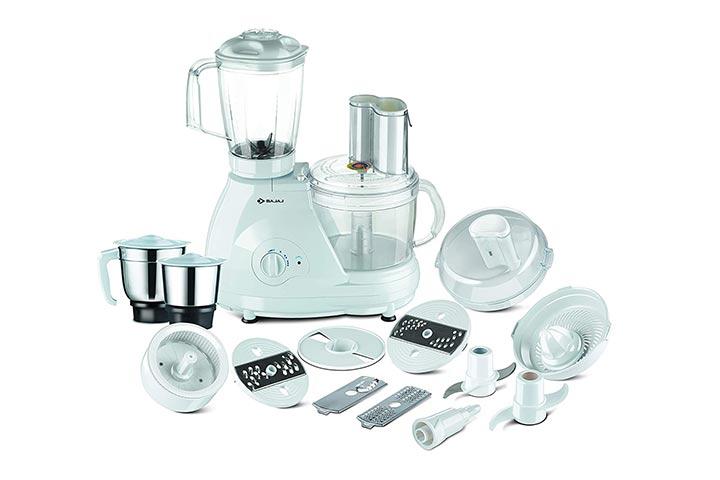 The Bajaj food processor has a locking mechanism, offering hassle-free operation without leaking out the ingredients. It has an unbreakable polycarbonate bowl and liquidizing jar for the long-term experience. The mixer grinder has a three-speed control, a two-year warranty on the full product, and five years on the motor.
Pros
Powerful kneading blade
Sturdy 600w motor
Made of high-quality stainless steel
Additional pulse function for an extra boost to power
In-built lock mechanism for safety
Cons
Could be noisy
Too many parts to handle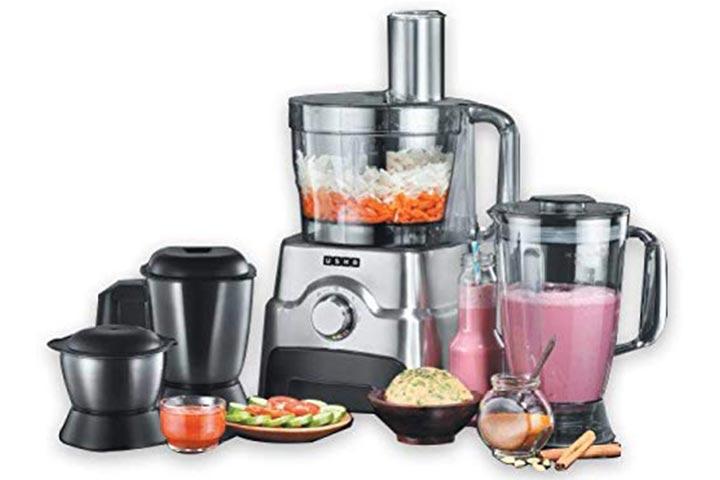 Usha's food processor is crafted to perform 12 different applications and has a 100% copper motor. It works smoothly on a 1000w motor at 230v, with a frequency of 50hz. You get both citrus and centrifugal juicing attachment with overload protection for motor safety. It comes with three impact-resistant jars and a processing bowl for added convenience.
Pros
In-built storage drawer for blades and discs
Premium black finish
Dough kneading jar included
Easy to assemble accessories
Cons
May get rough after some time
Could be noisy
Juicer attachment may not be smooth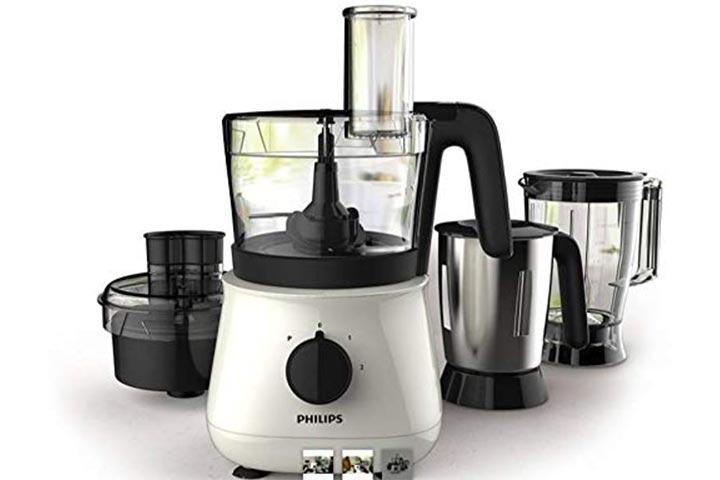 The compact food processor comes with a blender and a churning jar. Preparing shakes, smoothies, mint chutney, or kneading the dough, you can make various dishes with this processor. It operates on power-chop technology, which lets you chop your vegetables with ease and finesse. You get different jars in the set that makes your kitchen work manageable, faster, and mess-free.
Pros
Powerful 700w motor
Compact design makes it easy to stack
Two-speed settings and pulse for maximum control
Dishwasher-safe parts
Easy-to-assemble accessories
Cons
Power base may not work efficiently
Maybe prone to cracking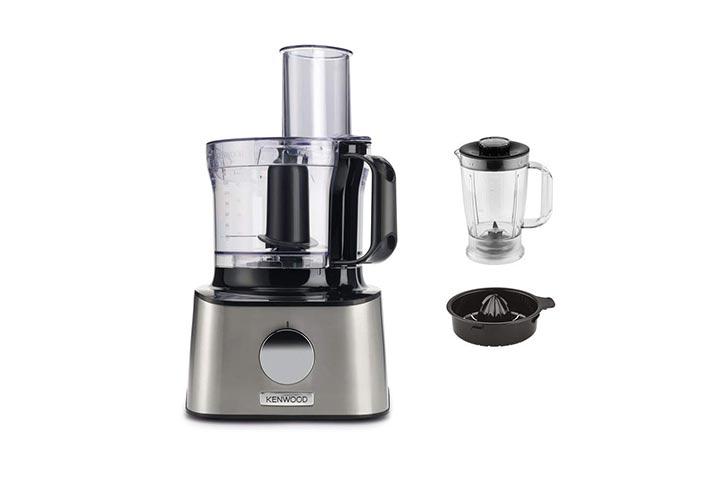 Kenwood's processor has an extra fine grater with a two-year warranty. Its stainless steel metal body is dishwasher-safe, making cleaning easy and quick. The main bowl has a 21l capacity, and its mixer grinder has 12l. You get high-quality attachments, including a dough tool, citrus press, grating discs, whisk tool, and a knife blade in the set.
Pros
Reversible thick and thin slicers for coarse and fine grating
Speed control has a pulse function
Works on 800w motor
Modern and sleek design
Cons
Not all parts are durable
May not be multipurpose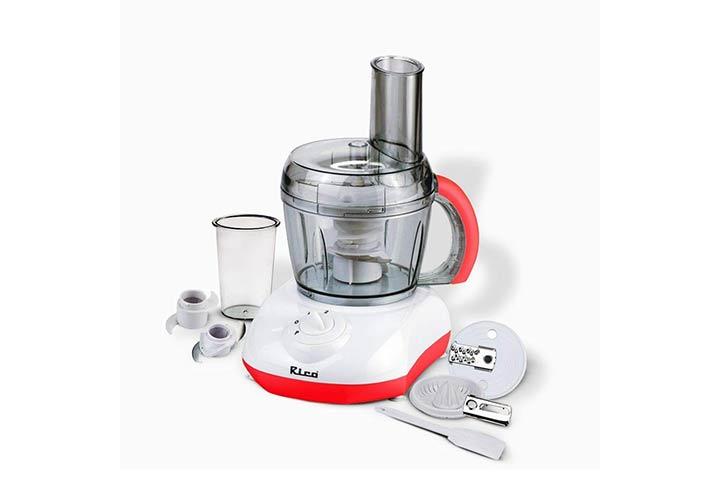 The mini product is backed with a 400w copper motor, designed to last long. It comes with an unbreakable food processing bowl made of polycarbonate, with a capacity of 800ml. The processor is efficient in kneading dough, which requires a ratio of 1:2 of water and flour. Its sharp blades can chop your fruits and vegetables in just a few seconds.
Pros
Suitable for multiple functions
Two-speed setting and pulse control
Anti-skid feet for stability
Sharp and durable blades
Ergonomic processing bowl
Cons
Juice may spill out at times
Slicing blade may not work perfectly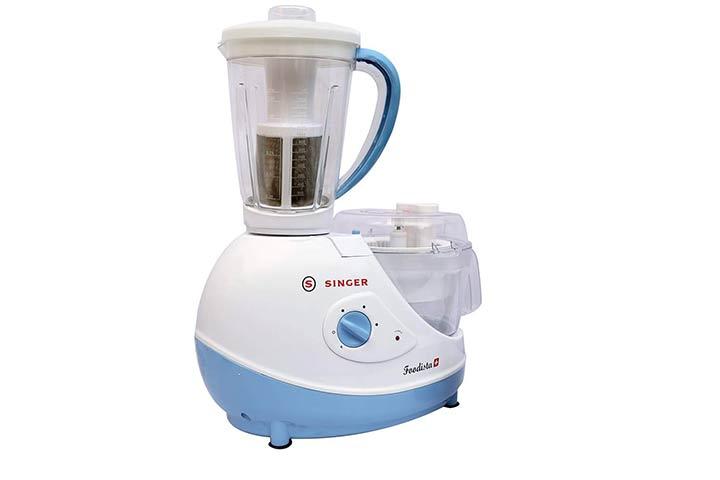 The food processor from Singer Foodista comes with citrus and centrifugal juicer in the package a two-year warranty on the product and a five-year warranty on the motor. It has 14 attachments, including a chopping blade, kneading blade, citrus juicer, coarse shredding, fruit filler, and much more. The versatile processor works on a 600w motor and makes your kitchen time hassle-free.
Pros
Dry grinding jar included
Premium-quality machine operates smoothly
Efficient steel cutters and blades
Ideal for chopping, slicing, and dough kneading
Cons
Bowl may not be as strong as stated
May not work efficiently after somedays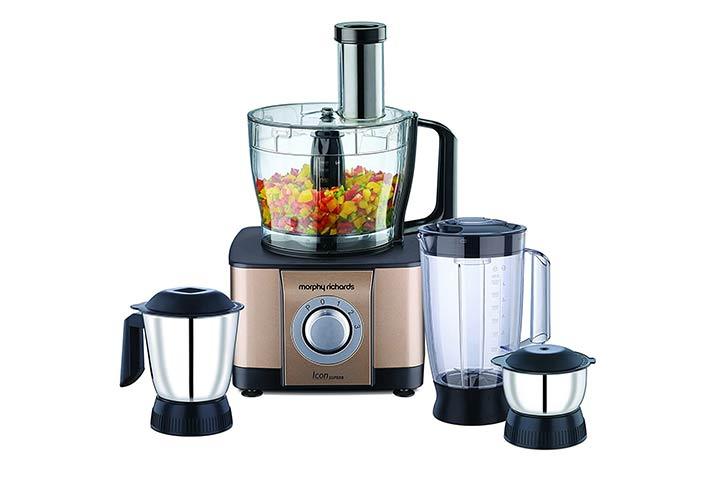 If you have a big family, then this food processor from Morphy Richards can be a good choice. It is versatile and designed to perform various functions such as chopping, grating, slicing, and mincing. It has 11 different attachments with six stainless steel blades and uniquely designed jars. You get several jars of different capacities, including a 3.2l capacity bowl, 2.3l liquidizing jar, one 1l grinding jar, and 0.5l chutney jar.
Pros
1000w powerful motor
Quadro-flow technology for perfectly ground ingredients
Two-year warranty
Centrifugal mixer included
Cons
Motor speed may slow down after a year
Plastic body may not be durable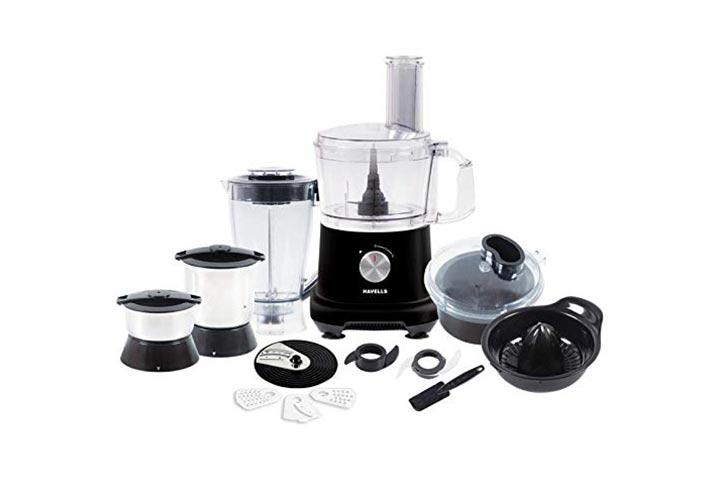 Suitable for grinding and mixing, the Havells processor is powered with an 800W motor and an operating voltage of 230V. Its accessories are made of 430-grade stainless steel, and it includes interchangeable disc attachments for mincing, chopping, and slicing. The processor can be used for a variety of purposes, making your kitchen tasks easier.
Pros
Two-year warranty
Multipurpose and durable
Made of high-quality materials
Two-speed control with pulse rotary switch knob
Stainless steel jars with double ball bearing for long life
Cons
Jars may leak after some time
Could be noisy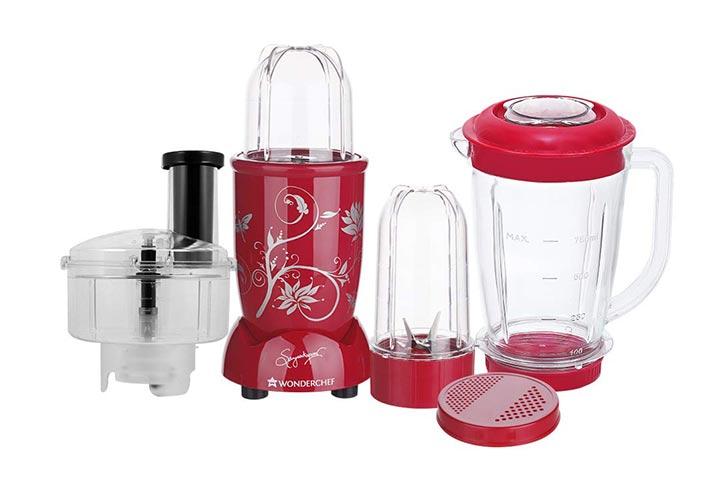 From kneading dough to chopping vegetables and juicing fruits, the Wonderchef processor can be used for various chores. It is complemented with four unbreakable jars and a transparent body that lets you see the mixing and grinding of ingredients inside. The best part is that you get a recipe book by Sanjeev Kapoor free.
Pros
Two-year warranty
Simple and smooth functioning
Designed in vibrant colors
400w fast and powerful motor
Modern and sleek design
Cons
Base of the processor may not be durable
Could be flimsy and not sturdy
How To Choose The Right Food Processor?
Before you purchase a food processor, here are some factors that should be checked to make sure you're picking the best one.
Safety lock: One of the most useful features is a lock that saves you from food spills and mishaps. It lets your processor start only when the lid is properly closed and locked.
Size and purpose: The size should depend on your usage and needs. If you are a small family of two or three, a mini processor can work fine for you. But if your kitchen chores include various tasks, then purchasing a smart processor, which can chop, grind, juice, and knead the dough, would be wise.
Noise levels: A food processor is a noisy appliance, but some are less noisy than the others.
Anti-skid: It an essential feature to be looked at. If your processor comes with an anti-skid setting, it won't move and spill the food, making your task easier.
Warranty: Prefer a processor with a minimum of one-year warranty to those without any. It helps you save the cost of your appliance maintenance.
BPA-free: You must ensure that the plastic used to make the jar and bowl of your grinder is free from any toxic chemical. Try to buy a processor jar made of stainless steel.
Dishwasher-friendly: This is yet another factor that you shouldn't overlook. Pick a dishwasher- friendly processor as it can make cleaning easy.
Frequently Asked Questions
1. Are a mixer and a food processor the same?
A food processor is generally used to cut down preparation time in the kitchen as it performs various tasks, including chopping, slicing, blending, mincing, and even kneading dough. On the other hand, a mixer can stir, whisk, and beat ingredients.
2. Can I grind my coffee beans with a processor?
Yes, you can grind your coffee beans in a processor.
3. Can I wash the processor in a dishwasher?
Some processors do come with dishwasher-friendly accessories. But some can't be cleaned in a dishwasher and may require a handwash.
To sum up, don't compromise with the quality of your products. An appliance must be bought, quantifying a list of factors. Examine all the factors mentioned above and purchase accordingly. Also, avoid cheap-quality plastic mixers as they may harm your health. Choose the one that's both safe and durable.