Foosball, also known as table soccer, is a quality game that will keep you entertained for hours. The game involves moving the rods with molded figures to push the ball towards the opponent's goal, which requires precision, speed, and reflexes. This game lets you spend quality time with your family and friends and is also a great stress-buster.
Here, we give you a list of the best foosball tables available in the market and a buying guide to help you choose the right one.
13 Best Foosball Tables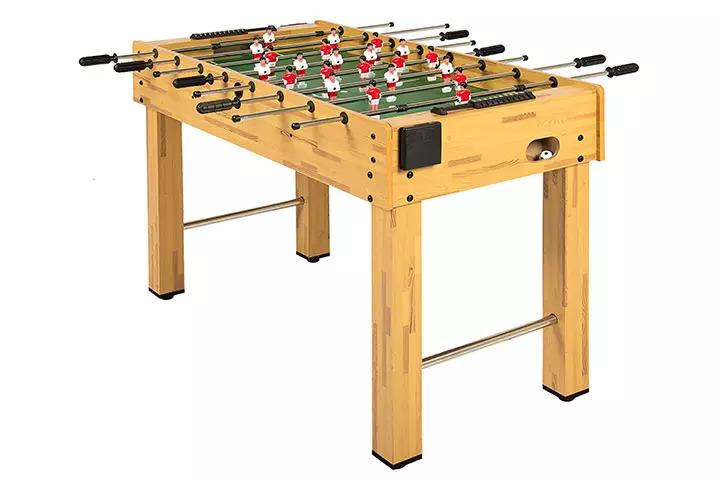 With a versatile design and sturdy construction, the Best Choice Foosball table could be a perfect choice for home and arcades. This 48-inch competition-sized table has rod bars with comfortable grips and a friction-less playing surface. It features eight rows with four per team, two balls, and a cup holder on each side.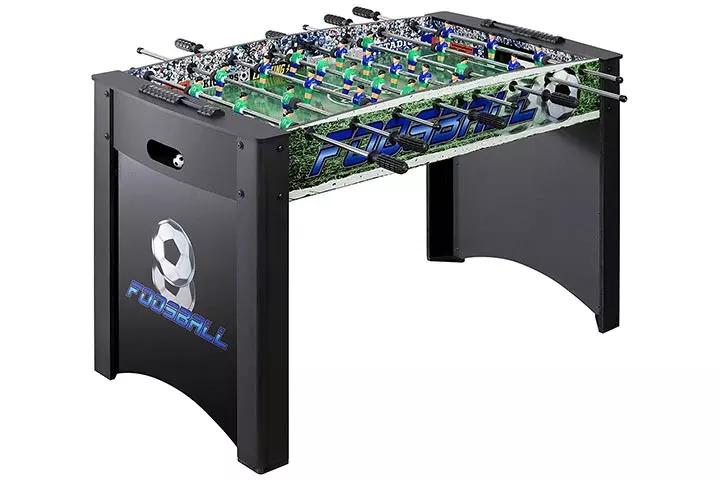 The four-foot Hathaway Foosball Table has exciting, colorful graphics of a fan-filled soccer stadium to provide a realistic setup to your game. It is compact and suitable for both the home game room and office. The board features chrome-plated steel rods with ergonomic handles for effortless playing and added durability. Its ABS-molded and balanced players ensure smooth and stable play, while its analog scoring counters and adjustable leg levelers add to the convenience.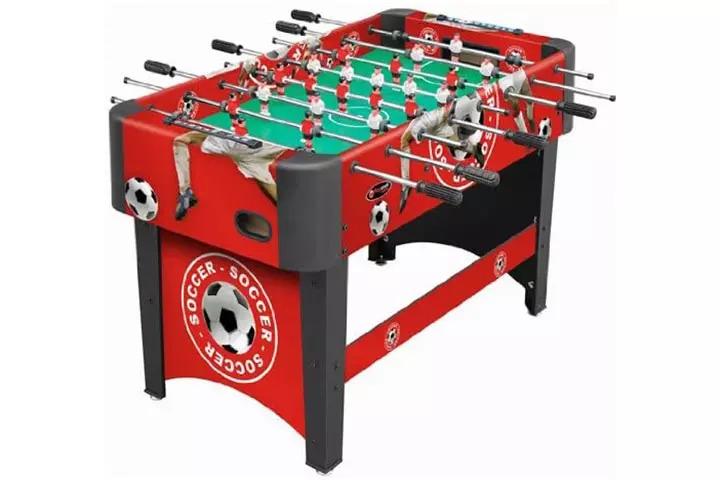 The Playcraft Foosball Table has a soccer field and crowd graphics board, and two foosballs. With its sturdy MDF construction and plastic manual slide scorers at each goal, it makes the gameplay convenient. It has strong chromium steel rods with slide bearings for smooth rotation. Each end has ball serving cups for quick retrieval of the ball.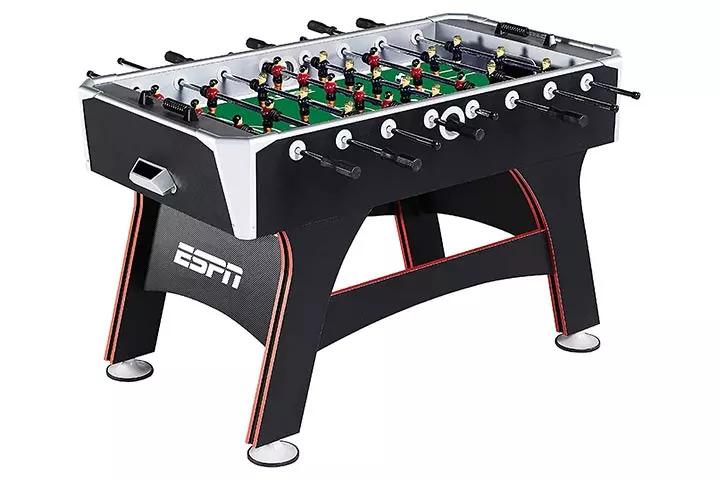 The ESPN Arcade Foosball Table is equipped with five-inch leg levelers and extra-full panel supports, making it ideal for indoor sporting competitions. It is made of MDF hardboard with a PVC laminate finish to ensure stability and smooth play. The 26 handmade players and chrome-plated metal rods offer added durability, and a bead scoring system keeps track of your points.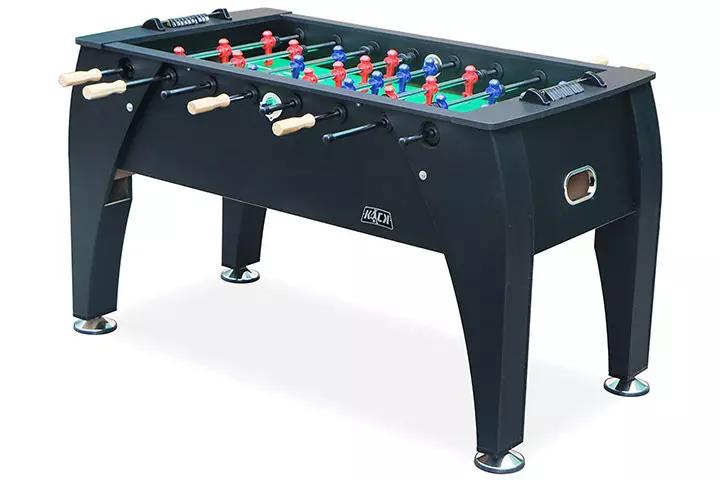 With counter-balanced players and sturdy play board, this foosball table gives you a powerful gaming experience. The 55-inch table, with its fine wood construction, complements any decor. It features a smooth playing surface, adjustable leg levelers, and convenient ball holders on each end of the table. With a slide scoring mechanism on each side, you can note your points easily.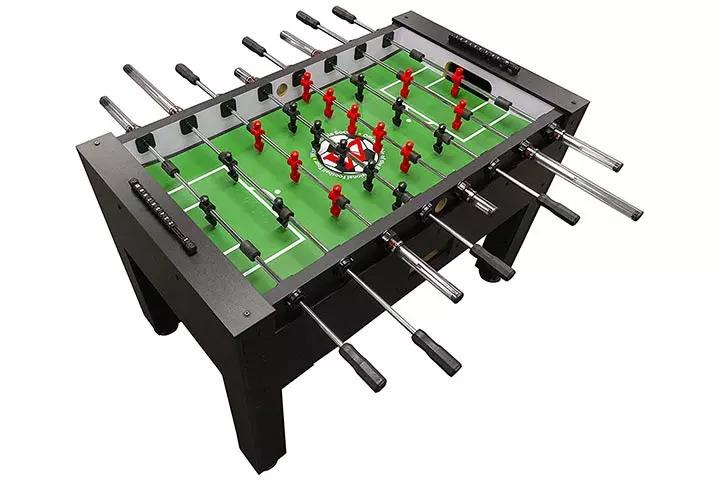 The foosball table by Warrior Table Soccer is easy to assemble and provides excellent ball control. The counter-balanced men with split bearings offer added durability and smooth shots. After each goal, the ball centers to the mid-field with its pro-style return system. Its swivel foot levelers prevent unwanted movement while playing, and rod guards make it safe.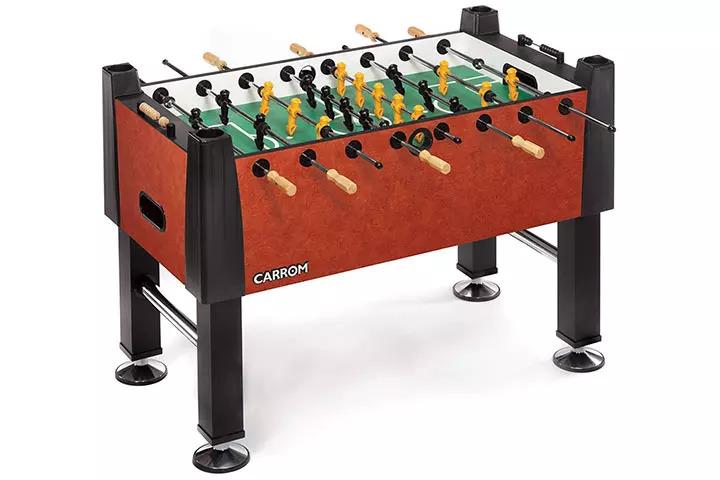 Coated with a one-inch thick Moroccan finish, the Carrom Signature foosball table is highly durable and is ideal for an outdoor setup. Its high-impact ball returns on each side and cross-hatch toe design on players ensure smooth and swift moves. The octagonal hardwood handles offer precise player control. With an easy-scoring system and premium bearings for smooth spinning, this table adds fun to your game.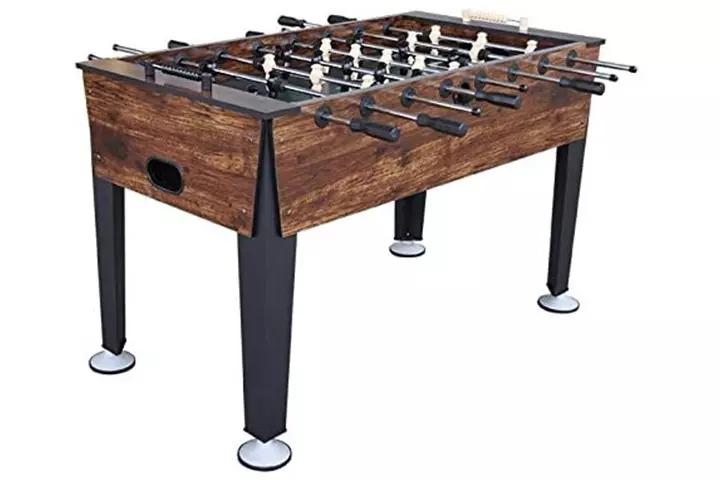 The 54-inch competition-sized table by the EastPoint Sports Store is ideal for two to four players. With its sturdy construction and luster long finish, it is resistant to wear and tear. The high-performance rod bushings allow you to spin and slide the rods with ease. You can also keep track of your score with its bead-style scoring feature on each side. The oversized adjustable leg levelers keep the table sturdy, and the board includes two foosballs.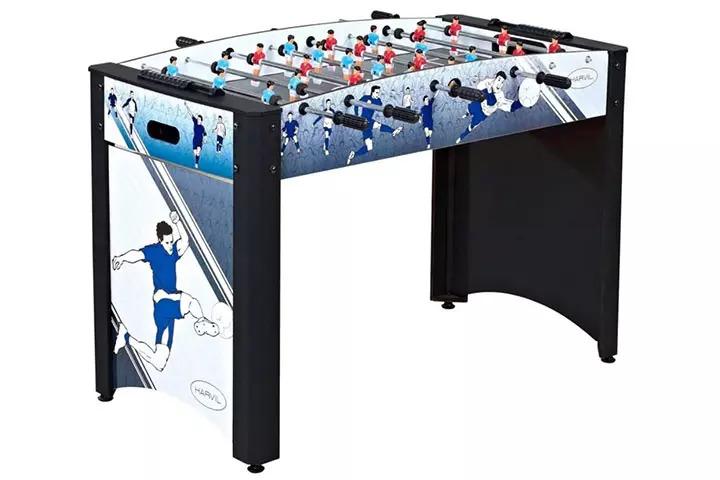 The Harvil Striker Foosball Table has anti-rust chromium plating for weather-proofing, making it ideal for outdoor setup. Its high-quality and stress-resistant steel telescopic rods are equipped with premium bearings for a quick spin and action. The angled legs, with panel supports, provide stability even during intense games. Made of MDF wood, this sleekly designed table with logos and emblems gives an authentic MLS feel to your game. It includes a three-goalie setup, two foosballs, and an abacus scoring system to track your score.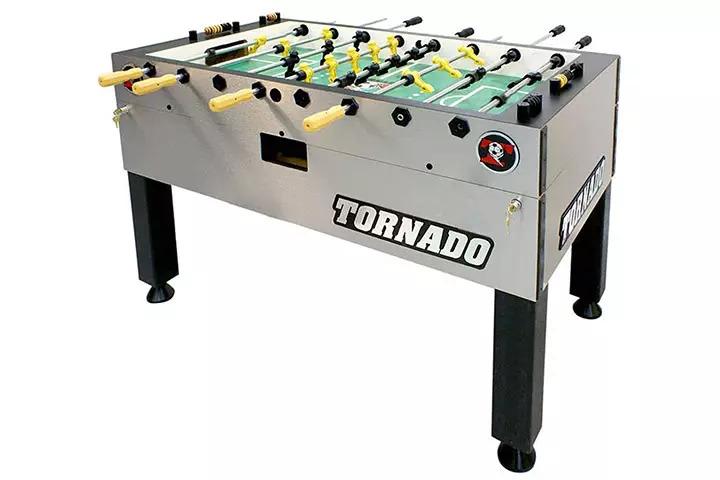 The Tornado Foosball Table has a high-quality cabinet for intense play and a non-slip playing surface for comfort. Its hollow steel rods provide a firm grip and ensure a smooth game. The counter-balanced players are made of rubber and are molded for precise ball control. Its single goalie setup, easy ball drop mechanism, and abacus scoring system make this game hassle-free. The solid legs and adjustable leg levelers offer convenience and stability. This product is ideal for your arcades and offices and has a one-year manufacturer's warranty.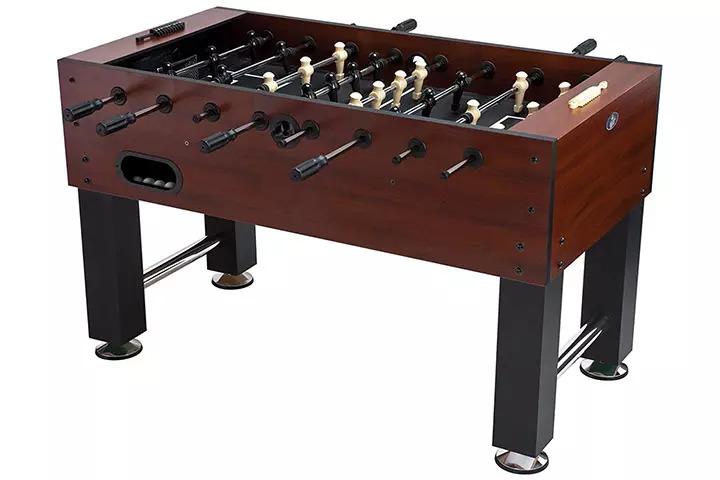 This traditional block-style design table is laminated with logos of a playing field for a realistic soccer effect. You can remove the back panels for curved walls that make the game challenging by projecting the ball back into the field. Its hollow steel player rods with pro-handle grips offer effortless spin and comfort. This board stands firm on the ground with its leg levelers. It has an abacus scoring system for tracking goal points. With black and ivory foosmen, this foosball table can complement any room decor.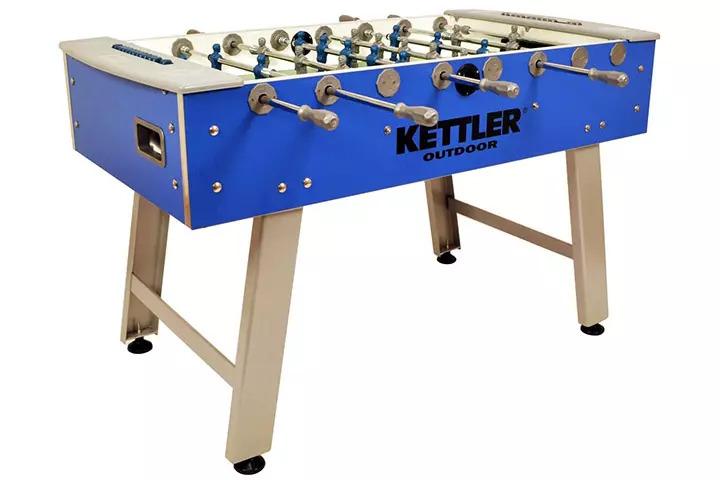 The Kettler Foosball Table is weather-proof, featuring a high-speed glass playing field that looks great and is durable. It has nylon bushings for high-speed action and reduced wear and tear. After each goal, retrieving the ball from the ball socket is easy. The high-quality raised cabinet, side and corner ramps always keep the ball in place. Its unbreakable players molded to anti-rust chromium steel rods make smooth spins and turns. The foosball table includes five balls, a protection cover, and leg levelers for the level playing surface.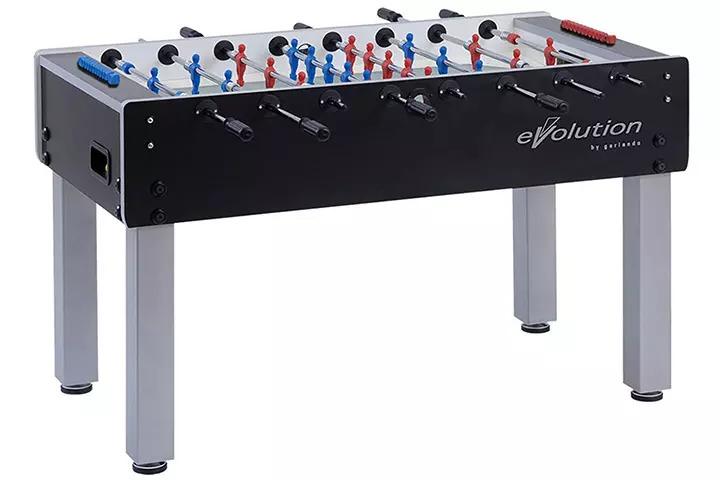 The Garlando Foosball Table helps you enjoy a mini-tournament with its classic red and blue teams and ten standard white balls. It has firm hollow steel bars with plastic handles for ergonomic grips. The color-coordinated abacus scorers help you track your score without any confusion. The plastic-laminated playing surface, four-inch steel legs, and leg levelers provide added durability to the board. The ball serving fillers on each side enable easy ball recovery.
How To Choose The Right Foosball Table?
Here are some features to keep in mind to choose the best foosball table.
Height: When purchasing for kids, consider models with adjustable sizes, levelers, or foldable legs for added convenience.
Room size: A foosball table comes in various sizes. Measure the room dimensions and find a table accordingly.
Types: There are tabletop and full-size models. Tabletops are small, lightweight, and ideal for kids. The full-size models occupy space and are suitable for adults.
Goalie configuration: Some tables have one foosman on the goalie rod, while others have three foosmen. Advanced players prefer single-goalie tables as it requires skills to defend the goal. Three-goalie tables are suitable for kids and beginners.
Foosball players: The shape of the players can also determine your winning chances. Robotic-style molded players have rectangular feet which can offer better control over the ball.
Table soccer does not have many rules to obey. These tables are inexpensive and can last for years when purchased rightly. Find yourself a durable game model from our list of the best foosball tables and enjoy quality time with your friends and family.
Recommended Articles: