Foundation is applied to cover the blemishes, spots, lines, and such, but when you choose the wrong foundation, it leaves your skin irritated and damaged. Unsuitable foundations can also lead to breakouts, skin irritation, and other skin problems.
MomJunction has come up with some natural-finish and long-lasting foundations you'll love to use. These foundations are gentle on sensitive skin and are hydrating.

Top Products From Our List
13 Best Foundation For Sensitive Skin

If you already use Cover girl cosmetic products, then you're probably going to love this new dermatologically tested foundation for sensitive skin. The foundation is hypoallergenic, and its rich, creamy formula offers featherweight coverage like you want it.
Features:
Creamy formula that offers lightweight coverage
Hypoallergenic, 100% fragrance and oil-free
Reduces the appearance of pores and does not clog pores
Easily blends with the skin and provides a natural look
Provides a bright matte finish
Feels super light on the skin

If you have dry, sensitive skin and need a moisturizing liquid foundation, this non-greasy, and long-lasting organic foundation formula is for you.  It offers a dewy finish without clogging pores.
Features:
Smooth, dewy application, and full coverage
Blends easily on the skin, without leaving the skin greasy
Made using plant-derived ingredients and is chemical-free
Gluten-free vitamin E rich foundation
Nourishing liquid foundation for dry, sensitive skin
Long-lasting foundation

If your skin is exposed to sun and pollutants, you need to consider this buildable foundation that has a broad-spectrum SPF 30 and offers anti-aging benefits. It offers smooth and lightweight coverage, while also protecting your sensitive skin from UV damage and impurities.
Features:
Whipped featherweight texture
Offers sheer to medium coverage
SPF 30 to prevent sun damage
Provides anti-aging benefits for sensitive skin
Great for sensitive and acne-prone skin
Free from synthetic fragrances

If you are a loyal Maybelline user, you need to try this dream satin liquid foundation enriched with the goodness of hyaluronic acid. Especially if you have dry, sensitive skin, this foundation will offer a creamy and nourishing layer of foundation.
Features:
Offers a smooth airbrushed finish
Lightweight and breathable consistency
Enriched with hyaluronic acid for added moisturization
Conceals lines and skin imperfections
Full coverage for up to 16 hours
Blends well with all skin types

Ditch those liquid-based foundations when it's hot outside and wear this sheer and weightless powder foundation that's enriched with minerals and vitamins. The foundation offers medium buildable coverage and provides even skin tone.
Features:
Loose powder foundation to prevent greasiness
Enriched with vitamins A, C, and E for added nourishment
Sheer to medium buildable coverage
Breathable and gentle on sensitive skin
Clinically proven to reduce redness
Fragrance and talc-free

This color changing and adjusting foundation by Avashine is all you need to get an even-looking complexion. This foundation prevents caking, is formulated with SPF 15, prevents skin irritation, and offers a gorgeous makeup look.
Features:
It instantly adjusts as per your skin tone and changes color
Features SPF 15 to protect skin from UVA and UVB rays
Fragrance and toxin-free
Blends into the skin without making the skin feel cakey
Water-proof and anti-sweat formula
Safe for all skin types

Who would not want a mineral powder that works as a color-correcting foundation as well as an under eye and acne corrector? Say goodbye to the liquid foundations with this long-lasting mineral powder foundation that sticks like second skin and offers long-lasting coverage.
Features:
Natural mineral powder foundation
Under-eye and acne corrector for sensitive skin
Long-lasting coverage
Consistently hides lines, wrinkles and skin imperfections
Comes with SPF 15 for sun protection
Features all-natural mineral pigments

This hypoallergenic and fragrance-free foundation is blendable, lightweight, and buildable, so if you even apply layers of this foundation, it will not pop. The foundation features auto-adaptive pigments and ingredients that easily blend with the skin for a natural look.
Features:
Offers a natural and radiant finish
Enriched with antioxidant-rich vitamins and minerals
Prevents skin from drying out
Water-proof and long-lasting formula
Offers medium-buildable coverage
Hypoallergenic and fragrance-free

This foundation-SPF will literally adjust to your skin tone and offer a flawless and radiant complexion. The foundation features color changing and adjusting formula and illuminating silky finish that absorbs into the skin without making it look dry, dull, or cakey. 
Features:
SPF 15 sun protection and damage prevention
Quickly gets absorbed into the skin
Offers an illuminating silky finish
Transforms and adjusts as per your skin tone
Prevents cakey or flaky looking skin

If you have irritated skin and want a flawless even-toned complexion, this liquid powder foundation with the fortified multi-mineral complex is worth giving a try. The foundation glides smoothly on the skin, giving it a velvety smooth feel. 
Features:
Sets a soft powdery finish
Great for oily and sensitive skin types
Offers sunscreen and antioxidant protection to the skin
Hypoallergenic and oil-free formula
SPF 15 protects from sun damage
Has a refreshingly mild scent

Here is a perfecting skin foundation that offers anti-aging benefits and gently blends with the skin with its lightweight texture. It's great for the days when you need medium coverage and flawless complexion. The best part? It comes with SPF 20 and offers a silky-smooth finish. 
Features:
Enriched with vitamins A and E for antioxidant benefits
Offers medium coverage
Hides and covers the pores effortlessly
Provides sun protection with SPF 20
Oil, paraben, and fragrance-free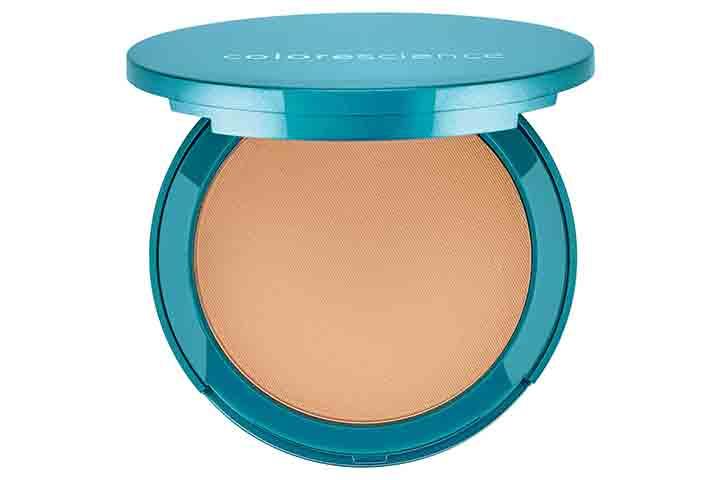 This dermatologist-tested paraben-free pressed foundation leaves your skin smooth and spotless. The powder is water-resistant, highly pigmented, and moisturizing, so it will not make your skin feel dried out. The powdered foundation provides tinted and airbrushed coverage. 
Features:
Compact and travel-friendly
Pressed foundation for a sheer and glowy finish
Offers breathable and smooth coverage
Highly pigmented
Offers UVA and UVB protection
Water-resistant and paraben-free

When in doubt, you can wear this dual foundation that offers long-lasting coverage and leaves your skin smooth and bright. It features coconut oil and vitamin E for a non-greasy finish, and it's great for covering spots, blemishes, scarring, and imperfections.
Features:
Offers a natural matte finish
Lightweight and non-greasy texture
Contains coconut oil, vitamin E and minerals
Covers skin imperfections perfectly
Suits mature, acne-prone sensitive skin
Dual shades for a natural and glowy look
Types Of Foundations For Sensitive Skin
To choose the best foundation for sensitive skin, it is essential to look out for the components and ingredients. Here are the elements you'll find in foundations:
1. Emollient-based foundations
The emollient based foundations are highly pigmented and thick. Emollients make the foundation stay moist on the skin. Thus, if you want your foundation to last long and not feel cakey, choose the foundation with emollients. However, because of emollients, the foundations are not 100% water-resistant.
2. Mineral-based foundations
Most of the mineral foundations come in powdered form and are different from the casual powdered foundations. The mineral foundations do not consist of talc but are enriched with minerals like zinc oxide. However, do not get fooled with the mineral tag because some foundations may contain just 2-3% mineral components, so make sure to look at the ingredients before buying.
3. Water-based foundations
Water-based foundations are popular and are made using oil and water, making them better than entirely oil-based foundations. These foundations offer a smooth texture and do not leave the skin greasy.
4. Alcohol-based foundations
The alcohol-based foundations are made by mixing alcohol, pigment, and water. Instead of emollients, alcohol is used to build lasting and highly pigmented foundations. The benefit of this kind of foundation is that it does not clog pores. Oil-based foundations are very rarely in use nowadays because they can clog pores and are now being replaced by alcohol-based foundations.
5. Powder-based foundations
In these foundations, talc is the main ingredient. The powder-based foundations consist of pigment, emollients, and talc. This type of foundation is not suitable for dry skin as it can make the makeup look cakey and dull.
6. Silicon-based foundations
Silicon is used as a primary ingredient while preparing these types of foundations. Silicon offers better lubrication, so the foundation gets easily blended with the skin. These foundations are great for women who have large pores.
How To Choose The Right Foundation For Sensitive Skin?
Choosing the right foundation for sensitive skin can be easier when you know what to consider while buying one.
1. Skin tone and texture
It is essential to know your skin tone and texture before buying a foundation. When you use a foundation, it should blend with your skin and hide any blemishes. Regardless of what your skin tone is, make sure that you choose the shade that complements your complexion. You can choose oil, water, silicone, or powder-based foundation based on your skin texture.
2. Sun protection and hydration
Foundations come with a broad-spectrum SPF factor. If your skin is heavily exposed to sun and environmental pollutants, choose a foundation that also offers SPF factor, and for hydration, you need to select the foundations that are have ingredients like vitamins, aloe, hyaluronic acid, etc. Remember that your skin needs proper sun protection and hydration as you do not want the foundation to look dry or cakey.
3. Coverage
The coverage ultimately depends on your skin type and occasion. If you need minimum coverage, you choose a foundation that offers glowy medium coverage, and if you want the foundation to last for hours, choose a foundation that provides full coverage. There are foundations for each user's requirement, so choose one based on the occasion. Foundations with medium coverage are best for sensitive skin.
4. Ingredients
When you are buying a foundation for sensitive skin, you have to choose the ingredients carefully. Not all components are gentle and safe on sensitive skin. To prevent skin damage, look for soothing ingredients like salicylic acid, minerals, vitamins, etc., in the product. Such foundations hide the skin imperfections without irritating your skin.
5. Skin issues and irritants
Sensitive skin is prone to irritation and itching, and thus, you will have to check the ingredient list before buying a foundation. Make sure that the foundation is free from parabens, toxins, chemicals, and ingredients that can irritate your skin. If you have skin issues like dryness, patchiness, blemishes, etc., you need to choose foundations that offer added moisturization.
6. Long-lasting
Some women apply foundations for special occasions while some apply it every day. So based on your preference, you need to pick a foundation that suits your needs. If you wear a foundation throughout the day, choose a foundation that lasts for up to 16 hours and does not need frequent touch-ups. 
Frequently Asked Questions
1. Can the foundation be applied daily?
Several women around the world use foundation every day. This completely depends on your skin type. If you have skin issues and like to cover it with a smooth foundation, you can use it every day, and if you do not like products on your skin, it can be used occasionally. The only thing you need to remember is that foundations are not all-natural, and its overuse can irritate your skin. Make sure that you choose a foundation from a good brand that offers low-pigmented and high-quality products and also protects your skin from sensitivity issues.
2. Can foundation damage skin?
There are some foundations with heavy pigments. These foundations can damage your skin, so if you frequently use foundations on your skin, choose a foundation from a good brand that uses natural and organic products to prevent any skin damage.
Foundations make your skin look even-toned and flawless. When choosing a foundation for sensitive skin, it is crucial to select a less pigmented, nourishing, and organic foundation that can make your skin look stunning without irritating it. Choose a foundation offered by a good brand that uses natural and skin-friendly ingredients so you can rock your makeup without worrying about your skin health.
Did you find a foundation in the list that could meet your requirements? Tell us more about it in the comments section below.
The following two tabs change content below.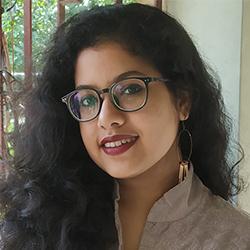 Poulami Nag
Poulami Nag is a writer and associate editor at MomJunction. She did her MA in English from Miranda House, University of Delhi and has qualified UGC-NET. Her journey as a content writer began in 2017 and since then she has garnered diverse interests along the way. Her knowledge of literature and language has given her an eye for detail and...
more