Finding an effective foundation that conceals uneven textured skin, acne, dark spots, and blemishes is not easy. And a wrong product will have adverse consequences on the skin, such as clogged pores and a patchy appearance.
We have compiled a list of the ten best foundations for textured skin in India that provide full coverage and a flawless appearance. Choose any of these products to achieve luminous skin effortlessly.
10 Best Foundation For Textured Skin

Maybelline's super blend matte+poreless foundation has a natural touch and effectively forms a medium coverage. The product is suitable for all skin tones, including normal and oily. The buildable coverage of the liquid foundation stays for an extended period. It comes in 18 shades to conceal blemishes and dark spots and is rich in SPF 22, protecting the skin from harmful UV rays.

The dermatologically-tested formula rich in SPF 15 is an effective make-upproduct that can reduce skin blemishes. The foundation is suitable for all skin tones and provides full coverage. It has salicylic acid, a highly effective ingredient that can unclog pores deep in the skin. The hyaluronic acid present in the foundation works well against dry skin and prevents uneven patches.

The lightweight and creamy pro-glow foundation is a long-lasting product that provides instant radiance to your skin and retains moisture. This foundation is suitable for normal and dry skin and can instantly conceal skin imperfections and form a medium coverage for up to 24 hours. The SPF-rich foundation  keeps your T-zone clear, provides a dazzling look, and maintains good consistency.

Max Factor's compact foundation has SPF 15 and is a high-quality product suitable for daily use. The foundation provides comprehensive coverage for about eight hours and is ideal for all skin types. The foundation also conceals acne and fine lines without causing clogged pores.

The potent blend of algae, olive oil, pearl powder, vitamin E, and yam makes this foundation an effective product. The make-up product produces a solid matte effect and stays for an extended period. It is rich in plant essence, which can actively conceal acne marks, spots, dark circles, and uneven skin tone. The liquid foundation's hydrating properties provide radiant coverage and an intense matte finish. It is available in multiple shades.

Me Now dual balancing foundation is a smooth product that provides a seamless and natural finish to the skin and keeps it glowing and healthy. The long-lasting product is suitable for normal and combination skin and effectively conceals fine lines and wrinkles on the face. It also provides enhanced protection from harmful UV rays and blends well with any skin type.

Colorbar smooth and lightweight foundation containing antioxidants and hyaluronic acid can provide the skin a flawless appearance and retains moisture. The high-quality product provides a fine-textured finish, minimizes aging signs and fine lines, and keeps your skin firm, toned, and soft. It does not contain parabens, mineral oils, and allergens and suitable for all skin types.

Palladio's wet and dry foundation is a high-quality combination of essential herbs and vitamins that provide you with a smooth, dewy effect. You can apply the product both dry and wet for all-day coverage. The alpha-hydroxy effectively reduces fine lines and wrinkles, while zinc oxide reduces breakouts and acne significantly. The two-pack nude shade foundation is an excellent cosmetic product that can achieve a long-lasting flawless appearance.

The luminous and bendable foundation is a smooth formula rich in moisture and is suitable for normal and dry skin. The creamy formula provides a flawless finish and restores the skin's tone and softness. The radiant foundation significantly reduces visible aging signs while fighting free radicals and lasts for a long time without making the make-up look cakey.

This hypoallergenic liquid foundation is a medium coverage product suitable for every skin tone. It effectively refines pores to maintain the matte effect for a long time. The sweat-proof and waterproof product has been dermatologically tested to provide UV A and UV B protection. The smooth and creamy formula blends well with the skin and provides a satin-like finish to your skin. It helps conceal skin imperfections, such as acne, marks, spots, fine lines, and wrinkles.
How To Find The Perfect Foundation For Textured Skin?
Before choosing a high-quality foundation for textured skin, it is essential to consider the following critical factors.
Choose a foundation shade that suits your skin tone and blends perfectly with your skin. Darker shades are ideal for people with a darker complexion, while natural shades are suitable for lighter skin tones.
An SPF-infused foundation can cover skin imperfections well and protect the skin from harmful ultraviolet rays. Choose a smooth formulation rich in SPF.
The foundation must provide medium to full coverage and conceal skin imperfections, such as acne, fine lines, wrinkles, and blemishes.
You must carefully consider the active ingredients before buying the best foundation for textured skin. Foundations rich in hyaluronic acid, salicylic acid, Vitamin C, and E can ensure minimal side effects and make the skin smooth.
Compared with other products, a high-quality foundation approved by dermatologists is safer with minimal side effects.
Frequently Asked Questions
1. Will make-up damage my textured skin?
If you want to protect your skin from further damage, make sure to choose a foundation that contains organic ingredients and is free of parabens, toxins, and allergens.
2. Can I improve my uneven skin tone with a textured skin foundation?
Yes, the foundation can blend well and effectively provide medium to full coverage. It can conceal skin imperfections and uneven skin tone.
A high-quality foundation for textured skin is a lightweight and smooth product that can inject new vitality into your skin and keep it hydrated, soft, and glowing. The long-lasting makeup product will not make your face cakey and effectively conceal skin imperfections. Choose from our list of the ten best foundations for textured skin to achieve a radiant look.

Recommended Articles:
The following two tabs change content below.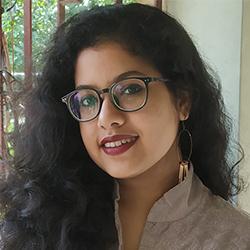 Poulami Nag
Poulami Nag is a writer and associate editor at MomJunction. She did her MA in English from Miranda House, University of Delhi and has qualified UGC-NET. Her journey as a content writer began in 2017 and since then she has garnered diverse interests along the way. Her knowledge of literature and language has given her an eye for detail and...
more