If your pores keep appearing larger than normal, you must want to invest in skincare and makeup products that reduce their appearance. Finding the best foundations for large pores in India requires much research and can be an overwhelming task if you don't know where to begin. For starters, you need to look at pore size and skin type when choosing a product.
Not many know this, but your pores can't change sizes. Large pores are more prominent because they get clogged with dirt, oil, and other gunk. The clogged pores expand and give off an illusion of large pores. Minimizing the appearance of large pores will require a good skincare routine and good quality makeup. This is where our list of the 7 best foundations for large pores in India comes into play. We have curated popular foundations that are known for their full coverage formulas and soft matte finishes.
7 Best Foundations For Large Pores In India Worth Trying
This drugstore foundation is quite the favorite for women worldwide because of its micro-powders that absorb excess oil and minimize the appearance of large pores. Not only is it great for oily skin and dermatologist tested, but it is also available in 40 impressive shades that suit different Indian skin tones. The foundation provides a buildable coverage from medium to high and can last the whole day without looking greasy. Say goodbye to cakey foundations and switch to this one that has a natural matte finish.
This is one of the best foundations for large pores and wrinkles because of its long-lasting formula, perfect for oily skin. The lightweight formula nourishes, moisturizes, and brightens your complexion for brighter, more radiant skin. It also effectively minimizes large pores while covering acne scars, dark circles, and freckles. You don't have to worry about a cakey base because this foundation is rich in plant essence, making it super hydrating.
Your search for the best foundation for oily skin and large pores ends here! This one is a must-have because of its unique formulation filled with natural mattifying ingredients like ginkgo extract, aloe vera, and cucumber. It also has hydrating ingredients like vitamin E and chamomile extract, which reduce the appearance of fine lines, imperfections, textured skin, and large pores. This foundation is convenient for all-day wear and provides sheer to medium coverage.
There is a reason this product has made it to our list of best foundations for large pores in India! The formulation is silky, and it blends effortlessly while being comfortable enough to be worn throughout the day without fading away, even in water. The foundation is water-based, and it includes moisturizing ingredients like vitamin E, which results in smoother and brighter skin. The foundation has a thin texture and blends seamlessly, providing a breathable film that covers spots and minimizes large pores.
If you had no luck with finding the best foundation for pores, take a deep sigh of relief because this may be the one! This smooth formulation provides a natural finish throughout the day, and you will find a shade for every Indian skin tone. It is ideal for sensitive skin because it is hypoallergenic and dermatologically tested, so you don't have to worry about allergic reactions. The coverage varies from medium to high, which means it will provide sufficient coverage on acne scars and dark spots while minimizing any appearance of large pores.
If you are looking for a foundation that drastically reduces pores and fine lines, the Sunisa foundation is a great choice. The formula has an efficient oil control feature that suits any skin type, and it provides medium coverage along with a dewy finish. The cushioning feature visibly hides pores and evens your skin tone without looking cakey or dry. The lightweight formula is also sweat-proof and scratch-resistant, which means it will last you the whole day without making you look dull or tired.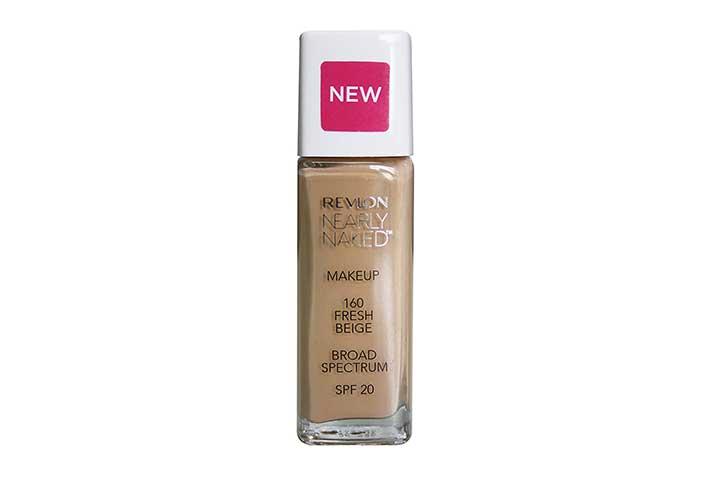 This drugstore foundation is praised far and wide because of its nourishing formula that reduces the appearance of large pores and efficient formula that offers sun protection of SPF 20. Its lightweight formulation includes green tea, black tea, oatmeal, and jojoba oil, which help maintain skin texture and tone. This foundation provides a good buildup and medium coverage for a natural soft matte finish.
Listed above were the 7 best foundations for large pores in India. If you are still confused about what to look for when foundation shopping, this helpful guide will make your shopping experience much more enjoyable and easy. Keep reading to know more!
How To Choose The Best Foundations For Large Pores In India?
Skin typeKnowing your skin type is essential when looking for any foundation. If you are looking for the best foundation for pores, you need to look for products that will go with oily skin. Oily skin types must choose foundations that provide a soft matte finish and help control excess sebum production. If you have dry skin and large pores, you can go for liquid foundations with a hydrating formula.
FormulaChoosing the wrong formula can make your pores look larger than they are. Hence, it would be best if you chose a formula that sits well on your skin, is hydrating, long-lasting, and won't look cakey after a few hours. A lightweight formula that is oil-free and hypoallergenic should reduce large pores without irritating the skin.
CoverageCoverage is essential when choosing a foundation, especially if you want to wear it regularly. To reduce the appearance of large pores, you need to look for foundations that provide medium coverage so that you can build on it until you get the desired result. If you want to go throughout the day without worrying about touch-ups, you must try a full coverage foundation.
Good quality foundations for large pores can enhance an overall look and make these pores appear less noticeable. This well-researched list of the best foundations for large pores in India and the number of shades available will make your shopping experience easier. Now that you've scrolled through the buying guidelines in the post, it will help you identify the foundation that will suit your skin type the most. You can follow a good skincare regime under a dermatologist's advice to have healthy skin and manage the pores.
Recommended Articles: 
The following two tabs change content below.

Poulami Nag is a writer and associate editor at MomJunction. She did her MA in English from Miranda House, University of Delhi and has qualified UGC-NET. Her journey as a content writer began in 2017 and since then she has garnered diverse interests along the way. Her knowledge of literature and language has given her an eye for detail and...
more