If you are a coffee connoisseur who needs a steaming cup of fresh brew to start the day, you can check out our list of the best french press coffee makers to choose the right one for your kitchen. Those who know their coffee well understand that freshly brewed ground coffee tastes richer and more delicious than instant versions. French press coffee makers provide you with the ability to make cafe-style coffees in the comfort of your home. They help coffee lovers brew their cups at a minute's notice and are easy to use and clean. You can keep them at your office, home, or mom's house.
With various practical functions that enable you to customize your brew the way you like, you can make a cup quickly and relax whenever you want. So, go through our list of available coffee makers to find one that suits your taste and requirements.
Top Products From Our List
13 Best French Press Coffee Makers

The superior build quality makes this french press coffee maker by Mueller Austria a worthy contender. It features a durable design and has a heat-insulating layer that will keep your coffee hot for almost an hour. This coffee maker can hold up to 34 ounces of invigorating liquid at a time. The ergonomically designed handle is cool to touch despite holding boiling coffee. It features a lightweight design that makes it ideal for carrying it from one place to another. Included with this coffee maker is a stainless steel coffee canister.
Pros
3-layered stainless steel filter
Versatile use
Double-layered stainless steel construction
Rust and drop-proof
Dishwasher safe
Cons
Some may find it difficult to disassemble.

The Cafe Du Chateau is crafted from 304-grade stainless steel that boasts anti-rust and anti-corrosion properties. Reinforcing its superior build quality is the borosilicate glass carafe that houses 34 ounces of coffee. This glass carafe can withstand thermal changes, making it perfect for many different brews. The well-designed and strategically placed handle makes it easy to hold and pour. The icing on the cake is the lifetime replacement policy that the company slaps on this french press coffee.
Pros
4-level filtration system
Easy-to-clean
Can be used for making tea
BPA-free
Cons
Might be prone to scratches

This french press coffee maker features a borosilicate glass carafe that makes it resistant to thermal expansion and cracks. The company has added another protective layer in the form of an insulated outer shell to secure the carafe and protect it from scratches and chips. The BPA-free lid ensures that no plastic ever comes in contact with your hot coffee. One of the prime features of this french press coffee maker is that it is dishwasher-safe and microwave-friendly. This french press coffee maker by IdylcHomes KONA can hold up to 34 ounces of liquid.
Pros
Available in different colors
3-level filtration system
Easy-to-use
Portable design
Cons
The lid may not fit very well

The simplistic yet premium design of this french press coffee maker makes it highly desirable. It is adaptable to changes in temperature without breaking as it features a borosilicate glass carafe. The safety lid keeps the coffee from spilling while keeping the magical potion hot. The Bodum Chambord is easy to use and can have your coffee ready in just 4 minutes. Like most other french press coffee makers, this too has a capacity of 34 ounces. Keeping it user-friendly, the company has ensured a dishwasher-safe design.
Pros
Available in different colors
3-layer filter plunger
Shatterproof carafe
Ergonomic handle
Cons
The metal parts may be prone to rusting over time.

The 304-grade stainless steel coupled with thick borosilicate glass makes this french press coffee maker durable and reliable. The elegant look of the Veken french press coffee maker is visible at first glance. One of the highlights of this coffee maker is its silent operation. The glass carafe features an exact scale line that makes it easy to measure the amount of water to make the right amount of coffee. The coffee maker holds up to 34 ounces of liquid and carries with it a 2-year free replacement.
Pros
BPA-free
Comes with extra filters
4-layer filtration system
Easy-to-clean
Cons
Metal feet might be uneven on certain surfaces

The lightweight design coupled with its portability makes this versatile coffee maker a force to reckon with on our list of the 13 best french coffee makers. The easy-to-close lid remains tightly sealed, allowing the coffee to stay hot even after a significant period. It features a durable glass carafe that is both scratch and thermal shock-resistant. The handle is ergonomically designed and is well-placed, making it easy to pour yourself a cup of coffee. The coffee maker can hold 34 ounces of liquid at a time and has a 3-year replacement warranty.
Pros
Plastic-free
Double lid
4-level filtration plunger
German borosilicate glass
Cons
The plunger may take more time to move down.

The stainless steel and plastic-free design not only makes this coffee maker safe but durable as well. The 3-layer plunger filtration system ensures that no residue makes its way into your morning coffee. The plunger is easy to push down and does not require much force. The well-fashioned handle is large and is safely secured to the top and bottom of the coffee maker. The lid slides in well and keeps the coffee hot. Included with this 32-ounce capacity coffee maker is a plastic measuring spoon.
Pros
Lightweight
Heat resistant glass
Easy-to-use
Dishwasher safe
Cons
Non-removable glass carafe

This french press coffee maker features refined looks a lot like a kettle. The silver and chrome-plated finish gives it a well-polished look. The filter screen can be easily dismantled and cleaned with soap solution and foam. This machine features a cold touch handle positioned appropriately to reduce strain on the wrist while pouring. The lid is easily rotatable, which allows you to safely pour the coffee into a cup or mug. Apart from coffee, you can also brew tea in this coffee maker.
Pros
3-layered stainless steel filter
50-ounce capacity
Superior thermal retention
Heat insulating inner layer
Cons
The lid may not be tight enough to keep the coffee hot for long hours.

This vacuum-layered french press coffee maker features a cool touch right-angle handle. It is made from professional grade stainless steel which adds durability and longevity to this french press coffee maker. The carafe can keep your coffee warm for over 60 minutes. All it takes is 6 easy steps to make french press coffee in the Coffee Gator maker. This coffee maker can hold a maximum of 34 ounces of liquid.
Pros
Double filtered
Available in 2 colors
Rustproof
Unique sediment-free design
Cons
The body may heat up after prolonged use.

This well-insulated coffee maker by Frieling will transform your coarse ground coffee beans into an aromatic and flavorful hot beverage within 4 minutes. Boasting a 2-layered filtering system, the plunger safely secures the residue at the base of the carafe. The entire coffee maker is corrosion and rust-free, and can house 36 ounces of liquid. Added to its list of accolades is its dishwasher-friendly design. This French coffee press is available in both brushed and polished stainless steel finish.
Pros
Zero-sediment filter
Double-walled design
No-drop spout
Stainless-steel construction
Cons

Crafted from the finest grade of stainless steel, this coffee maker is sturdy and will stand the test of time. The entire maker is free from industrial chemicals that are emitted from plastics. Equipped with an enhanced filtration system, the 4-layered filter ensures a sediment-free hot coffee brew. The unit is easy to disassemble and clean and is an ideal choice for those who keep busy.
Pros
Cool-touch exterior
Spout marker
Vacuum layer
Available in 2 colors
Cons
The lid might not cover the spout completely

This coffee maker is made from eco-friendly material that saves you from hazardous health effects of plastic and toxic materials. The simple design with an easy-to-push down carafe gets the job done in a matter of minutes. Given its filtration mechanism, it is ideal for making espressos, cold brews, tea, and fresh coffee. This machine is easy to disassemble and is dishwasher-safe. It is ideal for a single person or a couple, given its 2 cup capacity.
Pros
Available in different colors
Multi-level filtration system
Shatter-resistant carafe
Ergonomic handle
Cons


This is one of the best french press coffee makers on our list because of its elegant design coupled with its finesse at brewing decadent coffee. The professional-grade filter works wonders at removing any residue and keeping coarse coffee grounds out of your steamy hot beverage. The lid and base are BPA-free and are made out of eco-friendly materials. The handle is ergonomically designed and is comfortable to hold, which makes the task of pouring easier. If you thought it couldn't get better, it just does as this coffee maker comes with a lifetime guarantee.
Pros
Lightweight
Can be used to make tea
Borosilicate glass carafe
Stainless steel plunger
Cons
The glass container is not shatterproof.
Now that you've had a good look at what the world of french press coffee makers has to offer, it's time you selected the one that best suits your needs. However, to determine this, there are a few important considerations that you must bear in mind.
How To Choose The Right French Press Coffee Maker?
Material and build quality
The first major consideration when purchasing a french press coffee maker is to decide upon the material used to make it. The 3 most common materials include glass, stoneware, and stainless steel. Out of the 3, glass french press coffee makers seem to be the most popular.
Those made using stoneware are relatively fewer in number. The main difference that separates these 3 materials is durability and heat retention. While glass french coffee makers tend to be less pricey compared to those made of stainless steel or stoneware, they are more prone to cracking or breaking. Stainless steel and stoneware french press coffee makers are better options.
One of the main drawbacks of french coffee makers is their inability to keep the coffee warm for a long period. While there is no magical solution for this, there are certain french press coffee makers that can retain heat better than others. Keep an eye out for insulated french press coffee makers and ones made out of stainless steel.
This is largely determined by the amount of coffee desired by the individual. Most french press coffee makers come with carafes that can hold anything between 12- 51 ounces of liquid. Just for reference, a french press coffee maker with a capacity of 51 ounces is enough to fill 8 medium-sized cups. Make sure to determine how many cups or mugs of coffee are required before settling for a french press coffee maker.
This is one of the most overlooked factors when purchasing a french press coffee maker. It is crucial to purchase a coffee maker that can be easily disassembled. That will make cleaning a lot easier. If hand washing isn't your thing, you can consider purchasing a dishwasher-friendly french press coffee maker.
Frequently Asked Questions
1. How much coffee should you use for a french press?
The amount of coffee added to a french press coffee maker will entirely depend upon the amount of liquid coffee required. As a rule of thumb, one should add roughly 7-8 grams of coffee to a carafe filled with 200 ml water. However, this is just a recommended ratio that is subject to change. Ultimately, it depends on the tastes and preferences of an individual.
2. How long should you steep french press coffee?
Ideally, most coffee aficionados recommend that the coarse coffee ground be steeped in a french press coffee maker for around 4 minutes. These 4 minutes must be calculated from the time the hot water touches the coffee grounds.
3. Why is my french press coffee gritty?
One characteristic feature of french press coffee is its slight grittiness. This is because coarse ground coffee beans are steeped in hot water and manually filtered through a plunger that is provided with the coffee maker. While the filtration system in the machine is capable of removing most large sediments, there are tiny sediments that are bound to seep through and make it into your mug of coffee.
If a nice brew of french press coffee can turn that frown upside down, there's no reason why you shouldn't start your day with it. Apart from waking you up from your dreamy slumber, it can always activate your creative juices so you can direct all your focus to the task at hand. Now, this can simply be done using the ingenious innovation of the french press coffee maker. A french press coffee maker brings power to your fingertips, aroma to senses, and satisfaction to your soul. Revisit our list of the 13 best french press coffee makers and choose the one you love the most.
The following two tabs change content below.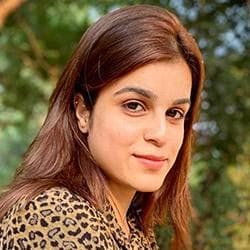 Sakshi John
Sakshi did her graduation in Journalism from the Madras Christian College, Chennai, before starting her career as a freelance writer. She is into blog writing and for MomJunction, she covers various topics, including products to buy for your kitchen, furniture, and other home requirements. Previously, she interned as a content writer in a cyber security firm. As a content writer, Sakshi...
more