If you like going on treks or hikes, you should consider buying one of the best gaiters for yourself. Gaiters save you from the annoyance of having to stop and remove stones from your shoes frequently. These gaiters come in different models and should be chosen based on the person using them and the terrain.
Here we've compiled a list of the best gaiters you can buy online and some tips for choosing the right one.
Top Products From Our List
11 Best Gaiters
If you are looking for simple ankle gaiters that keep debris out of your shoes, consider these from Saloman Trail. They will prevent dirt, dust, gravel, snow, thorns, and grass from getting inside the boot. Easy to use and connect to your shoes, these gaiters protect your ankles and are ideal for running shoes rather than boots.
Specifications
Height: 6in
Weight: 4.3 Oz.
Material: Nylon and elastane
Waterproof
Features
Easy to clean and dry
Hook and loop Velcro closure
Good intrusion protection
Reinforced Hypalon under-strap
Breathable and durable stretch fabric
Unigear's breathable gaiters have a waterproof rating of 1000mm. They are created using rugged polyester and have a waterproof membrane that allows sweat to escape and keeps the moisture out. These snow gaiters can be used in temperatures as low as -35℃/-31℉ thanks to the TPU instep straps of these boot gaiters.
Ideal for protection from water, snow, rain, mud, wind, insects, and sand, they are useful for hiking, skiing, climbing, hunting, and mountaineering.
Specifications
Height: 11in
Weight: 6.38oz.
Material: 600D polyester
Water-resistant
Features
Waterproof membrane to keep moisture away
Tear and abrasion-resistant
TPU instep ensures adjusting as per different sizes
Fold-down flat for portability
Made from 600D Oxford cloth, Azarxis hiking gaiters are a good option for people who want durable, lightweight, tear-resistant, and breathable gaiters. They offer protection from water, dirt, debris, snow, briars, thorns, and even cactus needles. The metal buckles give a perfect fit, making the gaiter ideal for people who often indulge in outdoor activities like running, hunting, hiking, cycling, and motorcycle riding.
Specifications
Height: 9.02in
Weight: 7.04oz.
Material: 600D Oxford cloth
Water-resistant
Features
Sticky Velcro in the front for ease of use
Suitable for different sizes of boots
Can be folded small for better portability
Comfortable and lightweight for year-round use
20-month seller guarantee
When seeking gaiters for waterproof protection, these could be a good choice. The durable polyester layers prevent water and snow, dirt, debris, and other elements from damaging your clothes. The light fabric of the gaiter lets you wear them even in the warmer months. The gaiters are easy to wear and remove and come with a carry bag for easy storage and portability.
Specifications
Height: 15in
Weight: 0.5oz
Material: anti-tear polyester
Water-resistant
Features
Adjustable drawstring for a tight fit around your calf
Buckle for adjustable length
Lightweight and soft for all year use
Metal press studs and Velcro tape makes them easy to put on
The search for gaiters for running ends with these simple gaiters that are breathable and water-resistant. The fabric of these gaiters helps in protecting your shoes and socks from light rain, snow, and other trail debris. Equipped with hook and loop closure around the heel, they are easy to wear and remove with most running shoes.
Specifications
Height: 10.98in
Weight: 2.4oz.
Material: 86% nylon and 14% spandex
Water-resistant
Features
Single attachment hook for easy on and off
Fit most running shoes easily
Inexpensive, but value for money
Lightweight and machine-washable
Easy to maintain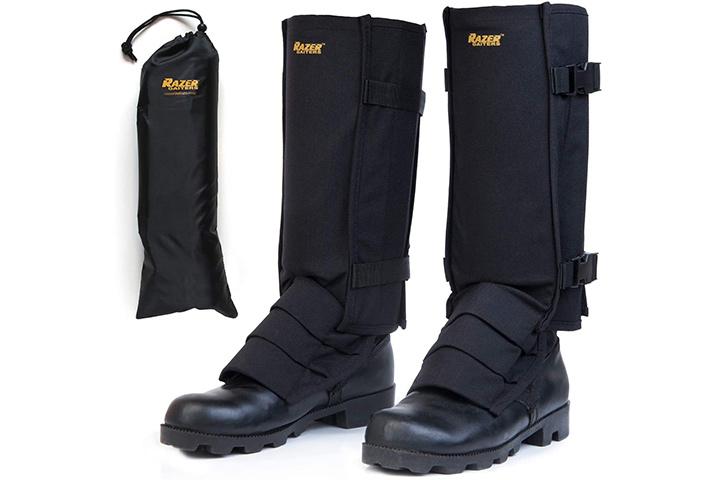 Made using 13 individual polycarbonate panels, these gaiters offer maximum protection to your calves, ankles, and lower legs. They are ideal for people who are fond of walking, hiking, and exploring. One size fits men and women, thanks to the handy straps and buckles.
The gaiters are tested to meet the ASTM F1342-05 and ASTM D5420-16 standards and are puncture- and impact-resistant. Ideal for people who work in snake country or harsh conditions, they can be used forest rangers, hikers, hunters, loggers, oil, gas and utility workers, ranchers, fishers, surveyors, and treasure hunters.
Specifications
Height: 20in
Weight: 13oz.
Material: 1000 denier nylon and polycarbonate
Not waterproof
Features
Fits calf sizes from 13 to 20 inches
Heavy-duty protection with 1000-denier nylon fabric with 13 individual polycarbonate panels
Come with a nylon travel bag
Offers protection against thorns, cacti, briars, sticks, etc
Made to offer the ultimate protection, these gaiters are built by using 900D & 420D Oxford fabric that is waterproof, tear- and abrasion-resistant. These snow gaiters protect your feet, shoes, and clothes from water, dirt, snow, pebbles, and other harmful elements. They are lightweight but 50% more durable than most other gaiters of the same type.
You can use them for year-round mountain walking and other activities like hiking, trekking, and skiing. They come with a free 12-month warranty, free exchange, and lifetime customer service assistance.
Specifications
Height: 19.6in
Weight: 6.7-7.7oz.
Material: 900D & 420D anti-tear waterproof coated Oxford fabric
External waterproof coating
Features
Has a 2-inch-wide Velcro for a better fit
A TPU instep strap and an adjustable top buckle strap for better adjustability
Comfortable to use and long-lasting
Protect the lower legs from cold
Internal breathable PU coating for ventilation
Lopoo Leg Gaiters are made by using premium 3-in-1 nylon materials. They have a waterproof and windproof TPU membrane on the upper, and an abrasion- and tear-resistant 900D Nylon fabric on the lower leg. The breathable fabric keeps your legs dry even when you indulge in outdoor exercise. You can trust it to keep your legs warm and offer protection from snow, water, rain, wind, and mud. It is ideal for people who partake in snow-related activities, climbing, hiking, hunting, fishing, and mountaineering. These gaiters come with a 30-day money-back guarantee, one-year general warranty, and lifetime customer service support.
Specifications
Height: 19.61in
Weight: 5.96oz.
Material: Nylon
Waterproof
Features
Offers resistance in temperatures as low as -35℃/-31℉
The drawstring straps and buckles make it easy to put them on and remove
Front opening Velcro design
Adjustable size to prevent slipping
IDand leg gaiters are quality boot gaiters built with premium two-layer materials to keep the legs super dry and protect the boots. They are abrasion-resistant, breathable, windproof, and waterproof. The upper half is built of Nylon and a waterproof TPU membrane inside, which is ten times more efficient than traditional gaiters. These gaiters are ideal for hiking, ice climbing, mountaineering, and backpacking and offer protection from ice, rocks, thorns, bogs, etc.
Specifications
Height: 16.14in
Weight: 7.2oz.
Material: Nylon
Waterproof TPU membrane
Features
Built from 1000 nylon material that is 10X more durable
Top closure with adjustable webbing and a strong buckle
The bottom instep has a TPU strap and a thickened clip
It can resist temperatures as low as 60℉.
Velcro closure for comfortable wear and removal
The search for walking gaiters that resist rain, mud, wind, and snow to protect your pants and boots ends here. The Peakit leg gaiters keep your legs dry and warm when you are hunting, hiking, skiing, backpacking, and indulging in other activities at any time of the year. They have a camouflage color and noise elimination feature that makes them one of the best hinting gaiters. The gaiters come with a one-year warranty, money-back return guarantee, and exceptional customer service.
Specifications
Height: 16.3in
Weight: 5.61oz.
Material: Nylon
Waterproof coating
Features
Fold up easily for easy packing
The TPU belt can last long
Can resist temperatures as low as -35℃/-31℉
A buckle strap and TPU foot band make them fit different boots and running shoes
People looking specifically for hunting gaiters can choose this product that comes with thickened nylon straps. Strong enough to keep your leg protected from snake or bug bites, these gaiters are snow-proof and have tear and puncture resistance. They also offer protection against snow, rain, wind, mud, sand, and insects. You can use them for hunting, hiking, climbing, mountaineering, and skiing at any time of the year. They come with a 60-days refund guarantee, a one-year warranty, and lifetime customer support.
Specifications
Height: 8in
Weight: 5.93oz.
Material: 1000D nylon breathable fabric
Waterproof membrane layer
Features
Four straps can be replaced
A stainless-steel buckle ensures the gaiters stay in place
The elasticized design can fit well and prevent slipping
Easy to fold and carry in a bag
Front opening Velcro for easy use
How To Choose The Right Gaiters?
If you are a first-time buyer and do not know how to pick the right gaiters for your needs, here are some tips to help.
Height: You can choose from low gaiters than are as high as 12 inches tall and are best for trail walking or casual hiking or high gaiters that are 15-18 inches tall and are ideal for hiking or backpacking in extreme weather.
Gender: Gender matters when buying gaiters. Gaiters for women usually have shorter heights and wide girth at the calves.
Fit: Pick a gaiter that fits you snugly so that it doesn't slip off and offers better protection to your clothes, footwear, and skin.
Waterproofing: If you live in areas where rain or snow is expected, pick gaiters that resist water.
Ease of use: Choose gaiters with Velcro front opening and closure instead of zippers whenever possible. Also, choose gaiters with adjustable straps, hooks, and other attachments so that they fit well.
Quality of fastening points and instep straps: Strong plastic or metal fastening points are recommended as they will not break even when they are scuffed against rocks. Similarly, the instep straps should not wear off easily.
Warranty: Choose products that come with a warranty and customer support if you need more assurance and value for money.
Whether you are a climber, a trekker, or a mountaineer, you want the best gaiters to keep you safe on various terrains, including deserts, snowy mountains, and thick forests. A good pair of gaiters that fit right offer protection and look good too. So, spend some time browsing the list above and using the buying guide to find the best fit for you.
Recommended Articles: 
The following two tabs change content below.