'Game of Thrones', which was probably the most-watched TV series around the world, has ended, but the love for the show might stay forever in its fans. If your friend or family member is a big fan of the series, then nothing could be better than a Game of Thrones (GoT)-themed gift. From board games, books, to souvenirs, and a lot more, there are several options to choose from.
We bring you a list of the best Game of Thrones gifts in this MomJunction post. Go through their details and choose the one that you think would be liked the most.
25 Best Game Of Thrones Gifts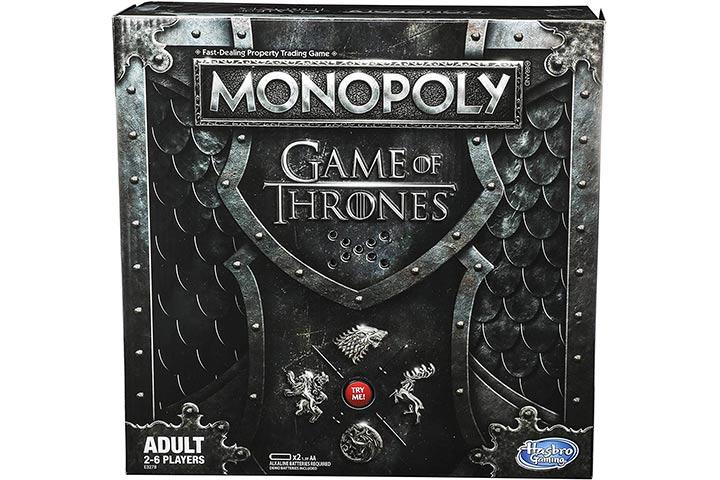 'Monopoly' is a family game enjoyed by many. But this board game is inspired by the Game of Thrones TV series and is one for the fans. It contains 442 gold dragons, 53 silver stags, 12 castles, and 32 holdfasts. The game is smartly designed and has seven kingdoms as trading locations. It can be played by two to six players and is made for people who are 18 years old and above. It also has a music stand that plays the theme song of the show. Can you think of a better gift for a gamer and a huge GoT fan?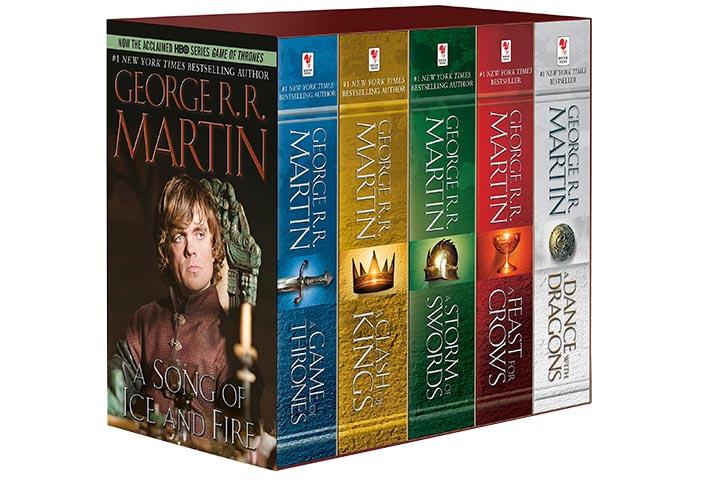 For that friend who loves to read, this set of five books, including, 'A Game of Thrones,' 'A Storm of Swords,' 'A Clash of Kings,' 'A Dance with Dragons,' and 'A Feast for Crows' could be a good idea. All the books are written by George R. R. Martin and could make for a good binge reading session for fantasy fiction lovers. You can find this book collection in both paperback and Kindle format. Pick any as per your requirements.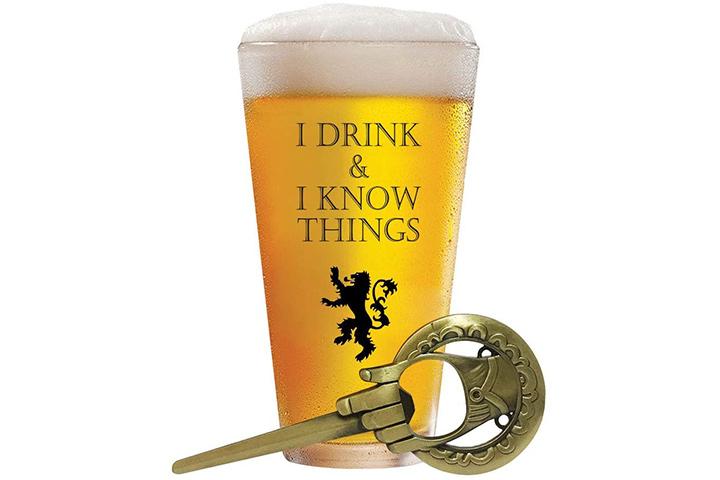 Made of high-quality, thick glass material, this cool beer glass has the phrase 'I Drink & I Know Things,' a famous dialogue of the GoT character Tyrion Lannister, printed on it. It comes with an opener that is designed in the shape of the hand of the king. It could be a unique choice as a gift to anyone who likes drinking and is also a fan of the series.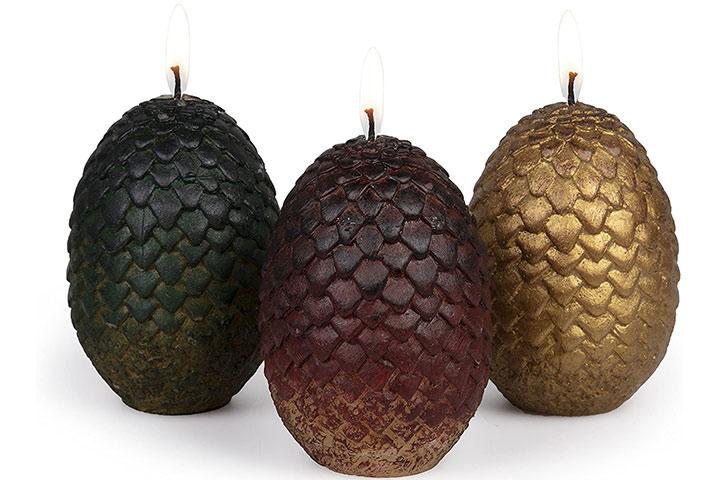 People who have watched the Game of Thrones series know that dragons are considered to be a powerful force. This pack contains three wax candles that are designed in the form of dragon eggs owned by Daenerys Targaryen in the show. They are accurately and attractively sculpted in three different colors, namely red, green, and gold. Each egg measures 2.36 x 3.35in. If any of your friends has a collection of souvenirs inspired by the show, then this Game of Thrones gift set would be a good addition.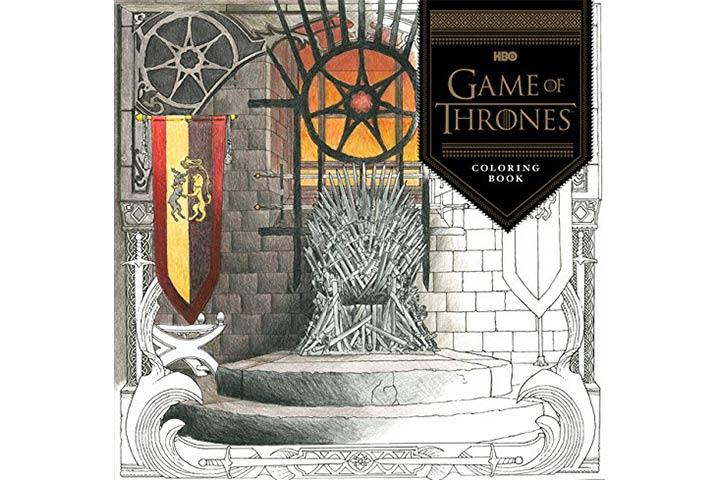 Coloring could be a therapeutic activity, and also enjoyable if it involves some of your favorite show characters or scenes. This Game of Thrones coloring book has 35 designs in total, with some are on one page, and some spread on two pages. Artists named Adriana Melo and Allan Jefferson have designed the drawings or illustrations. This book can be one of the best Game of Thrones gift ideas for anyone who is deeply interested in the show or likes the intricate details of the show.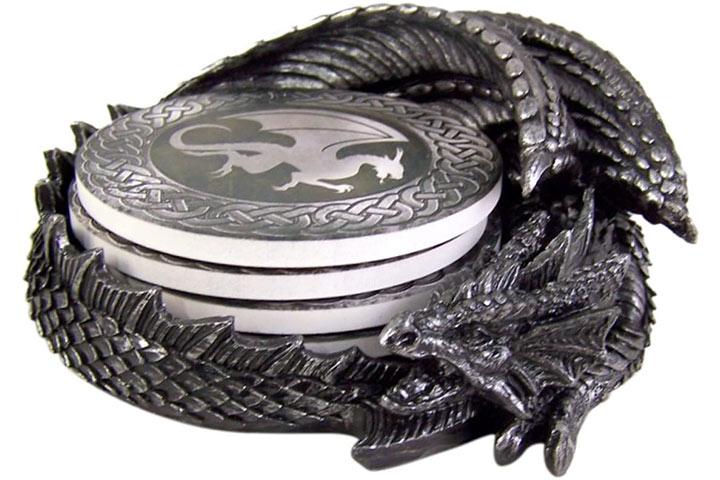 This GoT theme coaster set includes four dragon coasters and one coaster holder in the shape of a dragon figurine. It is made of resin and is sturdy and easy to clean. Each coaster measures 4in in diameter, and the holder measures 6 1/4 x 6 x 2 3/4in. This gift set could be a unique souvenir that can be gifted to the fans of the web series and could be an ideal choice for any fan.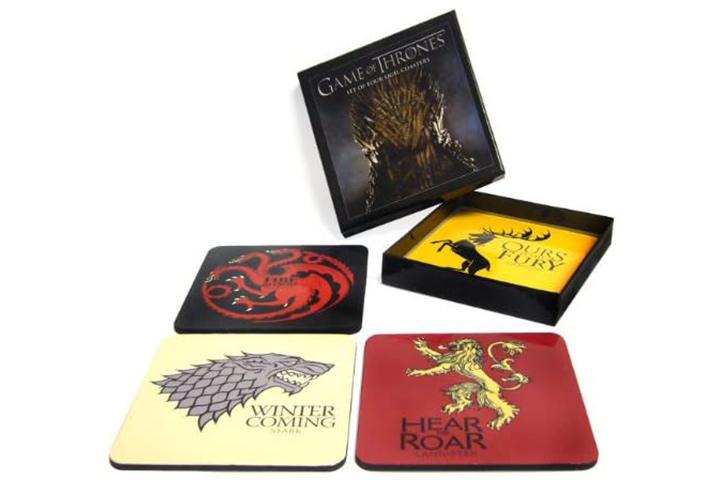 This box contains four coasters, each having a unique design on it. All the prints are inspired by the GoT show and feature the sigils of the royal houses. These coasters are made with high-quality materials and have bright prints on them. If your friend or colleague or family member is a die-hard Game of Thrones fan, they would like this as a gift.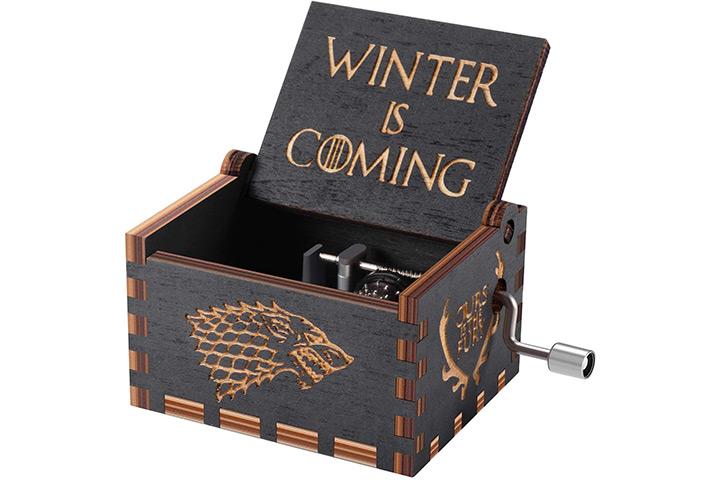 Does your friend or a loved one have a penchant for antique gifts? Then this antique musical gift box could be a good pick for them. It is made of wood, plays music, and has a GoT design carved on it. It measures 2.5 x 1.97 x 1.5in and can be manually operated. The box doesn't need any battery or electricity to play the melodious music and makes a unique gift option for a GoT fan.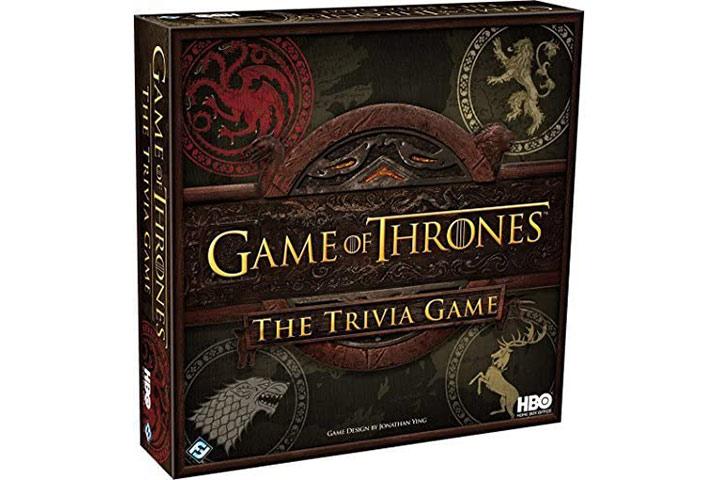 The strategy game can be played by two to four players, individually or in teams. It features over 200 questions based on the series, and the players have to answer each one correctly to move forward in the game. It is a 45-minute game and can be played by anyone who is 18 and above. Players can choose an avatar to be one of the popular characters of the show and proceed. The player who controls all the locations will be the winner.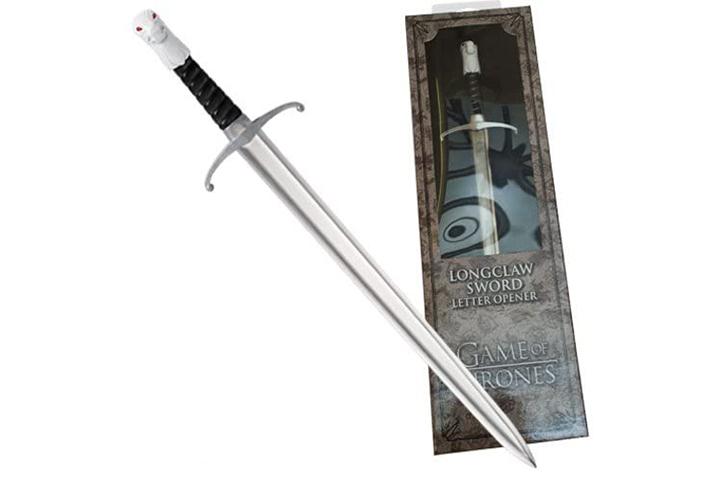 Reckon a fancy letter opener? Then look at this one designed in the form of the Game of Thrones sword, which is also the official GoT merchandize authorized by HBO. It is made with high-quality material and has a stainless steel blade and diecast metal handle. It is 9in in size and is a fine letter opener that one can have. If your friend likes to collect GoT souvenirs, then this gift could be a unique item in the collection.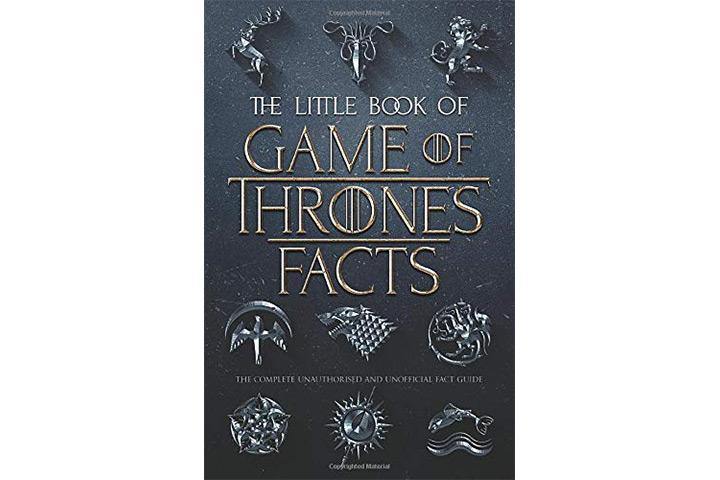 If you are a secret Santa to anyone who is a GoT fan, then this could be an interesting gift to buy. It includes facts related to the television series, book, stories, religions, major houses, strategies, plot, and lots more. The unbelievable facts mentioned in the book can impress anyone who is an ardent fan of the show. The book is available in both paperback and Kindle formats.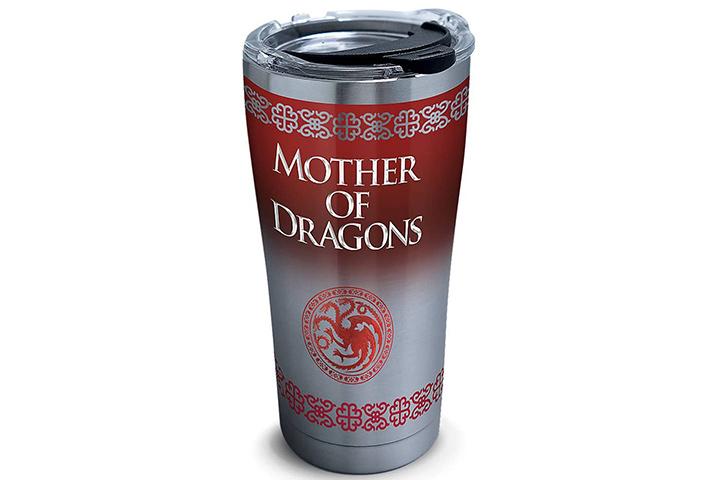 It is a double-insulated tumbler that keeps hot drinks warm and cold beverages cool. It has red and silver print on it, along with a dragon print and 'Mother of Dragons' text. It is made of stainless steel and is copper-lined and leaves no residual odors or aftertaste. It can be a useful gift for anyone who is a fan of the series. You may even find some variations in terms of sizes.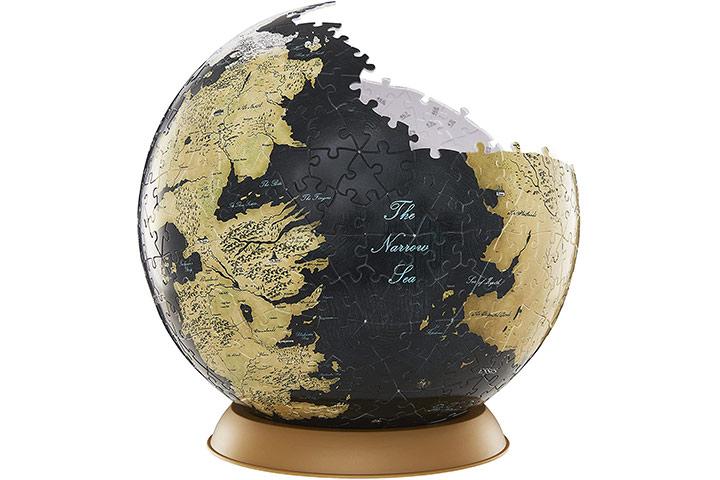 It is a unique, officially licensed globe puzzle that is made of plastic, and placed on a display stand. It is available in three different sizes, 3, 6, and 9 inches, with 60, 240, and 540 pieces, respectively. The puzzle globe is designed for anyone who is 14 and above. It comes in a well-packed box and could be a rare and interesting Game of Thrones gift to the fans.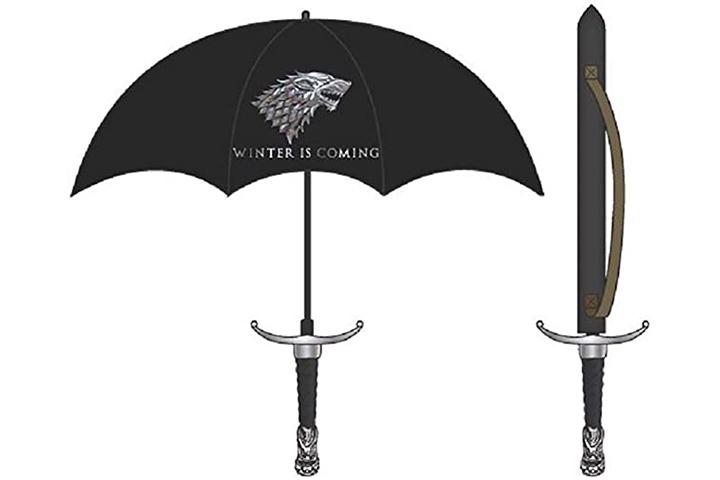 A practical gift for Game of Thrones fans, this umbrella has a handle that is designed in the form of a sword, and a print of a dragon and 'winter is coming' text. It is made of good quality material and is durable. The umbrella can be used by both men and women. It measures 9x2x2 inches and 32 inches when used as a canopy. The perfect gift to give during the monsoons!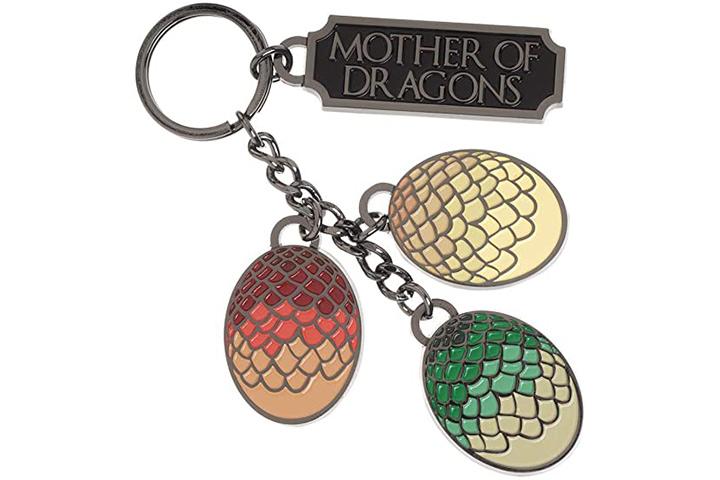 This keychain is made of good quality zinc alloy that makes it long-lasting. It is designed in a distinctive form for the GoT fans. It includes three dragon eggs of the Mother of Dragon in bright and attractive colors. It is 38 x 28in in size and is authentic and officially licensed. It could be a simple yet memorable gift to your friend or family member who likes the series.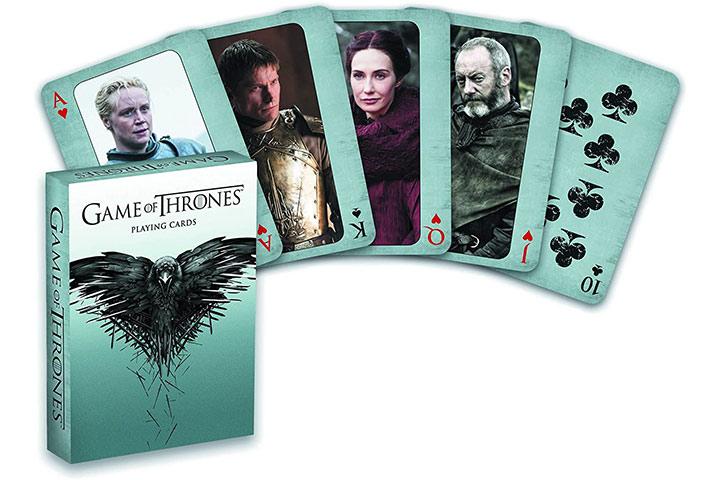 Dark Horse Comics is one of the largest publishers in the US and has come up with a deck of playing cards with the print of Game of Thrones characters. The deck contains 52 face cards along with two jokers. It could be a simple Game of Thrones gift for your colleague or friend or cousin who never misses a chance to watch the series and loves a god game of rummy or poker. This could also be a cool collector's item.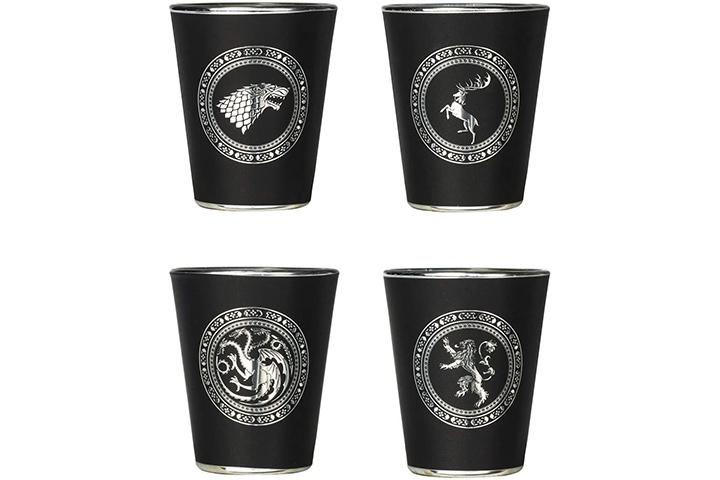 This set includes four shot glasses featuring the famous characters of Game of Thrones, namely Baratheon, Stark, Lannister, and Targaryen. Each glass is made with premium-quality glass and is coated with a black matte finish. It can be washed with hands and is peel and chip-resistant. The set of shot glasses is officially licensed by the GoT series and could be a unique Game of Thrones set for a fan.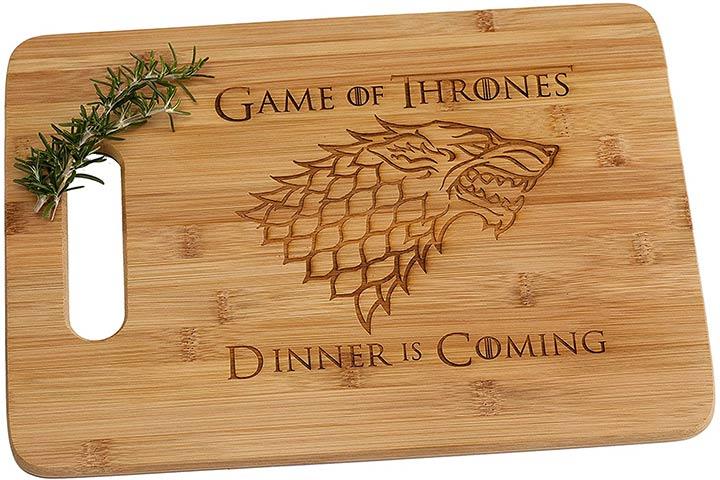 If your friend loves to cook and is also a fan of Game of Thrones, then this cutting board could be an appropriate choice of a gift. It is made of bamboo wood and comes with a handle. It measures 9 x 13in in size and has the phrase 'Dinner is Coming' engraved on it with precise laser technique. The board is sleek and light, yet it is durable. It could be a useful gift for anyone who cooks.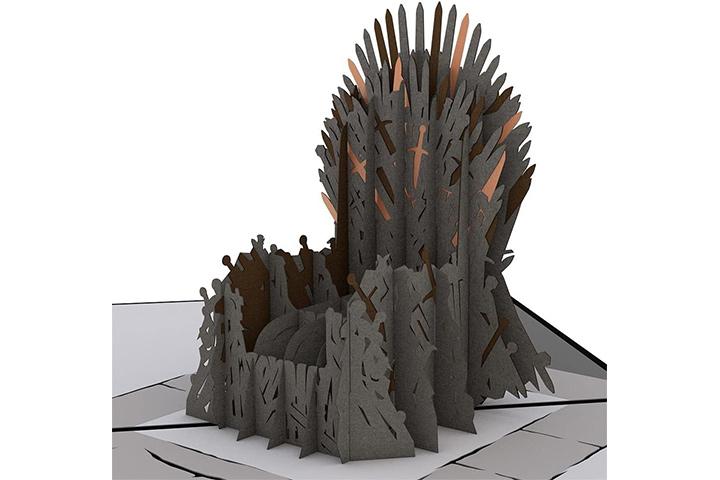 This is a distinctive greeting card inspired by the theme of the Game of Thrones series. It is creatively designed with the pop up of the Iron throne. It is made of premium-quality material and has an original design. It measures 5 x 7in and comes in a blank envelope. The pack also has a small note on which you may write something special for the recipient. You may also find other variations of this card.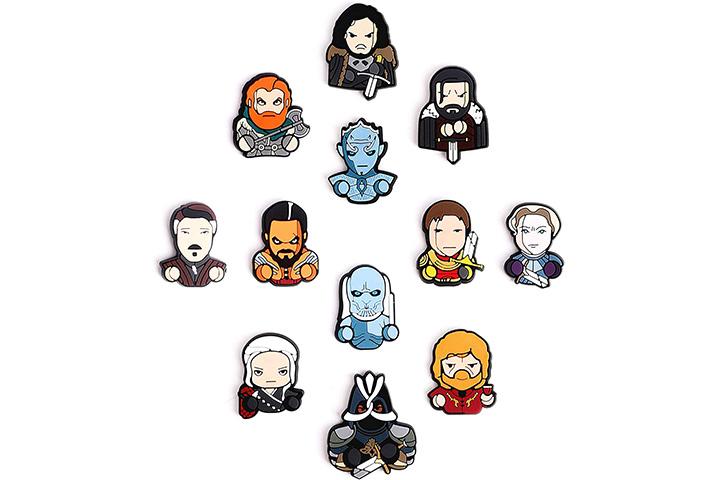 This set includes 12 fridge magnets of all the popular characters of GoT. Each magnet is made of good-quality, flexible, and durable molded rubber. It is 1.2 x 0.78in in size and is designed and manufactured to be bright and colorful, making it a cute gift option. Some of the characters featured include Jon Snow, White Walker, Tyrion Lannister, and Night King, among others.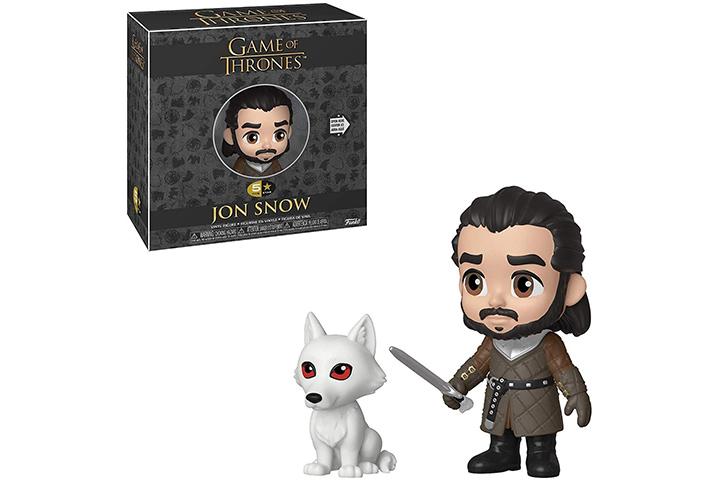 If your friend is a Jon Snow fan, then this uniquely designed figurine could impress them. It is a 3-inch tall figure that is made with premium-quality material and is designed to look attractive. It also comes with a couple of accessories, such as the sword and the wolf. The figurine will last for long and could be a good choice for a collector.
The iconic Iron Throne from the GoT series is something that the obsessive fans can never forget. This mini replica of the throne is sculpted and painted perfectly in black and silver color and comes neatly packed in an attractive box. It could be picked as a gift option on special occasions such as birthdays or anniversaries for anyone who likes the GoT series.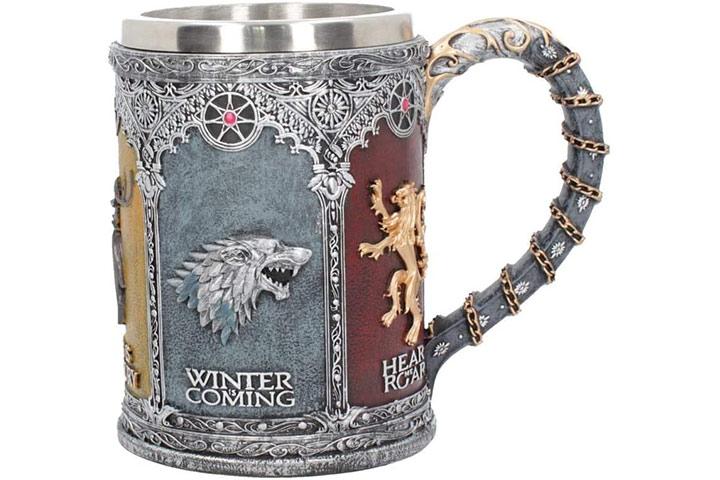 Everybody uses a mug. And if it is an exquisite mug like this one, which is designed and carved to fit the theme of Game of Thrones, they would use it more. It is an attractive multicolor mug with unique sculpted designs of powerful animals along with their respective texts on it. It could be a well-picked gift for a fan and a coffee lover, as it is made of quality materials and could last long when used well.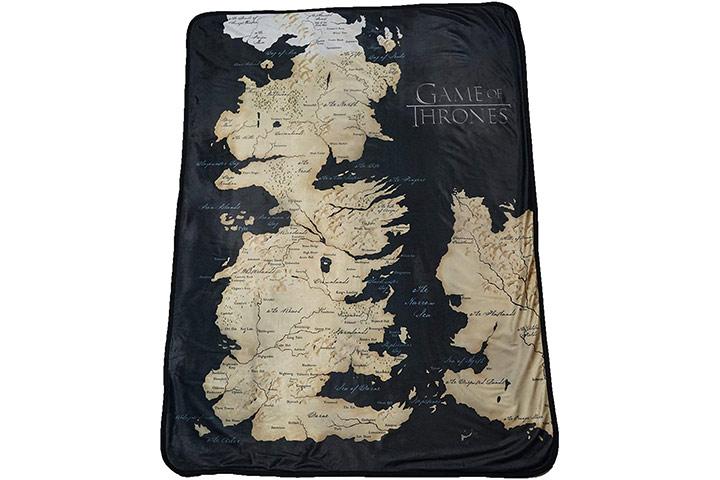 It is a fleece blanket that is made with 100% polyester material. It measures 46 x 60 inches and is officially licensed from the HBO Game of Thrones series. The blanket has a print of the Map of Westeros on it. It can be washed by hand or in a machine and does not require bleach. It is high-quality and can be picked as an ideal choice of gift for anyone who likes the Game of Thrones series.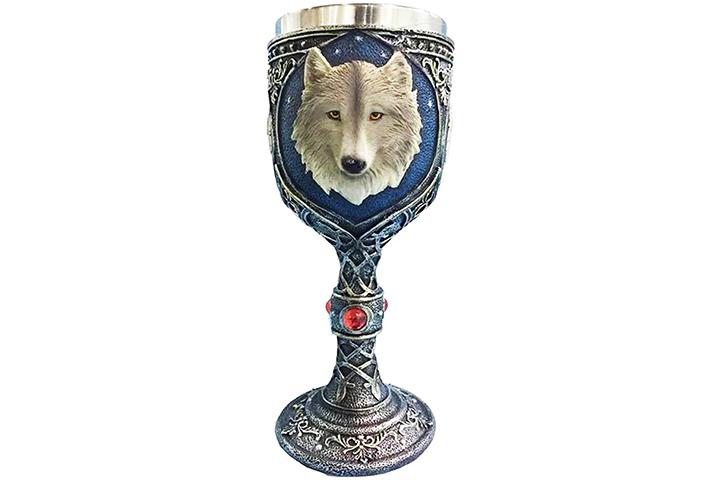 It is a premium-quality goblet made with stainless steel and designed in retro 3D style. It is attractive and has a wolf face carved on it. It is crafted beautifully, painted, and polished by hand. It is not only durable but also easy to maintain, thus making a thoughtful and exclusive gift choice for your friend or family member who likes GoT. This goblet can be used for decoration and also have drinks.
How To Choose The Right Game Of Thrones Gift?
Whether or not you know about the series Game of Thrones, you may still find the most appropriate gift for your friend. We have some tips for you.
Preference: When picking up a gift, you should figure out the likes and dislikes of the recipient. They sure are Game of Thrones fans, but you should try to know what exactly they like about the series. Is it the characters, strategy, plot, or anything else? Based on their preferences and the person, you may pick the gift. For instance, if your friend likes to play, then a board game is good. If they love collecting things, then you could look at figurines, replicas, and so on.
Quality: Irrespective of the gift you are planning to give, it is essential to check its quality. The product should be made of high-quality material and should be durable. You may even pick a practical or useful gift such as a board game, kitchen tool, or keychain.
Price: Fix a budget before you start searching for the Game of Thrones gift for your friend or colleague. It should also be in line with the occasion. For example, if it is your friend's wedding anniversary, then a GoT keychain as a gift may not be a wise decision. Choose accordingly so that your gift is appropriate in every way.
Note down these points when looking for the right Game of Thrones gift for your friend. You may even shortlist a few of them and then compare their features and price to find the most thoughtful gift for your loved one. In any way, you are sure to bring a smile on a fan's face with one of these gifting options.
Recommended Articles: