Although almost all tablets allow you to play games, only a few have the specialized features that can make a gaming session a lot more interesting. These tablets are designed to give you the ultimate gaming experience that regular mobile devices are unable to deliver.
But how do you know which tablet is the best choice for the gamer within you? By scanning all the options available in the market and looking for their special features. But that sounds like a mentally taxing task, doesn't it? We have done the scanning and selection, so your options are narrowed down to the best in the market. Listed below are some of the best tablets for games that can make your gaming experience more enjoyable.

Top Products From Our List
11 Best Tablets For Games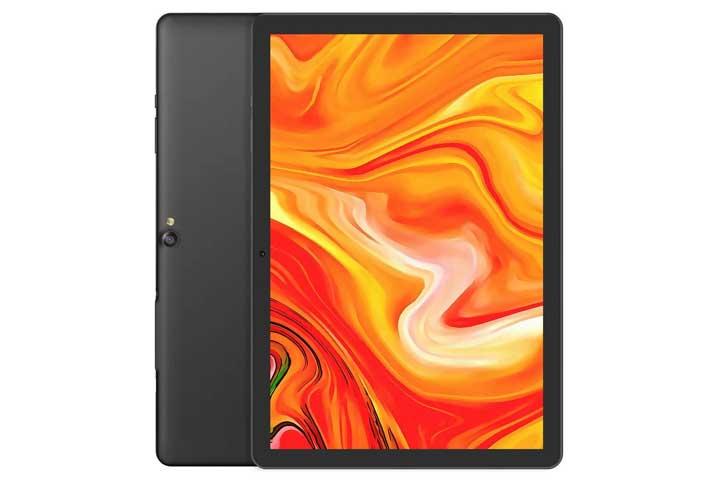 If you are a rookie gamer or indulge in games occasionally, then this tablet is for you. It comes with a wide 1280×800 IPS display and dual speakers that make virtual games exciting. Its 4500mAh battery enables usage for up to six hours, so your gaming session is not interrupted. Its Eye Health feature self-adjusts the backlight so you can use the tablet comfortably at night.
Specifications:
Display size:  10 inches
Processor: Quad-core
RAM: 2GB
Storage: 32GB (expandable up to 128GB)
Pros:
Offers several features at a relatively low price
Includes voice control with Google Assistant
Touch screen is highly responsive
Offers access to Google Play and popular apps such as Skype, Netflix, and YouTube
Cons:
Wi-Fi tends to disconnect when on sleep mode
Battery is slow to charge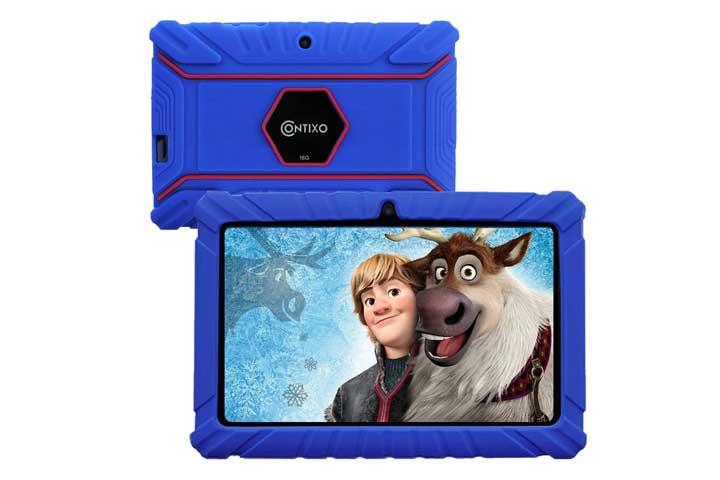 Designed especially for kids, this tablet allows children to play their favorite games comfortably. But the best part is that you decide how much time they spend on the device. It comes with a parental control system, which enables you to filter content and time the usage of the device. Its Android 8.1 Oreo operating system ensures high-speed and responsiveness to smoothly run games and apps.
Specifications:
Display size: 7 inches
Processor: Quad-core
RAM: 1GB
Storage: 16GB (expandable up to 128GB)
Pros:
Comes with a durable protective case and screen guard
3,200mAh lithium-ion battery allows four hours of video watching
Access to several apps on Google Play Store, such as YouTube Kids and Disney+
Cons:
Battery tends to drain out easily
Downloading apps can be a little slow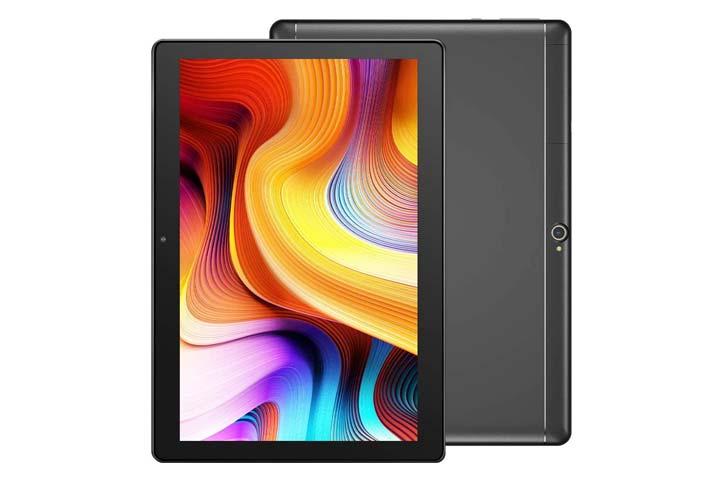 Here is a great tablet for those on a budget. With its crisp 800×1280 IPS display, you can watch gaming characters come to life in clear-cut images. Its dual speakers give you the best audio experience. On the connectivity front, it is equipped with dual Wi-Fi mode so you can select the network of your choice i.e., either 2.4GHz or 5GHz. The 5000mAh battery and power-saving feature allow you to use the tablet for ten hours on a single charge.
Specifications:
Display size: 10 inches
Processor: Quad-core
RAM: 2GB
Storage: 32GB
Pros:
Eye care mode helps adjust backlight automatically
Long-lasting battery power
Applications and websites load quickly
HDMI port allows easy connection with other devices
Cons:
Instructions come in Chinese
Can break if dropped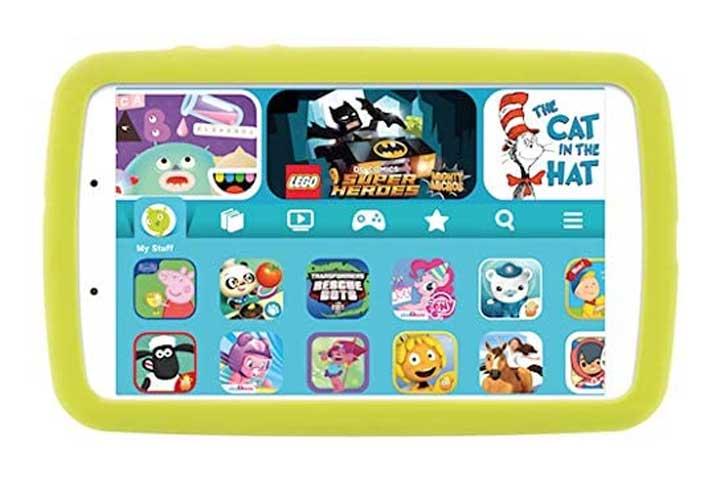 You can count on a reputed brand like Samsung to offer devices of the highest quality. This kids' edition tablet gives you access to thousands of activities and games created only for kids. It also gives you the power to limit the time your child can spend in front of the screen. Its battery can run for up to 13 hours on a single charge.
Specifications:
Display size:  8 inches
Processor: Qualcomm
RAM: 2GB
Storage: 32GB
Pros:
Small size to easily fit tiny hands of children
Bumper case protects the tablet from accidental slips
Bumper case comes with hand grips for easy holding
Access to Google Play and other streaming sites too
Cons:
Screen does not come with extra protection
Camera quality is not top-notch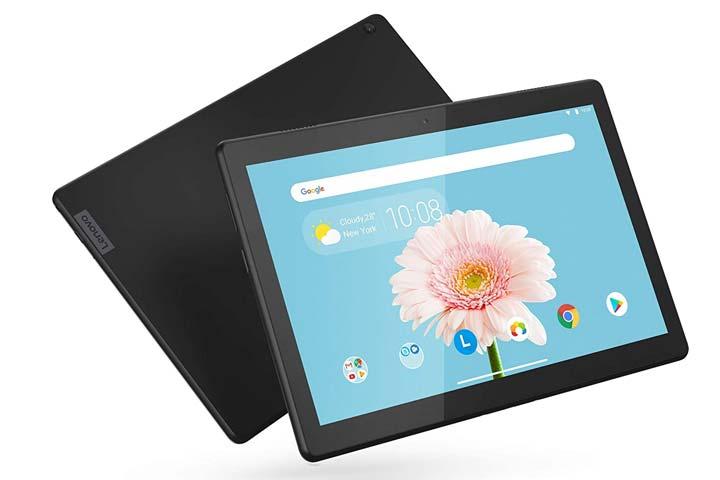 A family-friendly tablet, this device comes with a wide HD screen with dual front speakers so you can see and feel the game you are playing. Its sleek frame and lightweight body are easy to hold and use. You can avail benefits of the fastest connection with its dual-band support 2.4GHz and 5GHz. The best thing about it is that you can create multiple profiles. It also has a kids' mode, so your kids are not exposed to inappropriate content.
Specifications:
Display size: 10.1 inches
Processor: Qualcomm Snapdragon
RAM: 2GB
Storage: 32GB
Pros:
Comes with face-recognition lock system
Eye-protection technology reduces eye strain
Dolby audio gives the best sound experience
Cons:
Power outlet and power button come on opposite sides, so using it while charging can be highly inconvenient
Tablet may not be compatible with several popular apps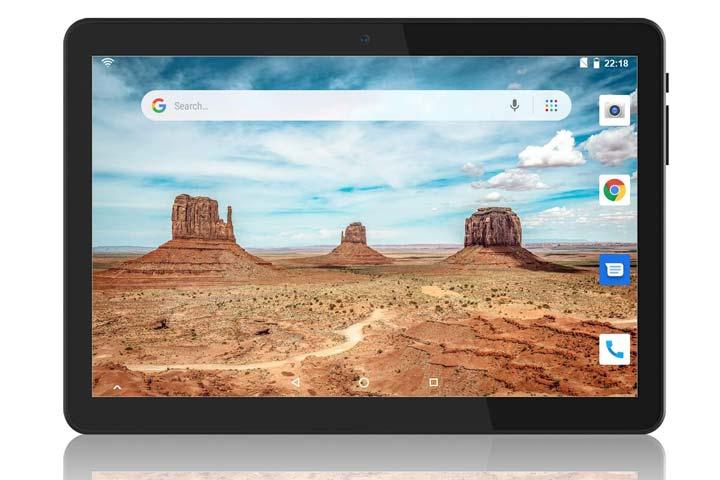 Play all kinds of virtual games on this large tablet with a screen size of 10in and a 1280×800 HD resolution. It comes with dual speakers to give you outstanding sounds when playing. It supports dual Wi-Fi of 2.4GHz and 5GHz for hi-speed connectivity. Its 6000mAh battery enables hours of uninterrupted playing time.
Specifications:
Display size: 10 inches
Processor: Quad-core
RAM: 1GB
Storage: 16GB
Pros:
Compatible with most popular android apps
Comes with pre-installed screen protector
Camera quality is good
Cons:
May not be as secure from malware, even when security apps are installed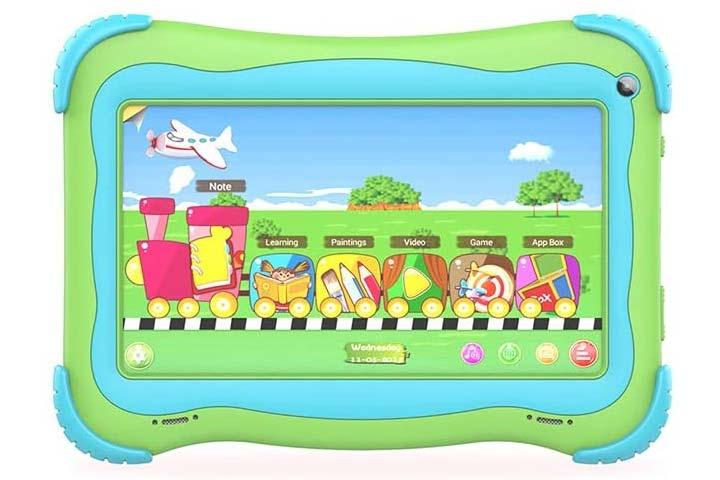 Its silicone protector keeps the tablet protected from accidental bumps and slips. It comes with an IPS eye protection screen to reduce eye strain in kids. Even though it is classified as a kids' tablet, it can be used in Android for adults and kids' mode.
Specifications:
Display size:  7 inches
Processor: Quad-core
RAM: 1GB
Storage: 16GB (expandable up to 32GB)
Pros:
Lightweight and small size for easy handling
Contains educational apps, books, and games
Multiple profiles for parents to monitor kids' usage
Corners of protective cover come with rubber padding for safe use
Cons:
Battery does not last long
May not be compatible with video streaming sites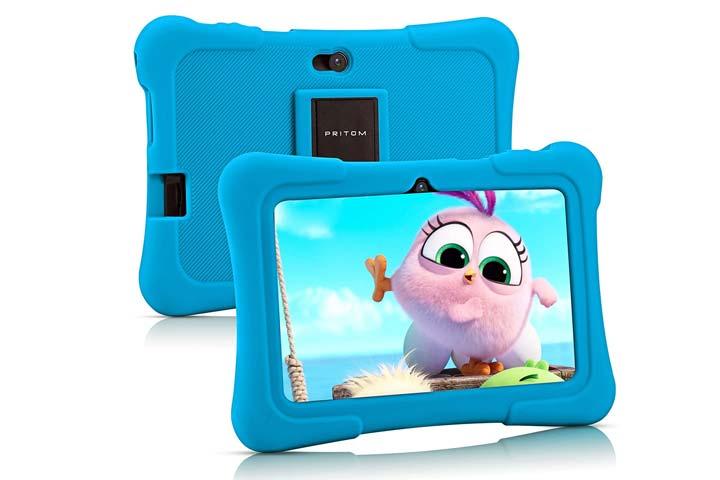 Here is a tablet with tons of interactive games that are fun to play and educative too. It has a 1024×600 IPS HD display that gives you the best quality picture. The tablet offers Wi-Fi and Bluetooth connectivity and has expandable memory that lets your store as many games as possible. It gives full-parental control to select the games that your child should play and filter unwanted data.
Specifications:
Display size: 7 inches
Processor: Quad-core
RAM: 1GB
Storage: 16GB
Pros:
Comes with child-lock, game time limit, and preference data analysis features
Interface is easy to operate even for kids
Impact-resistant case protects the tablet from accidental drops, dust, dirt, etc.
Retractable stand allows convenient hands-free use
Cons:
Supports only 2.4GHz Wi-Fi
Processor may be slightly slow

With preinstalled iWawa, you can take full control of what your child views on this kid-friendly tablet. Its large screen with 1280×800 IPS display offers sharp and crisp video quality, while the 2GB RAM offers good frequency for playing games. The tablet comes with a retractable stand for convenient hands-free usage. Its 6000mAh battery offers five hours of usage.
Specifications:
Display size:  10.1 inch
Processor: Quad-core
RAM: 2GB
Storage: 16GB (expandable up to 128GB)
Pros:
Comes with non-toxic, safe, and soft silicone case
Protected with screen guard
Access to Google Play grants access to various games
Seller offers a one-year warranty
Cons:
Battery may malfunction
May not be very sturdy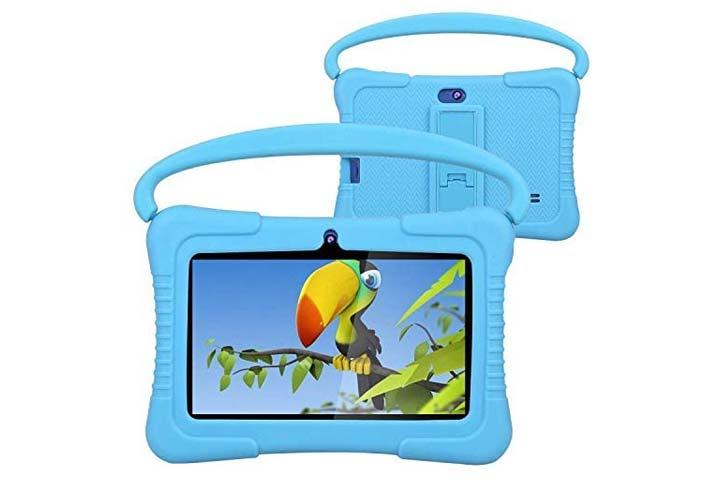 Here is a small tablet that kids can use to play games and watch educational videos for hours. Its high-resolution display is great for playing all kinds of online games. The kid-proof, unique protective case is sturdy and comes with a stand to watch videos without having to hold it.
Specifications:
Display size: 7 inches
Processor: Quad-core
RAM: 2GB
Storage: 32GB (with expandable memory slot)
Pros:
Silicone case is environment-friendly and safe for kids
Protective case comes with a handle for convenient use
Parents can control the games and content selection on tablet
Battery can run up to five hours on a single charge
Cons:
Camera may not be of best quality
Tablet is not sturdy and can break if not handled with care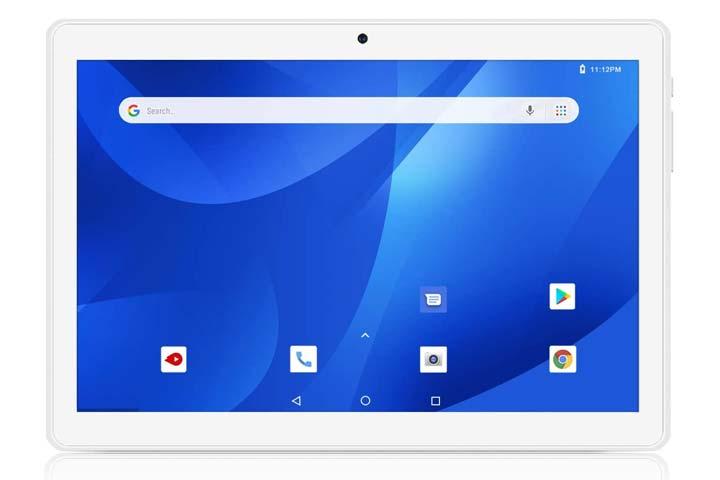 This android tablet comes with a widescreen and high resolution to give you a crisp and clear image quality. The IPS display supposedly causes less glare while offering better brightness. It supports dual-band Wi-Fi for the best connectivity. Its huge in-built memory space allows you to store numerous games and videos.
Specifications:
Display size: 10 inch
Processor: Quad-core
RAM: 1GB
Storage: 16GB (expandable to 128GB)
Pros:
Screen comes with pre-installed plastic protective film
Front-facing VGA camera allows good-quality Skype calls
Suitable for viewing HD videos
Cons:
Audio quality may be mediocre
How To Select The Right Tablet For Games?
Before you start hunting for the top tablets for games, you need to determine who will be using it. You need to know if the tablet will be a family device or if it will only be used by your kids to play games. Once you know this, you can proceed to check out tablets while looking for the following features.
Size: If the tablet is used only by the kids, then opt for smaller and lighter ones that your kids can hold and operate it easily. A 7-inch tablet is most suitable for young kids. If the tablet is for family use, go for one with a big 10-inch screen. However, you have to remember that the bigger the screen, the heavier the device and, hence, may warrant a two-hand operation.
Resolution: For a truly satisfying gaming experience, it is important to have a tablet with good image quality. Animated images that are crisp and clear make for a great virtual reality experience. If gaming is your primary focus, opt for a tablet that comes with a high-definition LCD or IPS display that will give you true HD images.
Memory: Tablets usually come with several pre-installed applications that take up a lot of storage space, leaving hardly any space for you to save your games. If you play a lot of games or download multimedia, opt for a tablet with large storage space.  If your budget does not allow that, look for a tablet with expandable memory to buy an SD card whenever your tablet runs out of space.
Operating System: Every operating system has its app store that gives you access to games and applications. Ensure that the tablet you buy has the latest version of its respective operating system to access as many applications as needed.
Battery: All the above features are of no good if your battery lasts only a couple of hours. Serious gaming sessions require good battery power to be able to last long. When buying a tablet, do remember to check the battery life and power offered by the brand.
Every gamer knows the importance of a good tablet in the gaming universe. When backed by a good-quality device, gaming becomes an exciting and even enriching activity. If you are new to gaming, start with a budget-friendly tablet. Once you gain more interest and expertise in it, you can go for tablets with extra features.  We hope the list and tips help you make the right choice for yourself.