For some people, the garage is an unofficial dumping ground for things that are of no use but are not yet in the 'give away' category. So, when you run out of space inside the house, you may turn to your safe haven, your garage, for all things unwanted.
But there may come a day when something you did not need earlier suddenly becomes important. And you will be forced to scrounge through the garage, sometimes for hours, to find it. A garage shelving unit that properly segregates all items can save you time and effort in retrieving items from the storage in your garage.
Garage shelving makes it convenient to organize seldom-used items for easy access. Here, we list some of the best garage shelving to buy online.
Types Of Garage Shelving 
Garage shelving units must be strong and sturdy because they are often loaded with heavy tools and equipment. Here are the different types of shelving units for garage that you need to know of.
Wood shelving: Wooden shelving is one of the least expensive options. It is mostly made of oak, maple, plywood, or hardwood. Easy to assemble and portable, wood shelving is ideal for storing lighter items but may not be a great choice for storing heavy tools. Also, it tends to warp in a humid environment.
Wire shelving: This open mesh shelving is designed with metal wires to hold moderately heavy weights. It is cheaper than steel shelves but is a tad less sturdy. It is the ideal option for a humid environment as it is often coated with plastic to prevent rusting and corrosion. It also has a provision to hang tools on it.
Steel shelving: A more durable and trusted option, steel shelves are strong enough to hold heavy items but are priced much higher than the others. They can take on a lot of weight without you having to worry about the frame deforming or being damaged.
Overhead shelving: These are shelves mounted upon vertical or horizontal rails fixed against a wall. Most people prefer metal overhead shelving to a wooden one. It is most suitable for heavy woodworking tools or parts of a car. It is especially useful when you want to keep tools away from the reach of little kids.
Cabinet shelving: It refers to enclosed cabinets that can be of any size and material. It can be made of metal or even wood depending upon what you need it for. This is especially useful for storing fragile and flammable items like oils and thinners.
Adjustable rail shelving: The most flexible option on the list, this rack allows you to adjust the shelves' height as per your need. You can attach the vertical metal racks to the wall and readjust its position by simply removing it and moving the brackets however you want.
11 Best Garage Shelving To Buy In 2021
This shelving unit is designed to take on 1500lb of weight when on leveling feet. With wheels, it can carry 661lb when not moving and 441lb when moving. There are five wire shelves that can be adjusted to one-inch increments. It can be easily moved to any corner of the garage and has casters with a locking system to keep it in place.
Pros:
Sturdy steel construction
Black-coated finish
Rubber-casters for smooth moving
Comes with adjustable leveling feet 
Cons:
Paint tends to chip easily
Joint may not be too firm
Here is a five-tier steel frame that comes with chrome plating and wire shelving. It allows you to store heavy-duty items and has a total holding capacity of 1500lb, with each shelf holding 300lb. It comes with smooth-rolling caster wheels that allow you to move and place as needed. Two of the caster wheels come with locks to hold the frame in position.
Pros:
Plated steel is resistant to corrosion
Shelves' height can be adjusted by one-inch increments
Easy slip-sleeve assembly
Zinc plating and chrome finish 
Cons:
Plastic caster seems too small
Shelves do not seem very sturdy
Have a look at this storage cabinet designed to last in both dry and humid environments inside a garage. Made of polypropylene resin, it does not peel or rust, and its sturdy build does not dent. Each of the four adjustable shelves can carry 44lb of weight. The cabinet has a compact frame for easy placement anywhere and can be locked to prevent theft.
Pros:
Freestanding mountable design
Adjustable shelves
Sturdy build can hold heavy items
Easy, one-person assembly 
Cons:
May not be as durable as a metal shelf
Lacks in quality
With a holding capacity of 200lb per shelf, this storage unit can take on a lot of heavy stuff. It is simple and easy to assemble, with adjustable shelves that you can arrange any way you want. Its strong steel construction makes it long-lasting, while its black chrome finish gives it a sleek look.
Pros:
Can be used on wheels too
Usable for residential and commercial purposes
Approved by NSF for safe use
No tools required for assembling 
Cons:
Clips fail to remain firm on the pole
Assembling may not be very easy
With a heavy steel build, this shelving unit is easy to assemble and long-lasting. You can adjust each shelf's height as preferred, making it suitable for personal and commercial use. The shelves come with a V-shaped mesh surface that further strengthens its loading capacity. Equipped with four sturdy wheels, the rack is easy to move around. Each shelf has a carrying capacity of 350lb.
Pros:
Simple and easy to install
Strong steel pipe construction
Classic black finish
NSF certified friction plate keeps net firmly in place
Wheels come with fixed locks
Coated with black powder to prevent rusting 
Cons:
Shelves may not be as sturdy as expected
Lack of bracing in the center makes it sag easily
For lighter objects, you can look for a budget-friendly option like this plastic shelving for garage. Made of high impact resin, the shelves are resistant to rusting, peeling, staining, and denting. It is well ventilated and helps prevent mildew, with an elevated floor to protect items from moisture. Each shelf has a carrying capacity of 150lb.
Pros:
Easy, tool-free assembling
Sturdy feet keep the frame stable
Ventilated shelves prevent mold and enable rain drainage 
Cons:
Shelves tend to sag in the middle when overloaded
The USP of this garage shelf rack is that it can be used in an office or at home. The rack's rubber feet keep the frame stable and strong. Each shelf has a capacity of 60lb, and the unit comes with wall brackets to fix the frame safely against a wall.
Pros:
Easy to clean and maintain
No tools required for assembling
Offers good quality and fit 
Cons:
Tends to give off a bad odor
This steel wall shelf can be screwed to the wall stud and used to hold your garage items. Each shelf can hold a weight of up to 200lb. Made of sturdy steel, these shelves are covered with white powder to make them scratch-resistant and can be installed on both finished and unfinished walls.
Pros:
Patented low-profile brackets
Allows maximum shelf storage
Helps keep items off the floor
Brand offers a lifetime warranty 
Cons:
Brackets tend to chip and rust easily
Stabilizing rubber inserts hardly make any difference
Built to hold some heavy-duty items, these steel shelves for garage are supported by double-riveted beams and braces. These shelves are adjustable by 1-1/2 inch, and the four shelves can support a total weight of 4000lb, with each holding up to 800 pounds of weight. It comes with post connectors that make the assembling process simple and easy. This versatile unit can be used anywhere.
Pros:
Simple bolt-free design
Shelves braced on all four sides for durability
Sturdy metal
Post slots enable a secure connection 
Cons:
Quality may not be top-notch
You can install this floating shelf to the wall, using the good quality assembly hardware that the company provides with it. It comes with an installation template that gives you simple instructions. The two shelves can take a total weight of up to 400lb.
Pros:
Easy installation
Heavy gauge steel construction
Can be secured on wall studs or even concrete walls
Available in two different colors 
Cons:
Installation on concrete walls may seem difficult
Expensive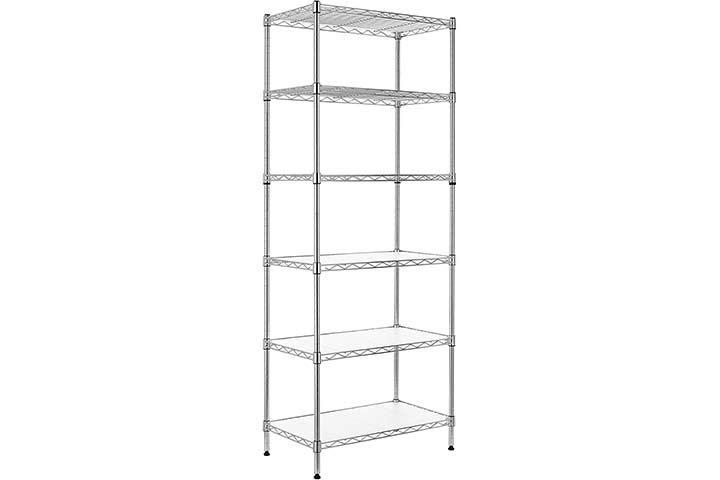 This heavy-duty garage shelving unit has five-tier shelves that can each hold up to 330lb. It allows you to adjust the height as required and disassemble it to save more space and for convenient transport.
Pros:
Easy to assemble
Does not require bolts, screws, or nuts
Sturdy metal frame comes with black coating
Comes with free protective rubber feet 
Cons:
May lack in quality
Size appears to be smaller than expected
How To Choose The Right Garage Shelving? 
Before you buy shelves for a garage, determine what you need it for and what will be stored on it. Also, consider the following points to pick the right one.
Material: As mentioned above, shelving units for garages are made of different materials such as wood, steel, plastic, and so on. Each type has its own uses and shortcomings. You can make your selection depending upon what the shelves will be used for and how sturdy you want them to be.
Capacity: Just because you bought a rack full of broad metal garage shelves does not mean it can hold any kind of item. For instance, your tall and sturdy storage cabinet may not be fully equipped to hold a heavy item like an engine fixture. You need to understand the capacity of each shelf and place items accordingly.
Size: Garage shelving units come with different sizing. Some offer more space with more shelves, and some offer less. Select one that is easily adjustable and can be arranged according to your preference.
Frequently Asked Questions 
1. How can I best organize a garage?
Organizing a garage can be simple if you know what goes where. Here are a few steps that can help.
Sort all the items according to categories. For instance, group your car-related supplies together while tools used for the garden can be clubbed together. Things that do not belong to a specific category can go in the miscellaneous section.
Then, separate the stuff you need from those you may not need anymore and would like to give away.
Lastly, when arranging the equipment and tools, you can keep the most-used items in a more accessible part of the garage while the least used items go behind. Store the heavier items on the lower shelves and the lighter ones on the higher shelves.
2. How do I make the most of my garage storage? 
To make the most of the limited garage space, you can start by stacking items vertically against the wall. If you have a workbench, you can add some drawers below to store handy tools that you work with. If you have wired shelving, then you can hang some of the tools to save more space.
3. How high should the garage shelves be placed? 
When making garage shelving plans, ensure that the shelves are low enough for you and your family members to easily access it and high enough to keep it out of reach for children.
4. How far apart should the garage shelves be?
The bottom-most shelf should preferably be six inches above the ground to protect the item stored on it from moisture. The remaining shelves can be around 7 to 15 inches apart, depending upon what you intend to store on it.
Life becomes so much simpler when all your belongings are arranged in an orderly fashion. Garage storage shelving units help organize your garage to make it easier to find something. They also help store things safely for a long time. We hope the above list helps you find the best garage storage shelves that you are looking for.