Tired of running to your smelly trash bin every now and then to dispose kitchen waste? Wouldn't it be a lot easier to throw away food scraps and other kitchen waste into the kitchen sink itself? The solution is right here in the form of garbage disposals. A garbage disposal is a kitchen appliance of great utility.
It helps you effectively and efficiently throw away kitchen trash like leftover food items, peels, rinds, and other waste produced in the kitchen. These scraps are ground to fine particles and flushed out of the disposal chamber, into the plumbing system, leaving you with a cleaner sink and smell-free trash can and kitchen. These useful kitchen appliances help in preventing drain clogs and also help save the environment by not adding to landfills.
Types Of Garbage Disposals
Before buying a garbage disposal for your home, it is important to know the types of garbage disposals and which one would suit your needs the best. Also, not all models of disposals fit under the sink, so it is always advisable to check for the availability of space under the sink before heading out to buy a garbage disposal. There are mainly 2 types of garbage disposals:
Batch feed garbage disposals
These garbage disposals function in batches and run only when a stopper is placed on the opening of the disposal and the switch is turned on. A stopper helps prevent the falling of unwanted items into the disposal while grinding. These garbage disposals are considered to be fairly safe and are more expensive than the continuous disposals.
Continuous feed garbage disposals
The continuous feed garbage disposal, as the name suggests, runs continuously upon switching it on till it is switched off. Unlike the batch feed disposals, they do not need a stopper to turn the appliance on and are easier to use. You can keep adding food waste into it while it is running. But one has to keep children away from these as the opening of the disposal is unguarded.
11 Best Garbage Disposals In 2021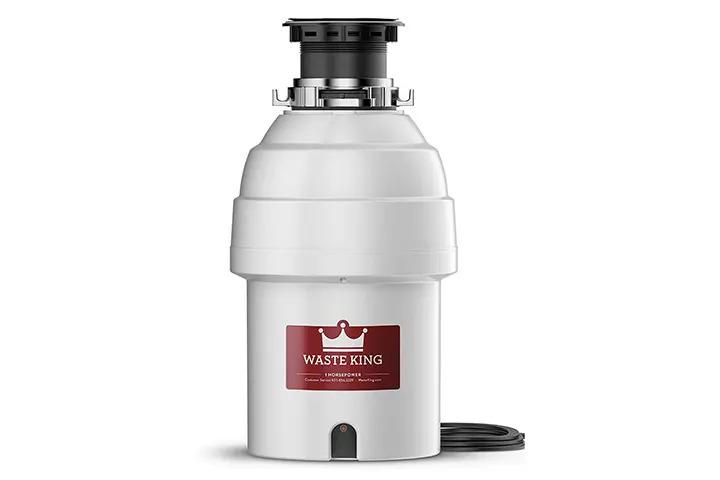 The L-8000 model from the Waste King Legend Series is a useful addition to your kitchen if you engage in heavy-duty cooking often. This equipment comes with a 1 HP, 2800 RPM permanent magnet motor. It has stainless steel grind components and does not require any extra electrical work during installation. This garbage disposal comes with a removable splash guard, making it easier to clean. It is a continuous feed disposal; switch it on and it will go about its work until switched off.
Pros:
High-speed motor
Easy installation and cleaning
Sound insulated
Durable and lightweight
Pre-installed power cord
Cons:
Some might face leakage in disposal units

The InSinkErator Badger 5 is a continuous feed garbage disposal which starts working once the switch is turned on and goes on until switched off. It has a ½ HP dura-drive induction motor and long-lasting galvanised steel components for optimum grinding of food scraps. If you have a previous garbage disposal from InSinkErator, it is easier to install a newer model because of the quick lock mount.
Pros:
Durable
Easy installation
Space-saving
Compatible
Cons:
Some may find it slightly heavy.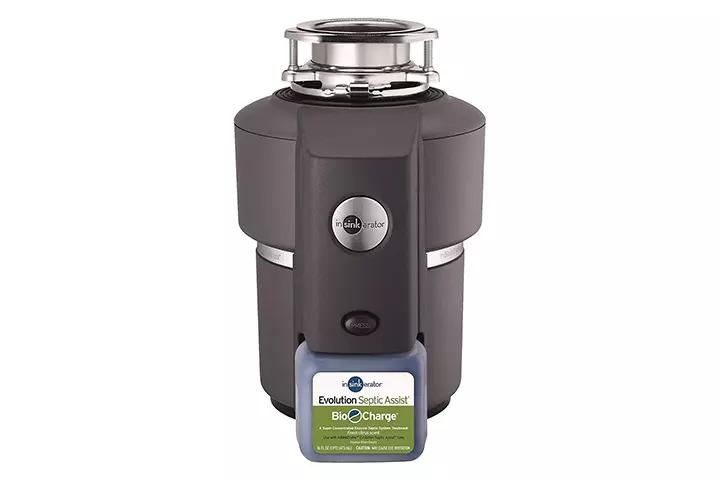 The household garbage disposal called InSinkErator Evolution Septic Assist is a septic friendly kitchen appliance as the name suggests. It is powered with Bio-charge which is an automatic injection of microorganisms. Bio-charge helps in breaking down the food scrap, keeping the sink free of food waste and its smell. The strong ¾ HP Dura-drive induction motor and 2-stage Multigrind technology ensures proper disposal of food waste.
Pros:
Powered with enzymes
Sound-seal Technology
Durable
Strong motor
Cons:
The enzyme injection system may not be upto the mark.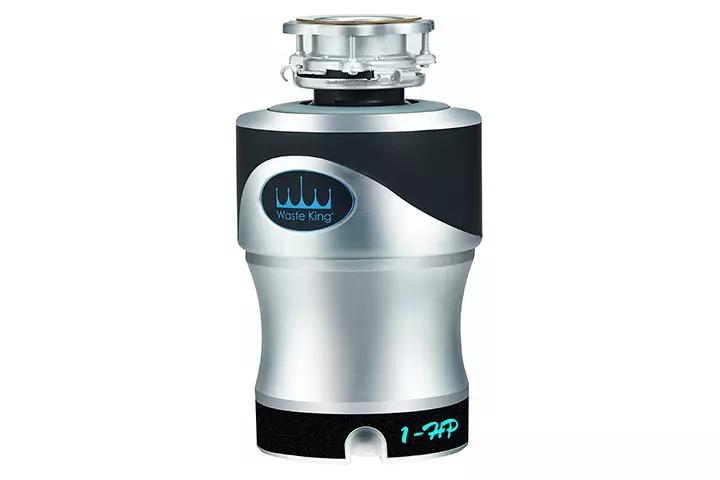 The Waste King Knight Garbage Disposal for households is a powerful kitchen appliance. It comes with a permanent magnet motor with 1 HP and 2800 RPM and has a standard 3-bolt mount made of metal. With a pre-installed power cord provided, it is easy to install the disposal unit. Switch it on and it runs continuously, grinding and disposing the food scrap, till you switch it off.
Pros:
Durable
High-speed motor
Compatible with other disposal units
Septic-friendly
Cons: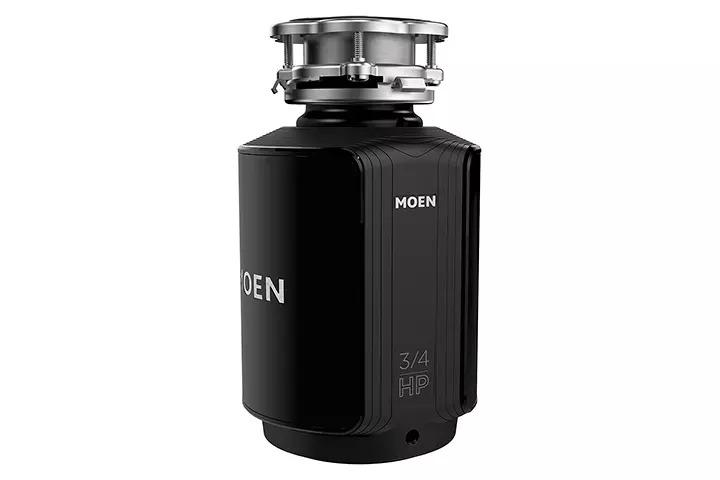 The Moen GXS75C Host Series Garbage Disposal is a powerful kitchen appliance. It comes in handy for people who generate large amounts of kitchen waste. It has a vortex motor of ¾ HP and 2700 RPM that eliminates jamming. It is lightweight and designed in a way that makes installation easy and saves up space.
Pros:
Strong motor
SoundSHIELD Technology
Septic-friendly
Comes with power cord
Cons:
Might generate a loud sound while grinding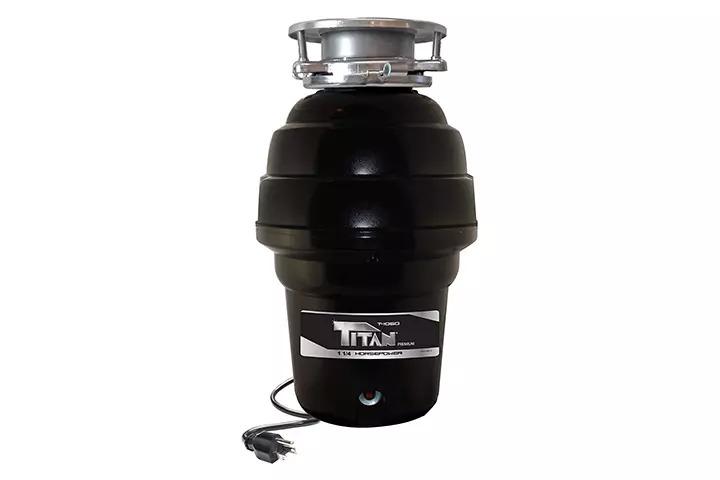 This premium household garbage disposal unit from Titan features a 2800 RPM permanent magnet motor with 1- ¼ HP. It comes with anti-jam stainless steel impellers and an attached power cord. The disposal unit performs balanced grinding and prevents odor caused by bacteria. It is a continuous feed garbage disposal. A powerful magnet catches any metal or cutlery item from entering the disposer. The 3-bolt mounting system is compatible with its contemporaries.
Pros:
Durable
Bio-Shield
Silver Guard
Easy installation
Torque Master grinding system
Cons:
The plastic ring might wear, leading to a leakage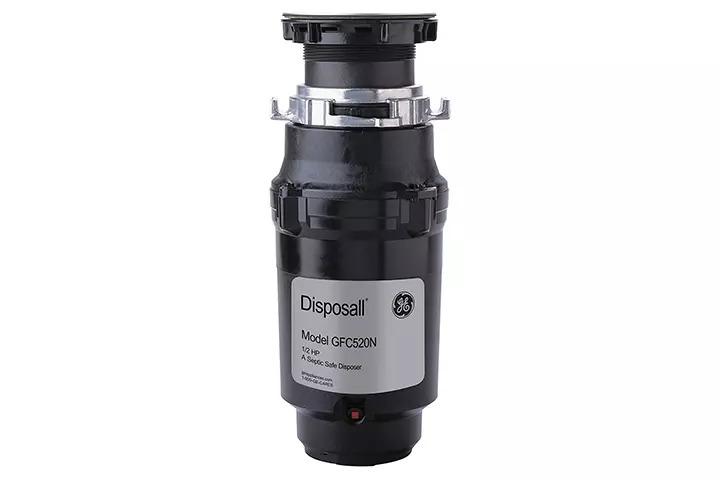 This continuous garbage disposal unit called Disposall is from General Electric. The power grinding motor offers ½ HP and 2600 RPM and comes with a jam-resistant technology. The angled fin pumps water down with greater force to help reduce clogging of the drain. It provides easy installation with a compatible 3-bolt mount and the grinding blades are made of galvanized steel. This garbage disposal unit has a grinding chamber with the capacity of 27 ounces, it is suitable for homes with 2-4 persons.
Pros:
Drain Boost technology
Strong motor
Dual-swivel impellers
Durable
Cons:
Blades might start rusting and making rattling noises after few years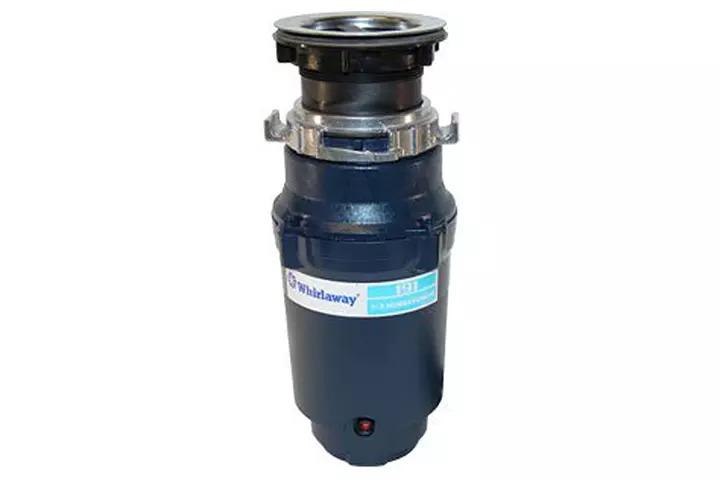 The Whirlaway 191 garbage disposal is a powerful appliance with a permanent magnet motor with ⅓ HP. It is jam-free and offers powerful grinding. It is compatible with most of its contemporary garbage disposal units and offers easy swap and replacement. The design is such that space can be saved under the sink after installation. This garbage disposal is lightweight too.
Pros:
Safe with septic tanks
Easy installation
Durable
Vortex powered motor
Cons:
Does not come with a power cord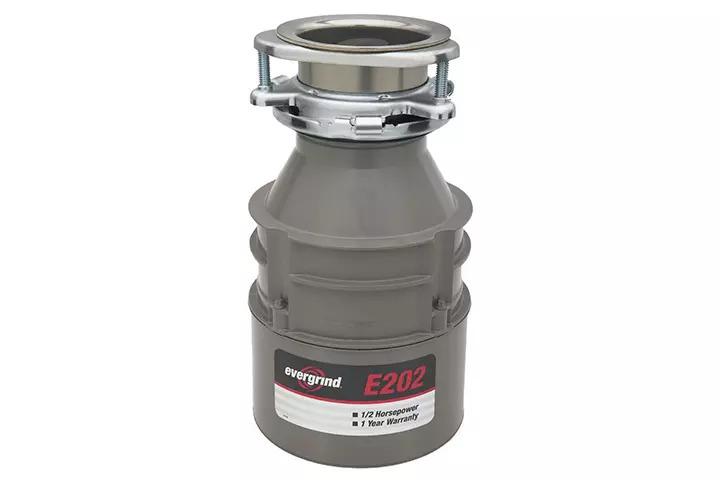 This stainless steel garbage disposal from Emerson named Evergrind E202 comes with a heavy duty motor. Its design allows space to be saved post its installation too. It is made of rugged galvanized steel. The grinding chamber of this household garbage disposal comes with a capacity of 26 ounces. It has a motor of ½ HP which helps reduce the jamming caused due to food scraps.
Pros:
Dura drive induction motor
Compact design
Durable
Lightweight
Cons:
Might be louder than expected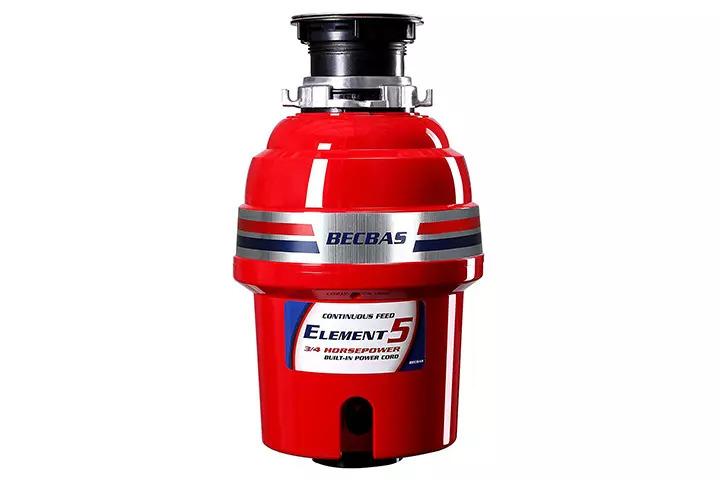 The Becbas Element 5 is a continuous garbage disposal unit. It has a DC motor of ¾ HP and 2600 RPM which can easily grind everyday food waste and is designed to reduce jamming. The grinding system is made of stainless steel with the ability to grind different food scraps. It comes with accessories like removable splash guard, stainless steel stopper, multifunctional scraper and elbow and is a user-friendly garbage disposal.
Pros:
Powerful magnet motor
Corrosion proof
Pre-installed power cord
Easy installation
Cons: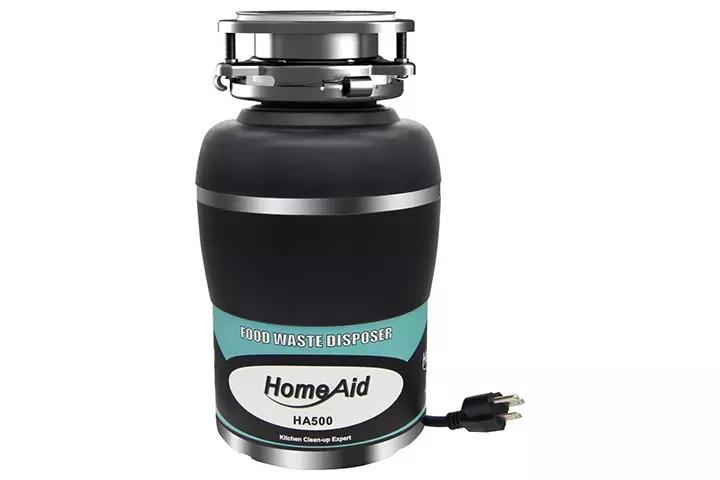 This household garbage disposal from HomeAid helps in the efficient removal of kitchen scraps. This continuous feed disposer has a motor of ½ HP. It produces low noise and is made of stainless steel and doesn't rust. Its seal rings are made of copper instead of iron. This garbage disposal has a space saving design and is compatible with its contemporaries.
Pros:
Advanced AC motor
Anti- corrosion
Pre-installed power cord
Easy to install
Large grind chamber
Cons:
Some units might start to leak after a period of time
What makes a particular garbage disposal best for your kitchen? You might want to take a look at this buying guide before making a choice.
How To Choose The Right Garbage Disposals
One should have enough space under the sink so that the garbage disposal can be installed easily.
One must make sure that the noise level of these appliances is low so that the family members are not bothered with it.
Amount of food waste produced
Depending upon the amount of food waste generated in your kitchen, you can decide upon the type of garbage disposal you wish to buy.
A stronger motor ensures finer grinding of even the toughest food scraps, resulting in a clean, clog-free kitchen sink. But if you generate less garbage which is easier to grind, you might as well go for a garbage disposal which is of medium strength as the stronger ones might be relatively more expensive.
Frequently Asked Questions
1. How long do garbage disposals last?
The longevity of the garbage disposal would depend upon the following factors:
How often it is used.
Kind of food scraps put in it
Proper use and maintenance.
Avoiding the usage of hot water.
Avoid disposing of solid or fibrous waste like eggshells, celery stalks or corn husk.
2. Are garbage disposals good for the environment?
Yes. According to a study, use of garbage disposals ranked above landfills as it has great potential to produce renewable energy and biogas.
Garbage disposals come in handy when you want to eliminate the fuss of running to a trash bin full of rotten and smelly food waste. A mess free alternative to the traditional trash cans, a garbage disposal is fitted under the kitchen sink. Upon switching on, all the food-related waste items can be thrown directly into the sink. The disposal grinds and eliminates the food waste from the kitchen plumbing system and helps keep your kitchen free of mess and smell. It also helps in reducing the frequency of you having to empty the trash cans too often. Therefore, buy a garbage disposal and advance into a cleaner, smell-free kitchen.