Garlic offers several health benefits and also adds a unique flavor to a dish. But chopping or mincing it finely can be cumbersome. Getting the pungent smell off the knife used to mince garlic can also be a task. That is where a garlic press can be handy, as it eases the process, reduces wastage, and retains garlic's aroma.
Crushing, mincing, and chopping garlic becomes easier with the best garlic press in hand. In this post, we list some of the most efficient garlic presses you can buy online.
11 Best Garlic Presses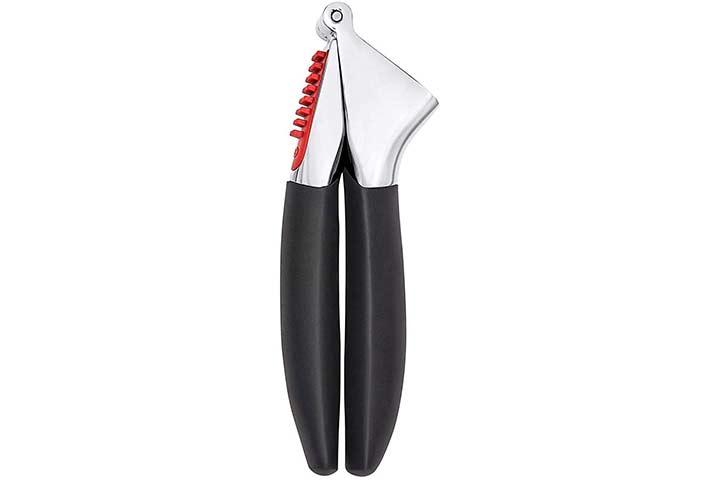 The Oxo Garlic Press is made from sturdy die-hard zinc material and has a spacious chamber for garlic. The systematic holes crush the garlic into uniform pieces, and its built-in cleaner pushes out the peels and allows easy cleaning. The soft, comfortable, and anti-slip handles absorb the pressure while squeezing the garlic. It is easy to use and dishwasher-safe.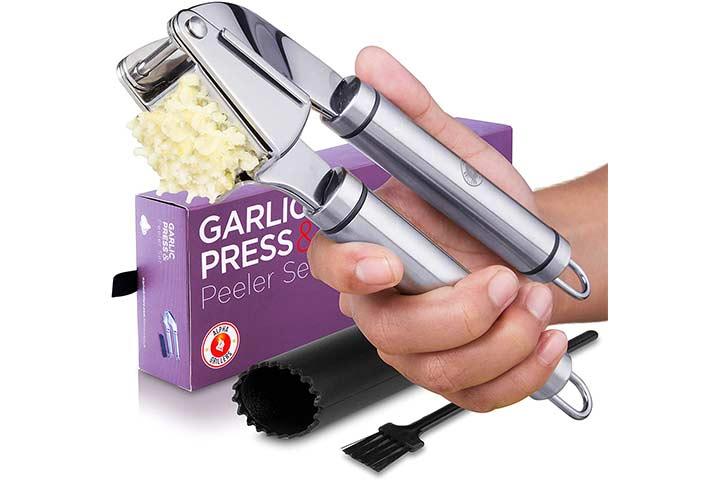 The Alpha Grillers Garlic Press is made from 100% premium-grade, rust-proof 304 stainless steel. This simple and convenient tool can mince, crush or slice garlic, ginger, and nuts. The peeler tube is made of durable, food-grade silicone. As you press the handles, the paste is squeezed out, leaving the peels inside. It is easy to clean, dishwasher-safe, and comes with a lifetime warranty. The garlic press also includes a cleaning brush and silicone roller or peeler.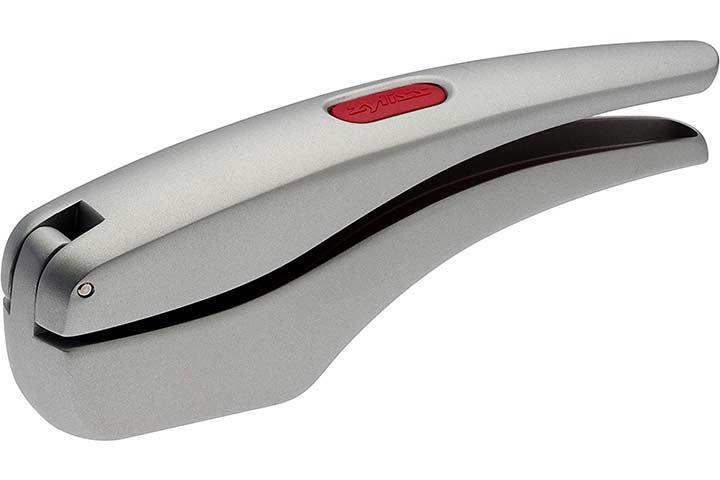 Made from strong aluminum, it quickly peels and minces the garlic. Its ergonomically designed lightweight handle presses garlic or ginger with ease. The spacious chamber can accommodate a large garlic clove or multiple cloves at a time. It has a built-in cleaning tool that fits into the holes and removes garlic peels, making the cleaning easier. It is dishwasher-safe, but hand wash is recommended. It comes with a five-year manufacturer's warranty.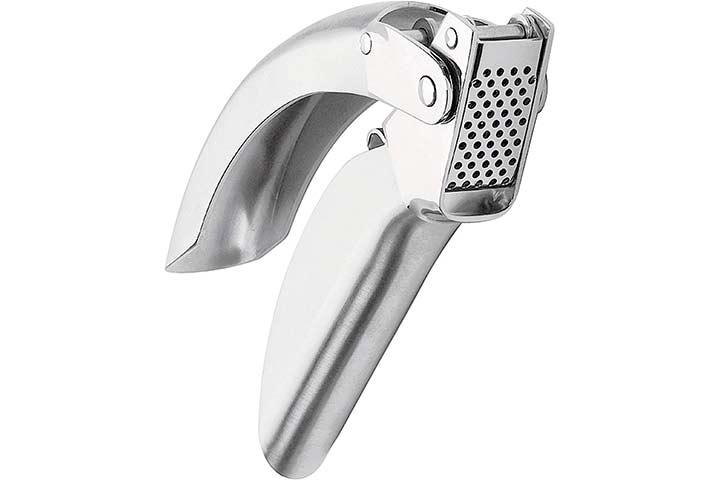 Kuhn Rikon Garlic Press is made from stainless steel and features an ergonomically designed handle and lever. It is easy to use and minimizes the effort by 60%, compared to other models. The beveled holes work well for both unpeeled and peeled garlic and finely cut them, releasing maximum flavor. Though hand wash is recommended, it can also be cleaned in a dishwasher.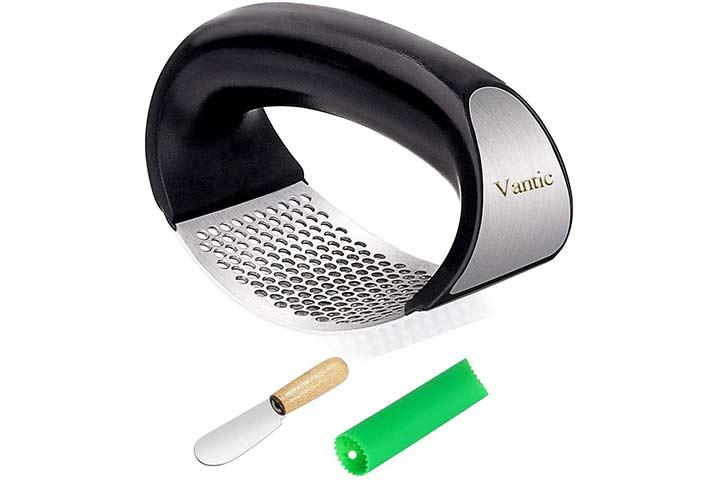 Manufactured from superior quality stainless steel and conveniently designed silicone handle, this makes mincing garlic super easy. It is strong, durable, and resistant to rust and corrosion. With a simple back and forth rocking motion, the garlic can be easily minced or crushed, and you can collect in a bowl. It is easy to clean under running water and is also dishwasher-safe.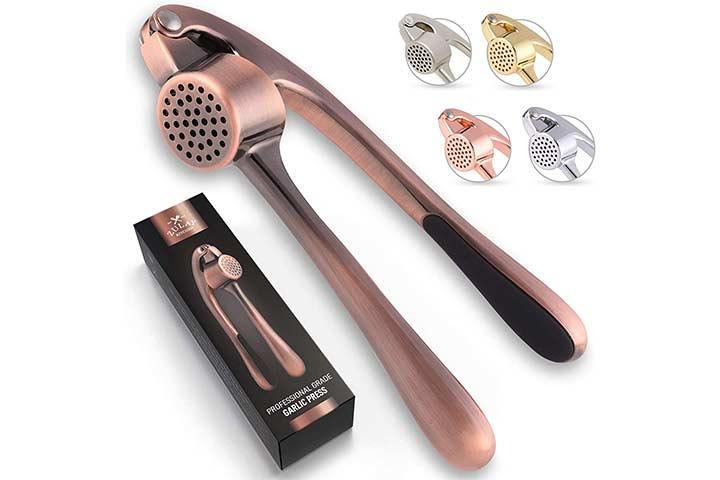 The Zulay Premium Garlic Press is made of food-grade materials with an ergonomic design. It crushes and minces garlic with ease in a single move. This multi-purpose tool can also crush pepper, ginger, and nuts, making it a must-have in every kitchen. It is dishwasher-safe and can also be cleaned under running water.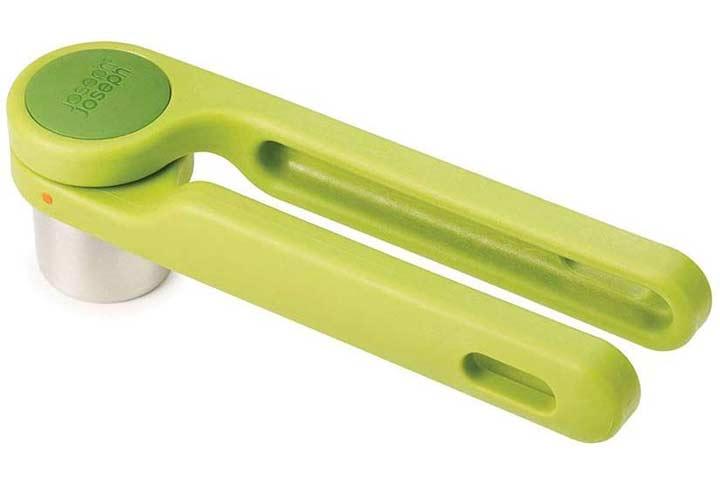 The Joseph Joseph Helix Garlic Press is a strong, two-piece garlic press made from food-safe and BPA-free material. It is lightweight and easy to hold with a spacious basket enough to hold many garlic cloves at a time. Its horizontal twisting force minces the garlic fast and in a uniform way. It is dishwasher-safe and easy to clean.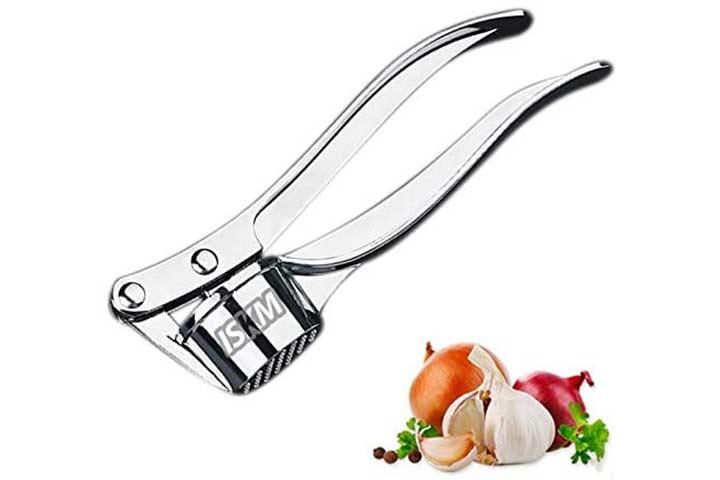 The anti-rust ISKM Garlic Press, made of supreme zinc alloy, is durable and lightweight. The ergonomically designed peeler can be used to crush or mince unpeeled garlic with ease. Its smooth handles allow the easy crushing of the garlic, as the teeth crusher pushes out the minced garlic through the holes without leaving any residue. It is easy to clean under running water and is also dishwasher-safe.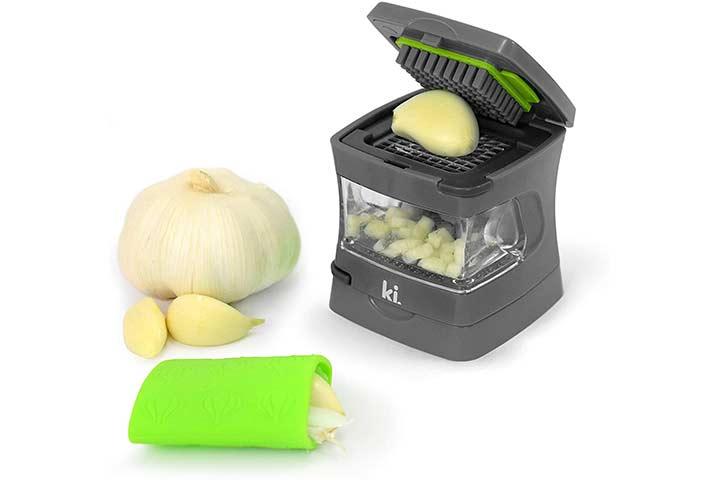 Built from premium quality sharp and sturdy stainless steel blades and BPA-free plastic parts, the Garlic-A-Peel press from Kitchen Innovations makes it easy to grate, slice, dice, and peel garlic. It comes with two interchangeable blades and a silicone peeler. The dicing blade creates cube-shaped garlic, whereas the slicing blade creates long and thin slices. The raised teeth of the clear container can also make garlic paste.
A smart cleaning blade on the top lid is easy to remove and clean. The extra blade snaps can be enclosed in the bottom compartment for compact storage. All components of this garlic press are dishwasher-safe.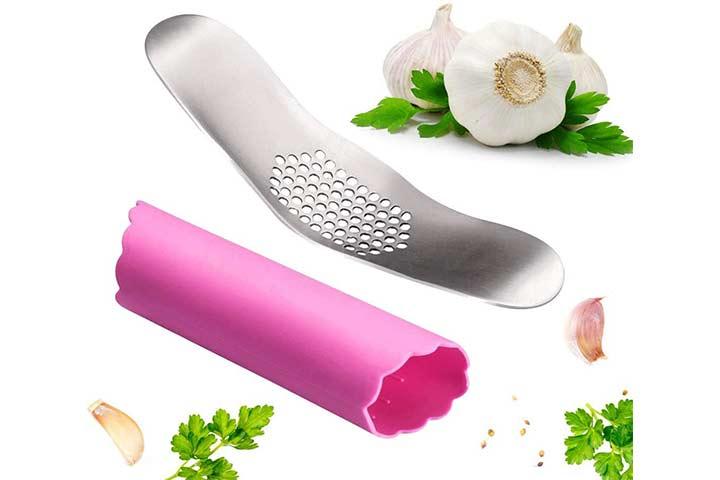 The Fu Store Garlic Press is made from premium quality stainless steel and food-grade silicone, making it less prone to rust and breakage. It is sleek, comfortable, and has large handles for ease of use. A simple rocking motion on the garlic pod gives you minced garlic with little effort. Once done, you can easily scoop up the garlic from the middle of the press. It is dishwasher-safe and is easy to clean under running water.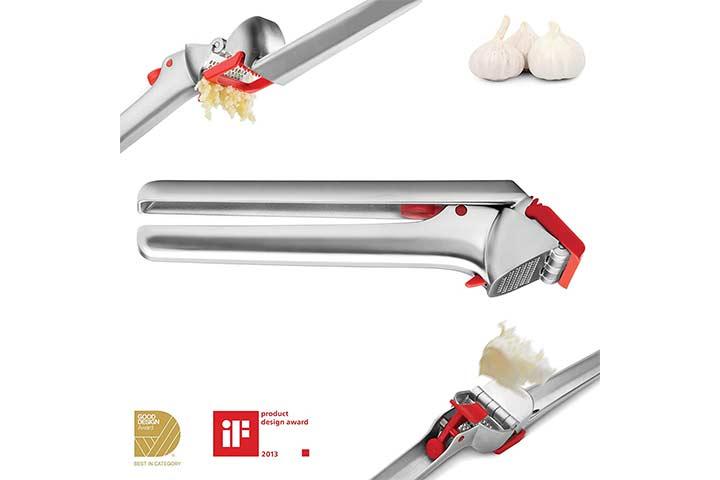 Made from BPA-free and food-safe plastic, it presses the unpeeled garlic without any wastage. It ejects the peel when you push the 'peel eject' button. The press automatically scrapes off the excess garlic as you open the handle. It is top-rack dishwasher-safe and can also be rinsed under running water.
How To Choose The Right Garlic Press?
Here are a few things to keep in mind while choosing a garlic presser.
Material: Most garlic presses are made of stainless steel, aluminum, and plastic. Stainless steel and aluminum presses are safe, easy to clean, durable, rust-free, and stain-free. Plastic presses are not sturdy and require effort to press the garlic.
Size and design: An ideal garlic press is usually meant to be fit and used easily with one hand. Look for a compact and standard garlic press designed to maximize efficiency while using the least effort. It should have a lever mechanism connected with hinges. Ensure the garlic press has a large crushing chamber to hold multiple cloves at a time.
Comfortable: Look for one that has a good grip, gives maximum comfort, and reduces strain on hands. Rubber handles effectively enhance the grip. Some garlic presses have ergonomically designed handles to provide comfort and help to press using the least effort. Firm and strong hinges also enhance sturdiness and add comfort while pressing.
Ease to clean: Pressing ginger and garlic tends to be messy and may leave residue inside. Buy a garlic press that is dishwasher-safe and easy to clean. A few manufacturers recommend hand wash or washing it under running tap water.
Whatever your choice is, a garlic press's ultimate task is to mince the cloves. Do keep in mind the cooking quantity and style, and compare the features and prices to buy the best garlic press. The above list and the buying guide should make the selection process less taxing.