A gas grill could be a wonderful tool for aspiring outdoor chefs who enjoy cooking grilled food. Cooking on a gas grill adds extra flavor to the food.They are easy to clean and low on maintenance. A perfect gas grill gives an opportunity for the outdoor cooking enthusiasts to try their culinary skills. Gas grills heat up quickly, while helping you to regulate the temperature. Easy to operate, a gas grill can help you cook seared food while retaining its juices.
On the flip side, gas grills could be expensive but not if you choose the right one. A cost-effective, durable gas grill could be the best bet if you want to try mouth-watering and perfectly smoked dishes.
15 Best Gas Grills Under $500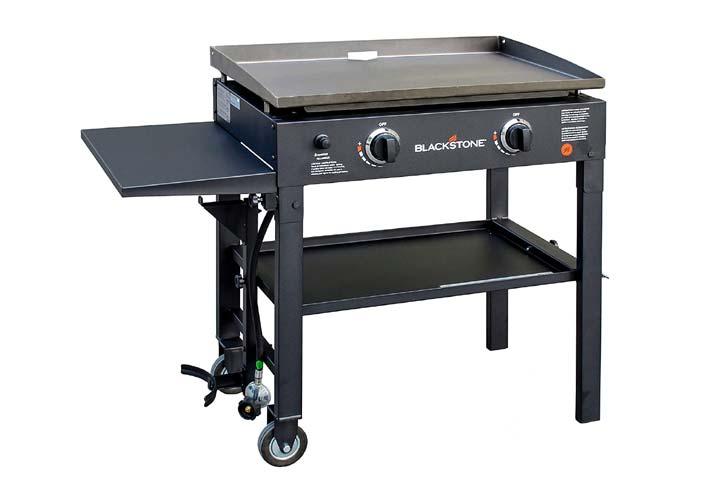 The flat-top gas grill can be a perfect fit for making delicious meals out of steaks, eggs, pancakes, and chicken. It is simple to use without the hassle of kerosene or charcoal and also easy to assemble. Firing up this gas grill is easier as it comes with a battery-powered push-button for ignition.
A470 square-inch of flat top grilling surface gives ample space to cook several steaks or hamburgers at one go. Four industrial strength caster wheels at the bottom of the gas grill will help you roll it around your backyard and or move it around to any specific spot. It has foldable legs and a removable griddle top, making it easy to transport the gas grill to your favorite camping site. It has two independently controlled 15,000 BTU propane-fuelled stainless steel burners with four control options from low to high. The powder-coated black steel frame and thick cold rolled steel cooktop make the gas grill durable. It is easy to clean and has shelves for storage. The gas grill weighs 75lb, its dimensions are 44.5 x 19.5 x 33.5" and requires 1 AA battery.
Pros
Cooks evenly
Easy to clean and drain the grease
Good control
Versatile
Cons
Burners not powerful and may pose a problem to ignite
Might rust easily
Instructions may be difficult to follow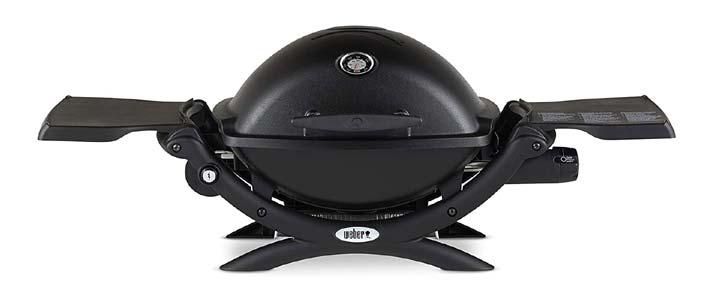 Weber is known for its backyard grills.This liquid propane grill has a sleek style,is durable and light in weight. The cast-aluminum body and porcelain-enamelled cast-iron cooking grates make it portable and perfect for outdoor meal plans.
The key features of this grill include large-sized fold-out tables with high rigidity, control knobs, sturdy front, and rear cradles, a large grip handle, and ergonomic side handles. The grill has a large built-in thermometer to monitor the temperature inside the grill. The electronic ignition helps fire up the grill quickly.Also, the infinite control burner valve helps adjust the heat setting. One stainless steel burner produces 8,500 BTU-per-hour to heat 189 square-inch of the total cooking surface.
The Weber Q 1200 runs on disposable LP cylinders for grilling on-the-go, while you can use the grill at home with an LP adapter hose for 20lb propane tanks. The grill weighs 28.6lb and measures 20.5 x 40.9 x 24.6".
Pros
Easy to clean and assemble
 Versatile,heats up quickly
Perfect for balconies, patios, and camping
Cons
May not work well at altitudes above 3,000ft
Additional 20lb propane tanks come with an added cost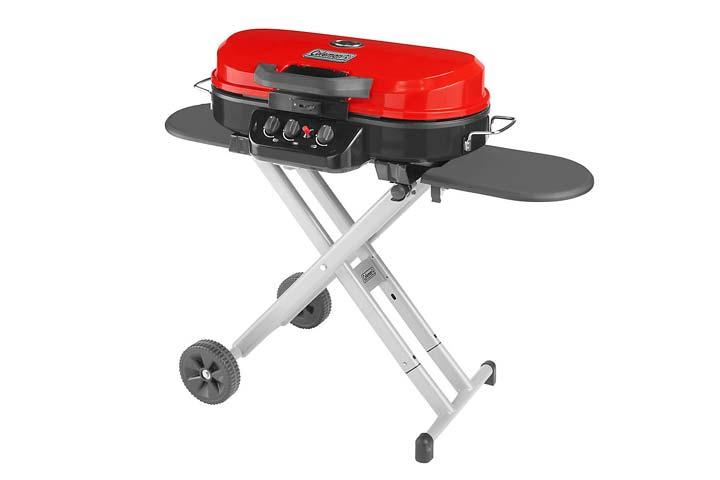 The portable grill is equipped with two strong foldable legs and two wheels to each of them for hassle-free transport, while tailgating to your favorite spot. It has an 'Instastart' ignition button for a quick start. The grill has three independent burners with an enhanced temperature control feature. The burners offer a range of grilling power from 3,250 to 20,000 BTUs. The grill is perfect for cooking meat, vegetables,and seafood.It has a 285 square-inch cast iron grill grates that are coated in porcelain to help cook the food items uniformly and perfectly. The grill comes with 'Swaptop' interchangeable cooktops to change the grill grates with a griddle or stove grate, which could be bought separately. The grill has two sliding tables attached to place utensils and other cooking utilities, making it easier for transport. It occupies less space and needs a 1lb propane cylinder, which must be bought separately. The grill weighs 52.58lb and measures 45.6 x 19.5 x 35". It comes with an in-built thermometer to monitor the temperature. A three-year limited warranty is available on the product.
Pros
Cooks evenly and assembles quickly
Easy to store and handy
Versatile due to swappable cooktops
Cons
The water tray is shallow
Paints might peel off
May not be easy to clean
Handles might break
Might get dented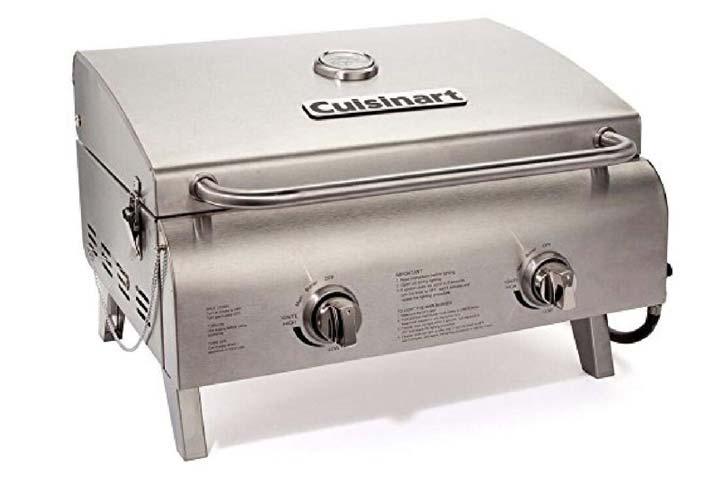 Weighing just about 22lb, the stainless tabletop grill is easy to set-up and use. Two stainless steel burners have a combine turnout of 20,000 BTUs meat-searing heat and can be ignited by a simple 'TwistStart' ignition system. There are adjustable knobs and an integrated lid thermometer to control and monitor the temperature as required. This grill requires a 1lb propane canister which should be ordered separately. The cooking surface is 275 square-inch wide and has a high-quality stainless steel cooking grate. Foldable legs, locking cover and a comfortable handle make the grill portable and compact to be carried anywhere. The grill is also equipped with a drip tray to collect grease and drippings. The dimensions of the grill are 21.5 x 19 x 15".It comes with a three-year limited warranty.
Pros
Well-built with sturdy construction
Cools quickly
Cons
Shallow dome
Gauge steel is light
Burns off propane faster, especially when the burners are used to their fullest capacity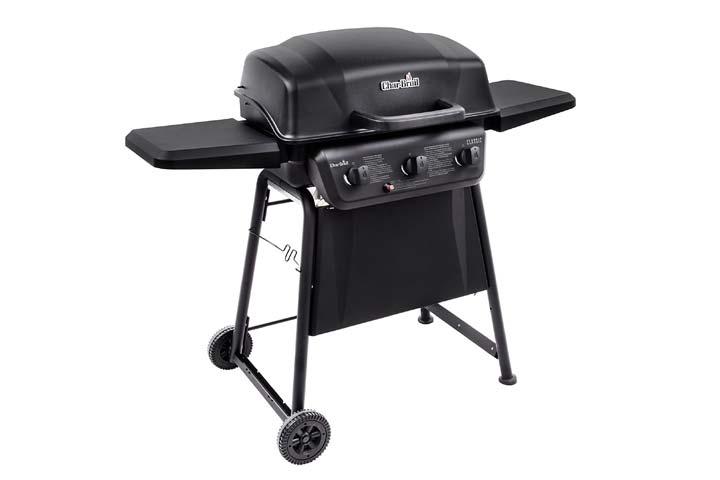 A classic gas grill for conventional cooking system, it has three burners with a total of 30,000 BTUs of meat searing heat. The cooking surface is 360 square-inch wide.The porcelain-coated grates make it rust-resistant and easy to clean and cook. The grill is equipped with two 6" wheels which make it portable and stable. The char-broil has piezo ignition to fire up quickly and in-line stainless steel burners that provide better control, and durability. It also has two metal side shelves to offer more cooking space. The grill weighs 48.5lb and measures 24.1 x 51.2 x 43.5".
Pros
Easy to assemble
Value for money
Cons
Temperature control not available
Cooking grids are small
Starter button might wear off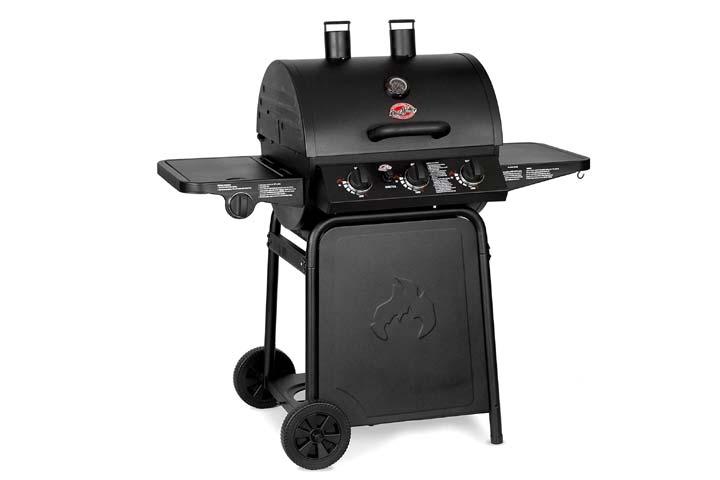 The Grillin' Pro Gas Grill has a heavy-steel grill construction with porcelain-coated cast-iron grates.Three stainless steel burners generate a total of 40,800 BTUs. There is also a 12,000 BTU side burner to offer more grill space. The burners have an electronic igniter probe. The gas grill's primary surface is 438square-inch and the warming rack is 192 square-inch wide. The grill is equipped with stainless steel thermometer, a stay-cool hood handle, and dual stacks for even heating. It is durable and comes with a side shelf for handy workspace. The gas grill measures 48 x 28 x 48" and weighs 1.44oz.
Pros
Long-lasting
Durable and sturdy
Cost-effective
Well-packed
Easy to clean
Cons
Might rust quickly
Assembly might take time
Instructions may not be clear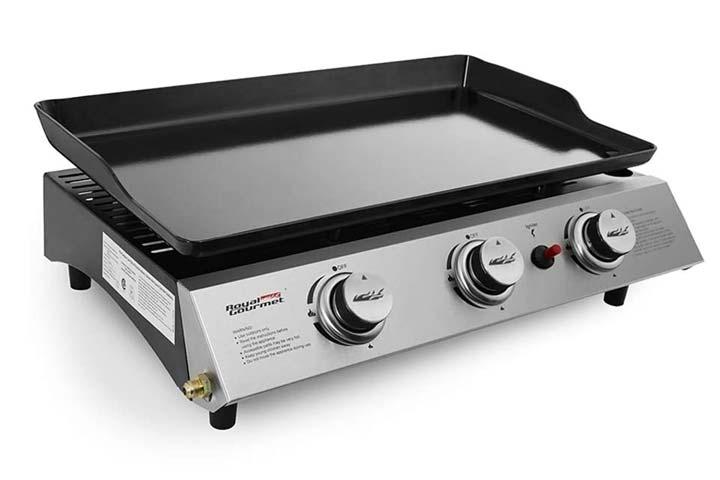 A perfect fit for tailgating, camping, or backyard dinner because of its ultra-portable design. Three stainless steel burners provide a total of 27,000 BTUs of output.The griddle comes with Piezo Ignition System and a porcelain enamel coated griddle top (325.9 square-inch wide) that locks the heat to help retain juices to make meat more tender. The big cooking area makes grilling bacon, French toast, hamburger, eggs, and pancakes easy and fun. Cleaning it is easier as the grill has a side grease cup to collect oil during cooking.  The grill has a regulator for the 20lb tank.The control panel for ignition makes it durable and easy to use. The grill weighs 30lb and measures 25.2 x 18 x 9.5".
Pros
Multiple items can be cooked simultaneously
Cost-effective
Big cooking surface
Good customer service
Nicely packaged
Cons
Grease tray is uncoated
Traps water
Burners are not powerful
May not be easy to clean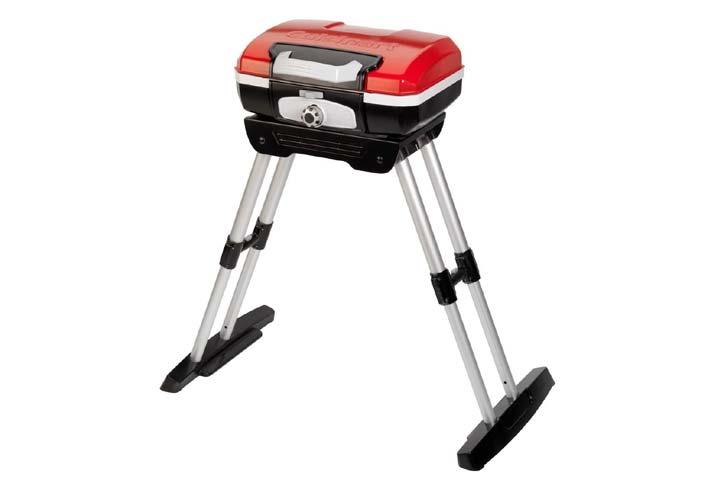 A portable, high-performance gas grill perfect for outdoor dinners. An integrated VersaSt and adjustable and foldable telescoping base makes cooking on the tabletop and floor convenient. The cooking grate is wide enough to cook eight steaks or six to ten chicken breasts, making it ideal for family outings. It heats quickly and requires less gas than the full-sized grill. A spill-resistant drip tray, a carry handle and a lid latch enhance the portability. The grill has one burner of 5,500 BTU and a twist to start electric ignition with a precision temperature gauge to provide temperature control. The porcelain-enameled cooking grate with 160 square-inch spacious surface distributes heat evenly and powerfully. The grill weighs 17lb and measures 19 x 11.5 x 10" with the stand. The stand allows the freestanding feature to the grill.The easy-to-transport grill can be folded up within seconds. There is a gas regulator in the grill to monitor the flow of gas from the propane tank while cooking. The grill is sturdy, dishwasher safe, easy-to-clean, durable, and perfect for smaller spaces and decks. It comes with a three-year limited warranty.
Pros
Easy to set-up
Portable and sturdy
Compact in size
Cons
The handle may melt off
Might take time to heat up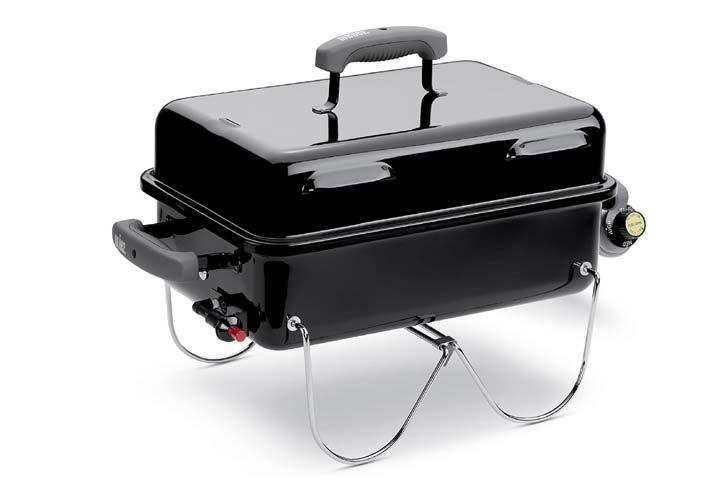 As the name suggests, Weber's 'Go-Anywhere' portable gas grill is engineered for grilling on the go. This grill is ideal for cooking a steak, or a burger.It is designed with porcelain-enamelled cooking grates to eliminate flare-ups. Designed to have durability in rough grilling situations, the grill works efficiently even at lower temperatures. It has a lid and a bowl made of premium-grade steel with porcelain enamel on the inner and outer surfaces. There is a push-button ignition and the plated steel legs pivot to lock the lid for transporting it. The grill uses charcoal for cooking.It weighs 13.5lb and measures 12.2 x 21 x 14.5".
Pros
Easy to assemble
Portable
Heats quickly and evenly
Cons
Does not have a grease trap
Might be difficult to clean
Legs are of lighter gauge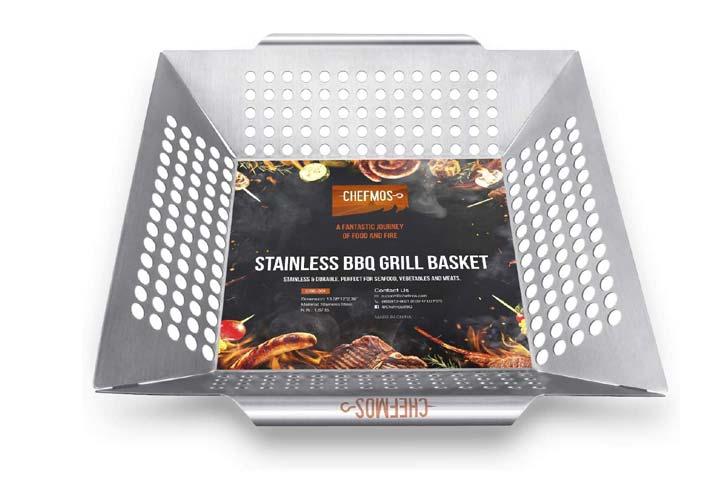 If you are looking for a compact product that does not require much space, the Char-Broil gas grill could be a perfect fit. What makes it unique is that the grill does not use convective heat and hot airflow to cook food.It uses 65% of natural, radiant infrared heat that penetrates food while retaining its moisture and locking in its natural flavors. The infrared cooking system reduces flare-ups while producing even heat. Two burners provide a total of 20,000 BTUs of output. A temperature gauge placed right above the control knob and close to the grate gives a perfect reading of the heat. The grill is equipped with a 340 square-inch of the primary cooking area made with a stainless steel grate. It also has a secondary cooking area of 125 square-inch width and is made of porcelain-coating wire grate.
Additional features include electronic ignition, a mixture of stainless steel and painted steel, appliance style cart designed with black-painted foldable side shelves. There are four rolling casters – two locking and two non-locking for easy storage. It offers a dual fuel facility and converts from liquid propane to natural gas. It is easy to use and comes with a guide for operating and assembly instructions. The gas grill weighs 77lb and is 21.93 x 46.1 x 45.67" in dimensions.
Pros
Sears well
Good quality build
Compact
Cons
May not be easy to clean
Might rust quickly
Grates can get clogged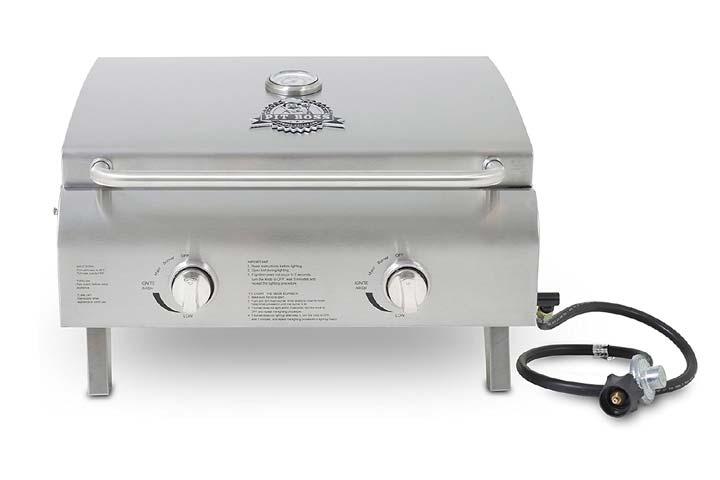 The compact design and portability of Pit Boss grill make it a perfect travel partner for your next camping trip. Its foldable legs, latching hood, and lightweight make it easy to carry. The grill features a long-lasting stainless steel cooking grid with a cooking area of 276 square-inch. Fuelled by propane, this gas grill has two burners that provide a total of 20,000 BTU. Its assembled weight is 23lb and dimensions are 23 x 19.5 x 16". The grill has a push, a built-in dome thermometer and ABS controls, making it a complete package for your grilling needs.
Pros
Convenient for quick set-ups
Cooks evenly
Value for money
Heats well
Cons
Moving the grill can be difficult as the foldable legs don't have locks
Knobs may not be durable
The unit is thin-walled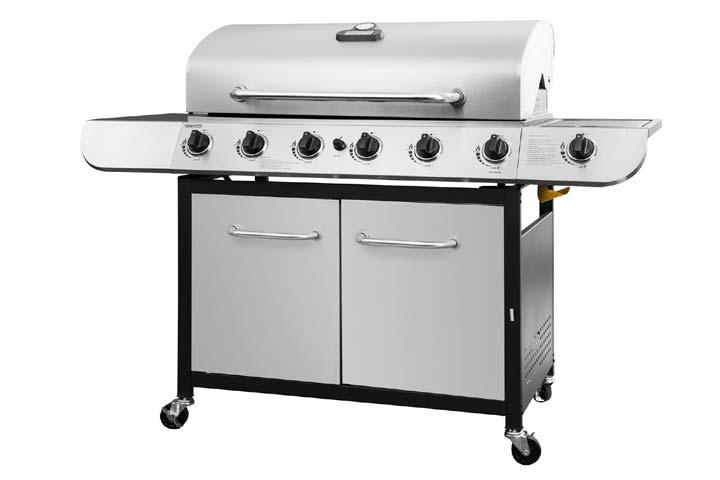 Equipped with six durable burners with 71,000 BTUs of heat, the Royal Gourmet offers strong, even cooking heat over a large cooking space of 802 square-inch. There is a primary cooking area of 603 square-inch made up of porcelain-enameled cast-iron cooking grates and a secondary 199 square-inch wide area on the swing-away warming rack. The surfaces are both rust-resistant and easy to clean. It has a double-layer, heat-retaining stainless steel lid.One of the five burners can be folded down when not in use to offer more workspace. There is also a built-in thermometer to keep a check on the grilling temperature and an easy push electronic ignition system. There are also two metal side shelves to offer more space for preparations.Four lockable wheels make it easy to be moved around. The grease tray is removable for cleaning and there is a cabinet with stainless steel doors to store tools. The grill weighs 114.6lb and measures 62.6 x 21.3 x 47.2".
Pros
Spacious
Easy to follow instructions
Easy to assemble
Cons
Rusts with time
Metal is thin
Grease plate might break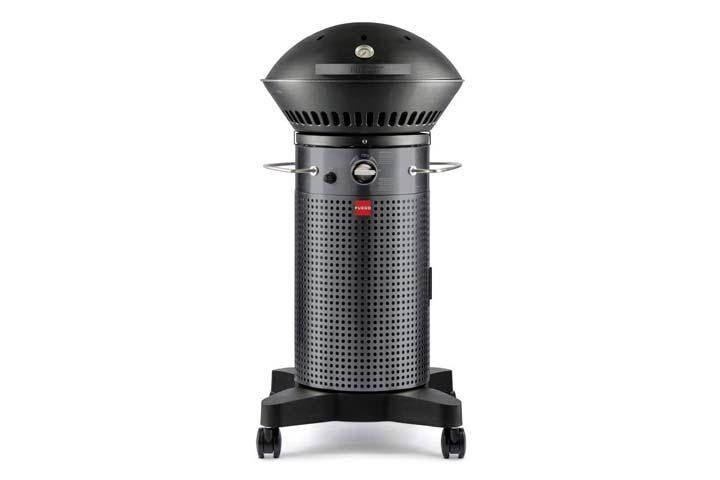 The cylindrical-shaped grey gas grill is compact, making it ideal for patio dinners. It comes with electronic ignition and a dual-zone burner system for direct and indirect grilling with a total 22,000 BTUs of output. The 346 square-inch wide cast-iron grilling grate has a hinged porcelain enamel lid to avoid paint peeling and bubbling. There is an improved residue removal system for easy clean-up in the grill. The hinged grill weighs 72.2lb and measures 21 x 21 x 46".
Pros
Cons
May not burn evenly
Assembly instructions may be inaccurate
The lid may not seal the heat well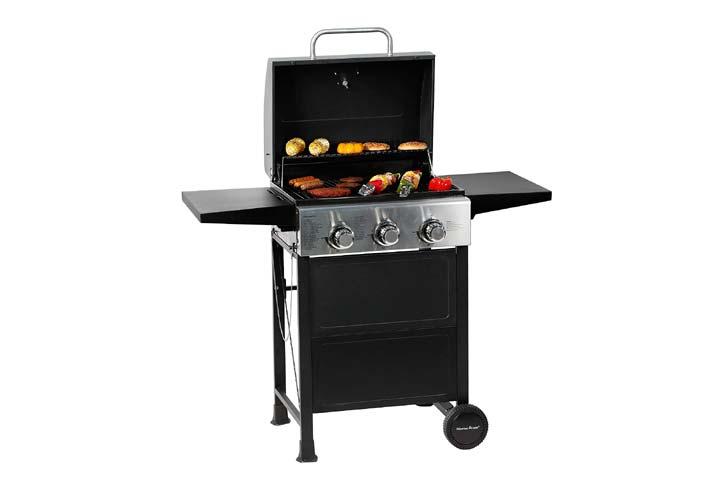 A glossy silver metal gas grill with stylish looks, Master Cookcan be a perfect fit for your outdoor cooking at any location. It goes well in your backyard, on your patio, balcony, or terrace.Designed to offer durability, the grillcomes with foldable shelves that give an additional room.The grill has two large wheels for quick mobility and stability. The propane grill has a high-quality control panel that is easy to use and durable. Three stainless steel burners give out 30,000 BTU-per-hour uniform heating.The built-in thermometer keeps the temperature in check while grilling your delicious turkey. The integrated piezoelectric ignition system with push and turn chromium-plated control knob offer quick start-up and sturdiness to the grill. The propane-enameled wire cooking grates spread across 471.8square-inch of the surface, which includes 339 square-inch for cooking and 132.8 square-inch for warming. The grill weighs 48.9lb and measures 46.46 x 20.87 x 41.14".
Pros
Sturdy, well-built
Easy to assemble
Convenient movement
Lightweight
Cons
Assembly instructions may be difficult to follow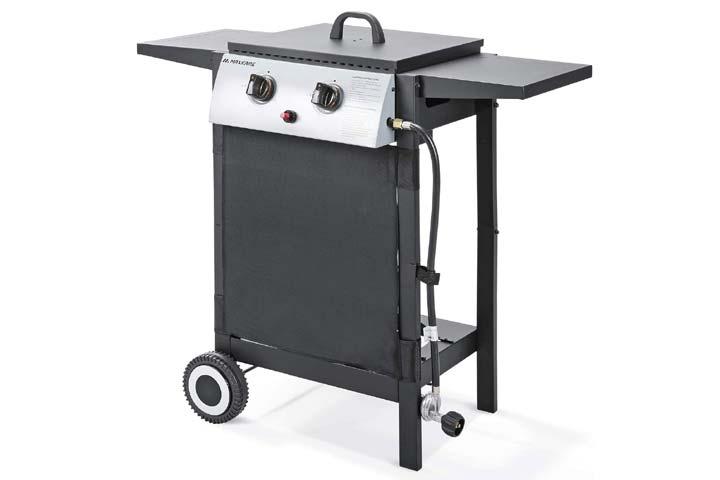 The BBQ gas grill is ideal for indoor/outdoor cooking experiences. The portable propane grill is equipped with a 190 square-inch of flat top griddle offering good space for cooking. The two burners of 19,000 BTUs of heat output support fast heating and the I-shaped fuse design enables even heating. There is a control knob for adjusting the heat and provides versatile cooking options. The piezo ignition system makes activating stoves easy with just one press. The propane grill features a chrome-plated grill pan and a grill net too, making it ideal for cooking eggs, bacon, burgers, and steak. The grill is easy to assemble.The chrome plating avoids rusting,making it more durable. The baffle plate design avoids oil leaking from the burners and allows uniform heating of the surface. A box and a gathering hole on the back of the gas grill allows oil to collect and keeps your cooking area tidy. The grill measures 36.5 x 19.9 x 35" and weighs 35.2lb.
How To Choose The Best Gas Grill Under $500?
Before you go shopping for a grill, you must explore different options and weigh multiple factors as it is an investment that can last for several years. We have listed some factors you could consider before buying a gas grill that fits your need.
1. Size
Gas grills under $500 come in various sizes ranging from 192 square-inch to 802 square-inch cooking area. The size of the gas grill should depend on the number of family members. For a family of four or six, a small grill should be ideal.A bigger grill is best suited for those with large cooking space or for those who invite guests for BBQ parties.
2. Burner strength
A grill with low BTU output works well for those grilling vegetables, pancakes, or chicken. A grill with higher BTU output works well for those looking for a crisp sear on your steaks. You may also want to consider buying grills that offer a temperature modulation with adjustable knobs. The temperature control will offer you the versatility to regulate the heat as per the menu.
3. Cleanliness
Gas grills tend to get greasy over time and it is a tedious task to clean a grill. Several grills are designed to make cleaning hassle-free and quick. With detachable grease pans and aluminum lining as a feature, cleaning the gas grill could be easy.
4. Portability
Buy a grill that is light in weight, easily foldable and compact. If you are set on hosting your dinners in your backyard, you may buy a hefty grill that not only accessorizes your backyard but also can occupy a permanent place. Many gas grills come with wheels and lockable legs to provide you the ease of moving it around. Think about your requirements and buy the right one.
5. Affordability
Though we have listed grills under $500, gas grills are available in a wide range of prices.Buy a less expensive basic grill if you cook occasionally. Those who consider a grill as a long-term investment and use it frequently can go for the expensive ones.
Camping and tailgating can be fun, and if you have a penchant for outdoor dinners, a perfect gas grill is what you must buy. A gas grill will help you cook delicious food that are nicely seared and smoked. We have identified a few of the best gas grills that fit your budget while also offering several features. We hope our buying guide helps you identify the right product and buy the best grill to make your next camping trip a memorable experience.
Recommended Articles: