If your work or education requires you to sit in one place for long, it can lead to body pain and discomfort. So, we have compiled a list of the best gel seat cushions to help you choose the right one. These gel seat cushions could help you deal with improper posture, back and joint pain, and other chronic issues.
Prolonged sitting causes pain in the disc, coccyx, and lumbar regions. Gel cushions are medical-grade products that contain gel packs that distribute your weight evenly, relieving the soreness. A few also have cooling technology that circulates air to prevent sweating. Comfortable and durable, you can explore our list of gel seat cushions to choose a suitable one for yourself.
13 Best Gel Seat Cushions To Use While Sitting For Long Hours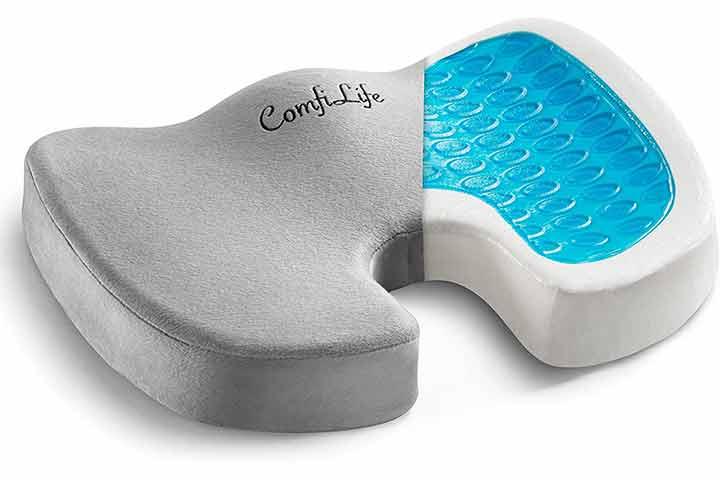 ComfiLife gel cushion is a versatile memory foam cushion that is ergonomically designed to provide maximum support and comfort. It enables recovery from lower back pain, tailbone injury, herniated discs, and sciatica. This machine-washable gel cushion comes with a zipper and velour seat cover, making it easy to clean and carry while traveling. The non-slip rubber bottom and high-quality, durable memory foam add to the comfort. Here's a video to help you know more about this product.
Pros
Ideal for prolonged hours of sitting
High-density memory foam
Provides leg and hip support
Great for pregnancy
Cons
Cooling gel may not be effective for some
Flattens on regular use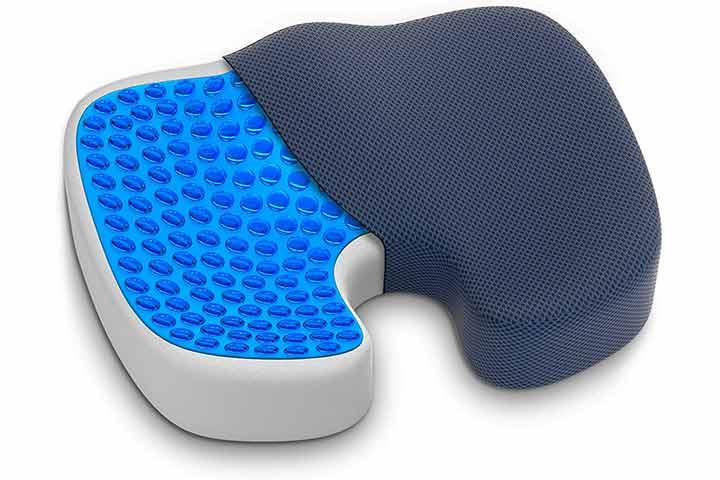 Made of premium quality, high-density memory foam, it is an all-purpose, pain-relief gel seat cushion that targets specific pressure points and relieves pain. The Grassvery gel cushion can be used for car seats, wheelchairs, or office chairs. When used for a longer duration, it promotes a healthy posture. It has a zipper closure, cooling gel technology, and a removable, machine-washable cover.
It comes in a butterfly-shaped design that helps relieve pain in the lower back, spine, tailbone, coccyx, and sciatic nerve region. Its cool gel technology with memory foam enables breathability and prevents sweating when seated for long hours. The multi-functional cushion can be used at your home, office, and while traveling on a plane. It has a hidden zipper and a machine-washable seat cover. This video takes you through this product's details.
Pros
Ideal during pre- and post-natal pregnancy
Compatible with office, car, and home chairs
Eliminates painful pressure points
Non-slip bottom
Cooling comfort
Cons
Gel may harden during prolonged hours of use
May not hold shape
The TravelMate Gel Cushion provides excellent support to the hip and the lower back with its gel-enhanced memory foam. It is a US-patented product with a specially designed non-slip silicone-coated zipper cover that allows the cushion to stay intact on multiple surfaces. It also improves spine health by promoting a healthy sitting posture and providing continuous support to the back.
Pros
In-built channels for air circulation
Smooth edges
Helps improve spine alignment
Cover equipped with a handle for portability
Cons
May feel a bit hard
May not fit in large chairs
Made of polyester, it is an ergonomically designed cushion that reduces pain in the sciatic region. Its specific U-shape relieves pressure on the lower back and coccyx region. It has a cut-out center and contoured surface, adding to the comfort. The semicircle gel cushion helps in spinal alignment and is ideal for those sitting for long hours. It has an easy-to-wash cover and a carrying handle that is helpful during travel.
The Aduken Gel Seat Cushion is made of double thickness ultra-flex polymer and has a trendy honeycomb design. This design allows air to penetrate easily and evenly through the seat to prevent sweating. It covers most pressure points, reducing pain in the hip, lower back, tailbone, coccyx, and sciatic nerve regions. The elastic cooling gel keeps the shape intact and adds durability. The even perforations allow breathability and sweat absorption.
Pros
Compatible with office chairs, study chairs, kayaking, wheel chair, and car seat
Column buckling technology distributes weight evenly
Works great for prolonged work hours
Washable
Durable zipper
Available in two different sizes
Cons
Rubber ridges at the bottom may get hard
After some uses gel pad may became thin
The Suptempo gel seat cushion with a honeycomb pattern works well in decreasing pressure on the back and tailbone. It is made of a soft elastic gel material and offers comfort when sitting for a long time. The double-sided gel cushion not only provides stable pressure but is flexible and deformation-resistant too. It is portable and lightweight to carry when you travel.
Pros
Stretchable gel cushion
Removable cloth cover
Non-slip cover base
Enhance posture
Compatible for home and office purposes
Cons
May not be suitable for long air flights
Some may feel the size is small for the chair
The Helishy Double Gel Seat Cushion comes with a 500-vent honeycomb pattern. It is wide, covering various pressure points, and reduces pain in the lower back and sciatica. With its unique gel, the breathable fabric reduces heat transfer between buttocks and thighs and increases air circulation. It has a non-slip zippered cover that is easy to wash.
Pros
Medical-grade gel material
Anti-skid cover
Versatile use
Keeps posture intact
Available in standard and extra large sizes
Cons
Some may find the cushion isn't thick
May not be compatible with all office chairs
Easy-to-carry and portable, this non-slip gel seat cushion is made of soft, elastic material. The honeycomb pattern allows easy air circulation, and the ultra-flex polymer keeps the shape of the cushion intact while absorbing pressure. The double design pattern lets the cushion retain its shape after stretching and makes it compatible with various seating areas, including kitchen counters, car, truck, and plane seats, and classroom and office chairs.
Highly-flexible and made of ultra-flex polymer, this large seat cushion comes in a honeycomb design. It is one of the highly recommended gel cushions because of its ability to cover large surface areas. Its advanced column-buckling technology disperses the weight evenly when you sit for long hours. The pressure points provide relief from sciatic pain, lower back pain, and tailbone. It includes one washable, non-slip cover.
Pros
Great elasticity
Double-design gel cushion
Ideal for long hours of working hours
Breathable zipper cover
Cons
Cushion might be a tad small
Some may find it a bit flimsy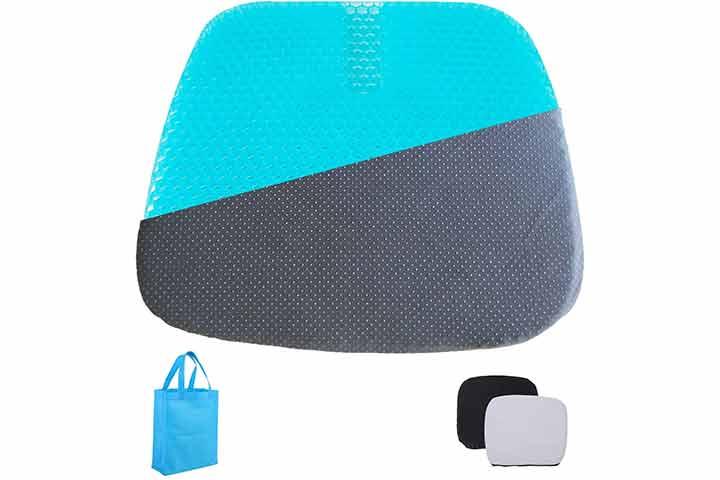 The Kysmotic Gel Seat Cushion is ergonomically designed in a honeycomb pattern with more than 2000 vents. It is suitable for car seats, office or home desk chairs, and wheelchairs. Made of double-layered, food-grade gel material with ultra-elastic polymer adds elasticity and maintains a constant temperature. It is suitable for long hours of sitting, while the cushion's shape stays intact and allows breathability.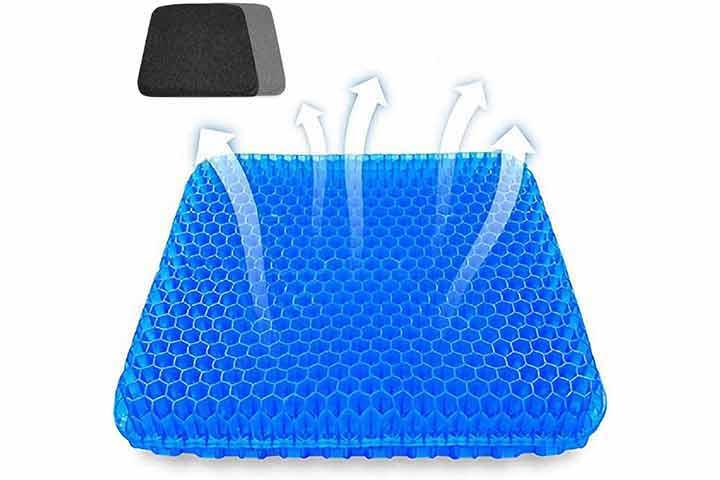 The non-slip gel seat cushion keeps the shape intact, and its high-elastic polymer allows better heat distribution and air circulation. This seat is larger than regular gel seat cushions and suitable for kitchen chairs, dining chairs, office chairs, and classrooms. The honeycomb design evenly distributes weight on the cushion, reducing pressure on the lower back and improving blood circulation. It is lightweight and easy to carry during traveling.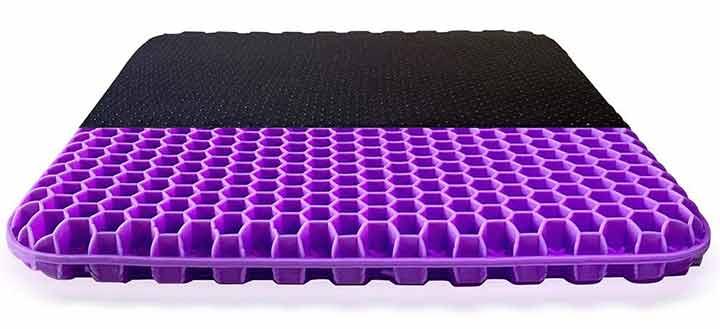 Made of 100% high-quality gel material and ergonomic design, it is an orthopedic-recommended seat cushion. It has an advanced cooling gel technology and a unique honeycomb design that alleviates air circulation. Widely used, this gel seat supports recovery from herniated discs, tailbone injuries, and other spinal issues. It can be used for airline seats or any outdoor patio or garden furniture. You will get a non-slip, zippered cover, along with a cushion that is easy to wash.
Pros
Can withstand wear and tear
Engineered for all sizes and shapes
Includes a magnet design cloth cover
Compatible for flight journeys as well
Available in two sizes and colors
Cons
May not fit all office chairs
Some may find the cushion hard
How To Choose The Right Gel Seat Cushion? 
A high-quality cushion seat reduces pain and relieves pressure, and you will find it in a variety of thicknesses and materials. Here are a few things to keep in mind while choosing a gel seat cushion. 
Fillings: Memory foam fillings provide better support and mold into any shape by staying intact. Gel-infused memory foam allows cooling and adds to the breathability.
Shape: A proper shape reduces pressure on the tailbone and corrects the posture while offering stability for longer hours. The gel seat cushions are available in various shapes, including wedge-shaped and round-shaped. There are also donut and rectangle-shaped pillows for people using wheelchairs
Contour: Cushions with contoured design have depressions on either side and a slight lift or elevation in the mid-region. Contouring allows breathability, air circulation and also corrects the posture. You will also find cushions with contours specifically made to fit people who have undergone amputation in one or both legs.
Thickness: Thinner cushions may be suitable for shorter individuals. They give you extra support without pulling the feet off the floor and remove strain on knees. If you need a thicker cushioning, choose memory foam since it gives you enough space to redistribute weight evenly.
Why Trust MomJunction?
Sakshi John is a writer whose focus areas include furniture and kitchenware products. She undertakes thorough research using numerous reliable sources and curates objective and informative reviews to help you choose the right products. Her list of the best gel seat cushions for sitting for long hours includes detailed features to ensure high-quality, comfortable products. You can also refer to the buying guide to better understand various factors.
Recommended Articles :