A water heater may seem like a luxury; but if you consider it so, you're living in a fool's paradise. In this day and age, it has become an absolute necessity in every household. Its benefits are plentiful, and with just the right amount of maintenance, it could last you a very long time. Perhaps it's time to relax and take that warm water shower that your body so desperately longs for.
A warm water bath is therapeutic in itself and helps one rest, not only the body but also the mind. Have you been putting off what could be a real difference-maker while washing dishes and bathing during winter? Have you decided to invest in the best geyser? If so, you've arrived at the right place. Here's our list of the 15 best geysers in India.
15 Best Geysers In India Of 2021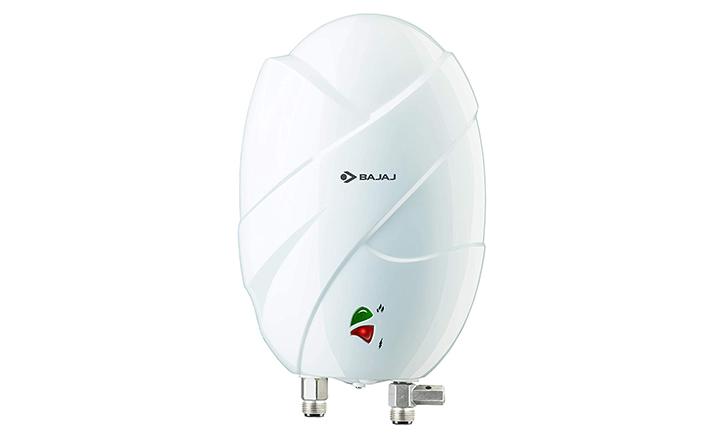 This geyser by Bajaj bears a unique design that makes it look traditional yet stylish. The entire outer body is made of thermoplastic to ensure a corrosion-free experience. The all-white body with the centered Bajaj logo adds a classy touch to it. This geyser is capable of retaining 3 L of water and consumes a power wattage of 3000 W. This vertically mounted water heater is capable of withstanding up to 8 bars of pressure, making it suitable for those living in high-rise buildings. Bundled with the geyser is the free inlet and outlet pipe. This Bajaj Flora Instant Geyser carries with it a warranty of two years.
Pros
Neon indicator
Instant water heater
Fire retardant cables
Multiple safety systems
Cons
It may not be usable as a continuous source of hot water.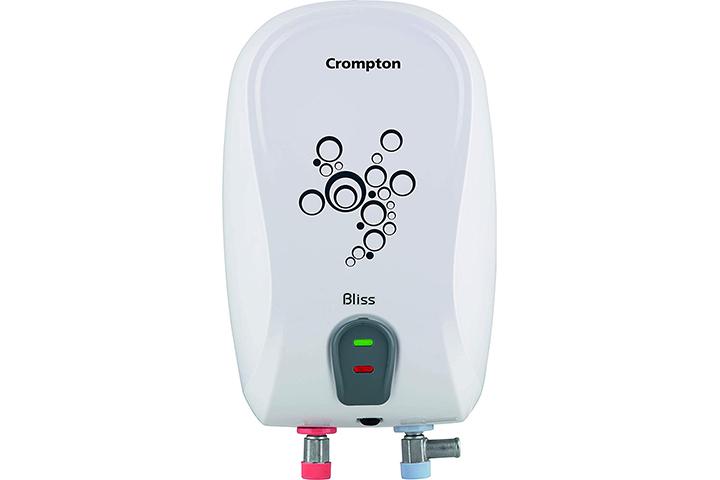 The body of this geyser is crafted with stainless steel to ensure durability and avoid corrosion. The all-white body is mounted vertically and is suitable for dishwashing and washing hands rather than bathing. The face of the water heater bears a bubble design that is outlined in black. This unit is capable of holding a maximum capacity of up to 3 L and consumes 3000 W of power. This geyser by Crompton can withstand 6.5 bars of pressure. As with most geysers, this too is covered by a two-year warranty.
Pros
Anti-syphon protection
Powerful heating element
Advanced four-level safety system
User-friendly LED indicators
Suitable for installation in high-rise buildings
Cons
The T valve might be prone to leaks.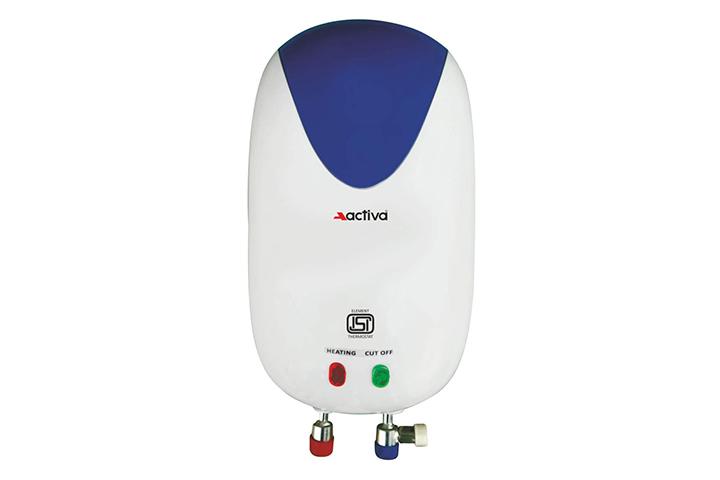 This ACTIVA geyser has a white body with a hint of blue. The cylindrical shape allows it to fit in the tightest of spots. A special anti-rust coating has been used to save it from corrosion and the entire body is made of premium quality stainless steel. This geyser is equipped with a high-quality thermostat to prevent it from overheating. Plus, it can contain 3 L of water at a time and provide instant heating. This makes it ideal for quick bursts of hot water for washing hands or dishes.
Pros
Auto switch off function
Power light indicator
Six-year warranty
Includes a copper heating element
Cons
The wiring may not be very durable.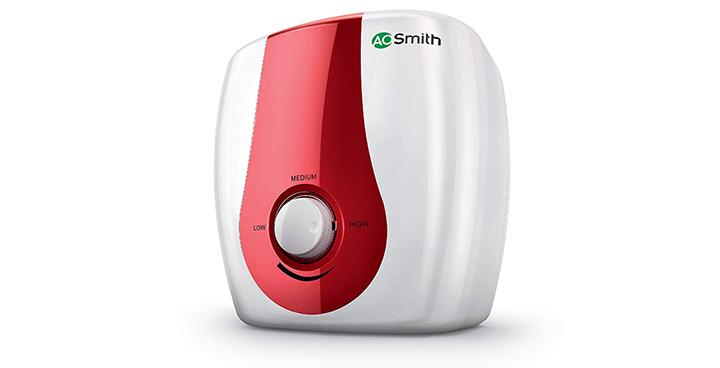 Has winter arrived sooner than expected? Are you looking to buy a reliable and long-lasting geyser? If so, look no further than this water heater from AO Smith. It's a perfect blend of looks and performance. The white body with a red teardrop strip makes it look fashionable yet classy. The unit consumes 3000 W of power to heat a fairly large amount of water. The tank is capable of holding 15 L of water. One of the highlights of this geyser is its ability to control the water temperature. The jog dial has three settings — low, medium, and high. It is also suitable for installation in high-rise buildings owing to its ability to withstand a pressure of up to 8 bars.
Pros
Alloy steel tank
Seven-year warranty
Efficient inlet water diffuser
Energy-efficient PUF Injection Technology
Glass-coated fold-back heating element
Cons
May take a while to heat 15 L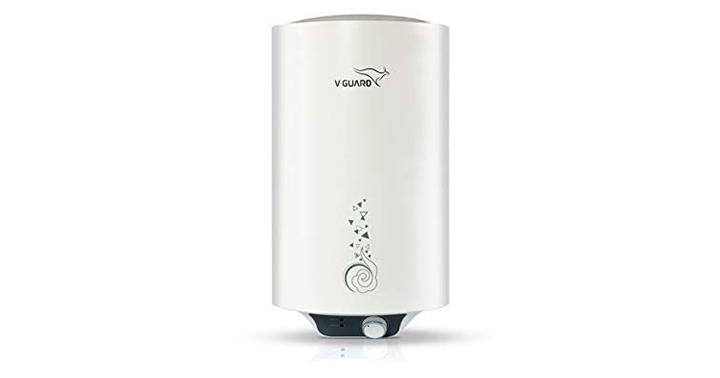 The cylindrical design of this water heater by V-Guard is both aesthetically pleasing as well as space-saving. The white body bears the company logo on its top with a sublime design at its base. The tank is made of high-quality steel and can withstand wear and tear even after being exposed to continuous boiling water. This geyser houses 10 L of water and can meet your shower needs.
Pros
Temperature control dial
Four-layered safety system
Anti-corrosive inner tank coating
Includes inlet and outlet pipes
Cons
Inlet and outlet pipes may not be durable.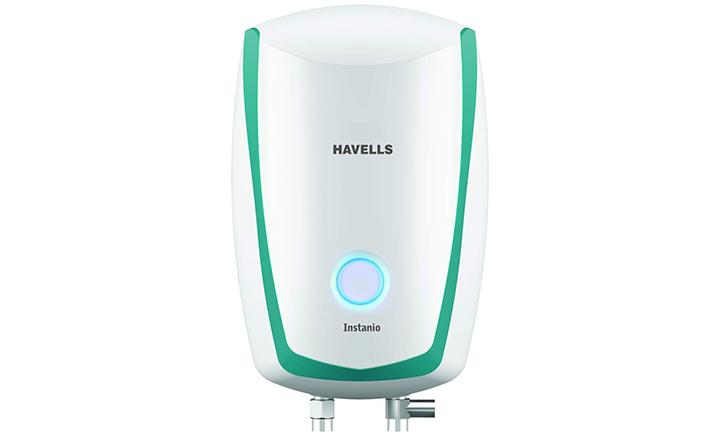 If instant heating is the need of the hour, this water heater by Havells won't let you down. Its compact design is what makes it so appealing. The outer body is white with two strips of green on either side. The maximum capacity that this water heater can hold is 3 L. To provide quick heating, it consumes 3000 W power. This vertically mounted geyser comes with a two-year warranty. Included with the main unit are the instruction manual, Flexi pipes, and other accessories.
Pros
Instant heating
Color-changing LEDs
Fire retardant power cord
Ultra-thick stainless steel inner tank
Cons
Might be prone to leaking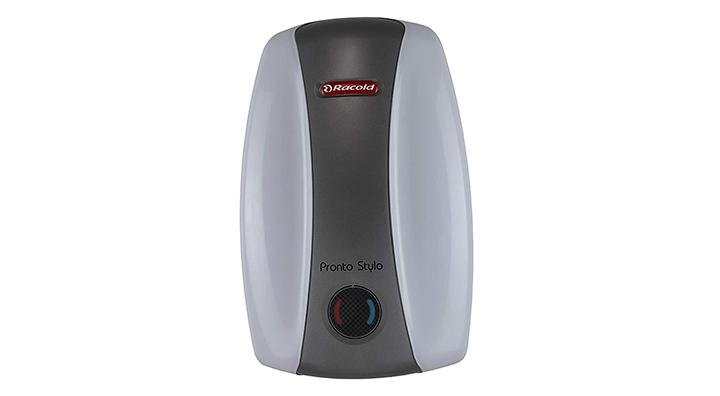 Much of its growing popularity stems from its compact design. The entire water heater is white and gray and can be easily mounted vertically. Its capacity of 3 L is ideal for dishwashing and washing hands. This Racold geyser has a steam type thermostat that controls the temperature automatically. The rustproof outer body ensures that the heating unit remains corrosion-free. To heat the water quickly and effectively, the geyser consumes 3000 W of power.
Pros
PUF insulation
Faster heating
Anti-syphon system
High-pressure resistance
Cons
May take a little while to heat the water completely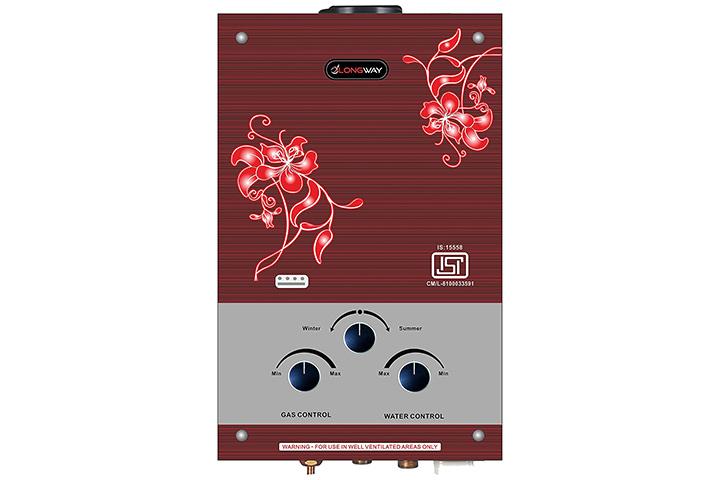 Apart from its appearance, what makes this water heater so unique is that it operates using LPG gas. This water heater automatically shuts off after reaching a temperature of 95°C. All the necessary dials and controls are located on the face of the heater. The floral design adds a spark of vibrancy and vitality while the red wood-like finish gives it a vintage look. This geyser has three jog dials, including gas control, water control, and temperature controls. To top it all, the tank can  hold up to 7 L of water at a time.
Pros
One-year warranty
ISO certified standards
Five-level safety measures
100% copper heat exchanger
Electronically controlled socket
Cons
May be challenging to fit in small spaces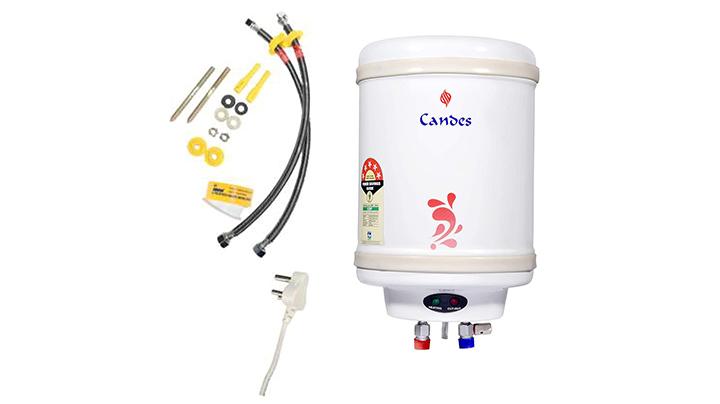 The sleek and contemporary design of this water heater by Candes makes it compact and able to fit in small washrooms. This ivory-colored unit with its cylindrical shape allows it to be easily mounted vertically. Its 10 L water storage capacity makes it perfect for bathing and is ideal for a small family. This heating unit is equipped with an auto shutoff feature to prevent overheating. The company offers a comprehensive warranty of one-year with an anime extended warranty of five years on the tank.
Pros
Power LED indicators
Anti-corrosive body
Made of stainless steel
Five-star energy efficiency rating
Cons
Might be prone to leakage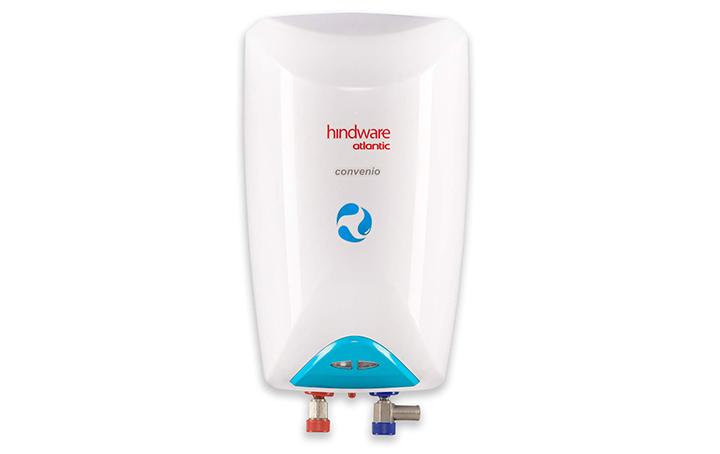 The sleek and slender design of this Hindware Atlantic geyser makes it convenient for installation in kitchens and washrooms. The entire white body looks flashy and the blue company logo adds to its good looks. This geyser is capable of housing 3 L of water. The inner tank is crafted using superior corrosion-resistant stainless steel to ensure longevity. With a capacity to withstand a pressure of 6.5 bars, this water heater is suitable for installation in high-rise buildings. The copper sheathed heating element ensures that the water heats quickly without any delay.
Pros
Instant water heater
All-purpose RPR valve
Class 1 working pressure
I-thermostat to prevent energy wastage
Cons
The water nozzle may not be very durable.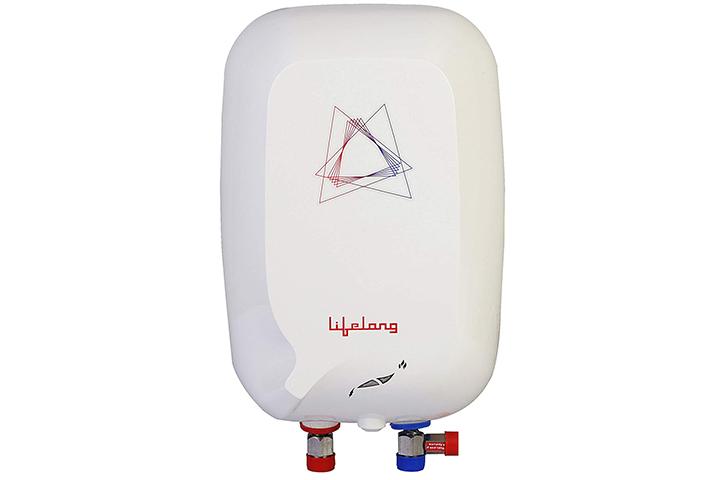 If instant water heating is what you require, this geyser by Lifelong will serve you well. Its balance of looks and performance is what helped it capture a spot on our list of the best geysers. The tank is made of stainless steel to prevent rusting and increase longevity. The copper heating element present in this geyser will have your water boiling in a fraction of time. This water heater is suitable for those staying in high-rise buildings owing to its 8 bar pressure rating. While the look of the geyser is quite plain, the form factor is compact. The company offers a standard two-year warranty on this product.
Pros
Energy efficient
Thermoplastic body
Neon power indicators
High standing pressure
There-level safety system
Cons
The outer body may not be the most durable.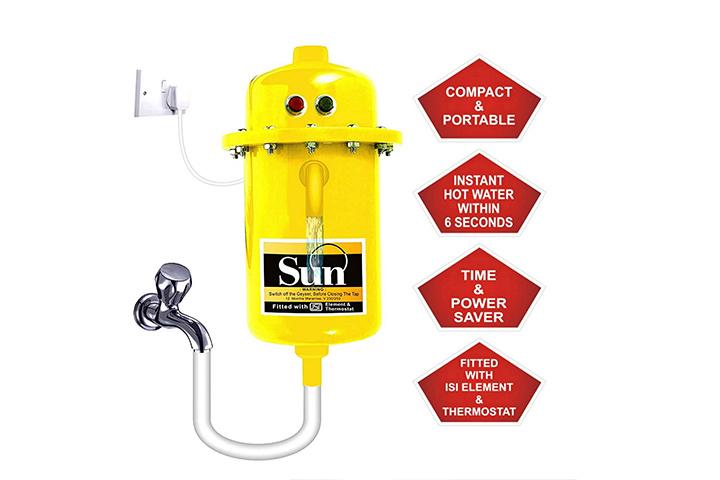 This compact and portable design is a work of brilliance by ZIGMA Winotek. A sunlit yellow in a cylindrical form is the best way to describe the appearance of this water heater. It is capable of heating water instantly within six seconds. Its simplistic design is what makes it so desirable. The tank is carefully made to prevent rusting and corrosion. Due to its compactness, it is only able to retain a water capacity sufficient for purposes that include washing hands, shaving, and washing the dishes.
Pros
Portable design
Built-in copper coil
Made of durable material
Withstands heat at high temperatures
Cons
Might be prone to overheating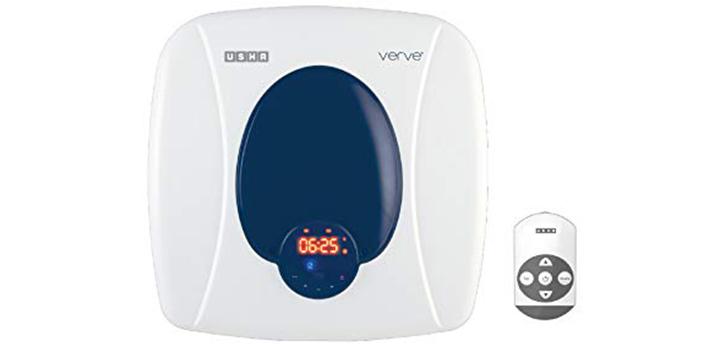 A striking feature of this geyser by USHA is its compact and portable design. Apart from its usefulness in terms of space-saving, it has a lot of features that sets it apart from traditional water heaters. This heating unit incorporates a whirlflow technology and Incoloy 800 element to provide a quick system of heating water quickly. This is perfect for a mid-sized family and can be fitted even in the tightest of spaces. This unit consumes 2000 W of power and can hold a capacity of up to 15 L of water.
Pros
Eco-mode
Timer mode
Soft digital display
Anti-bacteria function
Comes with remote control
Cons
Might be prone to overheating during extended periods of usage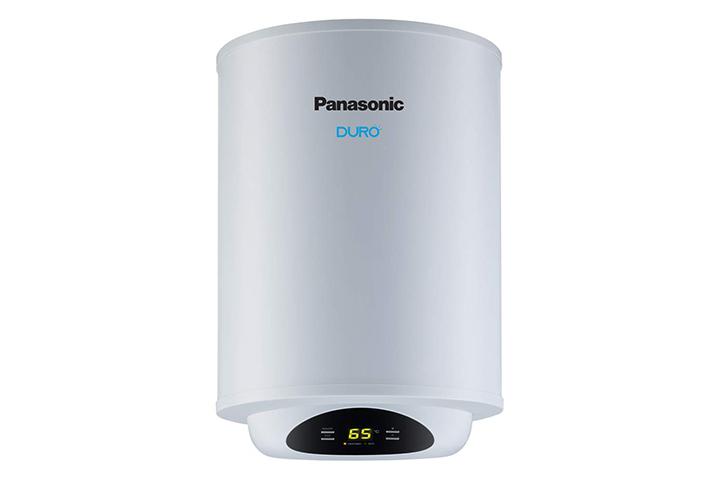 This feature filled water heater deserves more than just a noteworthy mention on our comprehensive and well-researched list of the best geysers. Incorporating advanced technology, this geyser heats the water quickly and performs effectively. Keeping safety in mind, the company has implemented a 4-in-1 system of protection. The cylindrical and sleek appearance of this water heater will surely garner attention. The tank is capable of withstanding high pressure of up to 8 bars. Bundled with this heating unit is the fire retardant cable with a three-pin plug.
Pros
Energy efficient
IPX 4 protection
LED digital display
Glass-lined heating element
Cons
May not fit in tight spaces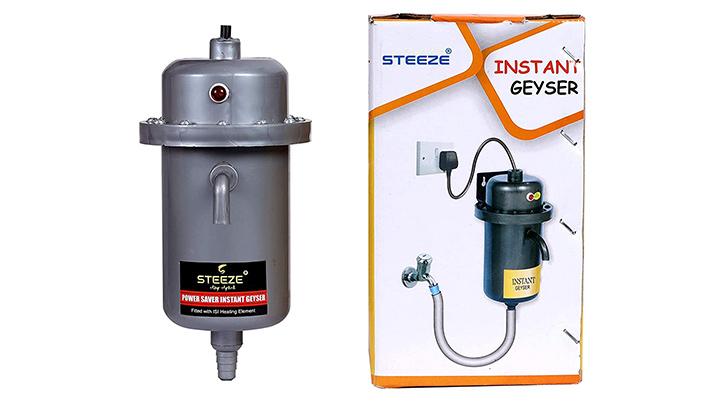 This water heater by STEEZE boasts of a durable outer body made of high-quality ABS. The entire unit is gray with an elongated design. To ensure durability, it comes with an inbuilt copper coil. Don't let its simple looks fool you. This little beast is more than capable of meeting your needs. Thanks to its design, it can be conveniently fitted in areas with limited space.
Pros
Shockproof
Anti-corrosion
Instant heating
Compact design
Cons
The wire and pipe may not be durable.
Now that you've taken a look at our list of the best geysers to purchase in India, have you been able to choose the one that best suits your needs? If you're still confused and haven't made up your mind, here's a list of certain considerations that must be kept in mind when purchasing a geyser.
How To Choose The Right Geyser In India
1. Type of geyser
There are mainly three types of geysers — electric geyser, gas geyser, and solar geyser. The most common among them is the electric geyser. The solar geyser has gained popularity in recent times and is also more pocket-friendly than an electric geyser. Over the years, the gas geyser as well as the solar geyser have become environmentally-friendly than electric geysers. Before purchasing a geyser, it's important to settle upon the type of geyser you prefer.
2. Capacity
This will largely depend upon the size of the family and the purpose of use. For instance, instant water heaters worth a relatively small tank of 3 L is suitable for situations like washing hands, shaving, and even washing the dishes. However, when it comes to taking a shower, a geyser with a capacity of 10 L or more is required. For a family of four, a 15 L geyser would be ideal.
3. Power consumption
Most water heaters consume anywhere between 2000 W to 3000 W. If you are on the hunt for the most power-efficient geyser, one with a five-star rating would be ideal. Water heaters with a five-star rating consume less electricity and also have a lower rate of heat loss. However, the more power-efficient a geyser is, the more it is likely to cost.
4. Features
Some of the basic features to look out for are geysers with auto shutoff technology, LED indicators, temperature controls, and a rustproof body. Some water heaters have fancier controls such as digital displays, advanced layers of safety systems, and instant heating. While fancy LED displays don't enhance the functionality of the geyser, they do make it look more stylish.
5. Form factor
This will greatly depend upon the availability of space in the area where the geyser is expected to be placed. It is ideal to purchase a compact geyser. Some geysers can be mounted vertically, while others can be mounted horizontally. Here are also a few geysers that can be mounted either way. This is something that should be kept in mind before purchasing a water heater.
Frequently Asked Questions
1. What's the best temperature setting for a geyser?
An optimal temperature for the thermostats in the geyser will largely be determined by the season. For instance, during summer, an ideal temperature should be between 50-55°C. However, the perfect temperature setting during winter is 60-65°C. Lowering the temperature below 50°C isn't advisable as it promotes the growth of bacteria in the water.
2. Why should I turn the geyser off when not using it?
There's a perfectly good explanation as to why you should do this. Almost all geysers stop heating beyond a certain temperature, at which point the heating element switches off. However, heat will slowly begin to leak because of the surrounding area, and after that point in time, the heating element will start working again. This results in the wastage of electricity. Furthermore, a geyser, like any other electrical appliance, falls victim to wear and tear. It's better to be safe than sorry.
3. How does the auto shutoff system work in the geyser?
In simple terms, once the heating element reaches a predefined hot temperature, it stops working. This is all done through the use of a circuit that cuts off voltage to the heating element. While it does sound quite simple, it involves a lot of programming to get it done right.
The big world has a lot of goodies to offer and among them is a water heater. You can now beat the cold with a warm shower at the flip of a switch. The great thing about geysers is that they come in different shapes and sizes and can be used in a washroom or even a kitchen. If you're still debating about the usefulness of a geyser, you should take a glimpse of the 15 best geysers in India chosen by us. They will certainly create lasting impressions and remind you why you need to purchase one of these little beasts.