When your baby turns two, it is time for having some fun, as she learns to enjoy activities and things that are attractive, and keep her engaged. Your two-year-old is learning new skills every day, and this is the time when she learns to balance and explore the world around her.
Shopping for two year old babies can be a little tricky, you need to be creative while buying toys as she may not play with just about any toy. Also, you will want your baby to learn is to focus. As your baby is now mobile, she will probably like dragging and pull-along toys, big building blocks, toy puzzles, etc.
To understand what toys will suit a two-year-old, it is important to know the milestones achieved by your toddler, and what she is capable of doing.
Milestones For A 2-Year-Old
Your two-year-old may have achieved or will soon achieve the following milestones:
Your toddler's imagination will take off at this age. She might also be afraid of fictitious monsters and like fairy tales.
She is most likely able to speak clearly. This is a time when her vocabulary will increase tremendously.
Can climb the stairs, pedal a tricycle and jump from a step or two.
Capable of sharpening fine motor skills such as opening a container or a door, and operating the parts of a toy.
Can sort out various shapes, sizes and probably colors too.
Can accomplish simple puzzles.
Has developed social and emotional skills and can show affection to toys and playmates.
Your role, as a parent, is to provide your toddler with the toys that would be encouraging enough to develop cognitive and fine motor skills.
20 Best Baby Gifts For 2 Year Old To Buy In 2019
Your baby is now more assertive and there is a tug-of-war between the desire to get independent and continued need for help from you. Give her toys that provide a way to channel this bursting energy. Introduce her to a wide variety of colorful and interesting toys that will stimulate her curiosity. Here we have the best baby gifts for 2 year old, a selection of educational, wooden and plastic toys and puzzles that will certainly grab your toddler's attention:
1. John Deere Deluxe Talking Tool-belt
It is a complete tool-belt set and comes with a talking feature.
Why She Will Love It:
It comes with an adjustable belt that has a 'talking' feature. The set has 'John Deere' cap which your baby will love wearing.
Why Experts Recommend It:
As your toddler plays with this set, it will help to develop her fine motor skills. She will learn to keep her focus on the tool in hand, thus improving her concentration. It will also allow her to play imaginative games, a great way to enhance role plays and creativity.
Why We Suggest It:
The set comes with four commonly used, easy-to-hold tools such as wrench, hammer, screwdriver, and pliers. It runs on three AAA batteries, is safe, durable and light in weight. All these qualities of this tool set will make your little one run around in excitement.


2. VTech Drop & Go Dump Truck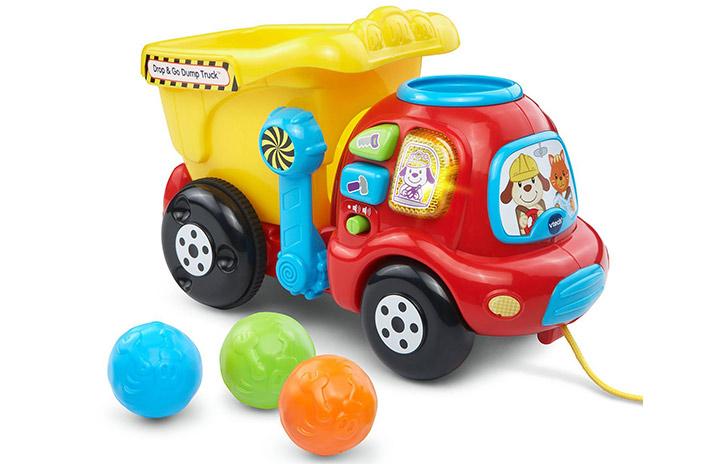 Why She Will Love It:
The truck can perform several functions like popping tiny plastic boulders into the plastic bucket. Put the boulder in a slot and the truck counts its number and relays the audio through a speaker. Watch your toddler get thrilled after witnessing these exciting features unfold right in front of her eyes. The truck has movable parts that allow the child to engage with the toy.
Why Experts Recommend It:
The actions performed by the truck will help the toddler understand the cause and effect. Listening to the numbers on the truck's speakers helps her brush up the counting skills.
Why We Suggest It:
This toy provides a mix of real action and smart functions to stimulate cognitive development in the toddler. It makes an excellent toy for the overall mental stimulation and engagement of the child.


3. Melissa & Doug Deluxe Pounding Bench Wooden Toy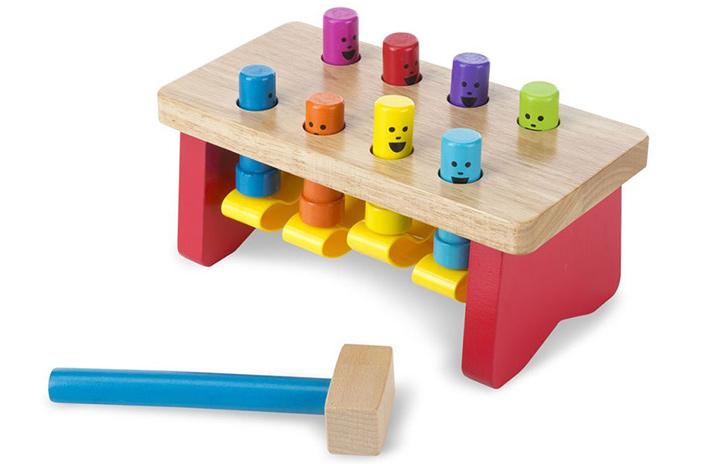 Why She Will Love It:
Playing peek-a-boo with colorful wooden pegs will bring a smile on her face. The wooden mallet makes the activity even more fun and exciting. The toddler hits a peg, and the one on the opposite end rises. It continues with every strike of wooden mallet thus letting the toddler be constantly busy.
Why Experts Recommend It:
Hitting a precise target polishes hand-eye coordination. This toy boosts fine motor skills while also teaching a thing about cause and effect.
Why We Suggest It:
The toy provides multiple benefits with one single use. It polishes different developmental skills, which means it helps the toddler improve both their cognitive and physical milestones.


4. Aqua Doodle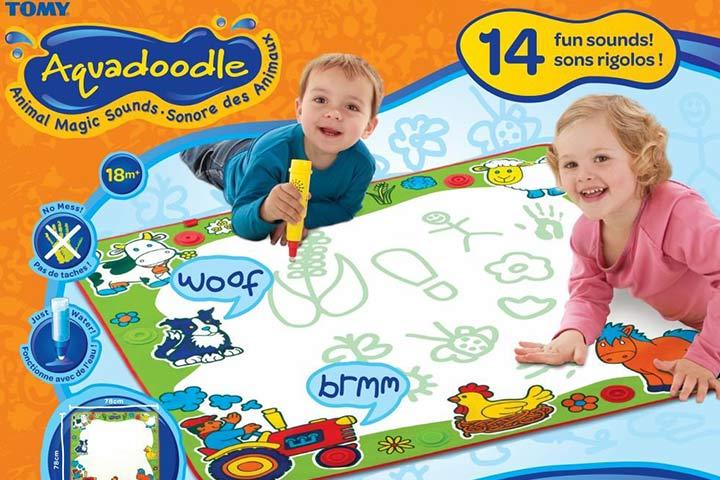 Why She Will Love It:
It is a giant drawing mat, which can be laid on the floor and your baby can draw on it with specially designed water-filled pen.
Why Experts Recommend It:
Using the doodle pen will allow your toddler to get creative. It will improve her fine motor skills as well as concentration.
Why We Suggest It:
The aqua mat measures 90 centimeters square. It is clean as the pen which comes with the set will not write on any other surface. The ink fades away when it dries on the mat and makes the mat ready for use again. So, it saves the effort of cleaning. Aqua mat can be folded into the box. This can be a unique gift option as it will save your walls from being written on by your kid.


5. Bilibo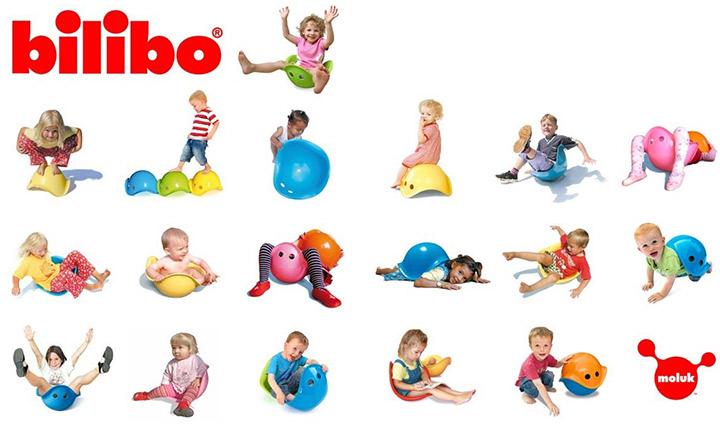 Why She Will Love It:
It is a shell-shaped sit-on toy and comes in bright colors. Your tot can sit on it and start spinning and you won't be able to stop her from having fun on it. She can play with it anywhere – inside the home, at the park, at the beach, in snow or water.
Why Experts Recommend It:
It will help stimulate your toddler's senses, arouse curiosity, encourage creativity as well as engage the imagination.
Why We Suggest It:
It is shell-shaped, is attractive and comes in appealing colors. There is no instruction manual with this toy, so your toddler can experiment with it and do whatever she feels like. It is made of high-density polyethylene.


6. Garden Fruits And Vegetables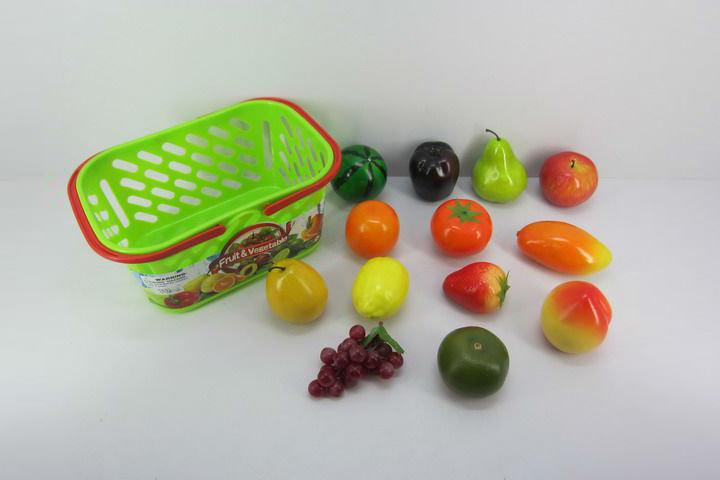 Why She Will Love It:
The fruits and vegetables are just like the real ones and they can be separated, peeled and sliced.
Why Experts Recommend It:
It will help your toddler improve her imaginative abilities and let her come up with new games. It will build her fine motor skills and allow her to play role-play games that imitate your actions in the kitchen.
Why We Suggest It:
This set is amazing for toddlers as they can learn about fruits and vegetables.The set includes different soft plastic foods such as pineapple, banana, orange, peach, lettuce, pea pod, onion, cauliflower and a corn ear. It includes a plastic knife to cut vegetables and fruits.


7. Plasma Car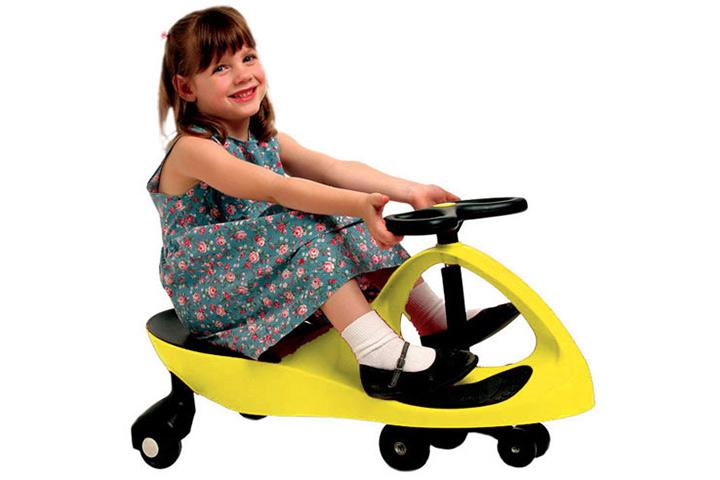 Why She Will Love It:
Your little one will zip, zap and zoom with this hop on plasma car that looks like a race car from the future.
Why Experts Recommend It:
It will allow your toddler to move around and improve her spatial concept. It will also help to improve her fine motor skills and concepts of balancing.
Why We Suggest It:
It is designed like a trike without any gears, pedals or batteries. It can hold up to 220 pounds so that even grandpa can take a ride on it! The car is quite safe and inexpensive.


8. Stomp Rocket Jr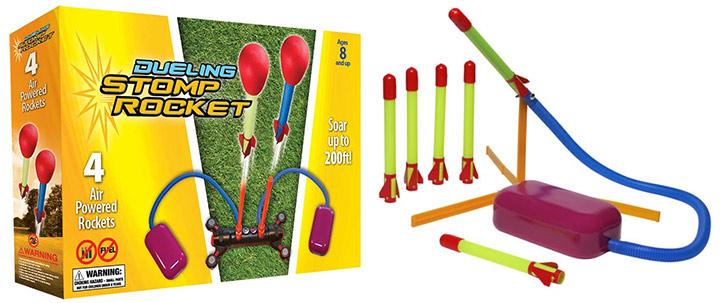 Why She Will Love It:
The toy is so easy to use that your little toddler can set up the rocket, stomp on it and launch it by herself. She will learn how to fix the launcher to hit targets.
Why Experts Recommend It:
The toy rocket will help your toddler understand about action and reaction. It will also improve her motor development skills. It could probably enhance her interest in rocket science!
Why We Suggest It:
The rocket soars to a height of 100 feet. It can be played both indoors and outdoors. The set comes with a stomp pad, stand, hose and four foam rocket missiles, which are safe for toddlers. Adult supervision is recommended.


9. Twilight Turtle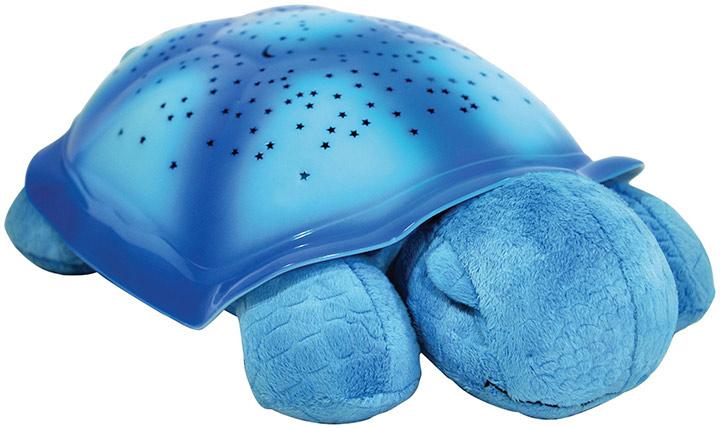 Why She Will Love It:
Your toddler will love to have this cute little turtle light up the room when it is her bedtime. It comes in different color options of bright green, blue and soft amber lights. It will make bedtime fun for your toddler and also ease her fear of darkness.
Why Experts Recommend It:
The turtle lamp is a great way to bring her to sleep. It will help her learn and distinguish between colors as well as provide visual simulation.
Why We Suggest It:
The turtle will turn your toddler's room into a starry night which will help her sleep comfortably. Its shell will project a starry magical light onto the ceiling and walls of the room. The lamp comes with auto-shut off after 45 minutes.


10. Little Helper Broom Set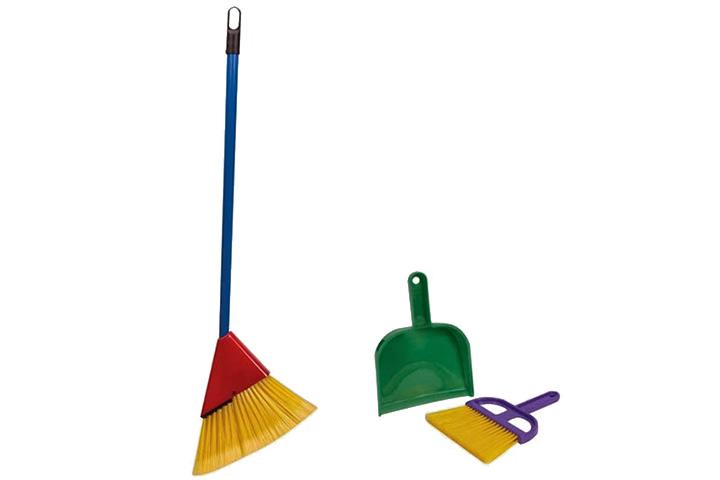 Why She Will Love It:
Your toddler watches you doing several household jobs such as cleaning, dusting, and sweeping, which she too wants to try out. This broom set is just the right gift for her.
Why Experts Recommend It:
The toy set will help instill a sense of responsibility in your toddler as she will have to clean her room. It will allow her to do some role-play.
Why We Suggest It:
It comes with a broom, dust pan and a hand broom.Gift this set to your little one and let her feel proud about cleaning her room.


11. Play Kitchen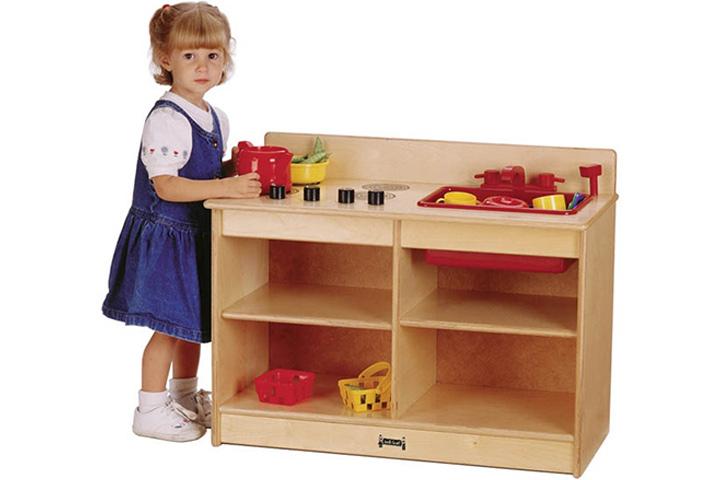 Why She Will Love It:
Toddlers love pretend-cooking and if you gift your daughter her kitchen, it would be fun for her.
Why Experts Recommend It:
Play sets that encourage role play will help improve your toddler's creativity and imagination. They will also keep her busy and stay focused on one activity.
Why We Suggest It:
The beautiful small wooden kitchen set includes pots, pans and lovely carved foods.The whole set is made of carved wood.


12. My First Purse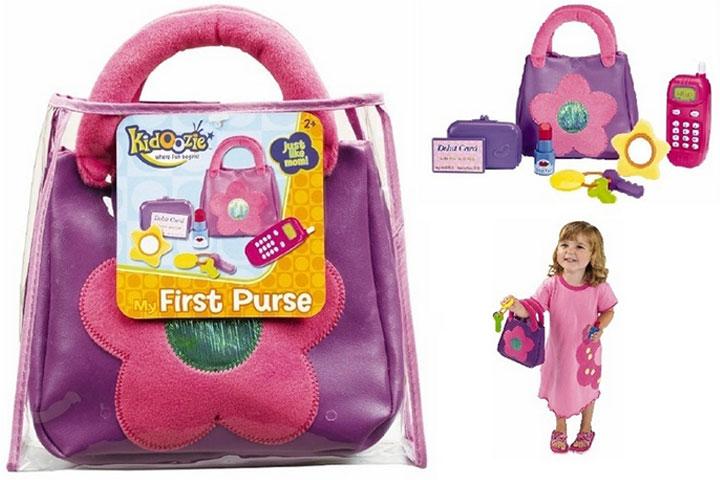 Why She Will Love It:
The set contains a play wallet, keys, lipstick, toddler safe vinyl mirror, cell phone and a debit card. It will let your toddler imitate mommy and feel all grown up.
Why Experts Recommend It:
Role-play and pretend games are great to boost imagination and creativity. When your toddler imitates you, it will help to improve her confidence levels.
Why We Suggest It:
This will let your gorgeous girl develop her own personality and no more grabs mommy's purse.


13. Thomas and Friends Remote Controlled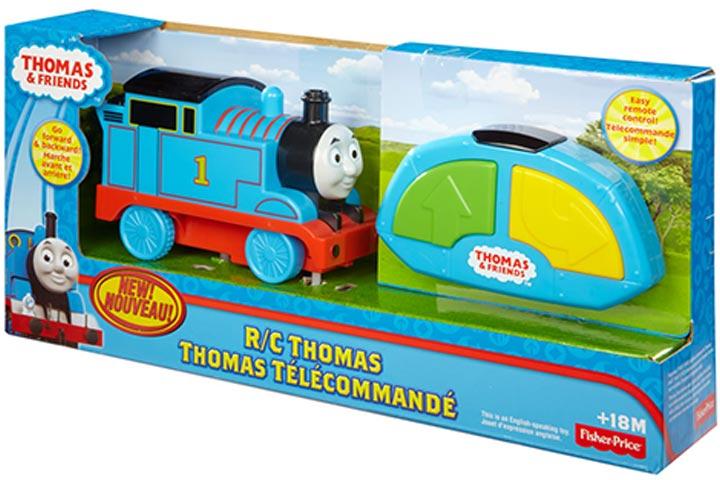 Why She Will Love It:
Thomas and Friends engine set is a big hit. Your little one will enjoy playing with this engine set. Your baby will get a feeling of a real engineer when she controls the actions of this remote held engine set.
Why Experts Recommend It:
Your toddler will love to identify the popular characters in the toy and create her own games, improving her imagination. It will also boost her visual coordination as well as spatial understanding.
Why We Suggest It:
It has a handy remote control, which is easy to use and fits into your toddler's small hands. The engine can move forward or backward with the remote.Your little engineer can have a first-hand experience on remote-controlling.


14. Toddler Stella Doll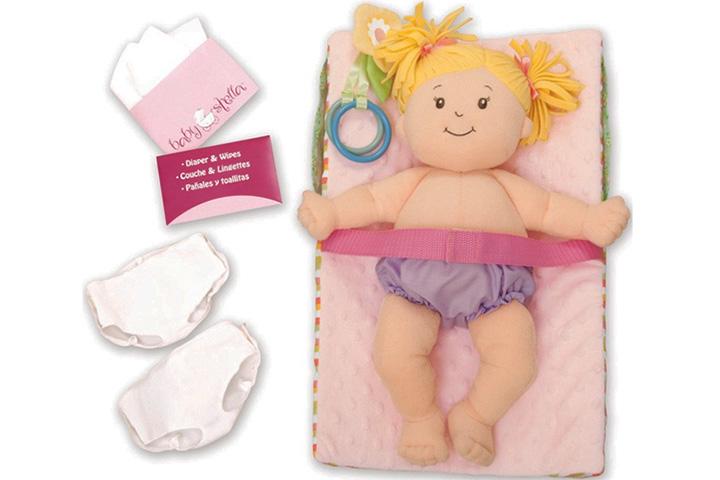 Why She Will Love It:
Almost all toddlers love dolls and this doll is cute as it has soft fleece hair, a plump tummy, a belly button and almost realistic toes. It is filled with beans, which give the feeling of a real toddler.
Why Experts Recommend It:
The doll will help to nurture an emotional bond.
Why We Suggest It:
The doll comes with a pacifier, which attaches magnetically on the mouth and also has a removable diaper.


15. Vehicles Sound Puzzle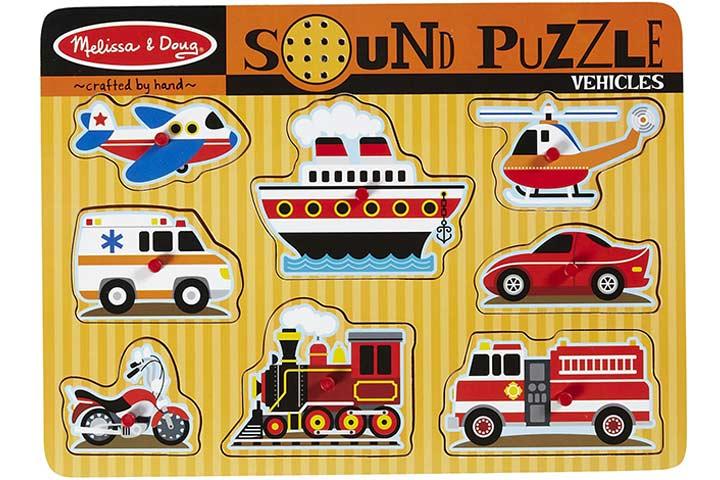 Why She Will Love It:
Your baby will love the sound that these vehicles make.
Why Experts Recommend It:
It is a great way to strengthen your toddler's understanding of cause and effect. It will also improve her matching skills and early vocabulary when she tries to solve this vehicular puzzle.
Why We Suggest It:
When your little one places the puzzle pieces correctly on the board, the engines of the vehicles will start making realistic sounds.


16. Rock and Ride Rocking Horse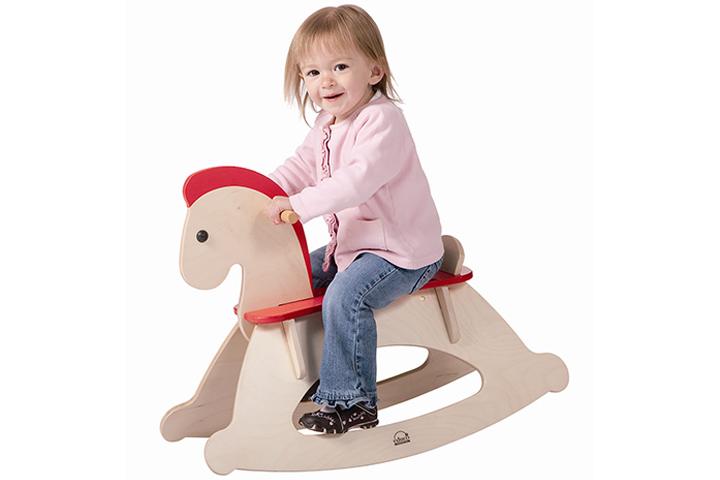 Why She Will Love It:
Your toddler can swing on this classic rocking horse. She will enjoy its galloping rides.
Why Experts Recommend It:
The toy will help your toddler learn how to improve her balancing skills as well as teach her to understand cause and effect.
Why We Suggest It:
It is completely safe as it will not tip and is easy for your toddler to balance on it. The wooden rocking horse comes in two colors of pink and blue.


17. Monster Bowling Set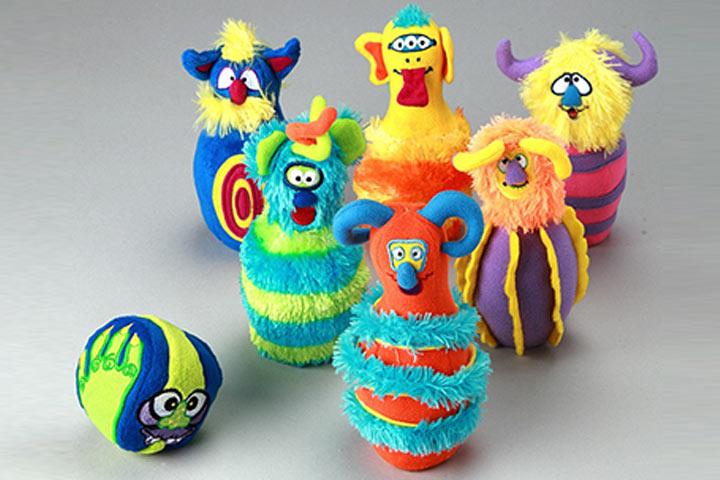 Why She Will Love It:
This is a wooly monster bowling set and your baby will enjoy playing with it. It has an upholstered ball and its name is Klonk. There are six wooly monster friends and some of them are Whurfull, Shemo and Geedlegot.
Why Experts Recommend It:
The toy will improve your toddler's sensory skills as well as help her understand about spatial concepts.
Why We Suggest It:
It comes in a zipped bag to keep them safely at one place.


18. BettRoom Geometric Sorte Wooden Toy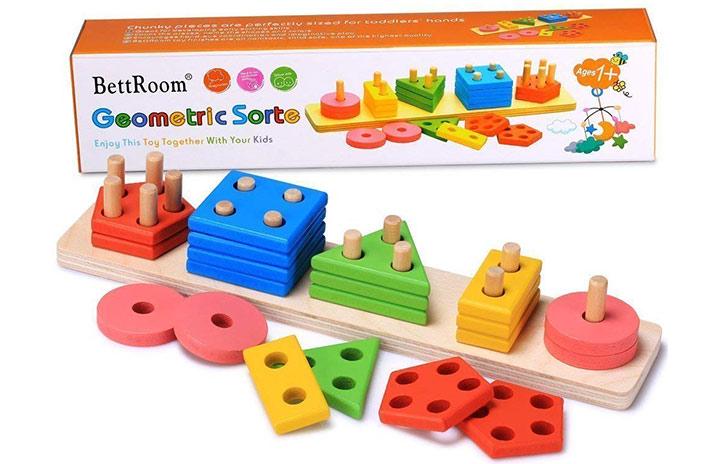 Why She Will Love It:
The simple and easy design requires minimal introduction to the toddler. Your little one will understand the functions of the toy right away. It is also an addictive game, and once the toddler stacks a single block, she will love to stack all of them in one go.
Why Experts Recommend It:
It allows for basic training of numbers, shapes, and object relation. Your toddler will remember the shapes, count the number of holes in the block, and eventually decide which shape block goes over what kind of wooden peg. It ultimately helps in improving the memory skills and hand-eye coordination.
Why We Suggest It:
The toy is simple, has an easy operation, and is made of wood. The colors and materials used in the manufacturing of the product are non-toxic, BPA-free, phthalate-free, and lead-free. The wood has a smooth finish. The toy will last long, while also providing a ton of cognitive stimulation to the toddler.


19. VTech Little Apps Tablet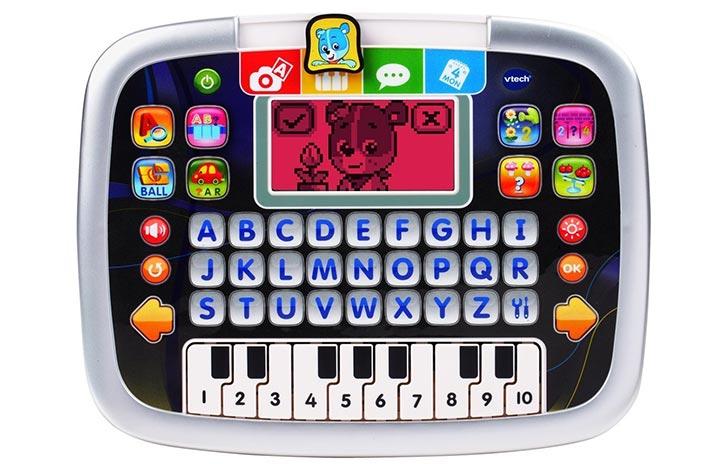 Why She Will Love It:
It allows the toddler to have her first experience with a digital tablet albeit a one that is safe for them to operate. The prospect of having their very own tablet will leave the toddler excited. The tablet features a full keyboard and piano keys with the first ten numbers. The screen displays the key inputs and also changes its background color.
Why Experts Recommend It:
Toddlers are at a preschooling stage, which means it is an excellent time for them to learn letters and numbers. Children in today's era get enticed towards gadgets. The devices intended for adults may not be suitable for child use. But here is a toy that provides a gadget-like experience for the child in a safe environment.
Why We Suggest It:
It is a toy that brings a fusion of learning the alphabet, numbers, music, and sounds. It is an all-in-one tool to keep a preschooler engaged while letting parents have a peace of mind that their child is learning something new today.


20. Walk Along Snail and Shape Sorter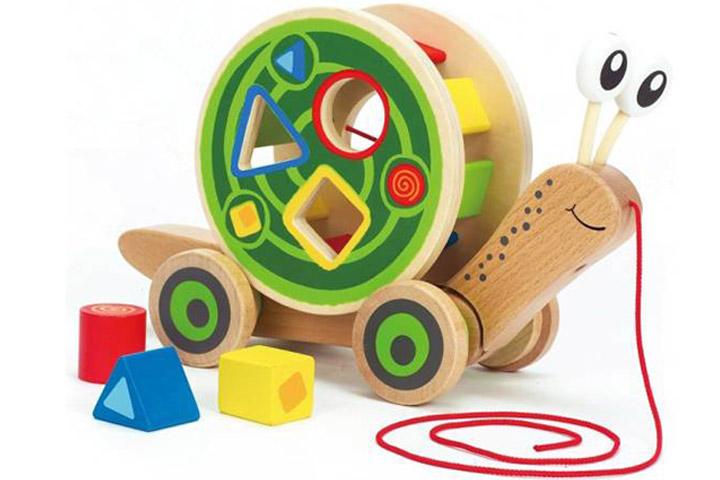 Why She Will Love It:
The colorful, wooden blocks inside the shell spin and jangle. For extra movement, the wobbly head, eyes and tail will move up and down.
Why Experts Recommend It:
The toy will teach your toddler all about sorting, and improve her motor skills.
Why We Suggest It:
The shape sorter is designed in a snail pull-along toy. The shell can be lifted off and the shapes can be inserted into the shell.



There are new toys flooding the market each day, and they are as creative as your toddler herself. Do careful research before you pick a toy as the ultimate goal is to make the little one happy. If you have any other ideas of baby gifts for 2 year old, let us know in the comments section.
Recommended Articles:
Comments are moderated by MomJunction editorial team to remove any personal, abusive, promotional, provocative or irrelevant observations. We may also remove the hyperlinks within comments.
The following two tabs change content below.