The best gifts for 11-year-old girls should spark their creativity and enhance their skills as these tweens are in their prime of grasping the gravity of an issue and finding ways to solve it quickly.
We sometimes run out of birthday gift ideas for tweens as clothes and toys are pretty generic. Thus, focus on DIY kits and games that can tickle their brains and hold their attention for a long period. With the sudden spurt of mental, physical, social, and emotional development, they need the right gift to aid in their development. Here is a list of the most appropriate gifts you can give to your 11-year-old daughter or sister.
23 Best Gifts For 11-Year-Old Girls
The echo dot kids' edition is a smart gift idea that allows your daughter to explore plenty of entertainment options. She could ask Alexa to play her favorite music, call the family and friends, read stories, spell words, set the alarm, check the weather, and more. This echo dot has improved speaker quality with a microphone off button. It has multiple layers of privacy protection and parental controls with the option to set an everyday limit and review your kid's activity.
If your daughter loves to draw or sketch, this could encourage her to unleash her artistic creativity. Darice offers an 80-piece deluxe art set that is ideal for both beginners and seasoned artists. It contains several art supplies, including oil pastels, color pencils, drawing pencils, watercolor cakes, kneaded eraser, pencil sharpener, and sanding blocks. It is portable and can be used as a travel set too.
The Scratch Off World Map Poster comes in a black and gold combination. The accessories included are a scratching tool, magnifying strip, and memory stickers. All the states and countries on the map are hand-drawn. Color of the map changes when you scratch the places you visited. A thin foil present on the map protects the map from losing color.
If your 11-year-old girl likes makeup, this subtle makeup product could be a neat choice of gift for them. Lip smacker products are known for their scents, flavors, and colorfully designed authentic products since 1973. This set of lip glosses with a long-lasting Starburst flavor is available in strawberry, cherry kiwi, orange, mango melon, strawberry banana, FaveREDs watermelon, FaveREDs cherry, and FaveREDs strawberry flavors.
They smoothly glide on the lips to keep them moisturized, smooth, and protected. Your girl would love them for their fuller, shinier, and plumper effect on the lips.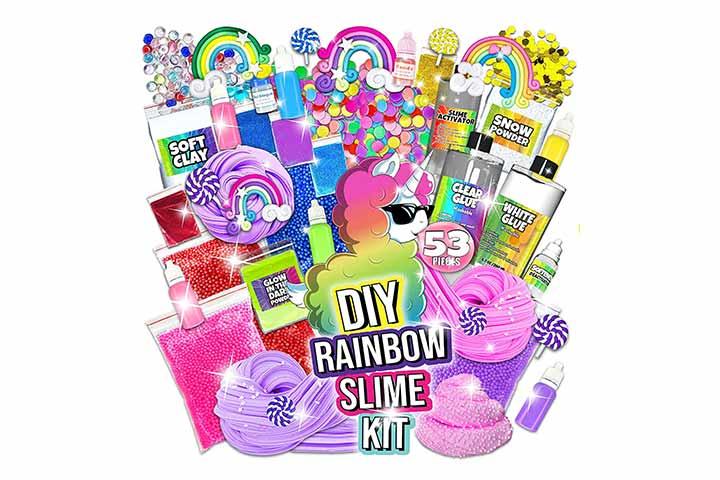 Unicorn Slime Kit includes glue, activator, deactivator, soft clay, foam balls, glitter, glass beads, gold foil, and colorful confetti sprinkles. Playing with slime kits helps your little one to develop their imagination and motor skills. The slime is certified by ASTM, and the ingredients are chemical-free and kid-safe.
It is similar to a Rubik's cube that tests the child's fine motor skills. It is a challenging game that gets your child's brain working. Designed for two players, it aims at matching the grid in the scrambler. It consists of a game base, center frame, scrambler, 48 colored tiles, and mini cube with nine colored tiles. An instruction manual is also given to help children customize the play.
If your daughter loves to experiment with new hairstyles, this hair craft kit could be a good gifting option. The kit includes five hair chalk pens (green, blue, purple, pink and orange), 24 metallic beads, 24 hair elastics, and a hair beading tool. They are easy to apply on dry hair and give a temporary color that rinses off with any shampoo and leaves no residue or hair color.
These cotton socks could be one of the cutest presents for an 11-year-old girl on her birthday. Made of Australian cotton, polyamide, and spandex, they are soft, comfortable and skin-friendly. Available in cute animal cartoon designs, these socks can be worn with any shoes or boots and are ideal for all casual occasions. Their boneless sewing and elasticity cover the feet and keep them in place.
Slime kits are a lot of fun and could be a cool gift idea for 11-year-old girls. These kits boost creativity and encourage the development of the girl's hands-on skills. The kit consists of 24 crystal slime colors, six air dry clay colors, 48 glitter jar bottles, ten small animal toys, ten candy toy cups, three pieces slime tools, four packs fruit slices, two-pack colored foam balls, and one drifting bottle. All of these are made of non-toxic and eco-friendly materials that are free of phthalates and other harmful chemicals.
If your daughter shows interest in photography, then this could be one of the best gifts you could give her. It has a bevy of features that allows her to take pictures and videos while biking, skating, swimming as well as skateboarding. The configuration features 5MP photos, 1080P/30fps videos, up to 4X zoom, time-lapse picture, burst shooting, and manual adjustments for brightness. It also has a 1.77" LCD screen, a 32 GB microSD card slot, and a rechargeable lithium battery.
If your girl loves crafts, then she is going to love this DIY bracelet kit. She can design her accessories and gifts with the available molding tool, air-dry clays, pins, bracelets, beads, charms, glue, eyelets, jump rings, and stick stones. The charms and metal beads come in different shapes that would help your girl create exciting bracelets.
Lego Stephanie little dollhouse kit allows your children to build a customized modular house. It features a two-story house with a porch, kitchen, lounge, bedroom, spiral staircase, and stained-glass windows. Mini dolls include Stephanie, her mother, her father, and the rabbit hutch. If your little girl loves to playhouse and organize things, this dollhouse kit will keep her, and her friends engaged for hours. Lego toy house kits inspire your child to build and rebuild with imagination.
Nail art is fashionable these days, and if your daughter loves trying new nail designs, this is something you could gift her. This kit includes 25 designs, a 60-page easy-to-follow instruction manual, six nail colors for practice, over 250 stencils, and a dotting tool. The tools and stencils would allow her to create intricate designs with several colors.
Sphere Bolt is an advanced app-enabled robotic ball that compels your daughter to learn to program and share her creations with others. It is compatible with Android, iOS, Mac, Kindle, and Windows. They might use scratch books, or JavaScript, or Apple swift programming language to create and customize games. It has an animated 8×8 LED matrix and programmable sensors, including a light sensor, infrared communications, compass, accelerometer, a gyroscope to display the data.
If your 11-year-old daughter loves to try different outfits, then this sweatshirt could be a good pick. It is made of 95% T/C (a blend of polyester and cotton) and 5% spandex material that is cozy, breathable, and skin-friendly. The hoodie has long sleeves and is ideal for casual wear. The material is washable in cold water, both by hand and in a machine. It is available in black, pink, yellow, green, orange, white, light blue, grey, red, and purple.
A DIY gift that might fascinate your 11-year-old girl, this crafting kit from Craft-tastic offers endless possibilities to arrange and rearrange the items that would improve her fine-motor skills, hand-eye coordination, visual/spatial skills, creativity, and self-regulation. She may also include pictures of her own family and friends in projects using the kit. The kit consists of wall-friendly materials, such as sticker sheets, cardstock prints, foam spacers for a 3D effect, and removable paint-safe tape.
Friendship bracelet kit from Klutz might be another gift idea for 11-year-old girls. This activity kit teaches your daughter the basics of classic crafting with clear instructions and custom materials. The kit has ten skeins of colored embroidery floss, plastic clips, and beads that could make around 12 bracelets. It also comes with a 58-page instructional booklet and a clipboard at the back of the book.
If your daughter is smitten by fairytales and fantasies, you may consider gifting her this unique unicorn bathrobe. Made of good-quality flannel, this fluffy, soft, and comfortable robe is also skin-friendly. The button on the neckline and a built-in belt give it a solid grip while walking. It could be used as sleepwear, or when you're at the swimming pool, spa, or the hot springs.
Does your girl love to make fake jewelry? If yes, she can experiment with the different charms and beads to make personalized jewelry using this kit. Alex Toys are specially designed for tweens who are creative. The kit comes with charms, clasps, silver beads, twine, suede cords, gem stickers, and instruction booklet for making unique bracelets and necklaces. This form of art and craft needs no glue or tools.
This could be one of the best tech gifts for those who show a keen interest in learning electronics and love to experiment and invent. It comes in a nicely designed compact box that encloses an instructional manual, electronic bits, and accessories for eight different inventions, one challenge and more of touch-activated creations. Your girl could have a lot of fun to create a defender or burglar buzzer or any one of the many inventions with this kit.
Books could make beautiful gifts, especially if your daughter loves reading. This book, written by Ashley Rice, gives a dose of encouragement to the tweens and teen girls. Reading the book reminds your girl about her greatness and how she can achieve things if she sets her mind to it. It encourages her to be cheerful, daring, and brave. The adorable characters and positive messages would boost her confidence levels and will make her feel blessed.
A unicorn journal could be the best birthday gift for your daughter if she likes to write. She may write her thoughts, prayers, ideas, and even sketch in it. The book also has inspirational quotes that could instill positivity in her. There are 50 blank pages on one side and another 50 ruled pages on the other side. The cover is soft and glossy, with a unicorn design on it.
If your girl loves coloring, then this doodle pillowcase could be one of the gifts you may choose for her. The coloring on the fabric allows your girl to discover the land inhabited by dinosaurs a long time ago. The pillowcase measures 75x50cm and is made of washable cotton fabric. It has a pack of ten wash-out fabric markers that are double-ended (one thin end and one thick end). They could also use it as a team activity for sleepovers or camping.
How To Choose The Right Gift For 11- Year-Old Girl?
Whether you are a loving parent, a close aunt, uncle, or a family friend, here are a few tips that might help you pick the right gift for an 11-year-old girl based on her interests and hobbies.
Based on her personality: Try to know her likes and dislikes from studying her skills, talents, and passions. Some might be sporty, some artistic or into music, science or crafts. Consider buying them a gift that suits her interest.
Go with the trend: Tweens of the present age always want to keep up with the on-going fads and styles. They get influenced by their friends' belongings and may show interest in other designs or things. Pay attention to what she wants and gift her something alike.
Buy something useful or practical: Do not choose a gift that has no value and ends up forgotten. Try to choose a practical gift, and also adds fun.
Why Trust MomJunction?
Priti Bose writes about children's gifts, toys, and games. She has picked the best gifts for 11-year-old girls in this post after thoroughly analyzing and examining some of the best-reviewed items on several websites. She has also considered girls' interests and included gifts to encourage their creativity and imagination. There's a buying guide at the end of the article to help you pick the most suitable gift for your princess.
Recommended Articles: